There is no single reason to buy a wireless meat thermometer. You may be an experienced person in front of the grill or just a person who wants to learn how to cook different cuts of meat. Regardless of the reason, it's a good idea to have a wireless meat thermometer to use on a rotisserie or grill.
Many smokers have a built-in thermometer; however, these do not always work accurately. When cooking meat, high-temperature accuracy is required for good cooking and great taste.
In addition to helping you cook to an accurate temperature and achieve proper food handling tips, a wireless thermometer will also help you monitor the temperature of your food from a distance and avoid opening the broiler all the time or turning the meat unnecessarily.
When buying a wireless meat thermometer, you should consider several factors such as the length of the probe, the wireless range, the temperature range, and some other useful features.
Quick View
Top Recommended Product: ThermoPro TP20 Wireless
Top Premium Product: ThermoPro TP25 500ft Wireless Bluetooth Meat Thermometer
Top Budget Product: Smart Bluetooth BBQ Grill Thermometer-NutriChef
There are different products with a variety of features for you to choose from. To make your purchase easier, we will show you the 7 best wireless meat thermometers to help you choose the best option.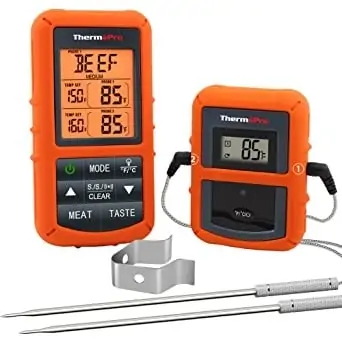 The ThermoPro TP20 Wireless Digital Meat Thermometer is well-priced hardware that offers real-time temperature updates even over long distances.
Its setup is quick and easy as it does not require synchronization. You can forget about the tedious programming and setup process; you can use the TP20 immediately.
The ThermoPro TP20 has two probes and a wireless range of up to 300 feet, so you can enjoy the presence of your guests and continue to monitor the meat without having to be in front of the grill all the time. In addition, the ThermoPro TP20 also includes a wireless remote control, so you don't need to download any apps to your phone.
The LCD display shows the food and oven temperatures. It is also backlit, which allows it to be seen perfectly even in low light conditions.
The TP20 has preset settings recommended by the USDA minimum temperature chart. The settings can be configured and reset as needed. One of the most useful features of the TP 20 is its timer, which you can set to progressive or set back for longer cooking times.
Once the set time has elapsed, the receiver will beep to let you know that the meat has reached the right temperature, so you don't have to keep your eye on the thermometer at all times.
The included probes are durable and accurate. The TP20 features a food-grade stainless steel probe with a downward-pointing design for more accurate and efficient temperature readings. It is rated at 716 degrees Fahrenheit.
Features
Brand: ThermoPro
Color: Orange
Material: Plastic
Power source: Batteries
Measurement Accuracy: ± 1.8 ° F (± 1 ° C)
Pros
Configurable dual probes
300 ft. wireless range
Forward and backward timer
Grill temperature gauge
Cons
No lock button
Probes without labels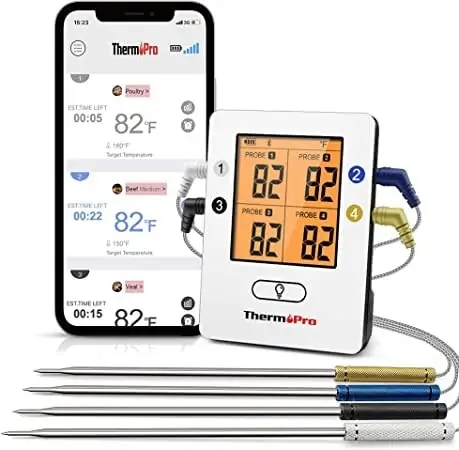 The ThermoPro TP25 features the most advanced Bluetooth 5.0 technology for a strong and reliable connection. It links quickly and easily to any cell phone.
To use it, all you have to do is download the ThermoPro app and choose one of nine preset temperatures or manually set the temperature to suit your preferred flavor profile.
This Bluetooth grill thermometer allows you to take accurate temperature readings from up to 500 feet away, allowing you to chat with your guests, play with your kids, or even take a nap in peace and quiet. If you go farther away than you should, you will receive a notification on your phone to help you stay within range of the thermometer.
The ThermoPro TP25 features four different colored grilling probes, which helps you avoid confusion when monitoring the temperature of different types of meat at the same time. Each probe comes with a cord winder so you can store them neatly without getting them tangled.
Set the temperature of each food as you need and the temperature range so the grill knows when to add more fuel. The TP25 has preset temperatures programmed for nine types of meat with the different types of cooking to ensure your food is cooked to perfection and your preference.
The ThermoPro TP25 includes an advanced cooking time estimator and a temperature pre-alarm. The TP25 uses an algorithm that estimates how many minutes the smoker has left to reach the desired temperature, allowing you to plan your meal.
Meanwhile, the temperature pre-alarm will notify you when the temperature is within 5, 10, and 15 degrees of the target temperature, giving you time to remove the meat at the most appropriate time.
To top it off, the ThermoPro TP25 with Bluetooth records the probe temperature in real-time, so you can keep an eye on the cooking process at all times without having to be in front of the grill.
The transmitter is powered by a rechargeable lithium battery that is easily charged with an included USB cable. Its LCD display is backlit, allowing you to see the screen at night.
Features
Brand: ThermoPro
Power source: Rechargeable battery
Temperature range: 32- 572 degrees Fahrenheit.
Pros
500 ft. Bluetooth range
4 color coated probes
Preset temperatures for 9 types of meats
Cons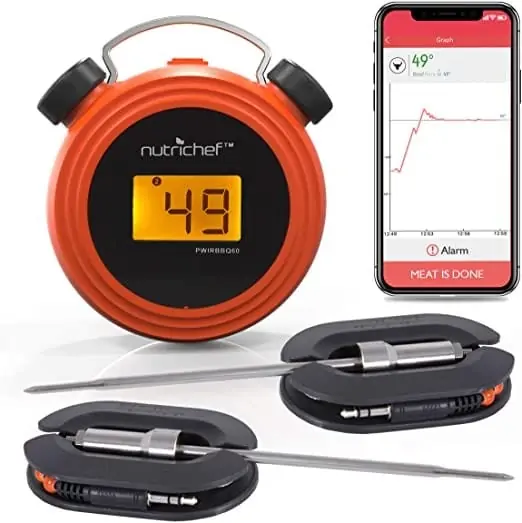 The NutriChef Bluetooth thermometer is our most affordable option and has all the features you could need for grilling. Plus, you'll be able to monitor the temperature of your meat remotely. It connects to your phone and has an indoor range of 100 feet and an outdoor range of 200 feet. You will receive an instant notification on your phone if you leave the Bluetooth wireless range.
This Bluetooth meat thermometer has two probes so you can monitor the temperature of two types of meat at the same time. Its probes are made of stainless steel and can withstand up to 482 degrees Fahrenheit. At the same time, the upgraded stainless steel wires can withstand up to 716 degrees Fahrenheit.
Once the meat has reached the right temperature, the thermometer will alert you via your cell phone. You can custom set the temperatures, or you can use the preset temperatures on the device. You can configure each probe individually with the help of the app and save the settings for the future.
The NutriChef thermometer has a digital display that allows instant reading. Its backlit LCD can be held on a surface stand, so you can always keep an eye on the cooking progress or timer. The display will alternate between the two readouts, so you can keep an eye on everything.
You'll be amazed at how accurate this thermometer is and how easy it is to use the app. The app will notify you when the sensor detects that the meat has reached the set temperature and also when you need to remove the meat from the grill.
Features
Brand: NutriChef
Power source: AA batteries
Pros
Dual probe
Attractive design
Cons
Overly insistent beeping
Not completely wireless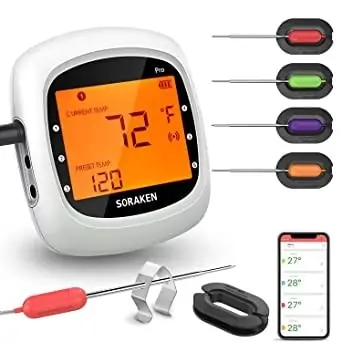 The Soraken thermometer includes four probes, and you can add two more probes to monitor the temperature of up to six different types of meat. You can even use one of the probes to check the temperature of the grill or oven while the other probes measure the temperature of the food.
You can connect your phone to the thermometer via Bluetooth up to a range of 100 feet indoors and 190 feet outdoors. The accuracy of the measurement will allow you to relax a little while cooking.
The Soraken thermometer has 11 preset temperatures for different types of meat according to USDA recommendations. You can set a high/low-temperature range. You also have the ability to manually set the temperatures of your preference.
The timer function of the Soraken thermometer lets you know the precise moment when the meat has reached the cooking temperature you set. To alert you, the device will beep and flash with a backlight. You'll never have to worry about overcooking or undercooking.
Its four probes allow you to monitor six different foods simultaneously and monitor the ambient temperature around the grill or oven. Temperature ranges are between 32° F and 572° F.
The smart wireless meat thermometer features a strong magnet so you can attach it securely to any metal surface that is convenient for you. It has a large LED display where you can easily read the temperature. The cable is made with metal braiding and a Teflon core designed to withstand up to 716 ºF. The silicone handle withstands up to 482ºF.
The probe handles are silicone and are color-coded to easily identify each meat and its temperature.
If you are looking for a thermometer to help you monitor the temperature of several different types of meat, the Soraken thermometer is a great option at a moderate price,
Features
Brand: Soraken
Power source: rechargeable battery
Pros
Easy to use application.
Four probes
Clio to monitor air temperature
Cons
Brand is not well known
Six plugs with 4 probes included
The BFOUR thermometer won the 2019 Red Dot Design Award for its unique and elegant design.
The BFOUR is equipped with six stainless steel probes to monitor the temperature of six foods at the same time. Each probe has an aluminum alloy handle that withstands up to 662°F so it can be safely used in ovens or on grills.
The latest Bluetooth 5.0 technology meat thermometer provides faster transmission performance at a far distance without losing stability. It has a transmission distance of up to 196 feet indoors and 100 feet outdoors. It is certainly an excellent choice for use at a barbecue during the summer.
The temperature range of the BFOUR Bluetooth grill thermometer is from 33º F to 572 ºF and provides an accuracy of ± 1.8˚F, ensuring accurate temperatures while cooking.
The temperature is configurable by ranges, so you can program a low temperature and a high temperature and set the timer according to the USDA recommendation or your preference. All preset temperatures can be manually reset as needed.
One of the most outstanding features of this thermometer is its large LCD, where you can intuitively observe the current temperature and the preset temperature or timer.
Features
Brand: BFOUR
Power source: AAA batteries
Temperature Range: 33ºF to 572ºF
Pros
Attractive and stylish design
Six probes
Ideal for cooking thicker pieces of meat
Cons
Short temperature range
Application failures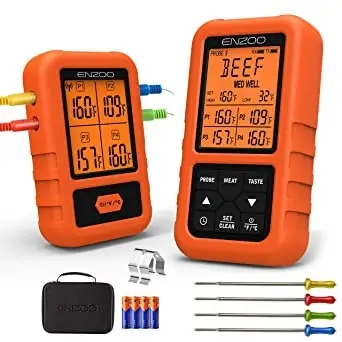 The ENZOO Wireless Digital Meat Thermometer is hardware that allows you to monitor your food from up to 500 feet away and cook your food to perfection.
If you opt for this thermometer, you can take the temperature in as little as 1- 3 seconds, and the accuracy is +/- 1 degree with a wide range of 32 ℉ -572 ℉. This thermometer is easy to use and store. With its four probes, you can monitor the temperature of four different types of meat or use all four probes on a thick cut of meat for perfect cooking.
The ENZOO wireless thermometer has 11 preset temperature settings according to USDA recommendations. Forget about tedious settings. Once the meat thermometer is received, you simply need to insert the batteries, and the meat thermometer is ready to use!
You can store the thermometer conveniently and easily as the thermometer includes a carrying case with a handle ready to take your thermometer on the road.  This option is a favorite for people who carry their thermometer everywhere they go.
Additional features include a unique 178° transmitter design and a backlit LCD display that allows you to set temperature alarms or pre-programmed timers. You can set the timer progressively or backward as needed. When the meat has reached the desired temperature, the device beeps to indicate that the meat is ready and perfect.
The ENZOO wireless thermometer features four food-grade stainless steel probes with different color codes. They are heat resistant, which makes them really durable. The 43-inch cable can withstand up to 716°F, providing accurate readings from 32 ℉ -572 ℉.
This piece of hardware offers flexibility to those grillers who like to cook different types of meat. It requires no wi-fi connection, and they can enjoy and rest assured that they are receiving an accurate high temperature reading from a distance away from the grill.
Features
Brand: ENZOO
Color: Orange
Power Source: Batteries
Pros
3 secs response time.
Includes case
Easy to set up
Cons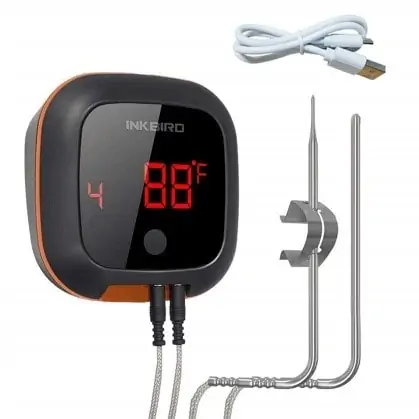 The Inkbird IBT 4XS Bluetooth grill thermometer is definitely one to consider because of its magnetic design and large LED screen. This grill thermometer has two probes that can be firmly inserted for an accurate temperature.
It has a rechargeable battery and temperature graph in the app. The graph displays temperature changes in the app that you can view at any time. The battery can last about 40 hours once it is fully charged. The Bluetooth range for this thermometer is 150 feet outdoors.
It has 12 meat mode types: beef, veal, lamb, pork, chicken, turkey, fish, and hamburger. It also has modes for BBQ smoke, hot smoke, cold smoke, and custom settings.
It is the ideal Bluetooth meat thermometer if you are looking for high accuracy and continuous monitoring. The presetting values are saved when the thermometer powers off, the probe length comes to about 4.9 feet or 60 inches, and the alarm sounds when you reach your desired temperature.
The high and low alarm triggers on your mobile device when your food reaches its programmed temperature, so you don't have to worry about overcooking or burning anything.
Features
Brand: Inkbird IBT 4XS
Power Source: Battery-powered with one lithium polymer battery
Immersion Depth: 150 centimeters
Pros
Offers fast response and high accuracy
Built-in magnet makes it more convenient to use and keeps it within reach
Built-in rechargeable battery holds a good charge and is convenient and practical
Large LCD screen is easy to read, and the display is rotatable and can be read from various angles
Cons
Some complained that the display dims and can be harder to read outside in shady areas
The app works well, but some wish it were more adjustable for more specific needs
Buyer's Guide
Instant-read thermometers provide freedom and accuracy when it comes to measuring and monitoring food temperatures. It is important to have a meat thermometer as it will prevent you from constantly opening and closing the smoker lid all the time in front of the grill. This should be avoided at all costs as this will affect the internal temperature.
By having a meat thermometer, you can achieve better results when cooking your meat. Also, by purchasing a cordless version, you can enjoy more time with your family or guests and take advantage of the extra time to do other activities while your meat is on the grill.
Now that you've gone through our list, it's time for us to explain what you should look for in the best wireless meat thermometer.
Probe Style
Thermometer probes can be found in different designs. If you're in the habit of cooking various types of meat, we recommend buying a thermometer that features multiple probes. And if you don't want to deal with wires, it is even better to have a wireless version of a good meat thermometer.
It is also important to choose a thermometer that has colored probes, which allows you to differentiate and keep track of each type of meat and the temperature it should be cooked.
As for the size of the probes, most thermometers are quite similar. They are usually metal rods of approximately 2.5 millimeters in diameter, so deciding between one or the other model by the size of the probe is no problem.
Wireless Range
This is the most important feature of any wireless thermometer, as you most likely don't want to be in front of the grill all the time. Check among the features of the product you are purchasing for the range of the thermometer.
The range of most wireless thermometers is between 100 feet and 300 feet. The range varies depending on whether you are indoors or outdoors, so the range is variable as walls and furniture often weaken the signal.
Some wireless thermometers with advanced technology allow the charging box to be used as a signal repeater, although it does not always work perfectly.
Display
There are a few factors to consider when buying a wireless meat thermometer as far as its display is concerned. The first thing to ask yourself is whether you want to check the temperature of the meat remotely or if you prefer to open the grill to see and touch the meat while checking the temperature.
If you want to keep the grill closed and remotely monitor the temperature of the meat, a wireless thermometer is the best option.
If you like to cook at night, we recommend you choose a thermometer with a backlit display so you can read the temperature clearly and smoothly.
If you have a multi-probe unit, you can decide between a transmitter display that rotates between the temperatures of the different channels or displays them simultaneously.
Temperature Range
To check this factor, you need to be very clear about what foods and what type of cooking they require. You should think about the foods you usually prepare that require lower temperatures to cook, as well as foods that require higher temperatures.
Once you know this temperature range, look for a wireless meat thermometer that covers the full range. If you want to monitor the internal temperature of the meat when thawing or brining it, your best bet is to buy a wireless meat thermometer that goes down as well as up.
Alerts or Notifications
If you're looking for a wireless thermometer, it's because you're probably thinking about other activities you can do while cooking. Check that the product you purchase has configurable alerts to suit your needs. The most common alert is the one that notifies you when the meat has reached the proper or desired internal temperature.
Some thermometers have other types of alerts that warn of temperature drops or changes in ambient temperature or when you have gone out of range and lost signal. Look for the device that best suits the alerts you need when cooking.
Connectivity
Some wireless thermometers require linking to your smartphone, and others are standalone. This decision will depend on the individual. For some people, it is very convenient and practical to receive the information of the cooking process directly on the cell phone, while others want to disconnect for a few hours and enjoy the grill, the food, and guests.
Price
Last but not least is the price. Most wireless meat thermometers are in the $30 to $80 price range. However, thermometers have more advanced and modern features and functions that cost around $100 or more.
This is not a factor you should go by when buying a wireless meat thermometer as it is not an indicator of quality but rather of features. Think carefully about what you need from a meat thermometer so that you don't overspend unnecessarily.
FAQS
How deep should a meat thermometer be inserted?
Most meat thermometers should be inserted at least ½ inch into the meat to get a proper reading. Some thermometers often have specific instructions, so it is best to read the owner's manual for the proper depth to insert the thermometer depending on the model of the thermometer.
Is it possible to leave a meat thermometer in the meat while cooking?
A wireless thermometer gives the advantage of monitoring the internal temperature of the meat without having to leave the thermometer in the meat. This allows the temperature to be monitored remotely without having to open the rotisserie.
How accurate are meat thermometers?
Meat thermometers are usually very accurate and are used properly. However, it is recommended that the thermometer be calibrated periodically as directed by the manufacturer to keep it in optimal condition.
To check its accuracy, place the probe in a glass of ice water and hold it there for one minute. The thermometer should read 32 ° F or 0 ° C. If it does not, you will want to recalibrate as instructed in the user's manual.