Couscous is a delicious and easy to make a wheat-based meal that pairs well with everything from meat to vegetables to fish. Here's how to cook couscous on the stove so you always have a fluffy and satisfying side dish recipe in your back pocket.
To cook couscous on the stove,  bring 1 cup of water to a boil with a pinch of salt. When boiling, turn off the heat, stir in the couscous, cover and let the couscous steam, off of the heat, for 10 minutes. Uncover, fluff the couscous with a fork and serve hot. 
Couscous is an easy and convenient side dish to cook up in less than 20 minutes. It's kid-friendly, with a mild flavor that lends itself well to a range of seasonings, toppings, and entrees. Once you master the quick and easy method to cook couscous, you'll be making it again and again!
What is couscous?
While couscous is often thought of and served like a grain dish, it's not actually a grain. Couscous is in fact closer to pasta or noodles. It's made of crushed durum wheat flour rolled into tiny balls. There are several different kinds of couscous that are popular in different parts of the world. 
Moroccan couscous is tiny, golden yellow balls. This is the most common variety of couscous available in western grocery stores. Its small size also means that it's the fastest-cooking variety of couscous. While most Moroccan couscous is made with semolina, which provides its holden hue, you can also find whole-wheat Moroccan couscous, which is a beige-brown color and has a nuttier flavor. Usually, Moroccan couscous is par-cooked. If that's the case, all you need to do is soak the grains in water to rehydrate them. If your couscous is labeled "instant", it often just needs to be soaked in hot water for 5 to 10 minutes. Check the instructions on the package to know for sure. 
Israeli couscous consists of much larger, chewier balls. This variety is also called pearl couscous for its pretty shape and size. Israeli couscous takes a bit longer to cook and has a flavor and texture similar to small pastas. You can also find whole sheet Israeli couscous, which is darker brown and has a wheaty flavor. 
Water Ratio to Cook Couscous
Unlike other grains such as farro and quinoa, there isn't a hard and fast water to grain ratio to use for cooking couscous. The most important thing is that the grains be submerged with water for even cooking. Often, you can use an equal amount of couscous and water. 
How to Cook Couscous
Once you've selected Moroccan or Israeli couscous, it's time to cook it up for dinner! Here's how to cook non-instant couscous on the stove. 
Ingredients to Cook Couscous
Couscous has a tasty flavor and pleasing texture that makes it a great blank canvas for toppings and seasonings. To make simple, fresh-tasting quinoa, you need just a few ingredients:
1 cup of instant couscous

1 tablespoon butter (optional)

Salt

1 cup of water
Step 1: Bring water to a boil
Fill a medium saucepan with the water and bring it to a boil over high heat. Once the water boils, add a pinch of salt.  For added flavor and a softer texture, you can melt a tablespoon of butter into the boiling water. This will flavor the couscous from within as it cooks.
Step 2: Remove the pot from the heat
Once the water is boiling, remove it from the heat. The burner will still be hot, so it's best to remove the pot totally from the stove and place it on a wooden cutting board or trivet on the counter. 
Step 3: Add the couscous
Pour the couscous into the water. Stir the grains to moisten the couscous and prevent any clumps from forming.
Step 4: Let the couscous rest
After stirring, cover the couscous and let it sit for 10 minutes, off of the heat.
Step 5: Check on things
Uncover the couscous and check if it has absorbed all the water. If it has, you're ready to eat! If it hasn't, you can wait for 5 more minutes and check again or, if your grains are fully cooked, drain off the excess water. 
Step 6: Fluff the couscous
Before serving, fluff the couscous with a fork. Then simply plate it up and dig in. Or, cover the pot to keep the couscous warm until you're ready to serve. 
Should you wash couscous before cooking?
There's no need to wash couscous before cooking it. While most grains, including rice, quinoa and farro, benefit from rinsing before cooking, you can treat couscous more like pasta, which doesn't need to be washed. 
How do you know when couscous is done?
If you want to know if couscous is done, remove the lid from your pot and check whether couscous looks inflated or not. When couscous is done, it'll look puffy and hydrated. You can also taste the couscous. If it's soft and chewy like pasta, it's done. If the grains still have a hard center, it needs to cook a bit longer. 
How to Flavor Couscous
Couscous is an excellent dish to play with flavor. For a minor yet extraordinary change, squeeze some fresh lemon juice into your couscous as you fluff it. This will add brightness and freshness to the grains that are especially nice if you're serving a heavy meat dish with your couscous. For a more elaborate way to add flavor to your steamed couscous, stir in chopped nuts or dried fruits. This is a traditional Moroccan way of enjoying couscous and it transforms this simple side dish into a complete, hearty meal. Fresh and dried herbs and spices also go a long way with couscous!
Nutrition in Couscous
According to the USDA, a serving of couscous is 1/4 cup dry, which hwill cook up to about 1/2 cup cooked. Each serving of cooked regular (not whole-wheat) contains:
5.52 grams of protein
0.28 grams of fat
335 grams of carbohydrates
2.2 grams of dietary fiber
163 calories
Is Couscous Gluten-free?
Like pasta, couscous is made from wheat, which means it is not gluten-free. Anyone avoiding gluten or with celiac disease should not include couscous in their diet.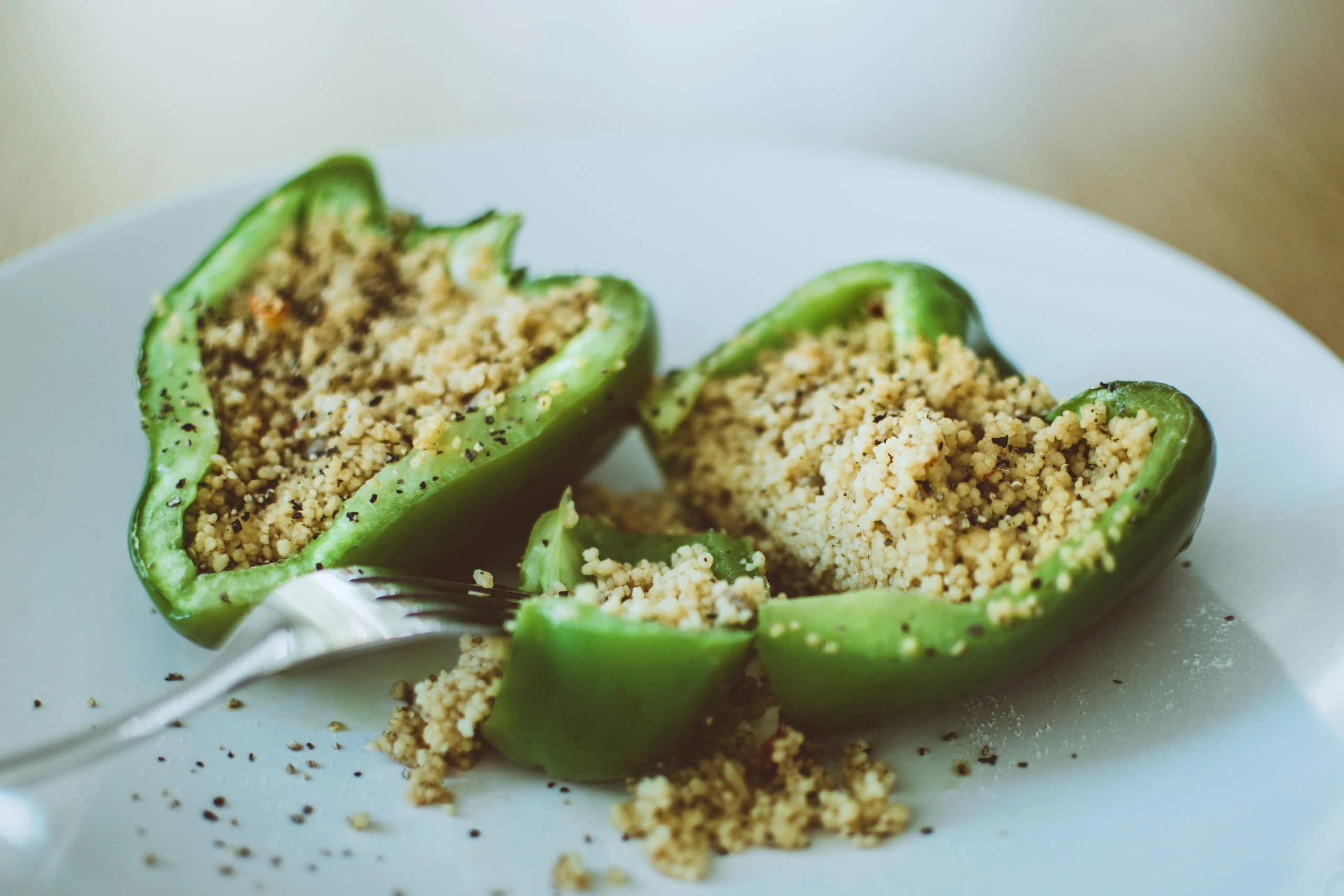 How to Cook Couscous
How to steam Moroccan or Israeli couscous on the stove.
Ingredients  
1

cup

water

1

tbsp

butter

optional

salt

to taste

1

cup

couscous
Instructions 
In a medium saucepan, bring the water to a boil over high heat. If you like, add the butter for more flavor. Add the salt.

When the water boils, stir in the couscous and remove the pot from the heat. Cover and steam for 10 minutes, until the water is absorbed and the grains are fluffy and tender.