Make crisp-tender sauteed green beans for a healthy and easy vegetarian side dish with plenty of garlicky flavors. 
Green beans are an easy and popular green vegetable to cook and serve at home. However, it can be all to easy to turn fresh, snappy beans into a limp mess if you're not paying attention. Instead of steaming or simmering your beans, try a different strategy and make sauteed green beans that retain their crisp texture and bright green hue. You may never return to the old stand-by again!
How do you make sauteed green beans the right way? First, wash and trim the vegetables, then add them to a hot frying pan with a bit of olive oil and stir-fry for about 5 minutes. Next, add salt and garlic and saute for 30 seconds. Finally, to finish cooking the beans all the way through, add a splash of water and steam for 2 more minutes, then plate them and dig in!
Should I use fresh, frozen, or canned green beans?
As a rule of thumb, always choose fresh when it comes to vegetables, especially veggies liek green beans that you want to eat crisp, not floppy. 
Fresh beans will have a better texture than canned or frozen varieties. In addition, they tend to have a higher concentration of vitamins and minerals, as long as the raw beans have been recently harvested. 
Should you pick frozen or canned green beans if there's no other choice? In that case, frozen is a better choice than canned for flavor and texture. However, if you are making a dish that doesn't rely on crisp texture or bright colors, then you can get away with frozen beans. They are often less expensive and still may have plenty of flavor and nutrition, especially if the beans were frozen immediately after harvesting. 
Simply put: buy fresh if you can, frozen if you must.
Buying Green Beans
It should be easy to find fresh green beans no matter the time of year. There are a couple of key traits to pay attention to when selecting which green beans to buy.
Color
It may seem obvious, but you want your green beans to have a nice green color to them. If the green beans are older, they will start to turn brown or yellow in spots. 
Snappiness
Green beans should have a small amount of bendiness to them, but they will snap easily if you try. They should also make a crisp snapping sound.
The older the green beans, the more limp and wilted they become. If your beans are floppy or shriveled, they are probably too old. On the other hand, unripe eans will be so stiff and starchy, it takes a lot of effort to bend them. These are still edible, but may take a little longer to cook so the fibers soften up. 
Uniformity
It's ideal to have all of your green beans be of a similar length and thickness. These characteristics affect cooking time, and the more similar the length and thickness, the more evenly your beans will cook.
No Seeds or Blemishes
You shouldn't be able to see the seeds inside the green bean. Avoid beans that have blemishes, and stick to ones that same the same green color throughout the entire bean.
How to make sauteed green beans
Ingredients
Here's what you need for this simple recipe:
12 ounces of trimmed green beans

1/2 cup of water

1 tablespoon of olive oil

¼ teaspoon of salt

2 thinly sliced cloves of garlic
Prepping Green Beans
Step 1: Bring the green beans back to life
If you bought frozen green beans, the best thing to do is thaw them for a few minutes in lukewarm water. That will bring them to room temperature.
Otherwise, start by cleaning your fresh green beans in a colander under cold running water. 
Step 2: Make even cuts
Next, place the beans on a cutting board and use a sharp chef's knife to trim the stems from the green beans. This is the end with the harder dark green stem sticking off of it. The other end, with a softer tapered piece, can stay on. 
After trimming the beans, if you have a range of sizes, trim the larger ones down to a similar size as the smallest beans. This will make it easier to cook them evenly.
Cooking Green Beans
Step 1: Heat things up and start cooking
Choose a large frying pan with deep sides to prevent a mess. Add a drizzle of oil and heat the pan over medium heat. When the oil is moving easily in the pan, swirl it around to coat the bottom evenly. 
Next, you can add the green beans all at once to the skillet. They should sizzle when they hit the hot pan. Cook the beans for about 5 minutes, stirring them constantly. 
Step 2: Season the beans
Now it's time to add the salt and the garlic. Keep stirring as you do this until everything is nice and evenly coated. 
Step 3: Steam the beans
Once you're done with the seasoning, add a splash of water to the pan and cover immediately. Let the water steam the green beans for 1 to 2 minutes. This helps cook the beans all the way through so they are tender on the inside, not too hard. 
Step 4: Plate right away
Now, uncover the pot and see the bright green, crisp-tender beans inside. Plate them up immediately, as they will continue to cook in the hot skillet.
Enjoy!
Do Green Beans Need to be Cooked?
You can technically eat raw green beans, but they have a very starchy texture that many people don't find enjoyable. You can lightly cook green beans if you want them a bit softer but not fully cooked through. Just reduce the cooking time. 
What Happens if You Overcook Green Beans?
Overcooking green beans is double trouble. First, the beans will turn limp and soggy and lose their signature snap and bright green color on the plate. 
In addition, overcooking green beans can also lead to nutrient loss. IF the beans are left to cook for too long, the nutrients degrade and leech out of the vegetables. 
Ideally, green beans should have a crisp texture and still retain their fresh-looking green color after being cooked.
How to Store Green Beans
It's helpful to know the best way to store this vegetable so that you can avoid it going to waste. Here are two ways to store them based on the situation.
Uncooked Green Beans
If you just brought the green beans back from the store or farmers market, then you can store them unwashed in the fridge. Simply put them in a plastic bag. They will stay fresh for around 7 days.
Cooked Green Beans
If you have leftovers after cooking, store them within 2 hours of cooking them. Place them in an airtight container (If a container isn't available, you can wrap them tightly in aluminum foil), and put them in the fridge. They will keep well for 3-5 days.
You can also freeze them after cooking. Make sure to pat them dry before putting them in the container or freezer bag. They will keep for at least 6 months.
What to serve with green beans
This is a classic steak house side dish, so pair your sauteed green beans with a  juicy fillet or pork chop. For a lighter option, choose simple Tuna steaks.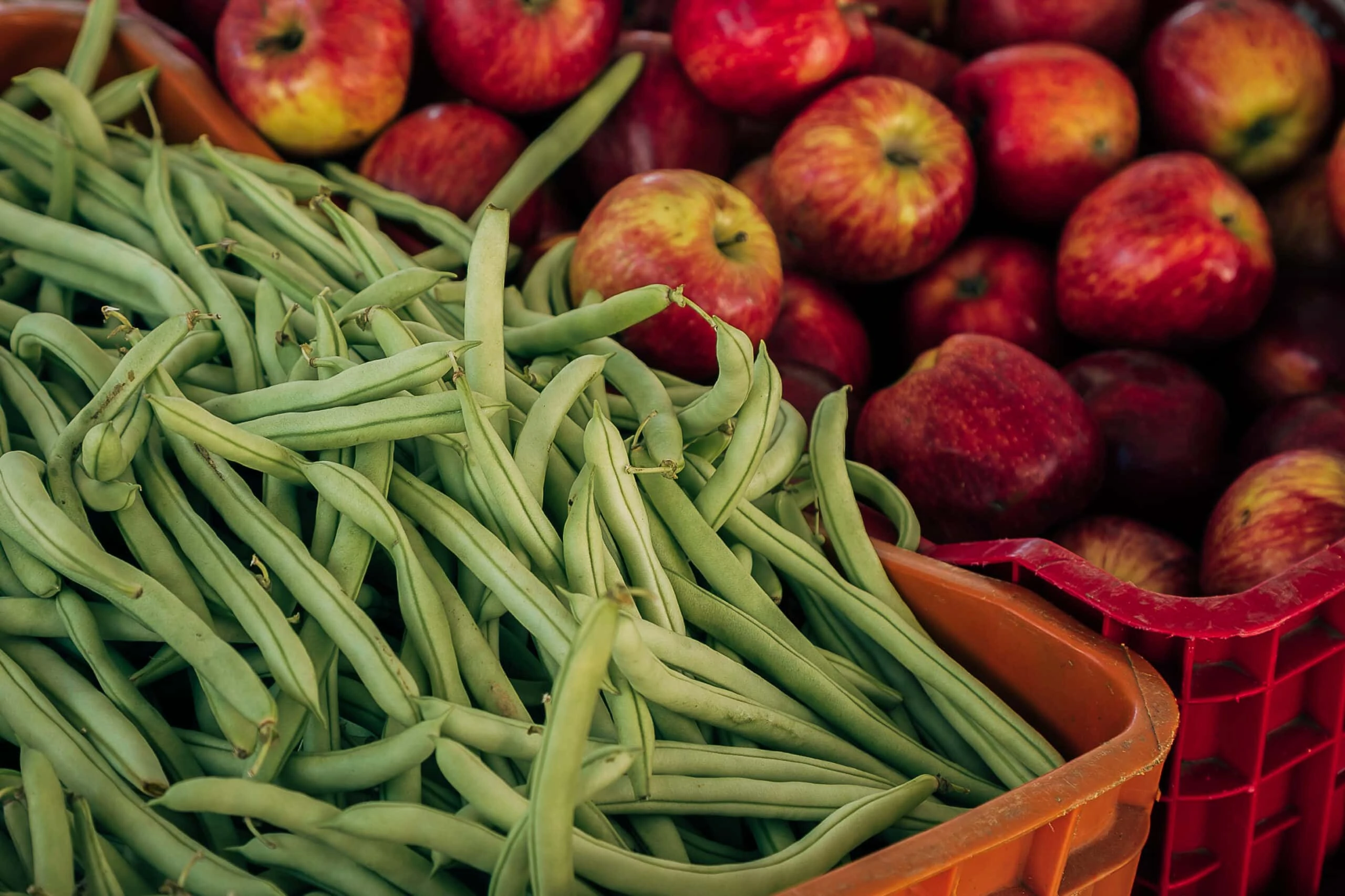 Sauteed Green Beans
This is the best way to make garlicky sauteed green beans.
Equipment
Large skillet

Spatula

Colander

Chef's knife

Cutting board
Ingredients  
12

ounces

of trimmed green beans

1/2

cup

of water

1

tablespoon

of olive oil

¼

teaspoon

of salt

2

thinly sliced cloves of garlic
Instructions 
Wash the green beans well.

Trim the stems of the beans and cut any larger beans down to roughly the same size as the smaller beans for even cooking.

Add a drizzle of oil to a large skillet and heat the pan over medium heat. When the oil is moving easily in the pan, swirl it around to coat the bottom evenly.

Add the green beans all at once to the skillet. They should sizzle when they hit the hot pan. Cook the beans for about 5 minutes, stirring them constantly.

Add the salt and garlic and stir to combine.

Add the water, cover, and steam the beans for 1 to 2 minutes, until bright green and crisp-tender.

Uncover the pot, plate the beans and enjoy!