An ideal cookware set should include everything; it should be non-stick, durable, and constructed of the best high-quality materials. However, it's not always easy to select or find the right kitchenware set, particularly on a budget. It is challenging to choose the right one with so many options available.
Don't worry, though! We're recommending our top choices for cooking sets, but that is not even the best part! All these cookware sets are under $100! Yes, you've heard that right.
Furthermore, we also provide more information about the types of materials that you can pick from, so keep reading!
Quick View
Best Overall Cookware Set: Cook N Home Stainless Steel 12-Piece Cookware Set
Best Budget Cookware Set: Amazon Basics Non-Stick Cookware Set
Best Non-Stick Cookware Set: Goodful Nonstick Aluminum Cookware Set
Best Premium Cookware Set: T-fal C561SC Titanium Advanced Cookware Set
Best Stainless Steel Cookware Set: HOMI CHEF Stainless Steel Cookware Set
Best Ceramic Non-Stick Cookware Set: GreenLife Ceramic Nonstick Cookware Set
1. Cook N Home Stainless Steel 12-Piece Cookware Set
Cook N Home Stainless Steel is a 12 piece cooking set consisting of the 1.5-quart pan, 1.5 and 2-quart casserole pans, a 3-quart casserole pot, a 5.5-quart stockpot, and a 10-inch skillet. All lids have tempered glass with a vent to release steam. Furthermore, the glass makes it simple to monitor your food without taking off the lids.
The pans in this cookware collection are stainless steel, and each contains an aluminum disc between two stainless steel pieces in the middle. The aluminum is beneficial because it allows the pans to transfer heat effectively since the stainless steel doesn't conduct heat well. Furthermore, the handles are riveted to ensure they're tough.
The frying pan has thick walls that hold water and block transpiration unlike a frying pan with a lower side. Also, the pans can operate on electric, gas, ceramic, glass, halogen, or induction cooktop, covering all available hobs.
All of the pans are simple to clean. You just have to clean with a sponge and soak in soapy hot water for a couple of minutes if something is stuck at the bottom.
Pros
Set of 12 pieces
Good conduct
Works on all kinds of hobs
Simple to clean
Cons
Not oven safe
Not dishwasher safe
2. Amazon Basics Non-Stick Cookware Set
This reasonably priced 8-piece cookware set comes with an 8-inches and 10-inch fry pan, a 1.5-quart pot, a 2-quart pot, and a 3-quart casserole pan. The saucepans and casserole pan have glass lids.
The pans are made of aluminum and have a non-stick coating to prevent cooked meals from sticking in the pans. Since they're non-stick, you have to use less butter or oil when cooking, which is better for your health. The best thing about the pans is that they are free of BPA, a chemical harmful to your health.
The handles of the pans are soft and keep cool while they are in use. There's a spiral bottom for each pan, meaning that your food will cook evenly. Lastly, you can use the pans with electric, gas, and glass hobs. However, they are not suitable for induction.
Pros
Non-stick coating
Food heats evenly
BPA free
Cons
Not compatible with induction
Not oven safe
Not dishwasher safe
3. Goodful Nonstick Aluminum Cookware Set
Goodful Nonstick Aluminum cookware set is the best option for non-stick cookware that's also durable and stylish. The set includes 8 inches fry pan, 10 inches fry pan, a 2-quart saucepan with a tempered glass lid, a 5-quart Dutch oven with a tempered glass lid, a stainless iron steamer basket, 4-quarts large sauté pan with tempered glass lid, 10 inches square griddle pan, spoon, and bamboo turner.
Instead of the standard Teflon coating, the set has a diamond-reinforced non-stick coating, making it durable. Moreover, the spiral pattern at the bottom isn't just there for aesthetics but also serves an essential purpose: providing a better and even distribution of heat.
Comfortable grip handles fit in the hands like a glove, and they're strong and reinforced by rivets. We noticed that the lids aren't ordinary glass but tempered glass. They also feature steam holes.
Pros
Non-stick
Attractive
Simple to hold
The steamer basket makes an excellent feature
Even heat distribution
Cons
4. T-fal C561SC Titanium Advanced Cookware Set
This is our premium pick among all the cookware sets we've discussed with you so far. It has everything necessary to prepare the perfect dinner for your family or guests. The set includes a 9-inch fry pan, an 8-inch frying pan, a 1-quart saucepan, a 2-quart saucepan, a 3-quart sauté pan, a 5-quart Dutch oven, a slotted spatula, and a spoon.
All pans are non-stick and strengthened with titanium, making them highly sturdy and durable. You can safely use a metal utensil in all of the pans. The pans are all equipped with soft-touch handles that are comfortable and safe. They're not hot when touched and can withstand cooking in the oven to 350 Fahrenheit. Furthermore, the pans come with glass lids vented to work perfectly and release more steam.
Each pan comes with a T-fal Thermospot, which allows you to heat your skillet to the right temperature before cooking. The pans are dishwasher safe; however, it's easier to clean them manually. Use dish soap and a cloth. It is not necessary to scrub; when you're done, simply wipe clean. You can use the pans on electric, gas, ceramic, and halogen hobs.
Pros
Extra durable and heavy gauge
Nonstick coating
Dishwasher safe
T-fal Thermo Spot
Easy to wash
Lifetime Limited Warranty
Cons
They might be thin for some
5. HOMI CHEF Stainless Steel Cookware Set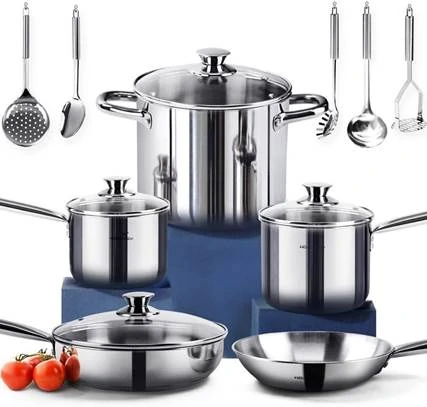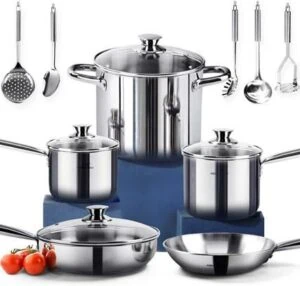 Healthy cooking starts by using healthy cooking equipment. This is the principle of this Homi Chef nickel-free stainless steel cookware. The set contains an 8-quart stockpot with lid, 1.5-quart saucepan with lid, 2.5-quart saucepan with lid, 9.5-inch sauté pan with lid,  8-inch frying pan, five cooking utensils for cooking: skimmer and noodles fork, ladle solid spoon, and potato masher.
Most stainless cookware has nickel, making the material more robust to corrosion and harmful as per the Agency for Toxic Substances and Disease Registry (ATSDR). Moreover, the set is free nickel, so you can be sure that your meals will be as nutritious as they are.
Being free of any coating, including PFOA and PTFE, makes the cookware set the best choice. Without a non-stick coating, you must regularly maintain and season this set. If not, food particles will adhere to the surface. If this is a benefit or con, it's your choice.
You can use the pans and pots without lids in the oven, provided it is not heated more than 400 degrees Fahrenheit/200 degrees Celsius. This set is compatible with all stovetops, including induction. Although it is possible to clean the set using the dishwasher, we don't recommend it as you'll get rid of the seasoning.
Pros
Made from a healthy cooking material
Nickel-free
Beautiful shiny appearance
Induction-compatible
Flexible
Utensils supplied
Cons
6. GreenLife Ceramic Nonstick Cookware Set
The ceramic cookware set includes 16 pieces that can meet every need for cooking, even in the case of a large family. It comes with the mini frying pan, and a 7 inch wide open fry pan, a 9.5 open skillet, a one-quart pan with lid, a two-quart pot with lid, a 5-quart stockpot with lids, a 2.5 quart sauté pan with a lid, and a 7-inch stainless-steel steamer as well as four kitchen utensils. All lids are glass.
The pans are thermolon ceramic, a non-stick material, whereas the body is durable aluminum, meaning your meals will cook evenly, and you'll consume less energy.
The pans are free of harmful chemicals like PFAS, PFOA, lead, or cadmium. The toxic fumes will not be released even if you heat the pan. But, it's best to cook at low or medium heat settings to get the most effective outcomes. Use wooden or nylon tools as metal can scratch and damage the utensils.
The handle doesn't get hot during cooking, and the pans can withstand the oven for up to 350F. The best thing is that the pans are dishwasher-safe. However, you can wash them with your hands using dish soap and a sponge. Make sure you allow the pan to cool before washing.
Pros
Set of 16 pieces
Nonstick
It is made with no PFOA, PFAS, lead, or cadmium
Dishwasher safe
Oven safe up to 350F
Cons
The pans quickly get scratched and chipped
Weak glass lids
Buyer's Guide
Cookware sets are available in various sizes, shapes, and colors. Therefore, when selecting your cookware set, there are certain factors you need to consider before deciding on the one you want to buy. Be patient and don't make an impulsive purchase. You will need your cookware set to last for many years.
These are the factors you should take into consideration:
Construction
Construction is the most crucial factor you must consider when buying cookware sets. The structure of the cookware set influences its durability, and, as such, it is vital to make sure your set is built with strength to make them last as long as it can.
The structure also determines if the set can withstand high temperatures in an oven. If you frequently utilize an oven for cooking your food, then you require a cooking set that has a sturdy design that can stand up to such extreme temperatures.
Heat Conductivity
Certain metals are better at transferring heat than others. For instance, aluminum and copper conduct heat very well and much more efficiently than stainless steel. Of course, stainless steel has advantages too.
The greater the heat conductivity of the pot or pan, the more the food will cook evenly. Additionally, the cookware will respond faster when adjusting the heat down or up.
Non-Stick Coating
Food items are more likely to adhere to the surface when they're not coated with a non-stick coating. Delicate food items like pancakes and eggs are the main culprits in this scenario. If you are prone to cooking these meals regularly, it is recommended to make sure that your cookware is non-stick.
Non-stick cookware is easily cleaned following the cooking process. However, know that non-stick coating is susceptible to peeling off when cookware is not handled correctly, so you must be cautious while cleaning, storing, and cleaning non-stick cookware.
Durability
When it comes to strength, stainless steel can stand on its own. Cast iron cookware is durable, with sets frequently passed over from generation to generation. However, aluminum cookware isn't as sturdy, and you'll probably be forced to replace cookware sets more often. So, if you are looking for a robust and handy option, go for a stainless steel one.
Food Reaction
Certain metals react with certain food items. For instance, both aluminum and copper react with acidic food. In other words, the food can absorb some elements of copper, and it will leave a metallic flavor in the mouth. Consider this carefully so you won't ruin your tastebuds every time.
Maintenance
Maintaining your cookware is also essential if you would like to increase the lifespan of your sets. Here's how to pick the best option for you. If you aren't a fan of the process of polishing your cookware daily, choose aluminum or stainless steel. Cast iron and copper need lots of care to ensure they are in good condition. Cast iron should be seasoned from the beginning and then every couple of weeks.
Handles
The cookware handles that you buy should not get hot while cooking to ensure that you do not burn your skin while cooking in the kitchen. Cool handles keep it simple for you to cook your meals and make sure that you avoid kitchen injuries and accidents. It is always advisable to get a cool handle for better and safe cooking experiences.
Materials
● Stainless Steel
The term "stainless steel" doesn't refer to one metal but a mixture of carbon, steel, and chrome. It is called stainless steel because it isn't susceptible to corrosion. It cannot conduct heat effectively, but you can get a better result by using stainless steel cookware with a copper or aluminum core. Without this, food might cook unevenly.
Steel is cheap, robust, durable, scratch- and warp-resistant. It does not react with acidic foods.
● Cast Iron
Cast iron has been used in cookware for a long time. It is inexpensive and has excellent thermal retention, and is very robust. Its disadvantage is that it is heavy. It needs to be seasoned regularly and takes time to maintain. Without seasoning, it could react with acidic food, and it could also rust.
● Aluminum
About half of cookware sets manufactured are aluminum. It is a popular choice because it is inexpensive and can hold heat for long periods. But, it's an incredibly soft material, which means it will scratch easily.
To prevent this, some aluminum cookware is treated using a process called anodization. It also prevents it from reacting with certain food items. Sometimes, aluminum is sandwiched between other metals like stainless steel to make it more durable, and so the stainless steel can transfer heat better. Furthermore, the aluminum is usually finished with a non-stick coat.
● Copper
Professional chefs often utilize copper since it is a great conductor of heat. They say the food prepared in these utensils tastes good compared to other options. But just like the coin reads two sides, the drawbacks include the fact that it can react to acidic foods, is costly and requires periodic polishing to keep looking nice.
● Titanium
Titanium is among the most durable metals in existence. It's as strong as stainless steel yet only weighs about half as much, making it easier to work with. Despite being light, it's durable, is resistant to corrosion, and doesn't get oxidized. It isn't the most outstanding conductor of heat. Still, some titanium cookware is titanium-reinforced, meaning the base is aluminum and the cooking surface is enhanced with titanium.
It is also possible to purchase ceramic titanium. It's titanium with an outer ceramic layer inside the pan or pot. It is non-stick, and, as a result, you do not need to use lots of butter or oil in these pans, which is healthier for your health. Using wooden or plastic tools in these pans is recommended because metal could scratch.
Titanium is resistant to acid, which means that food will not taste like metal and neither will the pans become damaged.
FAQs
What size/kind of cookware set should I purchase?
We suggest considering the number of persons in your household and the number of guests you hope to have during dinner celebrations. In general, a family of four ought to consider having two pans for frying of various dimensions, two saucepans with different dimensions as well, and a stockpot. A set with utensils is also a good option since you'll know they're safe to use with your pans and pots.
Size depends on your requirements; you can pick the best suited for you, as per these guidelines.
Is it better to use a dishwasher for the cookware set or wash it by hand?
Certain cookware sets are labeled dishwasher safe; however, we believe you should wash your cookware set using a sponge to prevent your cookware from getting damaged. It's simple to wash them with your hands, especially when they're non-stick. All you require is a mild detergent and an easy sponge. Do not use abrasive sponges because they may scratch the cookware.
Is it okay to buy cookware with glass lids?
In our opinion, glass lids offer many advantages; you can observe your food cooking, so you don't need to take off the lid to release the heat. Glass lids typically have vents that let steamy air out. So buying cookware with glass lids isn't disadvantageous at all. So, go for the glass lid ones for better productivity.
Conclusion
The most effective cookware sets don't need to be costly such as the sets mentioned above. It is up to you to choose based on your need, the size, and the material that suits your requirements. It is always advisable to conduct some research before making a final decision. We hope you find the perfect cookware set under $100 to cook every meal to perfection.