Oven-baked wings are the easiest way to get crispy, juicy and tender chicken wings without the mess or added oil of deep-frying. This is your new go-to game day recipe.
How do you make oven-baked wings? First, dry the chicken wings, season them with olive oil, garlic, chili, salt, and pepper, and bake them at 425°F for 50 minutes to one hour. When they are crispy and golden, it's time to eat!
Whether it's football season of just a regular Tuesday night, crispy chicken wings are an all-American favorite appetizer, side dish or entree. While many crispy wing recipes call for deep-frying, you can make excellent crispy and golden wings right in the oven. Skip the spattering vat of oil and use this easy hands-off method to make the best crispy oven-baked wings you've ever had.
Should I bake or fry chicken wings?
Both frying and baking chicken wings yield similar results. The chicken will be crisp and crunchy on the outside and moist and tender on the inside.
When you order wings at most restaurants, chances are they've been deep-fried. Of course, when you have an industrial deep fryer all set up and ready to use in the kitchen, it's easier to toss your wings into perfectly warmed oil. In most home kitchens, deep frying is a bitter to-do, as you have to heat a large amount of cooking oil and ensure it's at the right temperature. If your oil is too cool, and your chicken wings will simply absorb the oil. If it's too hot, and they'll burn before cooking through. Plus, you need to work in batches to cook enough wings to feed a crowd, which means someone will have to stand over the hot stove with a pot of sputtering oil while your friends are digging into hot wings.
And then after cooking, you have to wait for the oil to cool down, which can take hours, and then figure out what to do with it.
frying also adds a lot of extra oil and grease to the wings. While they may taste great, deep-fried wings can leave you feeling weighed down.
Ovenbaked wings, on the other hand, are both easier to prepare and easier on your stomach. If you have a baking sheet and a working oven, you can easily pull of wings that are just as crispy and delicious as the deep-fried version from your favorite bar.
The one downside to baking your wings over frying them is that it does take longer to cook the wings. While fried wings cook up in minutes, you'll need closer to an hour in the oven, depending on the size of your wings. However, with a little planning ahead, you can set aside the time you need. Once the chicken is in the oven, it needs very little babysitting, so you're free to work on other dishes or sit back, relax and build up your appetite.
Buying Chicken Wings
Wings come in a variety of sizes. This recipe will work for any size chicken wing, but when you're buying the meat, opt for wings that are all roughly the same size. This way, they will cook evenly.
How to Make Oven-Baked Wings
Now that you're hopefully convinced that oven baking is the way to make your crispy chicken wings, let's dig into the recipe so you can wow your friends with golden crispy chicken tonight.
Ingredients
Here are the ingredients to assemble for the wings before you start cooking:
2 pounds chicken wings
3 minced garlic cloves
3 tablespoons of olive oil
2 teaspoons of chili powder
1 teaspoon of garlic powder
Salt
Pepper
Prepare the chicken wings for oven-baking
Step 1: Dry the chicken wings
First, prep the chicken for baking. Lay the chicken wings on a plate or a baking sheet. Gently yet firmly press them with a paper towel. This will help the chicken skin crisp up beautifully in the oven. It's very important to remove as much moisture from the chicken as possible, so blot up all sides of the wings.
Step 2: Prepare the seasoning
Next, in a sealable plastic bag, combine the garlic, olive oil, chili powder, garlic powder, salt and pepper to taste. Shake this around until well combined.
Step 3: Season the chicken wings
Open the bag and place the chicken wings inside. Seal the bag and shake it once again to coat the chicken fully in the seasoning.
Bake the chicken wings
Step 1: Preheat the oven
Preheat the oven to 425°F. While the oven heats line a baking sheet with aluminum foil or parchment paper. Place a wire rack on top of the baking sheet. This helps the wings crips up as they bake because hot air can circulate all around the meat. It's helpful, but not 100% necessary, to line the baking sheet under the wire rack. The meat will drip as it cooks, and the lining will make your clean-up much easier.
Step 2
: Oven-bake the wings
Arrange the wings in a single layer on the wire rack. Discard any marinade that remains in the plastic bag (it's been contaminated by raw chicken and cannot be used).
Place the chicken wings in the oven and roast for 45 minutes, or up to an hour, depending on the size of your wings. Every 20 minutes during baking, remove the baking sheet from the oven and flip the wings for even crisping all around.
when the wings are crispy and golden on all sides and cooked through, remove them from the oven. Let the wings cool for about 5 minutes on the baking sheet. If you like, you can toss the wings in a large bowl with hot sauce or barbecue sauce after baking. Serve them hot with your favorite dipping sauces.
How do I get crispy oven-baked wings?
There are three tricks to achieving really crispy oven-baked wings: drying, high heat, and baking powder. The first thing you need to do to your chicken wings is to dry them thoroughly. Get them as dry as you can. The more water content there is in your wing, the less crispy it will be. Secondly, using high heat will add that extra crispiness you're looking for. Finally, if you like, you can add a dusting of baking powder to the marinade for your chicken wings. You can also use a thickener like cornstarch or flour, which will absorb water for better crisping.
Do you put sauce on the chicken wings before or after cooking them?
You should season your wings before you cook them but you should only put sauce on them after you've cooked them. Whether you are baking or frying chicken wings, you need to keep in mind heat will make the sauce fall from the chicken wing – and that's not what you want! Cook them first, add the sauce after they're done cooking, while they're still hot. Then serve the wings as soon as they're covered in your favorite sauce. Be sure to include plenty of napkins!
You can also skip the sauce coating on the chicken and instead serve the oven-baked wings with your favorite dipping sauce.
How to know if oven-baked wings are done
To check that your chicken wings are done in the oven, use an instant-read thermometer. Insert the probe in the thickest part of one of the wings. When it registers 165°F, the chicken is considered safe to eat according to FoodSaftey.Gov. If you don't have an instant-read or meat thermometer, you can cut into one of the wings. The meat should no longer be pink and any juices should be running clear.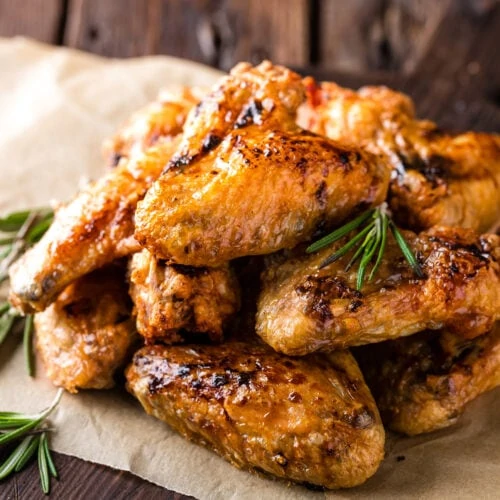 Oven-Baked Wings
How to make excellent crispy oven-baked wings for game day.
Equipment
Baking sheet

Parchment paper

Wire rack

Tongs
Ingredients  
2

pounds

chicken wings

3

garlic cloves

minced

3

tbsp

olive oil

2

tsp

chili powder

1

tsp

garlic powder

Salt and pepper

to taste
Instructions 
Preheat the oven to 425°F. Line a baking sheet with parchment paper and place a wire rack on top.

Pat the chicken wings dry all over.

In a large bag, combine the remaining ingredients.

Add the chicken and toss to coat in the sauce.

Arrange the chicken in a single layer on the wire rack on the prepared baking sheet. Discard any remaining sauce.

Cook the wings for 45 minutes to 1 hour, turning them every 20 minutes during cooking. The wings are done when they are crispy on all sides and the internal temperature registers 165°F. Serve hot