It's time to upgrade your lunch at home, school, or the office with this easy and delicious gourmet ham and cheese sandwich recipe. Melty cheese and savory ham are the perfect combination for a satisfying lunch all year long.
How do you make a gourmet grilled ham and cheese sandwich? Start by choosing your favorite sandwich bread, sliced ham, and melty cheese. Smear the bread slices with apple butter on one side, then pile on ham, cheese, and the second slice of bread. Finally, grill the sandwich with a bit of butter in a skillet or a panini press until the cheese is melty and gooey and the ham is crisp on the edges. Enjoy!
Sandwiches of all kinds are a classic for a reason. First of all, they're incredibly easy to make and absolutely delicious. Everyone from young kids to seniors can agree on a lunch of a gourmet grilled cheese with ham.
Now, we're elevating the traditional ham and cheese stack with a twist in this recipe. It's still quite simple, in fact, it only has 5 steps and I'm sure that you'll love this gourmet ham and cheese sandwich recipe just as much as I did. Happy cooking!
How to Make a Gourmet Grilled Cheese for Lunch
You might think you know how to make a delicious grilled cheese sandwich for lunch. But get ready for a recipe that introduces new delicious flavors for a sweet and savory effect like you've never tasted before. Here's how to make the best gourmet grilled cheese with ham and apple butter.
Ingredients for Grilled Cheese Sandwiches
Start off your sandwich-making by gathering the proper ingredients. Here's what you need to perfect this grilled ham and cheese recipe:
2 slices of white or whole grain bread

Any bread of your choice works. For best results, use thinly sliced bread that will grill well and not distract from the flavors going on inside the sandwich.

2 slices of cooked ham.

Again, thinly sliced high-quality ham works well here. Choose something with a bit of sweetness if you like, such as honey-baked ham. Or, for a more refined grilled cheese, imported prosciutto or jamon are delicious, salty and so savory.

2 slices of cheese

I find that melty cheeses such as cheddar or brie cheese work best for this recipe, but you can definitely play around with different cheese types. You can also easily mix and match different kinds of cheese in your sandwich to find a blend that you love! For example, mild mozzarella is nicely complemented by sharp cheddar or stronger blue cheese. Have fun experimenting!

2-3 teaspoons (around 1 tablespoon) of apple butter.

If you don't want to use apple butter or currently don't have any, you can use any fruit jam. Just be careful, jams tend to be really sweet and you don't want to add too much, If you're using a sweeter jam, try using 2 teaspoons instead of 3. Or, if you like something that's sweet with a bit of heat, a nice hot pepper jam or relish is great in this gourmet grilled cheese.

Butter

This is for grilling your sandwiches. If you don't have butter, oil, or cooking spray will also work. You could even use a thin spread of mayonnaise on either side of the sandwich if you like.
You will also need a sandwich press or skillet to cook your sandwich.
Preparing the ingredients
Step 1  Start by preheating your sandwich press/skillet
If you're using an electric sandwich press or griddle, plug it in and allow it to heat up. Otherwise, heat a large, flat cast-iron skillet over medium heat. You want the cooking surface to be very hot, but not smoking when you put the sandwich in. This will help the bread toast up nicely and slowly melt the cheese so that it's uniform all the way through to the center of the sandwich.
Step 2 Take out your slices of bread
Find all of your ingredients (bread, ham, cheese, apple butter, or other spread and butter). Now you're ready to assemble this elevated grilled cheese sandwich. To do so, spread a couple of teaspoons of apple butter (or your jam of choice) onto each slice of bread, leaving one side of each slice plain. Keep in mind that you won't need a lot of spread to keep that perfect balance of sweet and savory.
Step 3 Add your ham and cheese on top of the spread
Now layer on the cheese and ham, alternating between dairy and meat so that you get a nice melty texture all the way through. There should be cheese touching both slices of bread to ensure the sandwich melts and stays closed.
Finally, close your sandwich and spread a bit of regular butter on both sides of the closed sandwich.
Step 4 Place your sandwich on your grill or skillet
When your cooking surface is hot, gently place the sandwich in. Cook the grilled cheese with ham for around 4 minutes, until it the cheese is melted and it is grilled perfectly. If you are cooking on a skillet or griddle, flip the sandwich after 3 minutes and cook for another 3 minutes on the second side.
Step 5 Serve it up
Eat your gourmet grilled cheese fresh off the griddle while it's warm and enjoy!
Grilled Ham and Cheese Ingredient Variations
If you don't like to add any sweet jams or spreads to your sandwiches at all, don't you worry! Not everyone likes the combination of sweet and salty, so we've got a variation for you. Instead of the apple butter, you can also add regular butter, that works just fine. If you want to spice things up a notch, we suggest you add some mayonnaise and dijon mustard as well. This will be so yummy too, but it won't have that sweet hint that the apple butter provides.
For a bit of spice, you can add a squirt of sriracha, a smear of hot pepper jelly, or harissa.
If you'd like to try this recipe with a lighter cheese, give gouda cheese a go. It's pretty great!
So is mozzarella if you prefer a milder melty cheese. For this recipe, I personally like mozzarella better, but both taste good and it all comes down to preference. If you're a fan of parmesan, you can even sprinkle some of that on top of your grilled sandwich when it's ready.
If you want to add savory flavor with different meat, choose your favorite from the deli. These are all great options to add protein to your gourmet grilled cheese:
Turkey
Dried sausage (thinly sliced)
Capicola
Other varieties of ham
Of course, you can also go vegetarian and omit the meat altogether.
For bigger batches
If you are making a lot of sandwiches and not just one, use your oven instead of a grill to cook them all at once. It'll save you time and effort. To do this:
Preheat the oven to 350°F.
Line a baking sheet with aluminum foil and place the sandwiches on the prepared baking sheet.
Bake for 6 to 8 minutes, or until the cheese is melted and the bread is toasted.
What to Serve with Gourmet Ham and Cheese Sandwiches
The classic pairing to serve with any grilled cheese is, of course, tomato soup. However, don't limit yourself to this one all-American offering. Ham and cheese sandwiches can become a complete and delicious meal if you serve it alongside roasted broccoli or a fresh green salad.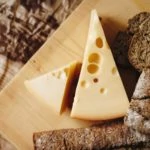 Print
Gourmet Ham and Cheese Sandwich
Elevate your ham and cheese sandwich to the next level with this gourmet twist.
Materials
1

slice

honey baked ham

1

slice

prosciutto

2

slices

Italian bread

buttered

1

slice

provolone cheese
Instructions
Stack the ham and cheese slices on the bottom piece of bread and top the stack with the top piece of bread

On a cast iron skillet with ridges, heat the sandwich for 5 minutes on each side to melt the cheese and toast the bread