Not sure how to cook ham? Most hams you find in the grocery store will be fully cooked and ready to eat. The secret is in how you heat it up.
So, you want to know how to cook ham perfectly? Start with a pre-cooked spiral cut ham, make a savory brown sugar glaze, and heat in the oven for about 2 hours at 325F.
It might seem like a lot of time, but it's completely worth it! And most of that time you don't actually have to do anything!
What Type of Ham Should I Buy?
Before you cook a ham, you need to determine what kind of ham you should purchase.
You'll encounter four types of ham in the supermarket:
City Ham is a wet-cured piece of meat that has been either smoked or boiled. Since it's already cooked, all you need to do is prepare it – something you're going to learn to do today!
Country Ham is a dry-cured piece of meat that has been packed in salt, smoked, and aged. They have incredible, intense flavor – something that you should try sometime.
Canned Ham is either a fully cooked ham, whole ham or different pieces pressed together, and it comes packed in a can. The only thing you have to do is follow the instructions on the package.
Raw Ham or fresh ham is something you should avoid if you don't know what you're doing. To cook a ham, raw, from scratch, is a tedious process that takes curing it, smoking, or boiling it, and only after you're done with all of that can you begin cooking it. It's too much – unless you love cooking!
Basting Brushes
You'll want to use a basting brush to put the glaze on your baked ham. These are easy to find at any store with a kitchen section, but what makes a good basting brush?
What type of brush you want to use depends on what you're cooking. For meat dishes, a basting brush with silicone bristles is best. Here are a number of reasons why a silicone basting brush is a way to go when it comes to glazing your baked ham.
They are durable.
Silicone bristles apply thicker sauces and glazes better.
They're dishwasher safe.
They resist heat well.
If you don't have a basting brush and are ready to cook your baked ham right now, you can use a couple of things as a substitute.
Lettuce or leafy vegetables
Paper towels
Your fingers
These substitutes work well, but if you intend to use a lot of recipes that require basting, it's easier to invest in a basting brush.
Baked Ham Recipe: How to Cook a Ham
Here's everything you need to bake ham. When you're making your first or ump-teenth baked ham, this might be your forever go-t0 for holidays to come.
Ingredients
1 city ham (roughly 10 pounds)
Half cup of brown sugar
¼ cup of mustard
1 tablespoon of apple cider vinegar
2 cups of apple cider
Materials
1 roasting pan
Foil
Oven
Stove
Basting brush
Small saucepan
Prepping The Ham
If you don't have a fresh ham, you want to make sure your ham has had time to thaw if you pulled the whole ham out of the freezer. If you place the ham in the fridge the night before, it makes it easy to ensure your ham is ready to be cooked when you need it.
Step 1: Let the ham breathe
Take the ham out of its package, and let it breathe for 10 minutes. This helps you to cook a ham evenly.
Note: Because you have bought a city ham, there's not much prepping to do – someone else has done it for you!
Cooking The Ham
You can cook a ham once it has reached room temperature.
Step 1: Preheat the oven
Preheat your oven to 325 F (or 160 C). Wait until things heat up. In the meantime, get your ham ready.
Step 2: Wrap the ham
Place your ham in a roasting pan. You want to wrap the ham in foil before you put it in the oven. Wrapping it up makes the most out of the ham's juices.
Step 3: Bake
Once you finish nicely wrapping everything, put the ham in the oven. Let it cook for 100 to 120 minutes before glazing.
Step 4: Prepare the glaze
A perfect ham is 50% ham, 50% glaze. You can take an average ham to the next level with the right glazing. This can't be said enough!
If you prepared the glaze already, skip this step.
If you haven't, all you have to do is mix the brown sugar, mustard, apple cider, and apple cider vinegar together in a small saucepan. Leave it on low heat until it's reduced by half. Let it simmer as you glaze.
During the last 45 minutes of cooking time (e.g. at the 105-minute mark), it's time to get glazing.
Step 5: Glaze until ready
Once you have the glaze, brush your ham every 10 minutes until the ham is done. This should take 40 to 60 more minutes. Once the ham is gold and warm all throughout, take it out of the oven.
The average ham takes between 2 and 3 hours before it's done. If you want to be sure, cook it for 120 minutes and glaze it for the other 40.
Step 6: Let the ham breathe again
When the ham is done cooking (about 140F internal temperature), take it out and remove the foil. Let it rest for 10 to 20 minutes before eating it. This way the juices and glaze can be better absorbed into the meat.
You now have a beautiful, mouth-watering ham to enjoy, and all you had to do was to buy the right type of ham, make a glaze out of easy-to-find ingredients, and use the oven. Make it for special occasions, or you can just treat yourself one evening!
Baked Ham Recipe Variations
Make your holiday ham recipe a family tradition by twisting this recipe to your and your family's taste. Here are some ideas when cooking ham:
Pineapple juice ham glaze
Dijon mustard ham glaze
Orange juice ham glaze
Maple syrup ham glaze
Should I Buy Bone-in or Boneless Ham?
You should always go with the bone-in option if you can when you cook a ham. The slight difference between bone in ham and boneless hams are usually centered on the flavor. If you can choose between bone-in or boneless, always go with bone-in. If you can't get bone in ham, boneless can still taste great — but if you do have a leftover ham bone, save it for stew!
How Much Ham Do I Need Per Person?
You should estimate 1 pound of meat per person – remember this is for boneless meat. You might have to guesstimate the weight of the bone if you bought a bone-in ham!
Easy Ideas for Leftover Ham
It's not surprising to have leftovers if you cook a ham in its entirety. But, aside from simply reheating it, what other ways can you eat leftover ham than ham steak? Just because it's leftovers doesn't mean you can't use it in another recipe. Here are some meal ideas for that ham that didn't get eaten the first night it was cooked.
Various types of ham sandwiches
Scalloped potatoes and ham casserole
Potato and ham soup
Ham fried rice
Ham omelets
Add ham to pasta salads
Smoked ham (reheat make smoked ham in the grill. This is great for a smoked ham sandwich!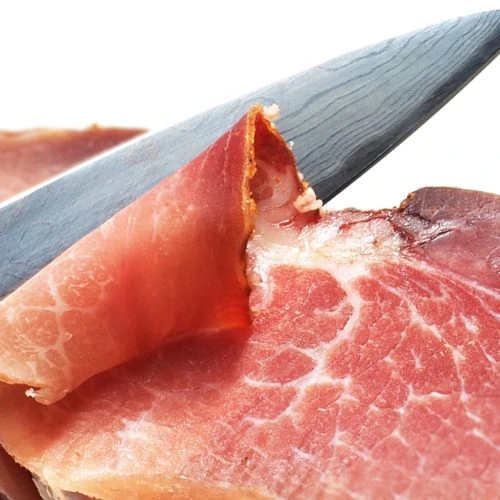 Holiday Ham
Equipment
1 Roasting pan

1 Roll of foil

1 Oven

1 Stove

1 Small saucepan

1 Basting brush
Ingredients  
1

10-pound

City Ham

1/2

Cup

Brown Sugar

1/4

Cup

Mustard

1

Tablespoon

Apple Cider Vinegar

2

Cups

Apple Cider
Instructions 
Defrost the ham if it is frozen. Put the ham in the fridge over night to defrost it.

Take the ham out of its package, and let it breathe for 10 minutes.

Preheat your oven to 325 F (or 160 C).

Wrap the ham in tin foil. Place your ham in a roasting pan.

Put the ham in the oven and bake for 100 minutes and up to 180 minutes.

Make the glaze. Mix the brown sugar, mustard, apple cider, and apple cider vinegar together in a small saucepan.

During the last 45 minutes of baking, open the foil every 10 minutes and brush the ham with the glaze.

When the ham is done cooking, take it out and remove the foil. Let it rest for 10 to 20 minutes before eating it.