Learn how to cook spaghetti squash for a light, gluten-free, and low-carb pasta alternative.
How do you cook spaghetti squash? First, slice the squash in half the long way and remove the seeds. Then season the squash with olive oil, salt, and pepper and roast, cut side down, on a baking sheet at 400°F until tender all the way through, 30 to 40 minutes depending on the size of your squash. 
What is Spaghetti Squash?
Spaghetti squash is a large oblong winter squash that's vibrantly yellow on the outside. It has a hard outer shell. When cooked, the inner flesh turns into spaghetti-like strands, hence the name. It is also sometimes called vegetable spaghetti. Less common varieties of spaghetti squash are white or orange colored. These squash contain a large number of seeds, which you can remove from the squash before roasting and cook on their own for a crispy snack.
Spaghetti squash is most readily available during the fall and winter. It has a naturally sweet flavor similar to other cooked winter squash, such as butternut or acorn.
How to Choose the Best Spaghetti Squash
When shopping for spaghetti squash, the first thing to consider is size. This variety of squash comes in a wide range of sizes, from palm-sized to squash that weigh multiple pounds. Bigger vegetables will take longer to cook, but you can always cut them down into smaller sizes to shorten the cooking time.
The other thing to look for is the weight. This squash contains a high percentage of water, which means that a ripe squash should be heavy and dense-feeling when you pick it up. If you rap your knuckles on the side of the squash, it should have a hollow sound. Don't worry about any visible blemishes on the surface of the squash. Since you're not going to be eating the skin, these are usually just surface-level and won't impact the flavor or quality of the inner flesh. However, if you see soft bruises or wrinkled areas, choose a squash with a more firm appearance.
How to Roast Spaghetti Squash
Once you've selected the best spaghetti squash you can find, big or small, it's time to get into the kitchen and start roasting it!
Ingredients
Because roast spaghetti squash has a naturally sweet and bright flavor, you don't need many extra ingredients to bring the dish to life. All you need to make this simple side dish is:
1 spaghetti squash
Olive oil (we recommend extra virgin)
Salt and pepper
Steps to Roast Spaghetti Squash
1. Preheat the oven to 400°F.
It's important to preheat your oven for your spaghetti squash to cook evenly without getting mushy or burnt. While you can roast the squash at a lower temperature for a longer period of time, we recommend setting your oven to 400°F for squash that comes out a bit caramelized on the edges and tender all the way through.
2. Slice the squash in half lengthwise.
Next, place the squash on a secure cutting board. For safety, put a damp paper towel or dishcloth under the cutting board to hold it in place. Squash can be difficult to cut through because of its tough skin, so use a large, sharp knife. Cut the squash in half the long way to preserve the longest strands of "spaghetti". Next, use a large spoon to scoop out all of the seeds. You can discard them or save them to roast on a separate baking sheet for a crispy snack. You'll notice a lot of stringy membranes inside the squash, this is normal.
3. Season inside the squash.
Now set your two squash halves on a baking sheet lined with parchment paper (this makes clean up a lot easier). Then drizzle both sides of the squash with a thin coating of olive oil and a sprinkle of salt and pepper. You can also use a pastry brush to evenly coat the exposed flesh of the squash. You don't need much seasoning, but ensure it's all over the surface of the vegetable.
4. Set your squash in the preheated oven.
After your squash is seasoned on both sides, turn the two halves over so the skin is facing up. Then use a fork or skewer to poke several holes in the skin of your squash. Poking holes in the squash allows the excess steam to escape during cooking. It also helps heat get inside the squash for more even cooking.
5. Roast your squash for 30-40 minutes.
One common mistake people make is cooking the squash for too long. You don't need to overcook your squash for it to turn into springy "spaghetti" pieces. If you cook spaghetti squash in a 400°F for an hour or longer, you're more likely to end up with water, mushy squash. To avoid this, check your spaghetti squash after it's been roasting for 30 minutes. It very well may need longer, especially if you're using a large squash. If so, continue to cook, checking every 5 minutes for doneness.
You will know if your squash is ready when the outside is lightly browned, and the inside is fork-tender but still a bit firm.
6. Use a fork to scrape the strands of the squash to make the spaghetti.
Once the squash is cooked to your preferred doneness, remove the entire baking sheet from the oven. Flip the squash right side up and let it cool slightly.  Next, take a fork and work from the outside (skin) inwards to gently pull the squash strands away from the skin. They should be long and distinct, not mushy or too soft.
Simple right? You can now add more salt and pepper to taste.
How to Serve Roasted Spaghetti Squash
You can serve roast spaghetti squash as a side dish with nearly any seasonal entree. For example, it makes a sweet and light vegetable side to a dinner of roast pork loin or a whole roasted chicken. You can also use spaghetti squash in nearly any recipe that calls for real pasta. It's a low-carb, grain- and gluten-free alternative for every palate.
Storage Suggestions
Cooked spaghetti squash will last for up to four days stored in an airtight container in the refrigerator. You can freeze the squash, but know that it may have a softer, mushier texture when you defrost it. If that's not an issue for you, having a container of frozen, cooked spaghetti squash in your freezer is an excellent go-to side dish to reach for. Simply reheat the squash in a saucepan on the stove. You can add a splash of liquid to help it defrost.
Can I Roast Spaghetti Squash Cut Side Up?
Yes, you can roast the squash halves cut side up on the baking sheet. However, if you do so, expect a dryer texture with a brown, crispness on the edges. When you invert the squash and cook it cut side down, the steam from cooking gets trapped under the squash halves and help uniformly cook the squash until it's tender without any browning. The skin will turn brown, but you won't be eating the skin anyway.
Can I Eat Spaghetti Squash Skin?
The skin on spaghetti squash is not edible. While some winter squash have edible skin, and in fact the skin can provide a lot of fiber, spaghetti squash skin is very tough and fibrous. You'll see after you roast the squash that the skin turns into a shell-like texture that easily pulls away from the cooked squash flesh. If you like, you can make a nice natural presentation and serve your squash dish inside the shell as a fun bowl.
Flavoring Spaghetti Squash
You can add any of your favorite seasonings or sauces to cooked spaghetti squash. If you'd like to season the squash before cooking, sprinkle on your favorite dried spices and seasoning blends when you add the olive oil, salt, and pepper. Otherwise, you can easily add fresh herbs, sauces, cheeses, and other flavoring agents after the squash is cooked.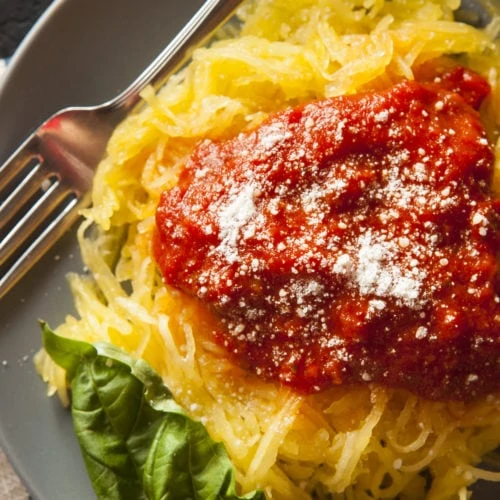 Roasted Spaghetti Squash
How to roast spaghetti squash in a 400°F oven for a tasty pasta alternative.
Equipment
Cutting board

Chef's knife

Baking sheet

Parchment paper

Spoon

Fork
Ingredients  
1

large

spaghetti squash

1

tbsp

olive oil

salt and pepper

to taste
Instructions 
Preheat the oven to 400°F. Line a baking sheet with parchment paper.

Cut the squash in half lengthwise and scrape out the seeds. Coat the flesh with olive oil, salt and pepper.

Place the squash cut side down on the baking sheet and roast for 30-40 minutes, until cooked through and tender

Remove from the oven, flip cut side up and let cool for a few minutes. Use a fork to separate the cooked spaghetti squash strands from the skin and discard the skin.