How to make jasmine rice on the stove that's light, fluffy, floral and perfect for your favorite curries, stir-fries and stews.
How do you make jasmine rice? Fill a pot with two cups of water, bring it to a boil, add salt to taste, and add on cup of raw jasmine rice. Simmer the grains for 15 minutes or until tender.
If you've ever been confronted with the range of options in the rice department at the grocery store, you may have considered buying jasmine rice before. This variety of white rice has long, thin grains and cook ups into a fluffy, slightly sticky texture. Give it a try next time and you may just be a convert to jasmine over any other kind of white rice.
What's the difference between jasmine rice and white rice?
Jasmine rice is technically a variety of white rice. While white rice comes in short, medium, and long-grain varieties, jasmine is only long-grain rice. This rice variety is native to Southeast Asia. It's especially common in Thai cuisine.
White rice, on the other hand, is a generic term for rice varieties that grow around the world, from India to South America. of all the white rice varieties, Jasmine rice has a distinctly floral flavor and smell. The thin, long grains hold their shape well when cooked. So instead of a soft, mushy cooked rice, Jasmine has a more toothsome texture and each grain retains its distinct shape. This lends itself well to absorb the flavors of your favorite curries, soups, and sauces.
If you're looking for a variety of rice that really brings something to the plate in the flavor, looks, and texture department, jasmine rice is always a great idea. Plus, it's easier than you might think to cook up a perfect pot of jasmine rice on the stove.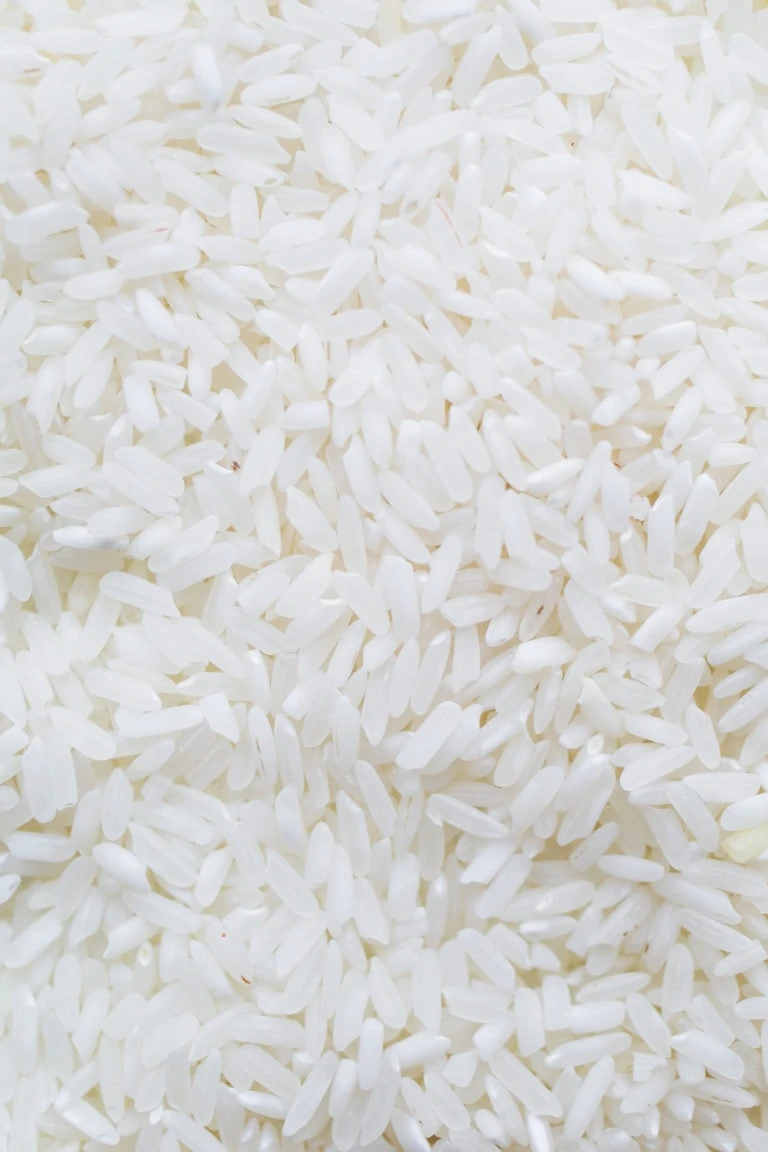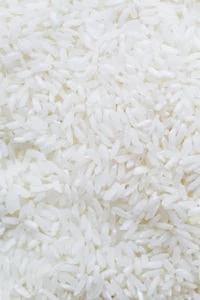 How to Cook Jasmine Rice
Unless you have an electric rice cooker, the best way to cook jasmine rice is, like other long grain rice cooking methods, at home on the stove. This verity of white rice cooks much like other varieties, so there's no fancy technique, ingredients or equipment to make a delicious batch of fresh, floral jasmine rice for dinner.
Ingredients
To prepare a pot of rice to feed four, you'll need three simple ingredients:
1 cup of jasmine rice
1 cup of water
Salt
Prepping the jasmine rice for cooking
Step 1: Rinse the rice
The first step in cooking any variety of rice is to rinse it under running water. To do so, place your uncooked cup of rice in a fine-mesh strainer and run it under cold water in the sink. Rinse the rice for as long as it takes until the water runs clear out of the strainer. This step removes excess starch on the outside of the grains of rice, which prevents your rice from turning mushy or soft as it cooks.
Note that rinsing the rice is not soaking it: there's no need to soak this quick-cooking grain in water.
Cooking the jasmine rice
Step 1: Bring a pot of water to a boil
In a medium saucepan, bring two cups of cold water to a boil over high heat.
Step 2: Add salt
Add a pinch of salt to the water and stir until it dissolves. A good rule of them, if you're wondering how much salt to add to rice cooking water, is 1 teaspoon per cup of rice. If you like a slatier or less salty flavor, adjust the salt to your palate.
Step 3: Add the rice
Once you have the salted water ready to go and boiling, add one cup of jasmine rice. Stir it for a bit then reduce the heat so your water is at a bare simmer. Cover the pot and cook the rice for 15 minutes.
Step 4: Check if the rice is ready
After 15 minutes, remove the lid and check if the rice is tender. You'll have to taste a little bit to make sure. If it's too firm or crunchy in the center, add more water, 2 tablespoons at a time, and continue cooking until the rice absorbs it.
Once the rice is tender, you're good to go! Fluff it with a fork and serve it up hot.
Step 5: Save for later
If you've made too much rice or like to meal prep, you'd be glad to know that this rice will stay fresh for up to 3 months in the freezer. All you have to do is let the cooked rice cool fully to temperature, transfer it to an air-tight container and freeze.
Whenever you feel like having rice, add a tablespoon or two of water to the frozen rice and reheat in the microwave or in a pot on the stove.
You can also store cooked rice in an airtight container in the fridge for up to five days if you're planning a week of meals.
Do you need to rinse jasmine rice before cooking?
You do need to rinse all varieties of rice before cooking it, but just briefly. Do not soak the rice. Soaking the grains will leave you with mushy and watery rice, rather than firm and fluffy. A quick rinse in a fine-mesh strainer will do the trick.
How can you make rice taste better?
Most people like to cook rice in water. If you feel the flavor is coming up short, you can cook jasmine rice in chicken, beef, or vegetable broth. Simply follow the recipe as written and substitute 2 cups of broth for 2 cups of water. Another quick and easy way to add flavor to your rice as it cooks is to add dried seasonings to the water. In the kitchen ratings kitchen we use salt and olive oil, but bay leaves, cinnamon sticks, black and white pepper corns, and dried chilis are all great ways to infuse your rice with subtle, but delicious flavor.
Of course, you can always season the rice with more flavor after cooking. Add dried seasonings, sauces or fresh herbs to liven up your pot of plain rice. This blank canvas can really stand up to any of your favorite flavors from around the world.
One very easy way to elevate the flavor of your rice is to melt a tablespoon of butter or oil into the cooking water. The grains will absorb this savory cooking fat as they cook and have an even more intense flavor.
Serving Suggestions
This variety of rice is the perfect go-to side dish for all things meat, vegetables, or seafood. Because this grain is native to Thailand, it's particularly delicious with traditional Thai ingredients and recipes. Try it with Thai curries made with sweet mango and sour tamarind.
But really, at the end of the day, you can serve fluffy jasmine rice with any dish you'd normally pair with regular white rice. A simple dinner in under 30 minutes could be a juicy chicken breast, broccoli, and jasmine rice.
How to Store the Rice
Jasmine rice is very shelf-stable. Store unopened bags in a cool, dark place away from direct sunlight. After opening, transfer unused grains to an airtight container and store in the same cool, dark place. The grains will last months if properly stored.
Is Jasmine Rice Gluten-Free?
Yes, rice grains are naturally gluten-free. If you're avoiding gluten or have celiac, you can enjoy jasmine rice as part of your diet.
Is It Whole-Grain?
No, most varieties of jasmine rice are white rice. That means that the outer bran has been removed during processing. This makes the grains faster cooking, softer and blander. However, you can sometimes find brown jasmine rice, which has its bran intact and has a nuttier, toastier flavor and a firmer texture. This variety will take longer, up to 40 minutes, to cook using the instructions above.
How Much Rice Per Person?
Rice tends to double in size when cooked. One serving of white rice is considered 1/2 cup cooked, or about 1/4 cup dry. This recipe makes enough rice for 4 adults, about 2 cups cooked.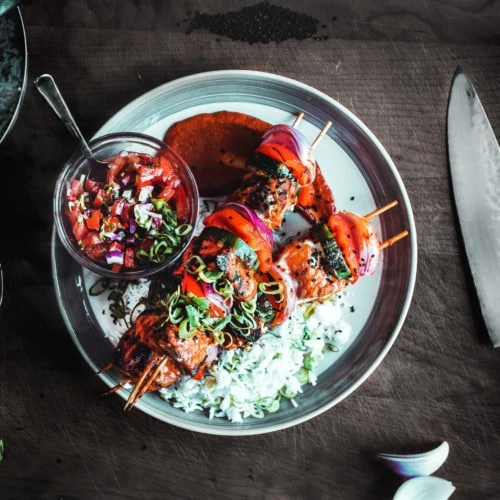 How to Make Jasmine Rice
How to make fluffy, fragrant and delicous jasmine rice on the stovetop.
Equipment
Fine-mesh strainer

Medium saucepan

Fork
Ingredients  
2

cups

water

salt

to taste

1

cup

jasmine rice
Instructions 
Bring the water to a boil in a medium saucepan. Add salt and stir to dissolve.

Add the rice, stir, then reduce the heat to a simmer. Cover and cook for 15 minutes, until the grains are tender and the water is absorbed.