This is the best way to cook tempeh with a soy-rice vinegar marinade. First, steam then oven-roast the tempeh for a crisp exterior with a soft and tender interior.
How do you cook tempeh? First, chop it in cubes and steam the tempeh while you prepare a marinade with tamari, maple syrup, rice vinegar, sriracha, and olive oil, marinate the tempeh, bake for 10 minutes at 425°F, brush the tempeh with leftover marinade, bake for another 10 minutes, and enjoy!
What is tempeh?
The very first thing most people ask is not "how to cook tempeh?" but "what is tempeh?"And it's a good question. If you aren't familiar with tempeh or this is your first time cooking it, there are some important things to know about this vegetarian protein source. For starters, tempeh is made from whole fermented soybeans.
Like tofu, it's a soy-based protein. However, tempeh has a texture very different from the rubbery block you might associate with tofu. Tempeh is much more firm with a rough texture that crumbles easily. This makes it great for substituting ground beef in vegan and vegetarian recipes.
The fermentation process used to make tempeh gives it a slightly nutty, tangy flavor. It is usually sold in vacuum-sealed packaging. At its most basic, tempeh is made with a single ingredient: fermented soybeans. However, you can also find tempeh made with other grains, including quinoa and flaxseed. The added grains tend to give tempeh a stronger flavor that you may enjoy more than tempeh on its own. But in general, tempeh tends to readily absorb whatever flavorings you add to it. This means that tempeh can be treated like a blank canvas in the kitchen. It happily pairs with seasonings and flavors from around the world.
This recipe for the best way to cook tempeh includes a savory marinade made with maple syrup, soy sauce and a bit of spice. It's a simple way to infuse tempeh with plenty of flavor using ingredients that you likely already have on hand.
The Best Way to Cook Tempeh
Ready to get cooking? Here's what you need to know to cook tempeh that's full of flavor, crisp on the outside and tender on the inside every time.
Ingredients
Here are the ingredients that you need for this tempeh recipe:
1 8-ounce block of tempeh
1/4 cup of tamari or low-sodium soy sauce
2 tablespoons of maple syrup
2 tablespoons of rice vinegar
1 tablespoon of sriracha
1 tablespoon of olive oil
Pepper, to taste
How to prepare tempeh for cooking
Step 1: Cut the tempeh into cubes
Open the tempeh and place it on a cutting board. Cut it into even cubes for cooking. The best way do this is to first cut the block in half widthwise. Then stack the two halves on top of each other, cut those in half, and so on. You should end up with even cubes that are roughly 1/2-inch on each side. You can cut the tempeh into larger or smaller pieces if you prefer, but the goal is to have evenly sized pieces, regardless of the shape. This helps to ensure that your tempeh cooks evenly.
Step 2: Prepare the marinade
Next, make the marinade in a small bowl. To do so, simply whisk together the tamari or soy sauce, maple syrup, rice vinegar, sriracha, olive oil and pepper until fully combined and uniform in texture. Set this aside for now.
Cooking tempeh
Step 1: Steam the tempeh
The first step in this recip is to steam the tempeh. To do this, pour 1 inch of water into a medium saucepan. Place the tempeh in a steamer basket and place the steamer into the pot. Cover the pot and bring the water to a simmer. Steam the tempeh for 10 minutes.
Steaming the tempeh here accomplishes a few things. First of all, it reduces any bitter flavor that tempeh sometimes has as a result of the packaging process. Steaming the tempeh also helps it expand so that it can better absorb the marinade in the next step. If you're short on time, however, you can skip the steaming step and go straight to the marinading step.
Step 2: Marinate the tempeh
After your tempeh has steamed for 10 minutes, remove it from the pot and place it into the bowl with the marinade mixture. Marinate the tempeh for at least 30 minutes. If you have time, you can let it marinade for up to four hours for even more flavor.
Step 3: Preheat the oven
Preheat the oven to 425°F (220°C). While you wait for the oven to reach temperature, line a rimmed baking sheet with parchment paper. This helps make clean-up a bit easier, but it's not a requirement if you don't have parchment paper on hand.
Step 4: Place the tempeh cubes on the baking sheet
Remove the tempeh from the marinade, reserving the leftover marinade. Arrange the tempeh on the parchment paper-lined baking sheet into an even layer. Spread the tempeh out as much as possible on the baking sheet. This will help the edges crisp up and turn golden brown. If the pieces are very close together, they will steam more, rather than crisp up in the ovne.
Step 5: Cook the tempeh
Place the baking sheet inside the oven. Bake for 10 minutes. Then carefully remove the baking sheet from the oven, stir the tempeh on the baking sheet and brush the cubes with the leftover marinade. Then return the baking sheet to the oven for another 10 minutes of cooking.
After the final 10 minutes are up, plate your beautiful golden and crispy tempeh, and enjoy!
Does tempeh need to be cooked?
Tempeh is made through fermentation. This means that it has been exposed to long periods of warm temperatures. In fact, these temperatures are the sweet spot for bacterial activity, which is what fermentation is. For that reason, tempeh should always be cooked thoroughly before eating. In addition, raw tempeh has very little flavor and a rather boring chewy texture, so for those reasons alone you're probably going to want to cook your tempeh.
What do you eat tempeh with?
Tempeh is often used as a meat substitute for vegan and vegetarian dishes. If you're looking for inspiration of dishes to use tempeh, you can substitute it for ground meat in many dishes like chili, stuffed peppers, and tacos. As long as you add plenty of sauces, seasonings and flavorings, you really can't go wrong building a meal around tempeh.
If you don't fancy the idea of replacing meat, you can add tempeh in salads for an extra crunchy punch. Keep an open mind when it comes to tempeh, you can mix it up with a lot of things!
For this simple dish of cooked tempeh that's crispy on the outside and tender on the inside, you can serve it alongside your favorite side dishes. For example, fluffy rice and steamed broccoli would make a healthy well-rounded vegetarian dinner option.
Is Tempeh Gluten-Free?
Yes, tempeh is naturally gluten-free. It is made with one ingredient: soybeans. In fact, tempeh is suitable for people on gluten-free, vegan, vegetarian, dairy-free, egg-free and nut-fee diets. It's a great all-purpose ingredient if you're serving a crowd with allergies.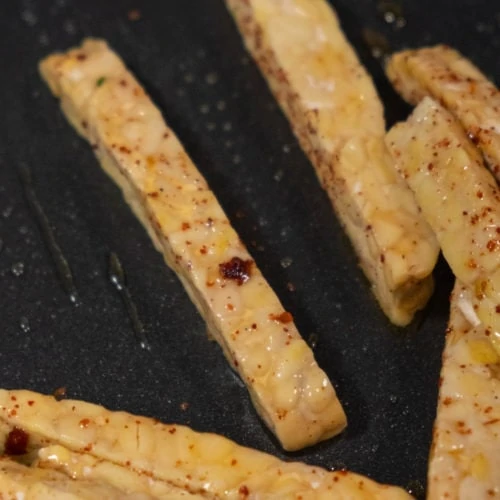 Steamed & Roasted Tempeh
The best way to cook tempeh that is crispy on the outside and tender on the inside.
Equipment
Chef's knife

Cutting board

Steaming basket

Large pot

Baking sheet
Ingredients  
1

8-ounce

block tempeh

diced

1/4

cup

soy sauce or tamari

2

tbsp

maple syrup

1

tbsp

sriracha

1

tbsp

olive oil

pepper

to taste
Instructions 
Bring 1 inch of water to a simmer in a medium saucepan with a steamer basket.

Add the diced tempeh, cover the pot and steam for 10 minutes.

Meanwhile, combine the remaining ingredients in a medium bowl to make the marinade.

When the tempeh is done steaming, transfer it to the bowl with the marinade and toss to coat. Marinate for at least 30 minutes and up to 4 hours.

Preheat the oven to 425°F. Line a baking sheet with parchment paper.

Spread the tempeh out in a single layer on the baking sheet, reserving the excess marinade.

Roast for 10 minutes, coat the tempeh with the remaining marinade, and roast for another 10 minutes, until crisp on all sides. Serve hot.