How to toast pumpkin seeds instead of wasting them. Enjoy a healthy homemade snack with minimal work and just four ingredients, including salt and pepper.
How do you toast pumpkin seeds? You need to rinse them, season them with olive oil, salt, and pepper, bake them at 325°F for 20 minutes, and you're done! Enjoy or save them for a later date!
It's time to stop tossing your pumpkin seeds and learn how to toast them for a fast, satisfying homemade snack. Once you give this method a try, you'll always have a healthy plant-based snack that's great for packing on the go or enjoying instead of popcorn while you watch a movie.
Pumpkin Seeds vs. Squash Seeds
What's the difference between pumpkin seeds and the seeds in other winter squash, like acorn, butternut and delicata? The difference is simply where they came from. All seeds you find inside a squash can be toasted according to the recipe below and enjoyed. So next time you bring home a beautiful squash for dinner or a side dish, cut it open, remove the seeds, and hang on to them.
Try toasting as many different squash and pumpkin seed varieties as you can. You'll notice that they have slightly different tastes, textures, shapes and sizes, but in general, you can cook and season them the same way as described here.
Why eat the pumpkin seeds instead of throwing them away?
Every time you're dealing with a pumpkin, you probably cut it in half, scoop out the seeds, and throw them away – but not anymore! You can make pumpkin seeds go from useless to perfect healthy snack in a few steps.
Not to mention, toasted pumpkin seeds or squash seeds are a great make-ahead snack. You can cook up a big batch and store them in an airtight container for weeks, and even up to three months. As long as they stay dry, you'll always have a healthy, flavorful and crunchy snack on hand to reach for.
How to Toast Pumpkin Seeds
Once you've gathered the seeds from a pumpkin or squash, here is how to quickly turn the raw seeds into a crunchy snack you'll love.
Ingredients
All you need to make toasted pumpkin seeds in the oven is the following short ingredient list:
1 cup of pumpkin seeds
Olive oil
Salt
Pepper
Prepping the pumpkin seeds for toasting
Step 1: Remove the seeds
The first step is to harvest your seeds. You can slice the pumpkin in half or remove just the stem with enough space to reach your hand inside the gourd to remove the seeds. Be careful here, as pumpkins aren't the easiest of materials to cut through. Use a sharp, large chef's knife and a cutting board.
Step 2: Wash the seeds
Next, you'll want to rinse off some of the stringy membrane that's attached to the seeds. Transfer the pumpkin seeds from inside the vegetable to a colander. Run them under cold water and use your hands to remove the pulp and fibers. Often, the water is enough to rinse the seeds clean. If not, use your hands to remove any stuck-on bits.
Step 3: Dry the seeds
Grab an absorbent dish towel and lay it on a flat work surface. Dump the seeds from the colander onto the towel and fold the towel over the seeds. Pat them dry.
Step 4: Season the seeds
Next, it's time to season your pumpkin seeds for toasting. In this simple preparation, you'll just add olive oil, salt, and pepper to taste. Transfer the seeds to a large bowl, add your seasonings and toss to coat thoroughly.
You can add other seasonings at this step too if you'd like. Some popular seasonings for toasted pumpkin seeds include smoked or sweet paprika for an extra punch. Or, powdered garlic can add a savory note everyone loves.
Toasting the pumpkin seeds
Step 1: Preheat the oven
Preheat the oven to 325°F (160°C).
Step 2: Get the seeds ready
While the oven is warming, prepare a baking sheet. Drizzle a bit of olive oil on a baking sheet and use a pastry brush to coat the sheet with the oil. Alternatively, you can spray the baking sheet with a coating of non-stick spray. Finally, transfer the seasoned pumpkin seeds to the prepared baking sheet. Spread the seeds into a single layer, leaving as much space as you can between the seeds. This will allow more airflow between and around the seeds to help them get crispy and toasted in the oven.
Step 3: Toast the pumpkin seeds
Place the baking sheet in the oven and toast the pumpkin seeds for 20 to 30 minutes. After 10 minutes have passed, stir the seeds on the baking sheet. Then, continue to check on your seeds every 5 minutes. Stir them every time you check.
After 2- minutes, eat one to check if they are perfectly crunchy and tasty – if they are, you're good to go! The seeds will turn golden brown when they're done.
Step 4: Enjoy or seal
Once the seeds are done, take them out and let them cool in a bowl. You can eat them right there from the bowl or you can save them up for later. If you decide to save them for later, wait until they are 100% cool – otherwise, they will get soggy.
Are you supposed to eat the shells of the pumpkin seeds?
You can choose to eat the toasted pumpkin seeds with or without the shells – it's all a matter of taste. You can benefit from eating the shells, though. They are high in fiber content and good for you. Either way, shell or no shell, pumpkin seeds are tasty and healthy!
Storing Pumpkin Seeds
The most important step after you toast pumpkin seeds is to properly store them. Choose a very airtight container and keep the seeds in a cool, dark place. They'll last longer if you live in a dry environment than an especially humid one, as humidity can soften the seeds and make them go bad quickly.
Can I Toast Pumpkin Seeds on the Stove?
While you can toast pumpkin seeds on the stove, the best way to cook them is in the oven. The oven provides heat on all sides to slowly crisp up the seeds over a period of 20 to 30 minutes. The stovetop, on the other hand, only cooks the seeds from the bottom up. This can result in seeds becoming toasted, or even burned, on the outside, before they cook through on the inside. If you must use the stove to toast pumpkin seeds, however, it's best to use a heavy-bottomed cast-iron skillet. Choose a large enough pan to give the seeds plenty of room and keep them moving. They may take longer to cook through on the stove, so check them often while they cook.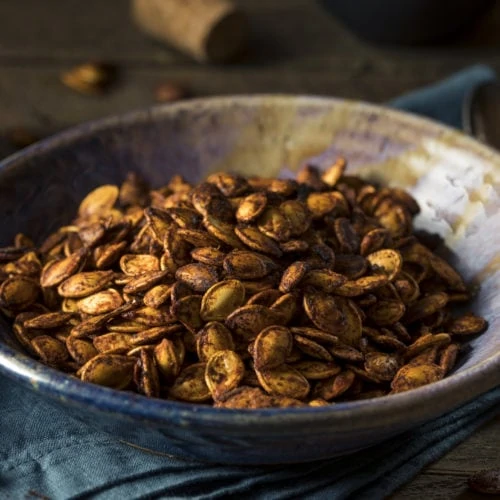 How to Toast Pumpkin Seeds
How to toast pumpkin seeds in the oven for a healthy, crunchy snack that reduces food waste.
Ingredients  
1

cup

pumpkin seeds

1

tbsp

olive oil

salt and pepper

to taste
Instructions 
Preheat the oven to 325°F. Grease a baking sheet.

Rinse the pumpkin seeds and remove any membrane or fiber. Pat them dry on a dish towel.

In a large bowl, toss the pumpkin seeds with the oil, salt and pepper until fully coated. Transfer to the prepared baking sheet and roast for 20 to 30 minutes, until golden and crisp.