How to saute zucchini with garlic and parmesan for a fast, healthy, and savory weeknight side dish with any favorite entree.
How do you cook zucchini? You have to wash it, chop it in rounds, sauté it with olive oil and garlic for 5 minutes, and season it with salt, pepper, and parmesan cheese.
Zucchini is a popular vegetable for cooking all year long. It's freshest in the summer, and cooks incredibly fast. For that reason, sautéed zucchini is an excellent vegetarian side dish for beginner cooks to master. It takes just 5 minutes to make a 5-star side dish.
Different Kinds of Zucchini
There are a few different kinds of zucchini. In fact, zucchini is technically a summer squash, rather than its own species. Other varieties of summer squash include the yellow squashes that are often sold alongside zucchini at the grocery store. These are either straightneck squash or croockneck squash, depending on their shape (it's usually pretty easy to tell which is which).
Other fun varieties of summer squash include patty pans, which are squat with a starburst shape. These can be green, yellow or a beautiful mixture of both colors. You'll also find eight ball squash, which are small and perfectly round.  All have fairly similar, mild flavors. If you come across a new variety, give it a try. You can cook any summer squash using the recipe outlined here.
How to choose the best zucchini
When shopping for zucchini, there are a few signs to look out for to ensure you end up with the healthiest, freshest vegetables.
The first sign to pay attention to is the color of your vegetables. If you're buying green zucchini, which is the most common variety at supermarkets in the US, opt for dark green zucchini. They should have a pretty even color, though it's normal for these vegetables to have some light and darker green streaks.
Second, size. Bigger is not always better when it comes to zucchini. The optimal size is about 8 to 10 inches. Any larger, and there's a good chance the inside of your vegetable is hollow and spongey, rather than firm and healthy.
Third, check for bruising or signs of age. Wrinkles, soft spots or gouges in the vegetable flesh are all signs that this zucchini has been around for longer than it should have been. If you pick up the vegetable and it feels lighter than you expected, swap it out for a heavier one, as lightness is a sign of drying out and age.
How to store zucchini
It's best to enjoy your vegetables as close as possible to the day they were harvested. The longer they're off the vine, bush, or tree, the more nutrients and flavor they lose. However, zucchini holds up better than more delicate vegetables and fruits, such as berries. The best way to store your zucchini if you're not going to saute it right away is in a loose bag in the refrigerator's crisper drawer. Depending on how fresh the zucchini was when you bought it, it will last for up to three to four days if stored this way.
3 tips to take sauteed zucchini into the next level
If you're not used to cooking zucchini at home, you're in the right place. This veggie is super fast and simple to cook! Here are three important tips to keep in mind when preparing to saute zucchini:
No Peeling: That's right! A common mistake several people make is peeling the zucchini. Most people automatically wash and peel produce. This time, keep the skin on. The skin not only adds a beautiful dark green color to your plate, it also helps protect your zucchini from releasing all o fits water and turning mushy as it cooks. It also contains a lot of the vitamins in the vegetable and has a nice flavor.
Salt comes second: You need to add salt at the right moment for sauteed zucchini. If you salt the vegetable before you start cooking, it may end up drying the zucchini out too much. Instead, your best bet is to salt the zucchini as it cooks.
Zucchini needs space: Choose a bigger pan than you might think you need to saute zucchini. If there's not enough room between each zucchini piece, it's likely to end up steamy and soggy rather than crisp and tender. By leaving that extra space between each piece, you'll end up with browned and crunchy zucchini, which tastes and looks much better.
How to Make Sauteed Zucchini
Once you've chosen the freshest looking zucchini, it's time to get in the kitchen!
Ingredients for sauteed zucchini
Here are the simple ingredients you'll need to saute zucchini at home:
3 small-medium zucchini
3 cloves of garlic, minced
Olive oil
Parmesan cheese
Salt
Black pepper
This ingredient list makes enough to feed 4 as a side dish.
Prepping the zucchini
Step 1: Wash the zucchini
The first step, as with any vegetable recipe, is to thoroughly wash the produce under cold, running water. Remove any visible dirt. A vegetable scrubber can work wonders if you don't want to use your hands!
Step 2: Slice the zucchini
Next, shake off the excess water and place your zucchini on a cutting board. You can cut zucchini in a dozen different ways. For sauteed zucchini that has a nice crisp exterior, cutting thin discs or half moons is a good option. Try to make the pieces as even as possible so they cook at the same time. 1/4 inch is a good width to aim for.
Cooking the zucchini
Step 1: Heat the pan
Place a large frying pan or skillet and over medium-high heat.
Step 2: Pour the olive oil and add the garlic
When the pan is hot, add the olive oil. Be somewhat generous with it. The oil should cover the entire bottom of the pan. Just before the oil reaches its smoking point,  add the garlic. Stir it for a little bit until it sizzles and smells fragrant, about 30 seconds.
Step 3: Add the zucchini
Now transfer the zucchini to the pan, spreading it out into an even layer. Cook, stirring, regularly, until the zucchini is tender and browned, about 5 minutes.
Step 4: Plate and season
Finally, finish the dish by seasoning to taste with salt and pepper. If you'd like to add a savory garnish, sprinkle the sauteed zucchini with shreded parmesan. Enjoy!
Does zucchini need to be sauteed or cooked?
In fact, you don't need to cook zucchini to eat it. One delicious way to enjoy raw zucchini is to shave it into thin ribbons with a vegetable peeler. You can add this to salads for a soft texture and mild flavor that soaks up dressing nicely.
How do you get excess water out of the zucchini?
Zucchini is 90% water–that's a lot of water! For this reason, zucchini can have a tendency to turn mushy or watery. Don't worry, though. There are ways to avoid this.
First, try cooking your zucchini alongside "absorbing" foods: Several ingredients absorb water, and a lot of them go great with zucchini! Cheese, for example, goes great with zucchini and also absorbs lots of water. Other thickeners include flour, bread, cornstarch, and chia seeds.
Avoid adding extra moisture: Sauces and soups will add that extra moisture you're trying to avoid.
Keep it short: You might be taking a lot of time with the zucchini! If you cook it for too long, it'll turn mushy. If you take a long time between cooking and eating, it will get mushy too! It's best to keep things short and sweet.
What to Serve with Sauteed Zucchini
This garlicky, cheesy side dish is an excellent pairing with your favorite Italian recipes. Pasta, lasagna, or meat or seafood dishes all shine next to simple sauteed zucchini. One quick and easy weeknight dinner menu might include sauteed zucchini with Roast Pork Loin and fluffy cooked farro.
Storing Leftovers
Store leftover cooked zucchini in an airtight container in the fridge for up to four days. Zucchini does not freeze well, it will turn mushy after defrosting.
How to Flavor Zucchini
Wondering how to saute zucchini with extra flavor? The possibilities are pretty needless. Add your favorite dried spices and seasoning, such as Italian seasoning, crushed red pepper flakes, chili powder, curry powder or cumin. You can also add crunch with chopped nuts, or up the savory factor with other cheeses. Feta, mozzarella, or cheddar are all great choices to experiment with.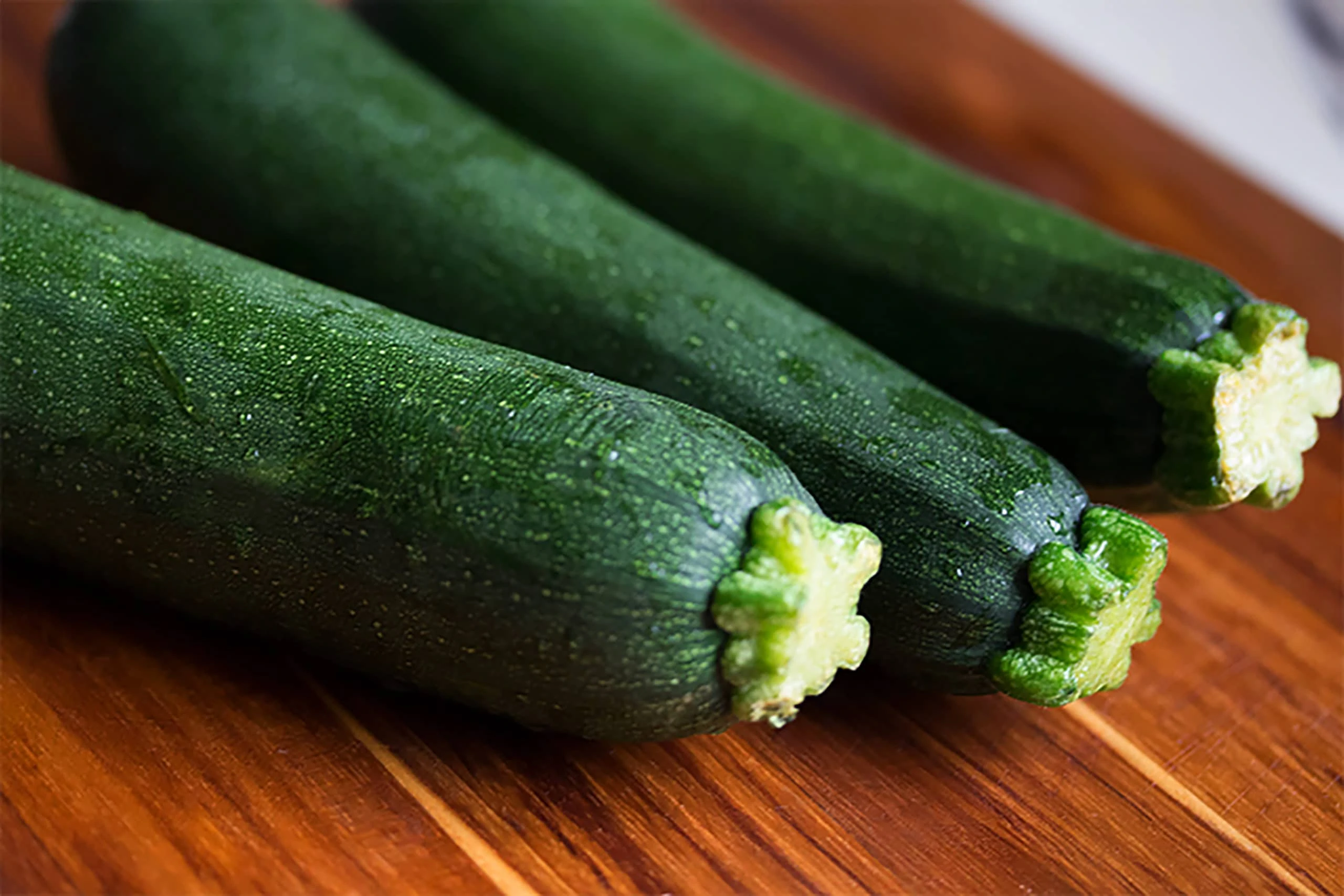 Sauteed Zucchini
How to saute zucchini with garlic and parmesan.
Equipment
Cutting board

Chef's knife

Large skillet

Wooden spoon
Ingredients  
2

tbsp

olive oil

3

garlic cloves

minced

3

small-medium

zucchini

cut into 1/4-inch rounds

salt and pepper to taste

grated parmesan chese

optional
Instructions 
Heat the olive oil in a large skillet over medium heat. When the oil is hot, add the garlic and cook for 30 seconds.

Add the zucchini and saute for 5 minutes, until golden brown. Season with salt and pepper and garnish with parmesan if you like.