Here is what you need to know to cook delicious pan-seared tilapia that's so tasty and easy, even non-seafood lovers will enjoy it!
Tilapia is the perfect fish selection if you are cooking for someone who claims not to like seafood. Its mild flavor and soft, flaky texture make this light and healthy fish easy to transform into a delicious dish that doesn't have the overly fishy qualities of other seafood recipes.
How do you cook tilapia? First, rinse the tilapia, prepare a simple and flavorful topping, season the fish with melted butter and lemon, add the topping, and bake for 10 minutes at 400°F.
This recipe offers the perfect introduction dish to the seafood world!
Why Choose Tilapia?
There are countless options at the seafood market or at the fish counter in the supermarket. And each opinion has its have pros and cons. If you're looking for an easy-to-cook, tasty but not overly-fishy tasting, and versatile seafood option, tilapia fits the bill.
Easy to cook: There are few seafood options that are easier and faster to cook than tilapia. You don't need much culinary experience to pull this recipe off. Nearly anyone can cook tilapia–that's how easy it is! And if you're already a veteran cook, this will be a refreshing and easy dish to give yourself a break from complex recipes.
Mild taste: Fish tastes like, well, fish. That can be a little too much for some people. You might be one of them. Don't worry, though. Tilapia is the right choice if you want to ease your way into the seafood world without overdoing it.
Goes well with everything: Tilapia tastes somewhat similar to chicken. And much like chicken, it goes well with nearly everything. You can mix it up and serve your simple roasted tilapia with baked potatoes, sweet potatoes, veggies, a little bit of cheese, and plenty more dishes.
How to Buy the Best Tilapia
Tilapia can be purchased fresh or frozen. As with other seafood, fresh is always the best when it comes to quality and flavor. However, frozen tilapia is a great option to stock your freezer with for convenience. But how do you know what to look for when buying fish, especially tilapia? Here are some pointers to help you become a tilapia-buying expert.
1. Test the flesh
If possible, ask the fishmonger to press the fish flesh.  The tilapia should be elastic, meaning that the imprint from his or her finger should bounce back and disappear from the fish quickly. If the imprint lingers, the fish isn't at its freshest.
2. Buying a whole fish? Check the eyes.
The fish eyes should bulge outwards and be bright. Avoid cloudy or grey eyes.
3. Fish scent? Yes. Overwhelming odor? No.
While there is no denying fish has its own, special smell, fresh tilapia should not have a strong, off-putting smell. The worse a fish smells, the older it probably is.
If finding quality food to you also means being environmentally friendly, research the best sources your tilapia should come from. An easy way to do this is through the site seafoodwatch.org. It has all the information about the best farming practices and source areas for tilapia.
Storing Tilapia for the Best Results
Ideally, we'd all cook our tilapia the same day we purchase it; however, busy schedules often mean this isn't possible. In that situation, here are some ways to store tilapia in order to keep it fresh and ready when you are.
In the Fridge
If you know you'll cook the fish within 2-3 days of buying it, then you can store it in the fridge.
One way to do this with the best results is to double bin the tilapia. First, wrap the fish in plastic. Set it in an ice-filled container that has holes in the bottom. Then place this container in a larger container, seal the larger container, and put the entire set up in the fridge. The melted ice will collect slowly in the larger container. This is a good way to store your tilapia because the colder you keep fish without actually freezing it, the better.
In the Freezer
If you're pretty sure you won't get to cooking your fish within a couple of days of bringing it home, then it's safest to freeze it so that the fish doesn't go bad. Freezing tilapia will take away some of its flavor, but it can last for months in the freezer.
You simply need to place the tilapia in freezer-safe plastic bags or containers. If you want it to be the best quality you keep it by freezing, then go ahead and vacuum seal the fish.
The best way to thaw frozen tilapia is by putting it in the fridge.
How to Cook Tilapia
Here are the steps to prepare and properly cook tilapia in the oven to feed four people.
Ingredients
4 tilapia fillets
1 lemon
2 tablespoons of parmesan cheese
1 teaspoon + 1 tablespoon of melted butter, divided
1 teaspoon of garlic powder
¼ cup of bread crumbs
1 tablespoon of parsley
1 teaspoon of paprika
Prepping the Tilapia
Step 1: Get the tilapia fillets ready
Begin by taking the fillets out of the refrigerator and giving them a good rinse. In addition to using your hands to wash the fish, double-check if there are scales or small bones to remove. Use tweezers to carefully remove anything from the flesh
Step 2: Get the topping ready
Next, grab a bowl and combine 1 teaspoon of melted butter, the cheese, garlic powder, bread crumbs, parsley, and paprika. This will be the flavorful cheesy topping for your tilapia.
Step 3: Place the tilapia on a baking sheet
Before seasoning the tilapia, place it on a parchment paper-lined baking sheet.
Step 4: Season the tilapia
Brush the remaining 1 tablespoon of melted butter on the tilapia fillets on the baking sheet and then squeeze the lemon on top. If you feel like it needs a little more butter or lemon, feel free to add more, but don't overdo it!
Step 5: Put the topping to good use
After the butter and the lemon, add the cheesy topping to each fillet. Make sure to spread it nice and evenly.
Cooking the Tilapia
Here comes the part that will fill your kitchen with delicious aromas.
Step 1: Preheat the oven
Preheat the oven to 400°F (205°C).
Step 2: Cook the tilapia
When the oven reaches temperature, place the baking sheet with the tilapia in the oven. Bake the fish for 10 to 15 minutes or until the fish is tender. After the 10-minute mark, check every 2 minutes or so. You can overcook fish rather easily so be careful!
As a result of your work, you now get to enjoy some delectable tilapia. All it required from you was rinsing the fish fillets, preparing the topping, then adding lemon, butter, and the topping to the fish, and, finally, baking the tilapia in the oven.
How Do I Make Sure Tilapia Is Cooked?
If you think your dish is ready to be served, but want to be extra sure about it, grab your fork and check the thickest part of the fish. It should be flaky and separate easily. If it's tender, twist gently and remove a little piece. The color can also be an indicator of doneness. If that piece has lost the translucent look raw fish has, it's done!
Another thing you can do is check the fish with a meat thermometer. The thickest part of the fish should be between 140°F and 145°F (60°C to 62°C).
What Goes Well with Tilapia?
Tilapia is as versatile as they come! You can probably mix it up with almost anything that you have in the kitchen right now. Potatoes are always a go-to side dish when you don't know what to pair something with. A salad will be great as well. If you want something a little bit more elaborate – but not that much – you can cook pasta and mix it with tilapia chopped in cubes. If you are looking for a less often vegetable, try Sauteed leeks.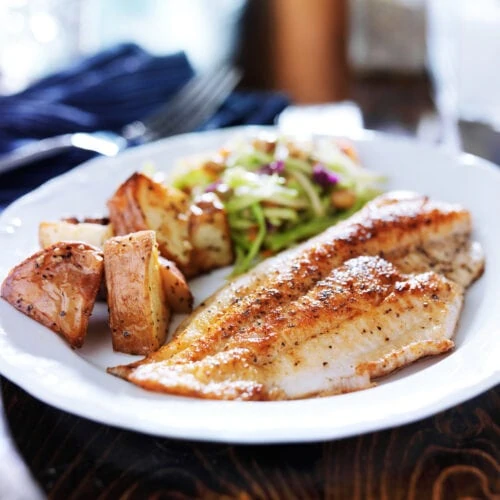 Oven-Baked Tilapia
How to make delicious tilapia in the oven for a simple seafood dinner.
Equipment
Baking sheet

Parchment paper
Ingredients  
4

tilapia fillets

1

lemon

2

tablespoons

parmesan cheese

1

teaspoon

+ 1 tablespoon melted butter

divided

1

teaspoon

garlic powder

¼

cup

of bread crumbs

1

tablespoon

parsley

1

teaspoon

paprika
Instructions 
Preheat the oven to 400°F (205°C). Line a baking sheet with parchment paper.

Rinse the fish and remove any pin bones.

In a bowl, combine 1 teaspoon of melted butter, cheese, garlic powder, bread crumbs, parsley, and paprika. This will be the flavorful cheesy topping for your tilapia.

Place the fish on the prepared baking sheet. Brush the remaining 1 tablespoon of melted butter on the tilapia fillets on the baking sheet and then squeeze the lemon on top.

After the butter and the lemon, add the cheesy topping to each fillet. Make sure to spread it nice and evenly.

Bake for 10 to 15 minutes, until the fish flakes easily and is cooked through.