Learning how to roast a whole chicken is a back-pocket culinary technique that will always impress. It's easier than you think to make juicy, flavorful, and crisp-skinned roast chicken with your favorite seasonings.
To roast a whole chicken, place your whole bird on a baking sheet and season it liberally with salt, pepper and onion powder. Add butter and diced celery to the chicken cavity and rub more butter on the outside of the bird for golden color and flavor. Then roast it in a 350°F oven for 75 minutes. Finally, remove the cooked chicken from the oven, baste it with melted butter and drippings from the pan, wrap it in foil, and let it rest for 30 minutes before carving and serving.
Is it hard to cook a whole chicken?
Learning how to roast a whole chicken is much easier than you think. You need a short list of ingredients, a few basic cooking tools, and time. That's it! Be prepared to surprise yourself by how tender, juicy and tasty your first roast chicken is if you follow this simple recipe. Plus, the great part about roasting a whole chicken is that you end up with a roasted carcass that's ideal for making intensely flavorful homemade chicken broth.
What Kind of Chicken is Best for Roasting?
Select a whole, thawed fresh chicken. You can find it at a butcher shop or the grocery store. A 3-4 pound chicken is enough to feed 4 people. You may encounter some terms when you're shopping for a chicken. Generally, they have to do with the size and age of the bird. The most common kinds of chicken are:
Broilers, which are on the smaller and younger side, weighing in at about 2 1/2 pounds.
Fryers, which are slightly large, are up to 3 /12 pounds.
Roasters, which are up to 8 months old and can weigh up to 5 pounds.
Stewing Chickens are up to 7 pounds and tend to have tougher meat that's better for longer, slower cooking.
While these terms can help indicate the age of your chicken, what really matters is the size of the bird. In general, a good rule of thumb is to buy 1 pound of bone-in chicken per person. If you're cooking boneless chicken, 1/2 pound is appropriate per guest.
Ingredients for Roast Chicken
For the simplest preparation, all you need to roast a whole chicken are the following ingredients:
1 whole chicken, giblets removed
1 stalk celery, leaves trimmed
1/4 cup unsalted butter (you can also use olive oil if you prefer)
1 tablespoon of onion powder
Salt
Pepper
Of course, chicken is an excellent blank canvas to a wide range of seasonings and flavors. You can add any of your favorite dried spices or seasoning blends to the chicken before roasting. You can also turn your roast chicken into a more complete, well-rounded meal by adding vegetables to the baking dish. they'll cook alongside your bird and absorb all of those meaty flavors.
The best vegetables to roast alongside your chicken are hearty veggies that won't break down during the longer cooking time. Think root vegetables, winter squashes, and alliums.
Best Vegetables to Pair with Roast Chicken
Try tossing large pieces of any of these hearty, tasty vegetables to the roasting dish, and you'll have a built-in side dish to enjoy with your chicken:
White or red potatoes
Quartered onions
Carrots
Parsnips
Sweet potatoes
Radishes
Butternut, honey nut, or acorn squash
How to Roast a Chicken: Step-by-Step Guide
Once you have your ingredients out, it's time to get in the kitchen and start roasting your bird. Here are the simple steps to make the perfect roast chicken from the get-go:
Step 1: Place the chicken on a roasting pan
The very first step is to preheat your oven. While nearly any oven temperature will get the job done, 350°F is a nice sweet spot for juicy, fall-off-the-bone tender chicken. IF you prefer crispy browned skin and firmer meat, you can crank your oven up to 450°F. This also works if you're making dinner in a time crunch.
While the oven heats, place your chicken on a roasting pan with sides. The sides help catch the juices that will accumulate during roasting.
Step 2: Season the whole chicken
First, sprinkle salt, pepper, and onion powder generously both inside and outside the chicken. Make sure you cover everything and all sides. Now would also be the time to add your favorite dried or fresh herbs and seasonings.
Place 3 tablespoons of butter inside the chicken. Break the remaining tablespoon of butter into small pieces and place them on top of the chicken. They well melt into the meat and skin during roasting for a beautiful golden color and crispy skin.
Finally, grab the celery, break it into 3 or 4 pieces, and place them inside the chicken. This adds a fresh, green note to your chicken to season it from the inside out during roasting. You can also place your cut-up vegetables around the chicken on the baking dish now.
Cooking the chicken
Step 1: Roaast the whole chicken
Place the roasting pan, uncovered, in the oven. Let it cook for at least 1 hour and 15 minutes for 350°F and closer to 50 minutes at 450°F, rotating the bird halfway through for even cooking.
Step 2: Baste and let it rest
Once the chicken has spent 75 minutes in the oven, check the temperature. The chicken is done when it registers 165°F on an instant-read thermometer in the thickest part of the meat (the thigh). You can also check by doneness by cutting into the thigh with a sharp knife. If the juices inside are running clear, the bird is cooked. Continue roasting until you're there. If the skin is browning too quickly, you can cover the bird with tin foil in the oven.
Once your bird is done, remove it from the oven and use a baster or a spoon to drizzle the juices in the pan over the bird. Cover the dish with aluminum foil and let it rest for 30 minutes.
Step 3: Slice and serve
Finally, after the resting time is up, uncover the bird and slice it with a sharp knife. Dinner is served!
Should you wash raw chicken?
You should never wash raw chicken with water. Even though it might seem like the right thing to do, you're increasing the risk of contamination in your kitchen by spreading potential bacteria on the bird into other parts of your sink and kitchen. Properly storing and fully cooking your meat is the best way to avoid food-borne illness.
Should I Marinate Chicken before Roasting?
Marinating and bringing meat are two great ways to amp up the flavor and texture of your meat. Some restaurants tenderize their chicken through a process called velveting. If you want to aim for super-tender, restaurant-style chicken at home, you can try velveting yourself. It's simply a process of marinating chicken in baking soda for 20 minutes. All you have to do is take a teaspoon of baking soda per 250 grams of chicken. Mix the baking soda with enough water to cover the chicken, place the chicken inside and let it sit for 20 minutes. Then simply rinse the chicken, pat it dry, and roast as directed.
To add flavor, you can marinate your chicken up to one day ahead of time. Make a marinade as simple as oil and lemon juice or as complicated as teriyaki. The flavoring options are pretty endless when it comes to chicken. And the best part about roasting a whole chicken is that you really don't need many extra flavor-enhancers. The meat speaks for itself with just a little salt and pepper.
Should I cover the whole chicken with foil when baking it?
It may be necessary to cover the chicken when baking it but not right away. To get crispy, golden skin, start roasting the chicken uncovered first. Cover it with aluminum foil if you see the skin browning too quickly before the inside is fully cooked.
Then, cover the chicken again after it's out of the oven to let the meat rest. The trick is to cover the chicken loosely – that way, the juices can flow freely and the chicken will get a little steam, making it twice as tender and delicious!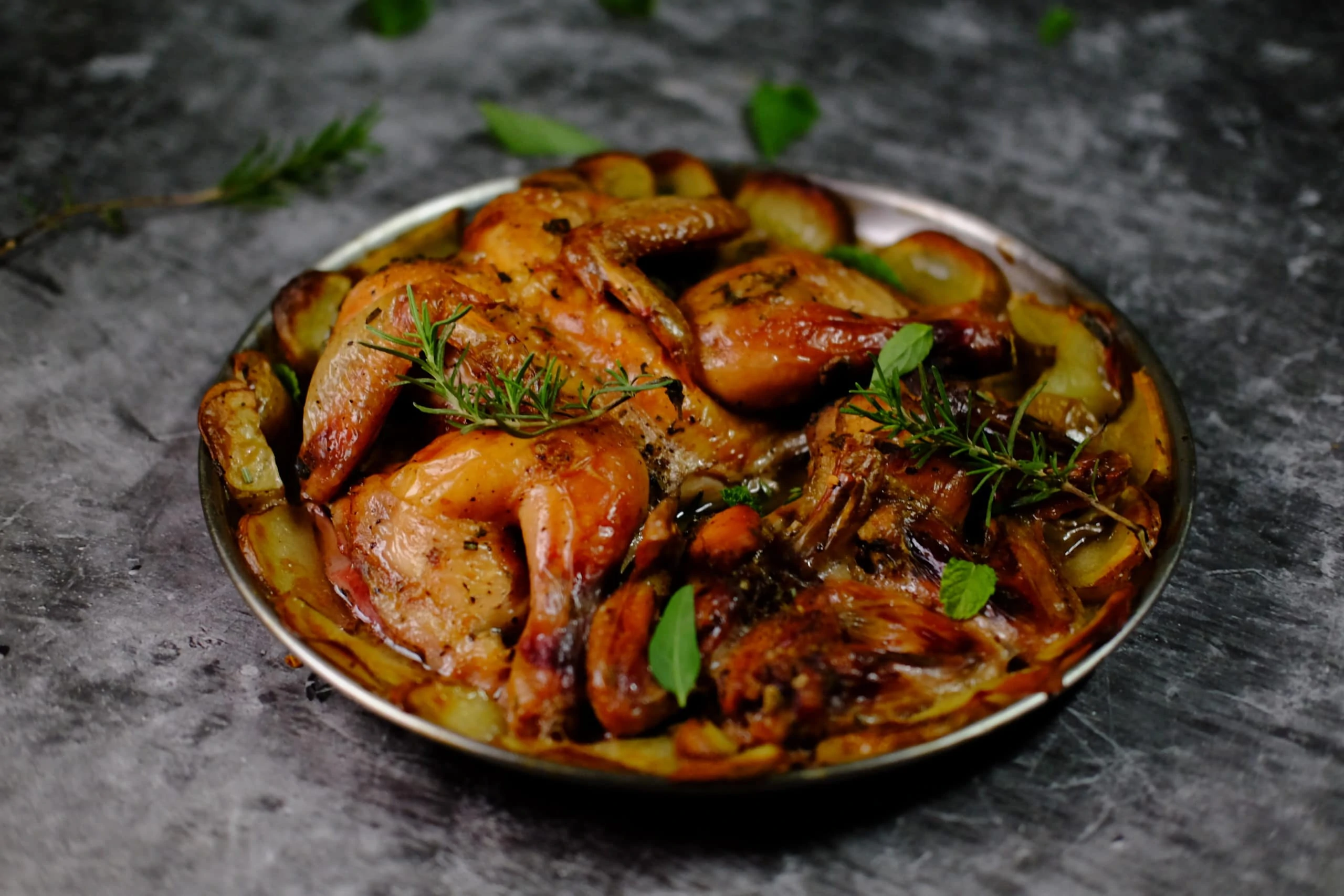 Roasted Whole Chicken
How to roast a whole chicken for a simple, satisfying and easy weeknight dinner that impresses.
Equipment
Roasting pan

Baster/large spoon
Ingredients  
1

3-4 pound

chicken

giblets removed

1

tsp

onion powder

salt and pepper

to taste

4

tbsp

unsalted butter

or olive oil

1

stalk

celery
Instructions 
Preheat the oven to 350°F.

Place the chicken on a roasting pan with sprnikle inside and out with onion powder, salt, and pepper. Place 3 tablespoons of butter inside the chicken cavity, along with the celery stalk, broken into pieces.

Cut the remaining 1 talbepsoon butter into small pieces and arrange them all over the top of the chicken.

Roast for 1:15, until the juices run clear and the meat registers 165°F on an instant-read thermometer. Remove the chicken from the oven, tent with alumum foil and rest for 30 mintues before slicing.