A colander should be a staple in every kitchen. Cleaning vegetables and meat and draining pasta are done easily when you have the best colander at hand. However, a colander should not be confused with a strainer. Colanders are easily distinguishable by their bowl-like appearance and small to large holes that quickly drain things.
Colanders can either be made from plastic or metal, such as enameled iron or aluminum. They can also be made from silicone or rubber materials. One characteristic unique to a colander is its base. Though most colanders come with handles on both sides, those that come without can still stand on their own because of the base.
Uses of colander vary from washing food items to draining pasta. They are also used to keep fragile produce such as mushrooms, grapes, and berries fresh. A metal colander also works as a substitute for a steamer basket, especially when steaming big chunks of meats and vegetables.
Quick View
Top Recommended Product: LiveFresh Stainless Steel Micro-Perforated Colander
Best Budget Product: Chef Craft Select Plastic Deep Colander
Best Premium Product: Winco Stainless Steel Premium Colander
Best Collapsible Colander: Longzon Collapsible Silicone Colander and Strainer Set
Best Plastic Colander: KitchenAid Plastic Food Colander
Best Metal Colander: Bellemain Micro-Perforated Stainless Steel Colander
Best Over-the-Sink Colander: U.S. Kitchen Supply Over-the-Sink Oval Colander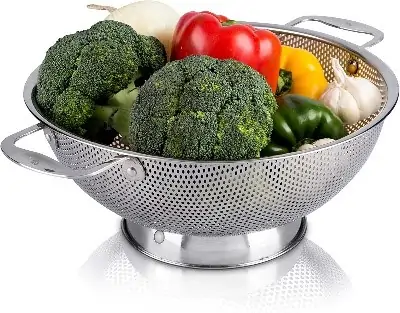 Our top recommended product as one of the best colander options for the kitchen is this micro-perforated colander from LiveFresh. The micro-perforated holes permit faster drainage while preventing the solid particles from spilling out. The holes are tiny enough to ensure that thin noodles like spaghetti won't slide through them.
The stainless steel construction is 20% thicker compared to other colanders in the market. So, you are guaranteed its durability, knowing it will last a lifetime. The LiveFresh colander also offers a lifetime warranty for this product and a money-back guarantee if you think the colander is not what you're looking for.
Pros:
Easy to clean
Dishwasher safe
Resistant to rust
Riveted handles
Draining ring base
Made from heavy metal
Cons:
Not fit for draining grains and seeds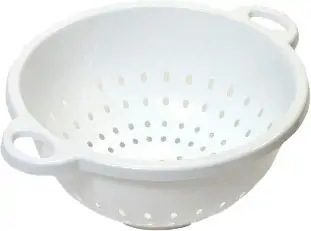 The most budget-friendly colander that is highly recommended is this plastic colander from Chef Craft. This colander measures 11 x 5 inches and has a 5-quart capacity. The holes range from medium to large, allowing for fast and easy water flow when rinsing. The base is sturdy enough to keep the colander's balance when standing on countertops.
It is made from plastic material, but you don't have to worry about its durability. This colander is made of durable, BPA-free plastic. This colander will drain vegetables, meat, and pasta safely. It is also dishwasher safe for easy and convenient cleaning.
Pros:
Very affordable
Made from BPA-free plastic
Large enough for meat and vegetable cuts
Durable
With handle and base
Cons: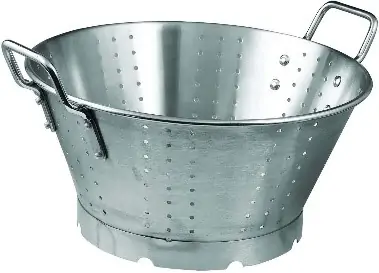 Premium products cost more than the average, but you get the highest quality possible for the price that you pay. This premium colander from Winco is every chef's delight in the kitchen. It is large enough to hold up to a 16-quart capacity, making it ideal for a larger family.
It has medium-sized holes that can drain stuff without anything slipping through. The wide base provides strong support so that it won't tip over while draining, preventing a huge mess.
Pros:
Made from premium steel
Large enough for large recipes
Wide base
Heavy duty
Sturdy and durable
Best for professional use
Cons: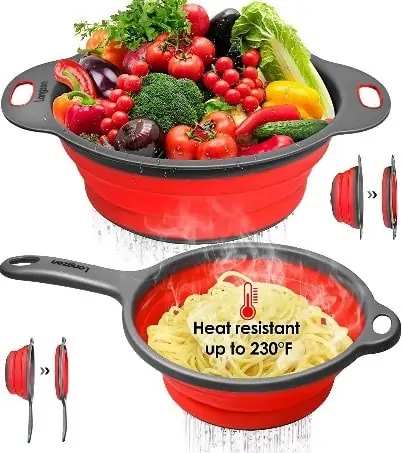 Most colanders take up too much space, making it harder to organize things efficiently. However, a collapsible colander solves this dilemma, and that is what Longzon has to offer. The colander set gives you both a strainer and colander for just one price. Both items are also collapsible. So, they can store down flat, and you don't have to worry about being short on space in your cabinets.
This colander and strainer set can collapse down to less than 2 inches each in size. This set is ideal for outdoor activities and RV use since it is also extremely portable. The materials used are BPA-free silicone, eco-friendly rubber, and plastic, ensuring safe use for foods.
Another remarkable thing about this product is that it is resistant to heat for up to 230°F. With this colander, you can easily submerge it in hot water to blanch vegetables such as green beans and spinach without worrying about damage.
The colander has two handles and can stand freely on the counter, table, or sink. Meanwhile, the strainer comes with a long handle that you can hold when draining. The colander can hold up to 3 quarts, while the strainer can hold up to 2 quarts.
Pros:
BPA-free and eco-friendly materials
Resistant to heat
Comes with a strainer
Foldable and space-saving
Comfortable handles
Drains easily
Food-grade approved
Dishwasher safe
Cons:
Small capacity
Stains easily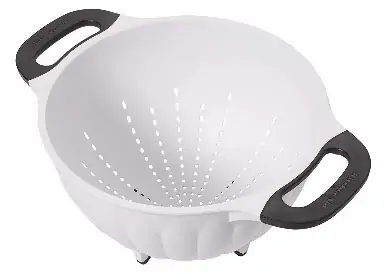 KitchenAid has given us many kitchen appliances and accessories, including this colander. Though this colander is a bit more expensive compared to the Chef Craft option from our recommended best budget colander, you get the highest quality that plastic can offer.
KitchenAid is also one of the leading brands when it comes to kitchen tools and equipment. Thus, ensuring the superiority of the product.
The base has a non-slip design to guarantee stability when draining. It also features holes of various sizes that allow for quick drainage while ensuring that solid particles do not slip through.
Pros:
Dishwasher safe
Convenient and easy cleaning
5-quart capacity
Non-slip base
Sturdy handle
Safe for food
Cons: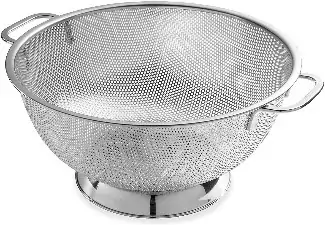 Bellemain is a powerhouse brand when it comes to kitchen accessories. From cookware to cutlery and other essential kitchen tools, this brand has you covered. Bellemain's steel colander is considered the best in the metal category due to its sturdiness and robust makeup.
This stainless steel colander has small holes all over the bowl to ensure that it drains fast while keeping the solids in. The holes are small enough to keep spaghetti contained when draining. Additionally, this colander is resistant to rust since it is made from 18/8 stainless steel.
Pros:
Safe for dishwasher
Small holes work for thin noodles
Rust-proof
Stable base
Riveted grip handles
Thick and durable
Cons:
Not good for small things like quinoa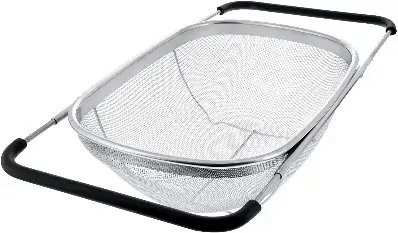 An over-the-sink colander expands to fit the top of your sink. This type of colander frees your hands to do other things, such as tilting a heavy pot or holding a spoon while draining. People who consider using an over-the-sink colander do so because of its convenience. It is also big enough to drain a huge amount of ingredients all in one go.
The over-the-sink oval colander from U.S. Kitchen is the best mesh colander under this category. It features a professional-grade mesh basket that drains the liquid thoroughly. It also has collapsible handles with a rubber grip. The handles extend from 14 inches to 21 inches to fit on almost any sink top. If you do not want to put it on top of the sink, it has an extra feature of resting feet at the bottom too.
The colander's basket measures 13" x 9". It has a 6-quart capacity, which is ideal for most draining, rinsing, and other various filtering tasks. You can also use this colander for sifting and straining wet and dry ingredients alike, such as flour, sugar, sauces, and gravies. All of these uses make the colander worth its price.
Pros:
Stainless steel frame
Professional grade mesh basket
6 quart
Fits almost any sink
Collapsible and expandable handles
Multiple-use
Heavy duty
Cons:
How to Clean a Colander
Most colanders nowadays are safe for dishwashers. However, if you want to follow through with the traditional way of cleaning your colander manually for a more thorough cleaning, then follow these simple steps:
Cover the sinkhole and fill it with hot water enough to soak the colander
Mix dishwashing liquid into the water
Soak the colander in the water for at least 15 minutes. This will help loosen hard residue
Flip the colander upside down and pass it through running water
Scrub the colander with a brush and soapy water. If there is still hard debris left behind, clean it off with a hand towel. Fold the hand towel and scrub the inside and outside of the colander as much as you can
Once all debris is cleaned, rinse with warm water thoroughly
If stains are present, mix 1 tbsp baking soda with warm water. Soak the colander for 3 to 4 hours and rinse thoroughly with a dishwashing liquid.
Buyer's Guide: Read Before Purchasing a Colander
Colanders differ from each other. You have to think about the materials you want, the size you need, and the added features that come with it. Here are some essential considerations you need to know before getting yourself the best colander:
Materials
Most colanders are made from stainless steel. A great stainless steel colander should be durable and resistant to rust and corrosion. Unfortunately, a stainless steel colander is also somewhat expensive.
If you want a more affordable pick, you should consider getting a plastic colander. Though plastic is not as durable as steel, a plastic colander can still serve the purpose of draining the liquid from food ingredients. Just make sure that the plastic colander you choose is made from food-grade plastic free from harmful chemicals and toxins.
Size
Colanders vary in size. You need to consider the things you usually wash to pick the perfect size. The sizes of the holes are also vital. Larger holes are great for washing root vegetables and other things that might have dirt and grime in them. However, such large holes may not sit well with spaghetti and other thinner and noodle-like pasta ingredients you need to drain.
Added Features
Some products have added features that make them the best colanders. Some are collapsible, so you won't have a hard time storing them. Others feature a 2-in-1 mechanism where there is an additional bowl that can catch the strained liquid. This is especially useful if you are straining broth liquid and other juices that you can still use when cooking.
Aesthetics
The best colander for your home should look pleasing. People who want to use a colander as a fruit basket to keep the produce fresh want to have a presentable design. It gives you the advantage of displaying it on kitchen countertops or the table without dreading that it will offset the charm of your interior.
FAQs
Is a silicone colander safe to use?
Yes, silicone colanders are safe to use. Make sure that the materials used are BPA-free and food-grade approved. If it is not stated on the product label or if you are unsure about it, do not use it.
What size is best for colanders?
Colander sizes vary depending on your needs. Restaurants and professional chefs may need large colanders since they are preparing food for many people. However, the ideal standard size of most home colanders ranges between 9 and 10 inches (23 to 25 cm) wide at the top.
What's the difference between strainers and colanders?
Here is some info to keep in mind when considering the colander vs strainer debate. A colander is a deep bowl with holes used for draining liquid. Colanders also typically have handles on the sides to run it under water when rinsing vegetables and other food items that need to be cleaned.
On the other hand, a strainer is a more generic term used to describe a tool used to drain liquids from solids. They typically have smaller holes and are often made of a metal mesh material. They are also often referred to as a pasta strainer. They are available in different mesh sizes.