Even the most experienced griller believes that you can't barbecue well without the right tools for achieving the perfect smoke. It can prove to be complicated preparing meat in a smoker without a good thermometer to help keep your smoker's temperature constant.
You definitely can't rely on the thermometers that some smokers come with. You will only be disappointed with overcooked and dry meat that results.
Smoking meat or fish yourself is satisfying as long as you use the right times and temperatures, and for that, you need to get the best meat thermometer for smoking.
We invite you to read our reviews of the best smoking thermometers on the market today. In the end, you will find our buying guide, where you will find the specifications and features you should look for in a good meat thermometer.
This way, you will be able to make a purchase that you will not regret because you will be smoking the most delicious meat you have ever prepared.
Quick View
Top Recommended Product: ThermoPro TP-16 Large LCD
Top Budget Product: Rubbermaid Commercial Products Stainless Steel Instant Read Oven
Top Premium Product: Inkbird Wi-Fi Grill Meat Thermometer IBBQ-4T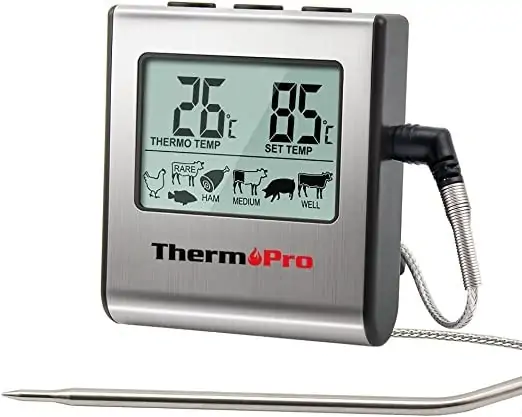 The TP16 is one of the best thermometers on this list, similar to the TP20 but at a third of the price.
One of the differences with the TP20 is that it has a single probe instead of two. If you are looking for a thermometer that you can use for a thick cut of meat, it is best to get a thermometer with multiple probes. However, in the TP16, you will get the same features and a variety of presets of other thermometers at a more affordable price.
The TP16 has several presets for cooking different types of meat, from poultry to ham to beef. You can set different levels for meat, from raw to well done. Adjust the temperatures to your preferences and reset the stored data any time you need to.
It has a programmable timer in progression or regression. You can program up to 99 minutes and 59 seconds maximum. Once the programmed time has elapsed, an alarm will sound to let you know that the meat has reached the right temperature.
Its food-grade stainless steel probe measures 6 ½ inches long, which means you can insert the probe into your food without worry. Its mesh cable is designed to withstand up to 716 degrees Fahrenheit.
The TP16 monitor has a hole to easily hang it from a hook, or you can attach it securely to a metal surface since the back is magnetic. Its display is backlit and large enough to read data easily.
Keep in mind that the TP16 probe should be handled with care, and only the tip should be washed to keep it in good condition. If the rest of the probe comes into contact with water, it may be damaged and no longer providing accurate temperature readings.
This thermometer is perfect not only for use in your smoker but also in an oven.
Pros
Variety of preset settings for cooking different types of meat
Timer progressive and regressive timer up to 99 minutes
Good alarm sound
Cons
Magnet on the back falls off easily
Probe is delicate, should be cleaned carefully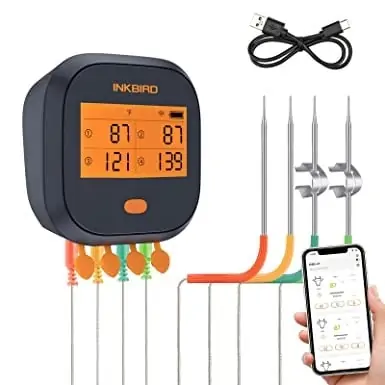 Inkbird is an Australian company that has designed the IBBQ-4T smoking grill incorporating Wi-Fi technology. It is used with the help of the Inkbird Pro app that you download on your cell phone.
One of the most functional features is that the same phone can be linked with more than one IBBQ-4T thermometer, and more than one person can control the same thermometer simultaneously. The unit is capable of withstanding 176ºF.
The IBBQ-4T has a 2000 mAh rechargeable lithium battery that lasts approximately 26 hours. No need to spend your money on batteries every time they run out; charge the battery with the USB-C cable included with the thermometer, and it will be ready to use again and again.
It also includes two grill tongs, three meat probes, and one grill probe. The four included probes come in four different colors for easy differentiation.
Its transmitter has a large, bright display, making it easy to operate the thermometer at the touch of a button. The display is orange to contrast with the black color of the device so you can focus your eyes on the data projected by the transmitter.
The Inkbird IBBQ-4T thermometer has a magnetic design that allows you to attach it to metal surfaces such as ovens, refrigerators, or other surfaces. Its timer can be programmed backward, which will help you monitor the temperature during cooking or know the temperature of the meat at a specific time.
Your phone will emit an alarm when the programmed temperature has been reached, so you don't have to keep an eye on the smoker all the time.
Its Wi-Fi connection makes it a device with more stable wireless connectivity.
The IBBQ-4T has a temperature range of between 32 and 482 degrees ºF.
Pros
Stable connectivity thanks to Wi-Fi
Rechargeable battery
Range of 32 to 482 ºF
Waterproof
Customizable high/low alarms
Cons
Not recommended for long-term smoking
No data logging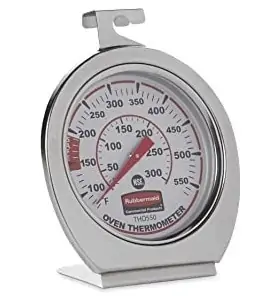 This thermometer on the list is for people looking for an inexpensive, simple, and reliable version. With the Rubbermaid thermometer, you won't go wrong, and you'll be spending the minimum on a good quality, functional product.
The design of the Rubbermaid thermometer is basic but very effective. It is an unbreakable glass-covered dial with a corrosion-resistant stainless steel stand.
The Rubbermaid can measure both Fahrenheit and Celsius. Its measuring range is 60 to 580° Fahrenheit. It is also extremely easy to install as you simply hang it from a shelf or directly inside the smoker.
Its size is compact, making it ideal for putting inside the smoker without taking up much space. It measures only 3 ½ inches high. It is ideal for use in traditional ovens, toaster ovens, grills, and smokers.
Being a thermometer for use inside the smoker, one of the important things to consider is that you should regularly clean the thermometer to keep it in optimal condition. Anyway, it is not a complicated task; the only thing you will have to do is use a sponge or scouring pad to remove the smoke stains after using it.
The Rubbermaid thermometer is one with which you will not be able to monitor the temperature away from the smoker, so it will not alert you when the meat has reached the desired internal temperature.
If you are a classic griller who loves to be present during the smoking process, this thermometer is for you. It is also a very economical device so it will save you a lot of money.
It does not require batteries since its operation is mechanical and gives an instantaneous reading. The product is certified and approved by the National Sanitation Foundation for safe use with food and in cooking environments.
Pros
Simple to install and use
Measures temperature in degrees Celsius and Fahrenheit
Rugged stainless steel and unbreakable glass construction
Cons
Needs regular cleaning
No timer or temperature alerts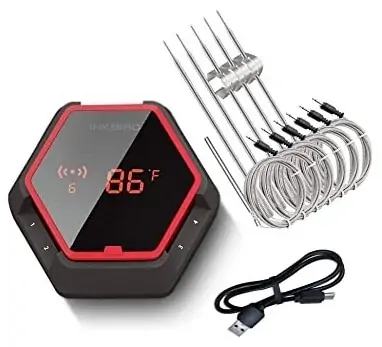 The Inkbird IBT-6XS Bluetooth wireless BBQ thermometer is ideal for remotely managing and monitoring temperature thanks to its Bluetooth connectivity and a 150-foot range.
Just as the name says, the Inkbird IBT-6XS comes with six probes. With this, you can monitor the temperature of six different types of meat or food. Or, you can insert several probes into a single thick piece of meat to ensure even cooking.
The best part is that each probe has its own screen in the app so that you can check each one without hassle.
You can preset the temperatures of your favorite foods to get perfectly cooked steaks or to your preferred doneness.
The app also generates a sound alert on your phone when the smoker has reached the desired temperature. In addition, the app allows you to plot a temperature fluctuation graph, which will help you with your next barbecue.
The temperature range of the Inkbird IBT-6XS is 32º F – 572 ºF. And its accuracy is plus or minus 1 to 2 degrees making it safe to use.
The steel wires and their sensors are capable of withstanding temperatures up to 570° Fahrenheit.
Pros
Includes six probes
Easy to use application
Wide temperature range
Cons
Short Bluetooth range
No batteries included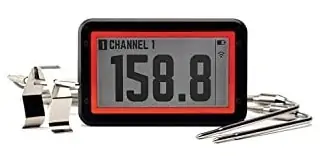 The FireBoard 2 is a smart thermometer with innovative features. It includes six sockets so you can connect up to six temperature probes, although the unit comes with only three probes to start with (2 meat probes and one probe to measure room temperature) and a grill clip.
The FireBoard 2 has one of the best thermometer apps on the market.
It has Wi-Fi capability, so you won't lose connection, unlike models that only have Bluetooth connectivity that often lose connection just by going out of range.
The most distinctive feature of the FireBoard 2 is its ability to automatically control the temperature of your charcoal smoker with a fan making it practically a kitchen. You can program the temperature you need from your cell phone and then let the FireBoard 2 and the fan do the work of controlling the amount of oxygen needed to reach the pre-programmed temperature.
You can purchase the fan directly from the FireBoard brand, but the unit will work perfectly well with any compatible fan.
There are three different models to choose from, but the FireBoard 2 is the most popular among experienced smokers as it allows you to use a fan without additional wires.
The LCD on the Fireboard 2 is easy to read and can be customized to the type of information you need to read. You can view the probe temperature, a cooking graph with the internal meat temperature, or the pit temperature.
The menu system is easy to use and navigate through the buttons on the side of the unit.
The FireBoard 2 is weatherproof, although it is not waterproof as you might think.
Pros
Rugged design
Supports up to six temperature probes
Wi-Fi and Bluetooth
Excellent application
Fan support
Cons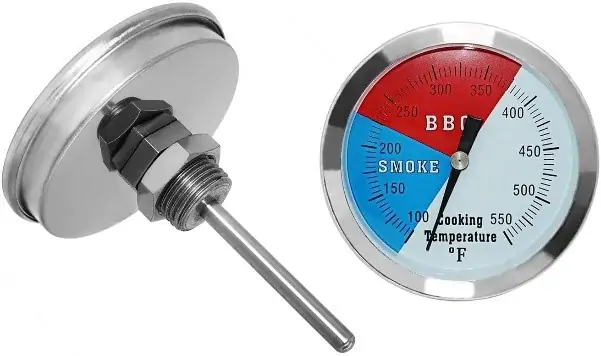 This is another budget option, but the affordable price is heavily due to the fact that this is not a digital read thermometer. Instead, it is an analog thermometer. It is the perfect fit for Oklahoma Joe's smokers and most other smokers with a 13/16 inch opening or hole.
While it isn't digital, it still allows for extreme accuracy. It features a three-inch-long stainless steel probe rod for a more accurate temperature reading. It can also precisely measure the internal temperature of your food with a quick three to four-second response time.
The large three color-coded zones on this grill thermometer have enlarged degree scales and numbers, making it easy to read. It read 100 to 550°F. It is made from rust-resistant stainless steel, making it a durable and safe choice for you to use.
To use this meat thermometer for smoking, simply insert it through the hole on your grill or smoker and attach the included kit. It is designed to be mounted on the outside of the grill, which is helpful, especially in a high steam or smoke environment. It will not get fogged up with condensation.
Pros
Very easy to install
Comes with the attachment kit
Heavy-duty, stainless-steel construction for more durability
No fog glass lens
Cons
Some users reported that it read about 10° above what a digital thermometer read
Numbers can be difficult to read in the red zone in low light conditions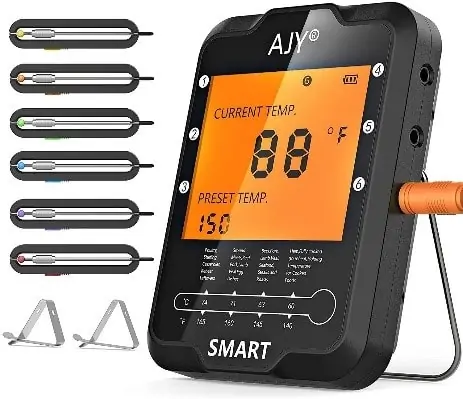 This Bluetooth meat thermometer for smoking allows you to gauge the temperature of your food more accurately than ever. It is equipped with six color probes, so you can monitor six different foods at one time or read the temperature around your grill or smoker simultaneously. The winders on this thermometer make storage of the device easier.
The AYJ meat thermometer for smoking utilizes Bluetooth technology with an extended 400-foot connection range. This way, you can connect with family and guests rather than wait around the smoker or grill.
There are preset temperatures available for 11 types of meat and provide various levels of doneness. All of these preset temperatures can also be customized to your desired tastes and preferences. When the time is up and the meat has reached the desired temperature, the thermometer will begin to beep and flash, notifying you. If you are connected to the app and are using Bluetooth, your phone will also buzz.
The LCD screen is easy to read, simplistic and has a backlight. If you don't want to monitor the temperatures this way, you can always check everything from the app on your phone.
Pros
Includes a timer and alert notifications, so you don't overcook your meat
Has preset temperatures and six different probes for convenience
Improved stainless steel probes offer fast and accurate temperature readings
The winder probes allow for easy carrying and storage
Allows you to manually set your own temperature settings
Cons
Some users complained that the app was difficult to use
App doesn't show the time, only the temperatures
Buyer's Guide
Now let's get into the different considerations to keep in mind when searching for the best meat thermometer for smoking. If you still have doubts and need more information regarding smoker thermometers, you can find other interesting facts to help you make the best buying decision in this buyer's guide.
Why Buy a Smoker Thermometer?
If you are looking for a delicious flavor for your smoker foods, you need to properly control the smoker's temperature.
Sometimes people can get sick from eating raw or undercooked food. You need to be aware of the safe cooking temperatures to follow to avoid this.
In other cases, meat can become overcooked and have a bad flavor and dry texture. You don't want that for your family.
It's hard to tell at a glance when a piece of meat is cooked through, so it can be difficult to get good results.
With a meat thermometer for your smoker, you can get accurate readings and know when your food is ready to eat. You will have more accurate cooking results if you program temperatures to your preference or use the preset temperatures. For this reason, it is a good idea to invest a little money into the smoker meat thermometer.
Number of Probes
You should be clear on how many areas of your smoker you want to monitor. Remember that there are thermometers on the market that have from one probe to six. You can place the probes in several places of the smoker to have more accurate data of the temperature of your smoker. Thermometers with more probes tend to be much more expensive than those with only one probe.
If you purchase a thermometer with several probes, we recommend you always check the material they are made of since there are probes made of different materials such as silicone, aluminum, and stainless steel.
Keep in mind that probes made of silicone are generally less resistant to damage, wear and tear, and heat than those made of stainless steel.
The Best Wireless Meat Thermometer for Smoking
It is also important to consider the amount of time you want to monitor the temperature of your smoker. If you want to do other activities while cooking, it's best to invest in a wireless thermometer that allows you to keep an eye on your smoker while you spend time with your family or doing other activities.
The most accurate thermometers on the market are wireless. That is, they work with Bluetooth or Wi-Fi technology that allows you to manage and configure the thermometer remotely from your cell phone or the included monitor. It all depends on the model you choose.
Whichever model you purchase, we recommend you check the connectivity range of the thermometer to have a wide range suited to your needs.
Compatibility
One really important thing to consider is that the thermometer must be compatible with your smoker. Otherwise, you won't be able to use it, and you will have spent your money in vain. A classic thermometer that works mechanically will work with any smoker.
The only thing you should consider is that you perform a regular cleaning to keep it in optimal condition since this type of thermometer is placed inside the smoker.
On the other hand, if you opt for a probe thermometer, you should check the size of the probes as some probes are too large for the holes in the smoker. If that's the only factor holding you back when choosing a thermometer, don't worry!
That problem can easily be solved by enlarging the smoker holes to fit the probes perfectly. It takes more work, but if the rest of the thermometer's features have convinced you, don't hesitate to buy it.
Infrared Thermometers?
If you are considering buying an infrared thermometer for your smoker, you should know this information.
Infrared thermometers are devices that help to obtain an accurate temperature over an area or surface. Therefore, an infrared thermometer will not be useful for measuring the oven or grill temperature, much less the internal temperature of the meat.
Infrared thermometers are usually used to measure the temperature of the pizza stone since the temperature can be checked from a safe distance.
Conclusion
We hope that with the help of our best meat thermometer for smoking reviews and our buyer's guide, you will have a much clearer idea of the advantages of buying a smoker thermometer. All the details written in this guide will be able to guide you in buying the best model for your needs.
No matter which smoking meat thermometer you choose, each of these smoking thermometers is reviewed to guarantee the most accurate and healthy results when it comes to cooking.
FAQS
Is it possible to replace the probes of my thermometer?
Yes, the probes of the meat thermometers can be replaced. Even if the model allows it, you can take a four-probe thermometer to a six-probe thermometer.
It is advisable to check the manufacturer's instructions to know what type of probe your thermometer requires and to guide you in removing and adding or replacing the probes in the correct way.
Each model is different, so it is important to read the user's manual, although they are usually replaced similarly from one model to another.
How can I check the accuracy of my meat thermometer?
The ice method is the most popular method for calculating the accuracy of a meat thermometer. All you have to do is fill a glass with crushed ice and add a little water to make the ice float a little.
The temperature will always be 0º C which will serve as a guide. Place the stem of the thermometer in the mixture and wait for it to read 0º C.
It is always advisable to calibrate your thermometer periodically to ensure that it properly measures the temperature.
Can a probe thermometer be used as an instant-read thermometer?
A probe thermometer and an instant-read thermometer are two different instruments, so it is not recommended to use a probe thermometer as you would an instant-read thermometer.
An instant-read thermometer is designed for a quick reference reading, while the probe thermometer relies on an extended period of cooking time.