Roasted carrots are easy to cook, delicious, and make a delicious all-purpose side dish for your favorite entrees. Here is everything you need to know to make perfect roasted carrots at home.
How do you roast carrots? Wash them first, peel them if you want to, slice them in rounds, place them in a baking sheet, season them with olive oil, salt, and pepper, bake them at 400°F for 20 minutes, and enjoy!
If you want your carrots to have an extra flavor-punch, you can sprinkle them with chili powder and ground cinnamon when you season them – it's an incredible twist!
Choosing the Best Carrots
When selecting your carrots to roast at the grocery store or farmers market, look for a few signifiers of quality. First, you want carrots that have a bright orange color. They should also be firm, rather than floppy or soft. When pressed, carrots should have little to no "give" to them. Wrinkles and carrots that flop easily are both signs of age.
If possible, buy carrots that have the green still attached. This is a good sign that your carrots have been recently harvested and will be riper, fresher and sweeter tasting. Plus, you can cook and enjoy the carrot greens too!
For this recipe, you want whole large carrots, rather than pre-cut or baby carrots.
What's the Best Way to Cook Carrots?
There are dozens of ways to cook carrots. From pureeing them into a fluffy and creamy mash to steaming or boiling, carrots are a highly versatile vegetables. In fact, they even lend themselves nicely to baking recipes! Truly, the options are endless. And that's not to mention the fact that you don't have to cook carrots at all, they're also sweet and crunchy when they're fresh and raw.
For today's article, however, we're covering one of the most popular ways to cook carrots, by roasting them in the oven. Roasting carrots is an excellent option for several reasons. First, it's mostly hands-off. All you have to do is season the carrots and pop them into a hot oven. Walk away, and come back to perfectly tender and tasty roasted carrots. In addition, roasting is a great way to slowly concentrate the natural flavors of your vegetables. It brings out the sweetness in carrots and can crisp up the edges for a nice textural play between crispy and soft.
Once you've mastered roasted carrots, give these cooking methods a try next:
Steaming
Butter-braising
Sautéing
Simmering
Pressure cooking
Slow cooking
Truly, when it comes to carrots, it's hard to find a cooking method that doesn't do them justice.
How to Roast Carrots
Once you've selected a bunch of fresh, vibrant-looking carrots (hopefully with their greens still attached), it's time to get in the kitchen and get cooking.
Ingredients
Here are the ingredients you'll need for this easy and delicious roasted carrot recipe:
1 pound of carrots
Olive oil
Salt
Pepper
If you want to add a spicy twist to this vegetable side dish, add:
1/2 teaspoons of chili powder
1/2 teaspoon of ground cinnamon
Prepping the carrots
Step 1: Wash the carrots
The number one step for every recipe that uses produce is to wash it thoroughly. Carrots can be especially dirty, as they grow under the ground. So a vegetable scrubber is always helpful, but your hands will get the job done too!
Step 2: Trim the carrots
Next, place your clean carrots on a cutting board and chop of the top 1/4 inch to remove the stem end. Do this whether your carrots have the greens attached or not. Next, you can use a vegetable peeler to remove the thin outer layer of skin. This step isn't 100% necessary, but many people prefer to peel carrots for the aesthetic look and to remove any potential dirt clinging to the vegetables. Carrot skin can also have a more bitter flavor than the sweet carrots themselves.
After peeling, slice the carrots into 2-inch long sticks. Cut the thicker sticks in half so that all of your carrot pieces are roughly the same size and width. This is key for evenly cooking your carrots so you don't end up with some shriveled or burnt pieces.
Step 3: Place the carrots on a baking sheet
Preheat the oven to 400°F  (205°C). And line a baking sheet with parchment paper to make your clean-up process a little easier. Place the sliced carrots on top of the parchment paper.
Step 4: Season the carrots
Drizzle enough olive oil on top of the sliced carrots to coat each piece in a very thin layer all over. Next, sprinkle on the salt and pepper to taste – if you're unsure about how much you need, go with 1/2 teaspoon each. Toss everything on the baking sheet until the carrots are evenly coated in the oil and seasoning.
If you want a little bit more spice in your carrots, add chili powder and cinnamon in this step too.
Cooking the carrots
Step 1: Cook the carrots
Once your oven comes up to temperature, place the baking sheet inside. Let the carrots cook for 30 to 40 minutes. At the 20-minute mark, toss the carrots on the baking sheet to ensure even cooking. The carrots are done when you can easily pierce the carrots with a fork. They should be slightly golden brown on the edges.
Step 2: Serve or store
Once the carrots are cooked to your liking, you can serve them and eat them right away. For a bit of garnish, remove the carrots from the oven, transfer them to a serving bowl and sprinkle with fresh parsley, cilantro, tarragon, or mint.
Storage Suggestions
You can also store your roasted carrots for later if you have leftovers or are planning your meals ahead of time. Simply let the carrots cool fully to room temperature before transferring them to an airtight container. Store the carrots for up to 4 days in the fridge. Roasted carrots do not freeze well, as their texture will turn mushy when you defrost them.
To reheat roasted carrots from the fridge, warm them in a microwave-safe bowl or plate until hot. You can also reheat them in a small saucepan on the stove.
Should you peel carrots?
You don't have to peel carrots if you don't want to. Keep in mind you should give them a good scrub before you cook or eat them. Carrots with and without skin taste different from each other, though – peeled carrots are sweeter than their non-peeled counterpart. Carrot's skin is a little bit bitter, sometimes a little too bitter for some people.
What goes well with carrots?
Countless things pair along great with carrots. Pasta or a salad is great if you want to keep things vegetarian. Or serve your vegetarian side dish with a crisp and juicy pork chop for a show-stopping weeknight meal.  Poached or grilled chicken is another great option if you're looking for a light and healthy dinner that satisfies.
If you'd like to dress up the carrots with a bit more seasoning, you can sprinkle any of your favorite sweet, savory or spicy seasoning blends onto the carrots before roasting. Some of the best flavor pairings with carrots include:
Cumin
Mint
Oregano
Chili powder
Cayenne
Cinnamon and nutmeg
You can also go a sweet route and drizzle maple syrup or honey over your roasted carrots while they're still warm.
Different Carrot Varieties
While most people associate carrots with the bright orange, long root vegetables you probably grew up snacking on, there are actually several different varieties of carrots. You can find a beautiful array of colors in the carrot family, including deep purple, light yellow and red.
You can cook all of these colorful carrots using the same recipe for roasted carrots detailed above. While they certainly have a different appearance, the flavor and texture don't change much between the different colored carrot varieties. If you use purple carrots, you can expect some of the color to run out of the carrots. If you use a mixture of colors, the purple may dye your orange, yellow or red carrots a darker color.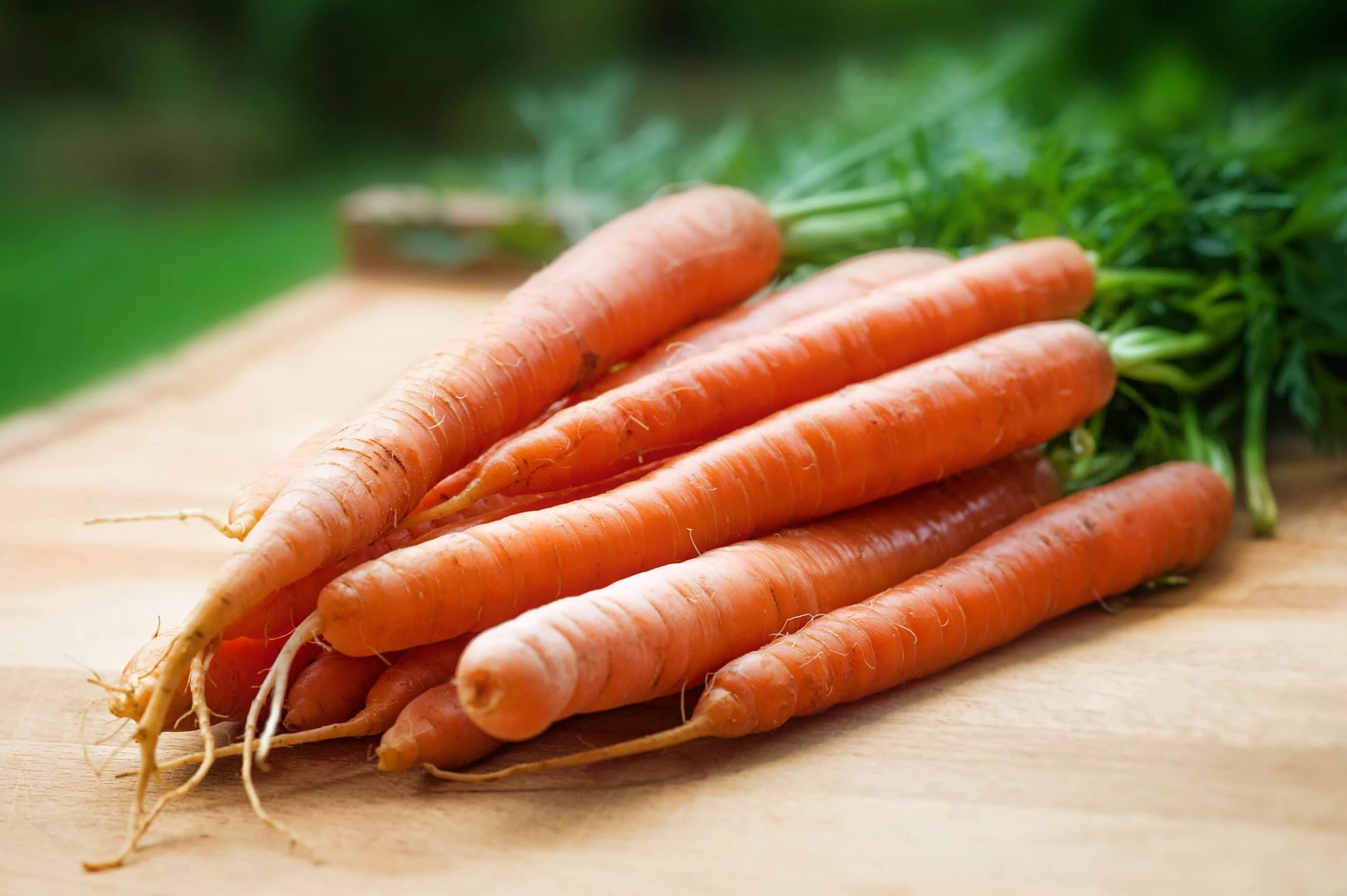 Roasted Carrots
Roasted carrots with oil, salt and pepper are an easy vegetarian side dish for any night.
Equipment
Baking sheet

Cutting board

Knife
Ingredients  
1

pound

carrots

1

tbsp

olive oil

1/2

tsp

salt

to taste

1/4

tsp

pepper
Instructions 
Preheat the oven to 400F. Line a baking sheet with parchment paper.

Trim the carrots and cut into 2-inch long sticks.

On a baking sheet, toss the carrots with the oil, salt and pepper to coat.

Roasat for 30 to 40 minutes, until soft all the way through.