If you are a food enthusiast who loves cooking, there's a good chance that your kitchen has most of the essential utensils and cooking tools you need, all organized efficiently and to your liking – from frying pans to omelette pans and a host of skillets for every occasion.
One pan that might not be part of your repertoire yet is a crepe pan. With the best crepe pan in your kitchen cabinet, you are capable of making scrumptiously delicious thin crepes. This popular French dessert requires some skill to make, which involves having the best crepe pan.
Top Recommended Option: Lodge Cast Iron Crepe Pan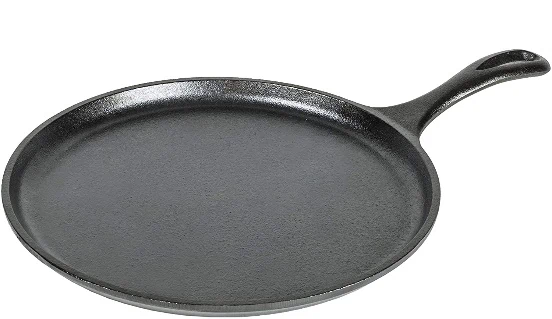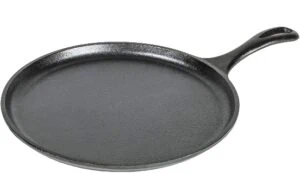 Whenever you talk about cooking utensils, anything made out of cast iron is almost always a good bet in terms of quality and durability. This Lodge Cast Iron Crepe Pan is not an exception to that rule.
This Lodge cast iron crepe pan is 10.5-inches in size and is as versatile as it is durable. Made out of cast iron, it offers superior performance in cooking crepes and a host of other breakfast delicacies such as omelettes
Another excellent feature of this over 10 inch crepe pan is that it can be used on almost any cooking surface and heat source, including open fires, an induction cooktop, and grill.
Apart from being a crepe maker, you can use this cast iron pan to sear, fry, sauté, braise, and even bake your meals. It's a wonderful substitute for nonstick broiler pans and can be employed indiscriminately without worrying about causing damage to the pan in the process. That goes to show you just how excellently manufactured it is and its level of reliability.
Finally, thanks to the fact that it's made out of PFOA-free cast iron, its nonstick capabilities only improve with every use. The more you put it to good use, the better seasoned it becomes.
Pros
Made using high quality cast iron
Works with almost every cooktop, including induction
Better nonstick qualities with time
PFOA-free cast iron
Cons
Best Luxury Option: Woll Diamond Lite Induction-Ready Crepe Pan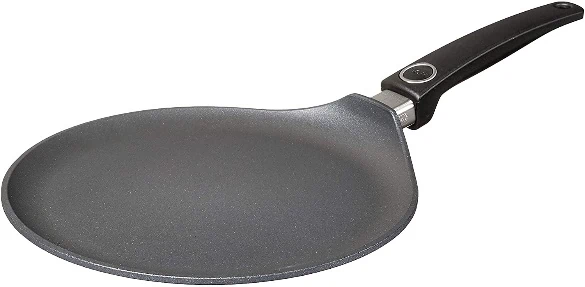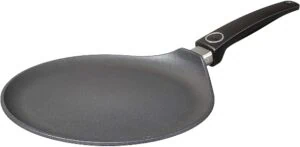 The very first thing that stands out about this Woll Diamond Lite Induction-Ready Crepe Pan is that it's impressively durable. It features an ultra-hard coating that has been embedded in nothing else but diamond crystals. That makes it not only unique but also extremely scratch and cut-resistant. As a result, you no longer need to be concerned about using metal utensils with your crepe pan.
Apart from that, it also has a host of other impressive features that make it one of the most luxurious options on the market today. For one thing, the handle is extremely sturdy and remains cool throughout use. This means you don't have to worry about your hand or food slipping onto the ground because the handle came off or became loose with time.
Finally, this crepe pan from Woll Diamond is induction stove safe. Although handwashing is recommended, you can safely put this pan in a dishwasher with no adverse effects.
Pros
Extremely nonstick thanks to superfine nanoparticles
Scratch-resistant
Cut-resistant
Shock-resistant
Durable
Oven safe up to 500 degrees Fahrenheit
Cons
Best Premium Option: Cuisinart French Classic Crepe Pan

This Cuisinart French Classic Crepe Pan is one of the best and most unique options on the market today. That's why it takes the premium spot on this list. It's a 10-inch crepe pan made out of triple-plied stainless steel.
It features two layers of stainless steel and an aluminum core, making it durable and sturdy. This also means that it offers excellent conductivity on a host of cooktop surfaces, including induction heat.
The Cuisinart French Classic crepe pan also has a stainless steel handle that stays cool throughout the crepe making process. This means that you will have a comfortable experience using this Cuisinart French Classic Crepe Pan even if you don't have oven mitts on.
Pros
Easy to use
Dishwasher safe
Even heat conductivity
Stainless steel handle that stays cool
Provides optimal heat
Non-stick
Cons
Best Budget Option: De Buyer Induction-Ready Crepe Pan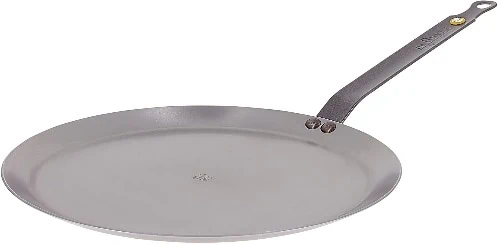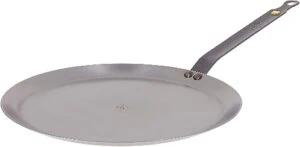 Made out of carbon steel, this De Buyer Induction-Ready Crepe Pan is ideal for pretty much anything you want to cook in your kitchen. It can make crepes, tortillas, pancakes, and almost all kinds of batters. As far as durability is concerned, this crepe pan has a signature beeswax finish, which goes a long way towards protecting it against oxidation.
This pan from De Buyer is made in France, where it's engineered and manufactured under the most stringent of standards, meaning that you are getting a high-quality product that won't disappoint.
Apart from being a perfectly affordable crepe pan, it also features a shallow depth and evenly flared sides, making it ideal for searing fish, poultry, and meat.
Finally, the De Buyer crepe pan features excellent nonstick capabilities – provided it's properly seasoned following the seasoning instructions listed by the manufacturer.
Pros
Excellent nonstick qualities
Extremely versatile
Durable and long-lasting
Easy to clean
Easy to season
Cons
Best of the Rest: Neoflam Chili Pepper Red Crepe Pan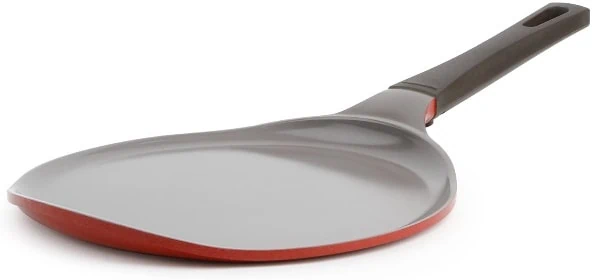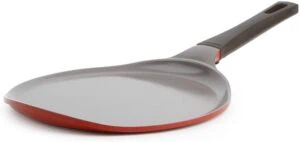 The Neoflam is known for manufacturing excellent cookware that is easy to use and quite durable. This Neoflam Chili Pepper Red Crepe Pan is not an exception to that rule. Coated with Ecolon, Neoflam's superior ceramic coating, it is a healthy and practical alternative to nonstick coating.
The manufacturer uses this kind of coating to offer impressively scratch-resistant cookware. This pan has been manufactured using earth's natural minerals, making it PFOA/PFTE, Cadmium, and lead-free.
Since this Neoflam crepe pan is ceramic, it's much lighter than cast iron but just as durable and scratch-resistant. This also means that it heats up evenly, giving you an excellent cooking experience throughout the entire process.
Furthermore, this Neoflam crepe pan has a unique design. It has a Bakelite handle that manages to stay cool throughout the cooking process, making this pan very easy and safe to use. Finally, the fact that it has an Ecolon coating on both the interior and exterior of the pan makes it very easy to clean.
Pros
Easy to clean
Excellent nonstick qualities
Lighter than cast iron
The handle manages to stay cool
Unique design
Manufactured by a trustworthy company
PTFE-free
PFOA free
Environmentally friendly
Cons
What to Look for in the Best Crepe Pan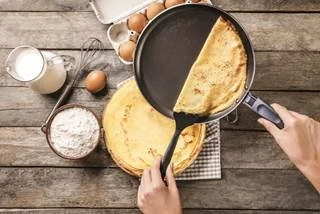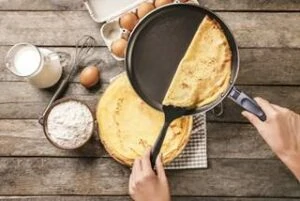 As you would imagine, there are certain features that you need to look for when trying to find the best crepe pan for your specific needs. While most of these features are quite subjective, many of them are standard and exactly what you would expect to find in a top-quality product of this nature.
With that in mind, here are some of the factors you need to consider when shopping for the best crepe pan.
Material
The material from which your cookware is made determines a number of things, the most important of which is how durable it is with continued use. Today, you will find numerous crepe pans made out of different materials, such as aluminum, carbon steel, cast iron, enamel-coated cast iron, blue steel, and ceramic. As you would expect, each of these materials has its own strengths and weaknesses.
Aluminum, for example, is lightweight and allows for even heat conductivity but isn't very good when it comes to induction cooktops. Cast iron, on the other hand, while very durable and can be used on pretty much any kind of cooktop, is quite heavy.
Carbon steel is smooth but vulnerable to acidic foods, while ceramic is environmentally-friendly but not as tough. The option you choose will depend on your personal preference.
Design
This is yet another factor determined by personal preference, but the best crepe pans tend to feature shallow sides and a flat cooking surface. This allows your crepes to remain thin and gives you an advantage when flipping them.
You also need a pan that has a long handle for several reasons. A long handle allows you to easily slide the crepe from the pan to the plate. It also ensures that you can easily flip the crepe.
For the most part, you will find that these kinds of handles manage to stay cool throughout the cooking process. However, this is a feature that you should look for even if the handle isn't long. Handles that remain cool regardless of the cooking duration.
Size and Weight
You will find that crepe pan sizes range between 8 and 11 inches. While the size of the pan you choose will depend on your personal preference, there are some advantages and disadvantages to every size.
For instance, if you choose an 11-inch crepe pan, you will have enough room to cook more than just crepes at one go. However, this sized pan isn't as easy to handle as the smaller one, making controlling it and the cooking experience troublesome.
Smaller crepe pans, on the other hand, are much easier to handle and control, but they are limited in terms of how much food you can cook in one go. Finally, the weight of the pan will determine its durability but also affect your cooking experience negatively.
Versatility
Although specialty kitchens tend to have utensils for specific dishes, a home kitchen can get away with having versatile utensils that can cook more than one type of dish. Buying a versatile crepe pan that can cook crepes, pancakes, omelettes, and so on is an added advantage for you and can even save you money.
Non-Toxic
When dealing with cookware, you will encounter the acronyms PFOA and PTFE. Unfortunately, these are dangerous toxic chemicals and can be found in crepe pans, among other cooking utensils. Found in Teflon nonstick coating, these toxins can wreak havoc on your health and are therefore things you need to look out for when shopping for a crepe pan.
Finding the best crepe pan for you is a matter of personal preference and your cooking style. The reviewed products on this list will give you a head start in the right direction.
FAQ
Are crepe pans worth the money?
This will depend on how much you spend on your crepe pan. However, if you are concerned about crepe pans providing value for money, the answer is an absolute yes.
Crepe pans are worth buying – mostly because they allow you to make ultra-thin crepes in your very own kitchen. That being said, you can make crepes without using a crepe pan. The only problem is that your cooking experience will be unfavorable.
Must I use a nonstick pan to make crepes?
You need to know that you don't need a nonstick pan to cook crepes or omelettes. These types of pans make your cooking experience much more pleasant. That being said, if you aren't an expert at cooking crepes, it's advisable to use a nonstick pan. These won't give you any issues with your crepes sticking to the pan and ruining the entire presentation and process.
Are electric crepe makers better than crepe pans?
This will depend on your personal preference. Yes, electric crepe makers are much easier to use than crepe pans, but some people prefer the entire experience of cooking with a crepe pan instead. It gives you more of that "labor of love" feeling that most chefs cherish.