There are few things in this world quite as frustrating and excruciating as trying to remove baked muffins from a sub-par muffin pan. Not only do they stick to the bottom of the pan, but when the muffins finally do tip over and out, they are more likely to be in broken pieces. This is the kind of torture that awaits you if you don't have the best muffin pan in your kitchen.
Of course, the best cooks and pastry chefs in the world will tell you that you don't necessarily need a muffin pan to bake muffins. This is true – there are many different ways to make muffins with a muffin pan
However, if you are the kind of person who prides themselves on having a well-stocked kitchen with all the essentials, then not having the best muffin as part of your repertoire won't do.
With that in mind, here are some of the best muffin pan options on the market today for your consideration.
Top Recommended Option: GoodCook Sweet Creations Bake-Take-Serve Nonstick Cupcake Pan Set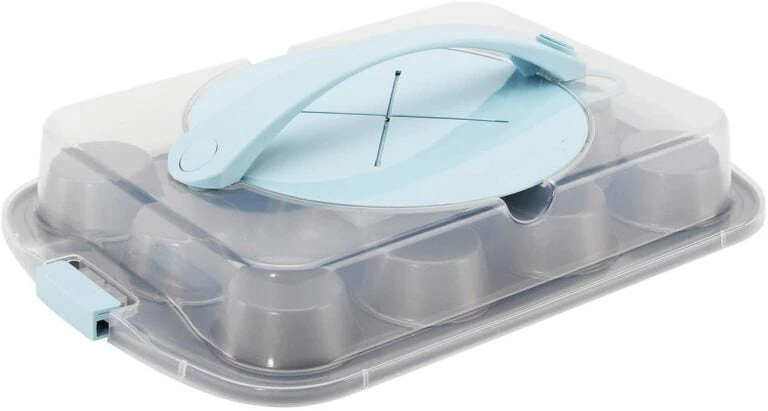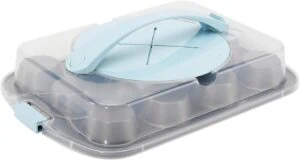 First and foremost, take a look at this GoodCook Sweet Creations Bake-Take-Serve Nonstick Cupcake Pan Set isn't the most expensive or the most luxurious muffin pan on this list (those can be found below).
It is, however, the most practical and the one that gives you the most value for money. It's all thanks to the many little unique features that can't be found on most of the muffin pans on the market today.
For starters, it's an 11-piece muffin pan that also doubles as a dessert decorating kit. The pan itself is quite basic with all the right features, including a light gray nonstick surface that is easy to use and easy to clean once you are done using it. It's what comes with this pan that gives it the top spot.
Unlike most other pans, the GoodCook Sweet Creations cupcake pan set comes with a lid that can easily be secured to the pan, turning it into a lunchbox of sorts. That securely latching lid means that you can easily use this nonstick muffin pan to transport the already baked goodies to a bake sale or a party.
This lid has more to offer than first meets the eye. It comes with five pieces that can easily be assembled into a three-tier stand, which allows you to creatively display your muffins or cupcakes at a bake sale. Apart from its aesthetic value, this pan is quite dependable.
It has a rim that extends a bit further than the cups themselves, making it easy to grab as you bake your goodies. It's durable, has a nonstick coating, and comes with a storage lid for your baked goods. What more could one ask for in a muffin pan?
Pros
Easy to use and clean
Comes with a three-tiered lid for displaying the muffins
Portable
11-cup muffin pan
Nonstick coating
Cons
Best Luxury Option: Rachael Ray Yum-o! 12-Cup Muffin Pan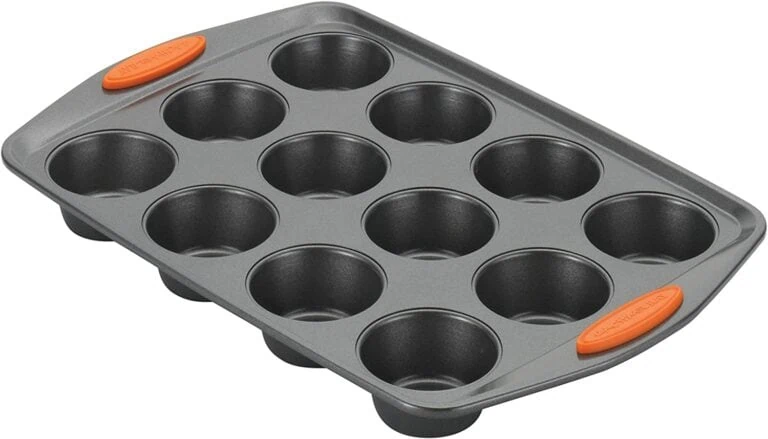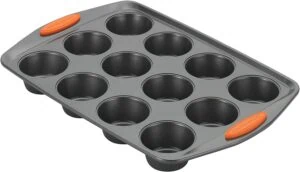 There are a few features offered by this Rachael Ray Yum-o! 12-Cup Muffin Pan that makes it one of the most luxurious options available today. For one thing, it's made out of heavy gauge steel, which makes it ideal for everyday use. That sturdy construction allows it to resist warping no matter how many times you stick it in the oven to make delicious muffins.
Another wonderful feature is the enhanced nonstick coating that has been applied to it. Not only is it long-lasting, which means that you will always have an easy time removing your muffins from the pan, but it's also easy to clean.
Furthermore, this pan features a rectangular shape with ample space for comfortable handles, making it quite easy to push into and pull out of the oven. Finally, it's safe for use in temperatures up to 500 degrees Fahrenheit, which means you can use it for much more than just muffins and cupcakes.
Pros
12-cup muffin pan
Extremely durable
Comfortable handle
Long-lasting nonstick
Easy to use and to clean
Made out of heavy gauge steel
Cons
Best Premium Option: Anolon Advanced Muffin Pan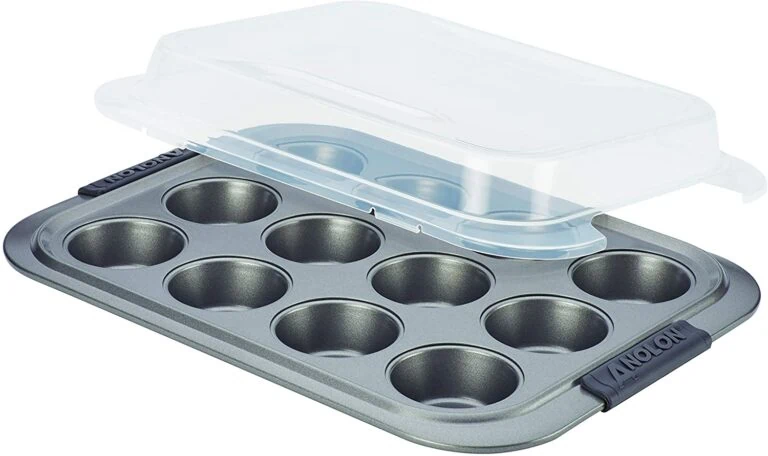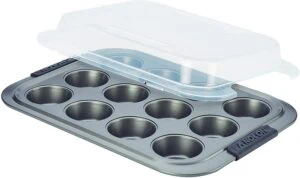 Featuring heavy-duty construction, this Anolon Advanced Muffin Pan is designed to resist warping as well as produce even heat distribution throughout the pan, which goes a long way toward ensuring that your muffins are evenly browned as they cook.
Made with durable nonstick properties on the inside, this metal pan is what you need when you want your muffins to release easily after they are done. The glossy and nonstick coating also ensures that this pan is quite easy to clean once you are done using it.
Furthermore, the Anolon Advanced muffin pan is designed to withstand 450 degrees Fahrenheit heat. Even better is that it comes with a wide rim that features rubberized handles that provide you with a solid grip whenever you push your muffins into and pull them out of the oven.
These rubberized grips are comfortable even if you like using a bulky oven mitt. What sets it apart is that it comes with a plastic lid, which makes this one of the most portable and easy-to-transport muffin pans on this list.
Pros
Heavy-duty construction
Wide rubberized handles
12-cup muffin pan
Durable and glossy nonstick properties
Easy to clean
Comes with a plastic lid
Can withstand up to 450 degrees Fahrenheit
Cons
It's a little pricey when compared to the other best muffin pans in the same category
Best Affordable Option: Wilton Perfect Results Premium Nonstick Bakeware Muffin Pan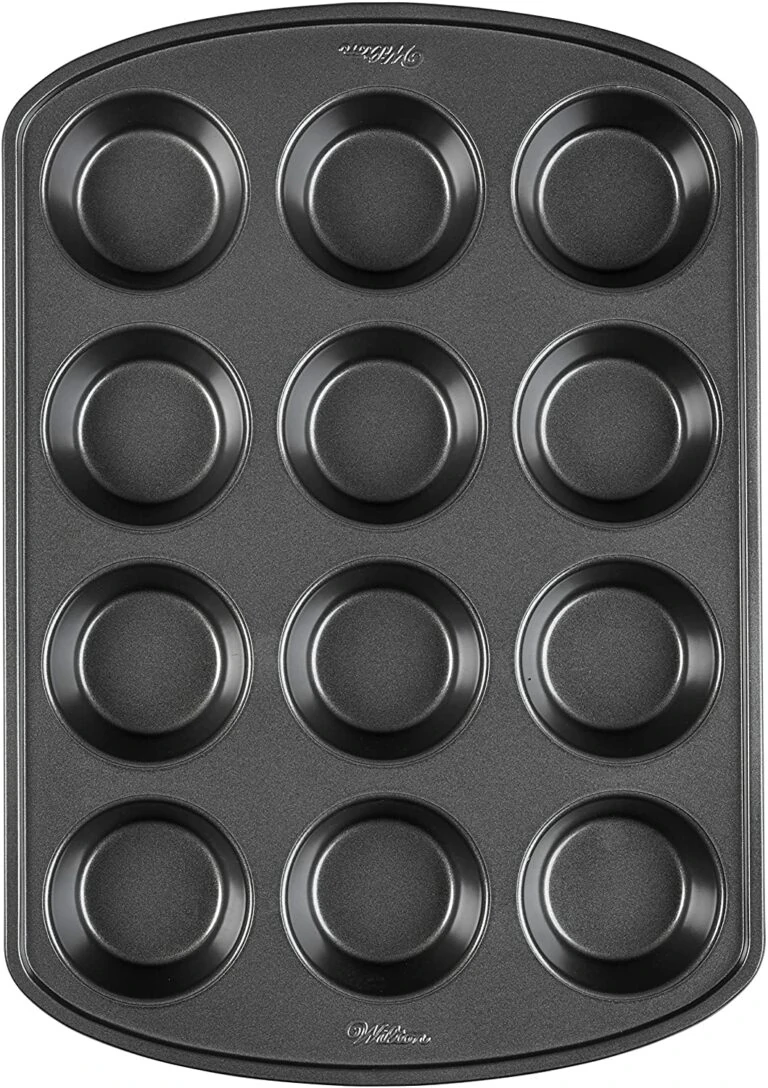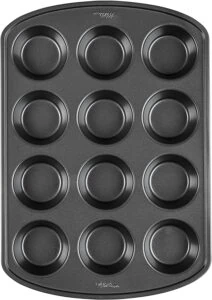 Right from the on-set, this Wilton Perfect Results Premium Nonstick Bakeware Muffin Pan solves one of the biggest issues most bakers face—muffins getting stuck to the muffin pan.
As a nonstick option made out of steel with a reinforced nonstick coating, this will no longer be a problem. This is a 12-cup pan that can easily bake a dozen muffins at a time, with every single one of those cups offering easy release as well as quick cleanup. This means you don't have to go through the excruciating process of trying to pry any muffin residue from the bottom of the cups once you are done baking.
Finally, this muffin pan is not only nonstick, but it's also scratch-resistant and durable. It allows whatever you bake in them to simply slide out without any fuss, and it will serve you for a nice long while. It's one of the best muffin pan options available today.
Pros
12-cup muffin pan
Easy to clean
Reinforced nonstick coating
Scratch-resistant
Affordable
Cons
The handle is rather small
The Best of the Rest: OXO Good Grips Nonstick Pro 12 Cup Muffin Pan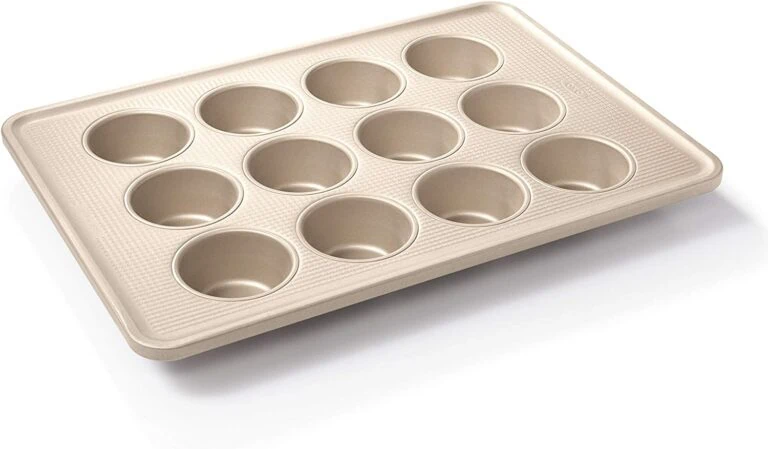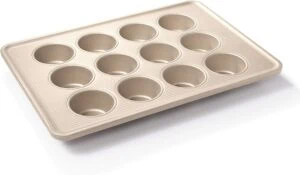 This OXO Good Grips Nonstick Pro 12 Cup Muffin Pan is a highly dependable option for people looking for nothing more than just a muffin pan they can always count on. Made out of heavy gauge aluminized steel, which promotes even heat distribution throughout the pan, you can rest assured that your muffins will not only bake evenly but also brown in the same way.
The pan features Swiss-engineered PTFE with a ceramic reinforced nonstick coating, ensuring easy food release and even easier cleanup. The 2-layer commercial-grade nonstick coating also ensures that the pan is corrosion-resistant and abrasion-resistant.
Finally, the OXO Good Grips muffin pan also features micro-textured patterns that promote airflow and minimize surface contact between the baking batter and the pan. This gives you evenly baked muffins every time. The square-rolled edges go a long way toward increasing the pan's strength as well as giving you ample grip when you want to push and pull it out of the oven.
Pros
Made out of heavy gauge aluminized steel
12-cup muffin pan
Micro-textured surface
Nonstick
Easy to clean
Made in the USA
Cons
 Nordic Ware Muffin Pan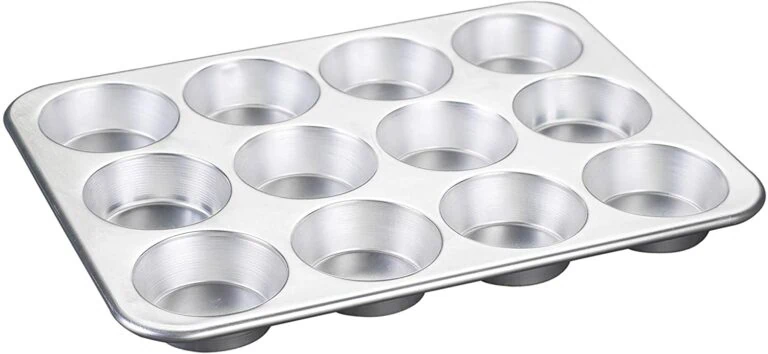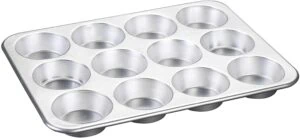 Last but not least is this Nordic Ware muffin pan. It is made from natural aluminum that will not rust. The aluminum material provides superior heat conductivity. The reinforced encapsulated steel rim also prevents the muffin pan from warping.
The Nordic Ware muffin pan can also be used in commercial applications. It is easy to clean; however, it should be noted that this muffin pan is handwash only. It should not be placed in the dishwasher.
It is a standard-sized 12 cup muffin pan. The shiny and non-porous aluminum ensures natural nonstick performance. The embossed Nordic Ware logo also signals its premium quality.
Pros
Allows for uniform heat distribution
Scratch-resistant
Easy to clean
Nonstick performance
Cons
Handwash only. Should not be placed in the dishwasher
No actual nonstick coating. Nonstick properties come from the natural aluminum it is made from
What to Look for in the Best Muffin Pan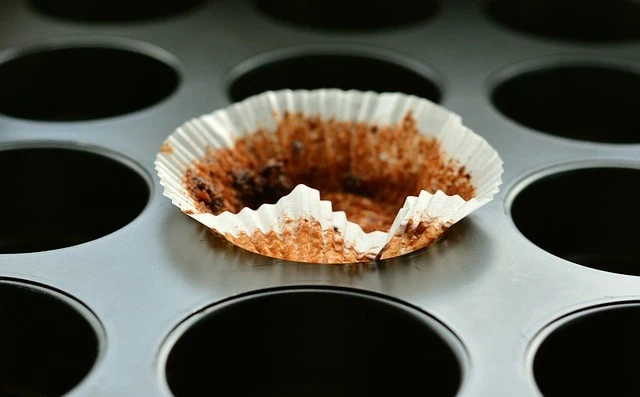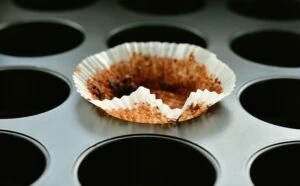 As is the case with almost everything we buy, there are some factors you need to consider when shopping for the best muffin pan. Here's a quick and useful buyer's guide that will help you narrow down your options and find the best muffin pan for you.
Size
When it comes down to size, it is all about personal preference and what you intend to bake. Muffin pans come in several sizes, including a mini muffin, standard, and a jumbo muffin pan. The best course of action would be to buy all three options so that you have them at the ready whenever you need them.
However, if you can only choose one, start by considering what you will be doing with the muffin pan. Do you intend to bake for a bake sale or just for domestic snacking? If it's for a bake sale, the better option would be to buy either a jumbo or a standard-sized muffin pan.
If it's simply for snacking, the mini option can work, although the standard is also quite good. That is unless you have growing teens in the house who love their muffins. In that case, maybe the jumbo would work best for you.
Finally, you also need to consider the number of cups in the muffin pan. Thankfully, most muffin pans on the market come with 12 cups, but some come with fewer cups.
Material
The material used in making the muffin pan you choose will determine how easy it is to use and how long your muffins or cupcakes will take to bake. You will find stainless steel, aluminum, carbon steel, and silicone muffin pan options in many cases. Each of these materials conducts heat differently, which determines the browning and the baking duration.
Muffin pans made out of aluminum are the most common. Aluminum is a good heat conductor and distributes the heat evenly throughout the pan. This, in turn, provides you with consistently good baking results.
Another popular feature is the nonstick coating. Muffin pans with a nonstick coating tend to be made out of stainless steel. While these conduct heat at a much slower rate than their aluminum counterparts, they do offer you the added advantage of easy food release as well as better lift and doming for your muffins.
Special Features
There are a few muffin pans on this list with special features such as rubberized handles that make them easy to use, plastic lids that are easy to secure, and some even have lids that convert into display areas for your muffins. It comes down to your personal preferences.
Of course, you have to consider other factors such as price, brand, and durability, which are often subjective matters.
The best muffin pans on the market exist. The trick is to find one that suits your specific needs. If you are an avid cook who loves baking muffins and other baked goods, finding one or several that suit you should be a priority. This list gives you a good look at some of the best options out there. All you have to do now is choose one that suits you.
FAQ
Here are some of the most frequently asked questions as far as muffin pans are concerned.
Do you need liners when using a muffin tin?
This is a matter of personal preference. Muffin liners are designed to contain the muffin and facilitate easy release from the muffin tin. However, if you have a muffin tin that has robust nonstick features, you might not need to use liners at all.
Besides, muffins baked with liners don't brown as much on the sides as those baked without liners and have a nice brown finish. If you like the crust, then maybe liners aren't for you.
What else can I make in a muffin pan?
You can cook or bake a variety of foods in a muffin pan. These include broccoli frittatas, cheesy hash brown cups, and poached eggs.