Whether you're a professional chef or an average home cook, having a reliable chef's knife is an important cooking tool in the kitchen. When cooking, there are many types of different knives made for different tasks. You may not need them all, but you do need to at least have your kitchen essentials covered – and that includes the use of a classic chef's knife.
A chef knife is a versatile instrument and a go-to for cooks around the world. In this article, we're going to let you in on everything you need to know when it comes to the classic chef knife. You'll learn what exactly a chef knife is and everything you should know before you buy.
Best of all, we're listing our top picks for the best chef knife you can buy online today, and all of our picks are budget-friendly, resting under the $100 price range.
What is a Chef Knife?
What makes a chef's knife different from other types of knives? There are many factors, but in the end, it all boils down to this knife's versatility.
A chef knife is a staple in so many kitchens because it is designed to do everything. These knives are defined by their multi-purpose use. They tend to be larger, around 8 inches in length, with a large, curved steel blade. The curve is what allows for the rocking motion that makes it so fast at chopping herbs and vegetables during food prep.
Its large size also makes it adept at cutting through bone and various cuts of meat. This means that whether you're carving up a fresh prime rib, or finely mincing some peeled garlic, this knife can do it all with the right technique.
Due to its versatility, a chef's knife is a staple that can be found in professional kitchens and counters of home cooks around the world. If you can only have one knife, this is your best option.
Chef Knife Buying Guide
Before you buy a new chef knife, there are a lot of things you need to consider before purchasing. Let's go over them below.
Chef Knife Blade Materials
When shopping for a chef's knife, you'll notice that there are a variety of materials available for your knife blade. But what one is best? While some blade materials have clear advantages over others, it mostly comes down to what you're cooking, and how you intend to use the knife. Let's explore the pros and cons of different blade materials below.
Stainless Steel
Stainless steel is the most commonly used material when it comes to knives, no matter their type. The biggest advantage to using a stainless steel blade is that it will be less likely to corrode and rust when compared to other materials.
This makes a stainless steel knife low maintenance and very durable when they get covered in water or other liquids in the kitchen.  However, stainless steel does require regular sharpening, dulling faster than other blade materials. Luckily, sharpening steel is fairly easy with the right tools!
Carbon Steel
A carbon, non-stainless steel blade isn't as common but can be found on certain types of chef knives. These knives hold a pretty sharp edge, are easy to sharpen, and can cost less than stainless steel. However, unlike stainless steel, they can stain and wear down much easier.
Ceramic
A ceramic knife blade can be a great choice when looking for a chef knife. Much like stainless steel, they are resistant to rusting and warping. They are also much lighter in weight when compared to stainless steel blades, and can maintain a sharp edge longer. However, when they do eventually dull, sharpening often needs to be done by a professional, which costs more than sharpening yourself.
Titanium
Titanium is also less common for knife blades, but some models still use it. Titanium offers more flexibility compared to other materials and it's also a neutral metal, meaning it will not react with foods during cooking. However, they tend to be expensive.
Chef Knife Handle Material
A knife's handle is more important than you'd think! Cooks prefer different handle materials for a variety of reasons. It comes down to what feels best in the palm of your hand. However, different materials have different advantages and disadvantages.
Wood handles are a classic choice, but they are prone to wear and tear. A wood handle is not dishwasher safe and exposure to liquids, in general, can lead to warping, cracking, and wearing out over time.
That's why today, the most popular knife handles are made of resin, plastic, or rubber. These materials are not as fragile as wood, making the knives more durable and safe for dishwasher use. They also tend to be a lot less slippery than wood, and in some cases, can even be lighter.
We recommend plastic or rubber, as the most important thing about your knife handle is the grip it offers. A firm grip on your chef's knife will allow you to cut with precision, leading to fewer mistakes and accidents.
Chef Knife Weight
A common need among chefs is a knife with a good distribution of weight. It makes sense – nobody wants to cook all day long in the kitchen with a heavy knife that's hard to handle. The weight can make a huge difference when it comes to handling your knife.
However, this can often come down to preference. Some chefs want a knife that is light and easy to maneuver with speed. Others want one that is evenly balanced between the blade and the handle. Others want a knife with a bit more weight on the blade. For a beginner, we recommend balanced knives, which lead to fewer slip-ups.
Chef Knife Blade Size
A chef knife is not one size fits all. It's important to consider what blade length you'll need for your personal or professional cooking needs.
A chef knife can come in a standard 8" and be as long as 12" or 13". A larger chef knife is often favored by professional cooks, who spend most of their time prepping larger foods or meats in a big workspace. However, for the average cook in a home kitchen, it is best to stick with a standard 8" knife. These are much more manageable, but still large enough to handle big tasks.
Western vs Japanese Style Chef Knife
You'll notice when shopping for a chef knife that they tend to come in two styles: Western/German knives, and Japanese knives. There are pros and cons for both the Western knife and Japanese knife styles.
A Western knife, or German knife, are characterized by their sturdiness. They tend to have thicker blades, holding their sharpness longer. They're perfect as a carving knife, cutting through bones and tough meats, and chopping fruits, vegetables, or herbs. However, its thick and sturdy nature makes the blade less helpful when trying to do any kind of delicate cutting.
In comparison, the Japanese chef knife is much more delicate, with thinner blades. They are razor-sharp and are best suited for delicate cutting work for meats like fish for sushi, or the fine, precise cutting of certain vegetables. People favor them for their precision, but they tend to be fragile and a little harder to sharpen compared to the Western chef knife.
Chef Knife Accessories
Who doesn't love accessories? When shopping for a chef knife, it can be a good idea to invest in more than just the knife itself. To increase the lifespan of your knife, you'll want to keep the blade sharp, and stored away safely to avoid damage. This can be done with a few common knife accessories.
Many knives will come with protective sheaths or bags to make transport easier. Professional chefs will store their knife alongside their other knives in a knife roll or carrying cases. However, a home cook can make do with a single knife sheath, or even a knife block to safely store their kitchen tools.
You may also want to invest in a knife sharpener of some kind. No matter the material, all knives will dull over time. A knife sharpener can keep your tools at their very best, so you can slice with ease.
Our List of Top Chef Knives
It's shopping time! Below, we've listed out the best chef knife products available online today. Any one of these would be a great addition to your kitchen, and get you well on your way to being a master chef. Let's explore the full list: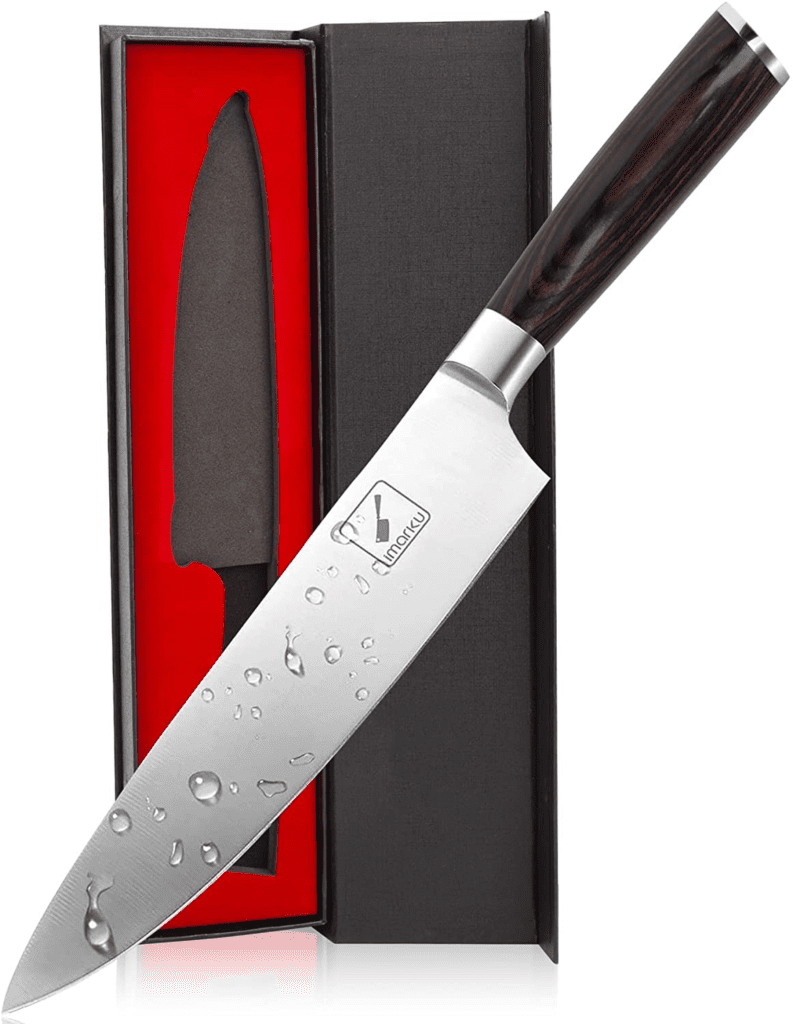 This chef knife from imarku is a great purchase if you're looking to invest in your first, high-quality chef knife! This knife features an impressive, high carbon stainless steel blade that was built to last. It has a sleek, gorgeous pakkawood handle, that's ergonomic in your hand and offers premium stability.
Its blade is corrosion resistant and will retain its glossy finish after much use. Its blade is 8" in length, making it a perfect size for both chefs and home cooks. You can use this knife on beef, pork, chicken, and other meats, as well as fruits, vegetables, bread, and cheeses. It's sure to become a staple in your kitchen and all your future cooking!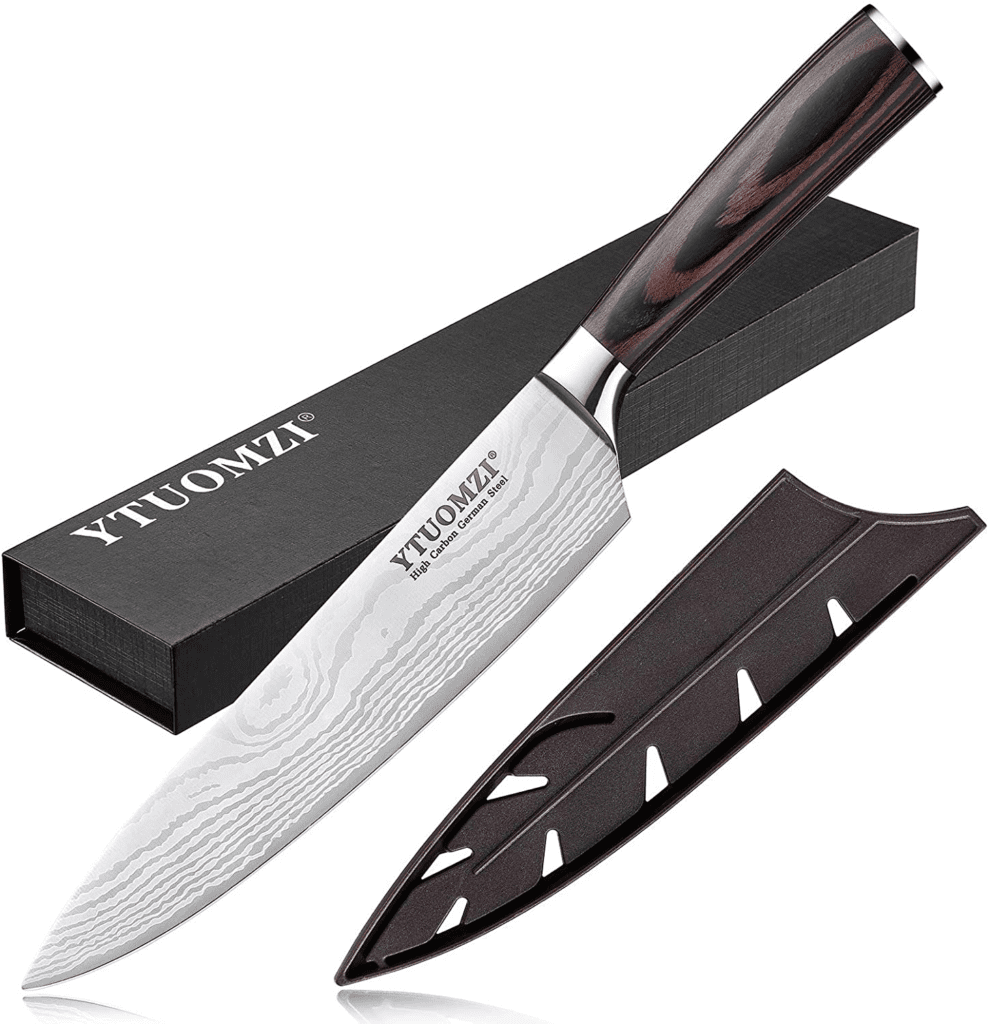 Don't let the low price point fool you! There is a lot to talk about when it comes to this chef knife from Ytuomzi. This is an excellent knife at an approachable price point for any buyer out there today.
This knife has an 8" high-quality stainless steel blade that offers sturdy, comfortable handling. It also has a non-slip handle with an ergonomic design, made to fit comfortably and easily in your hand.
It also comes with a handy sheath, making for safe transport and/or storage, and promoting longer edge retention. The holes in the sheath will allow for any water or trapped moisture to escape, limiting water damage.
Like all good chef knives, this knife is multipurpose and can be used for meats, vegetables, and fruits alike. It's a great staple for any kitchen. Best of all, this knife has a 100% money-back guarantee, so you can try it risk-free.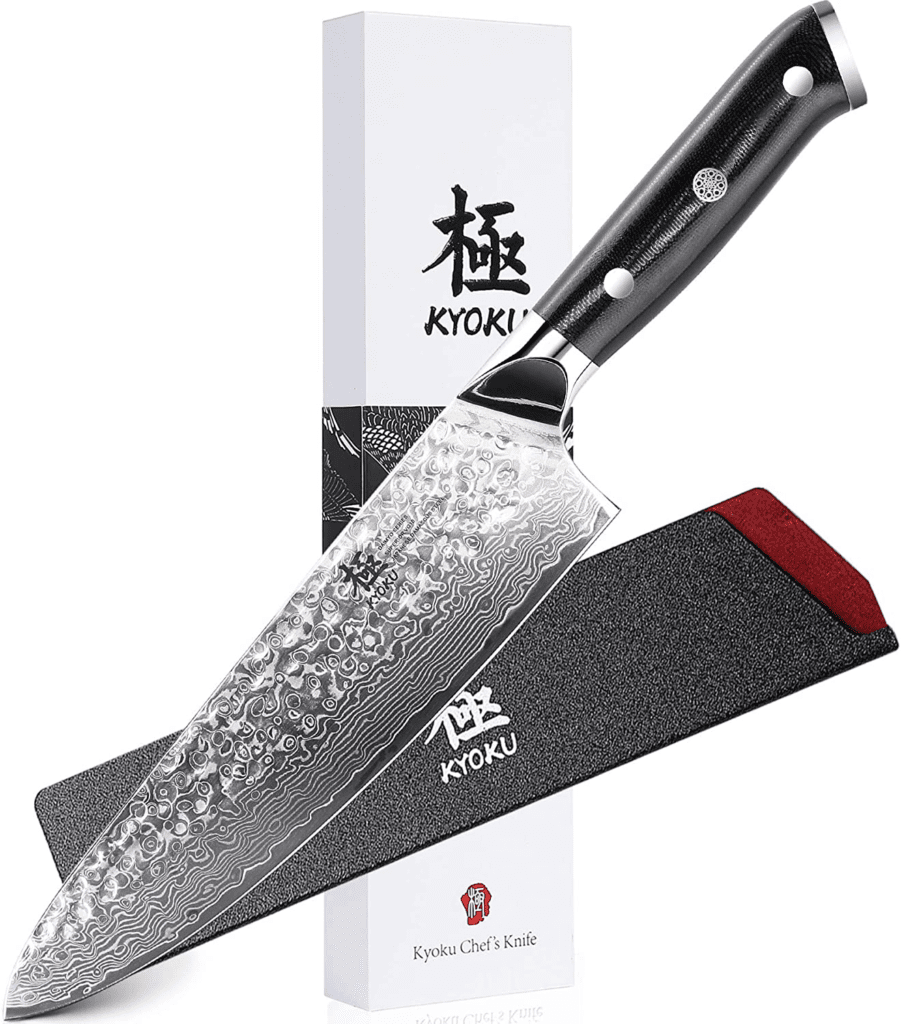 If you have a little money to spare, why not invest in something truly special, that will last a lifetime? This knife from KYOKU is a great premium choice, and it still manages to come in under our $100 price range. Talk about a win!
This is a high-quality, Japanese-style chef knife that any cook would dream to use. This knife has a premium, 67-layer Damascus steel blade, known for its stunning steel pattern. It's a beautiful blade, with an amazing level of flexibility and strength combined. It's also corrosion resistant as well, meaning it will maintain its beauty over time with proper care.
This knife has a smooth, ergonomic G10 handle, with a luxurious-looking engraved mosaic pin. With this knife, you are seeing the place where beauty and function meet. You won't regret homing this amazing chef knife in your kitchen, or adding it to your professional chef's kit!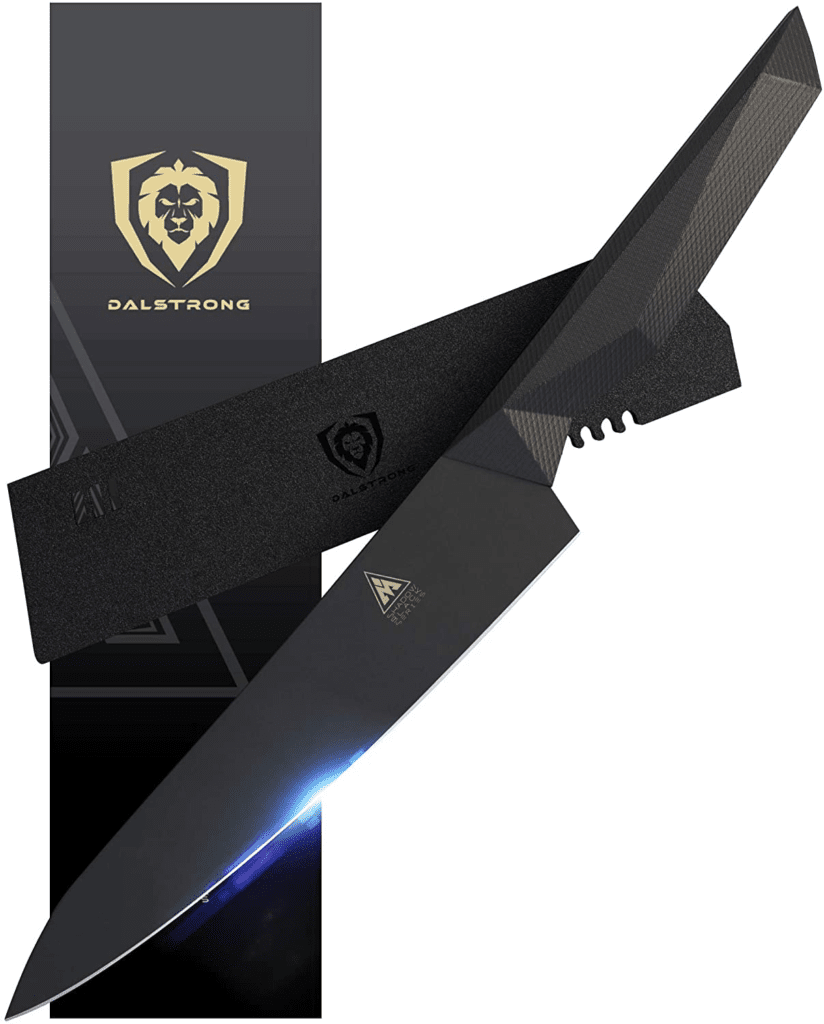 If you're thinking of buying the cook in your life a gift, why not get them something that will truly stand out? This knife from DALSTRONG is a beautiful, thoughtful gift, sure to be loved by anyone who loves to cook. Plus, as far as knife brands go, this one is good.
What makes this knife stand out is its simple, sleek, carbon black design. It's an 8" black titanium nitride coated blade, with a sleek matte black finish. It's one stylish-looking knife and will be sure to get any cook noticed.
To match the gorgeous blade, this knife features a durable, fiber-resin G10 handle in a unique, geometric design. It feels as good as it looks, with a hand-polished texture made to fit comfortably in your hand.
It comes in a stylish Dalstrong box and includes a sheath for safe storage and travel. It also has a 100% satisfaction or money-back guarantee and a lifetime warranty against defects, making it great for gift giving.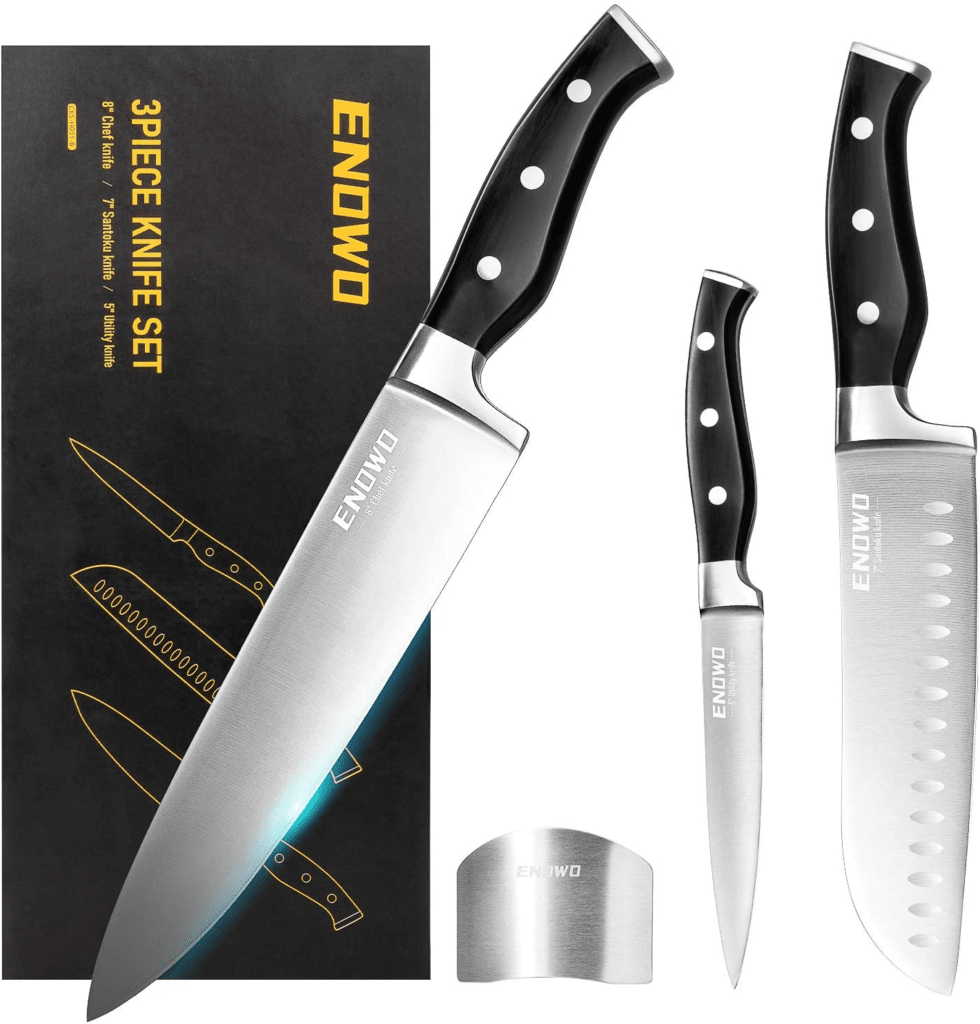 What's better than one knife? How about a whole set! If you're unsure if a chef knife is for you, or are looking to expand your kitchen tool set even wider, why not invest in a nice chef knife set? This one from enowo is a great place to start!
Here you will find a classic 8" chef knife, perfect for accomplishing a majority of your cooking tasks. Alongside it, this set will also include a 7" Santoku knife (perfect for straight cuts, especially with vegetables) and a 5" utility knife, for when you need a bit more precision.
These knives are great for all-around cooking and are a perfect investment for the average home cook. All of these knives are made of sharp, high-carbon stainless steel, with ergonomic handles. It also includes a handy finger guard, to keep you safe in the kitchen.
This set would be a great gift for a new cook or a great investment for someone buying cooking utensils for the first time.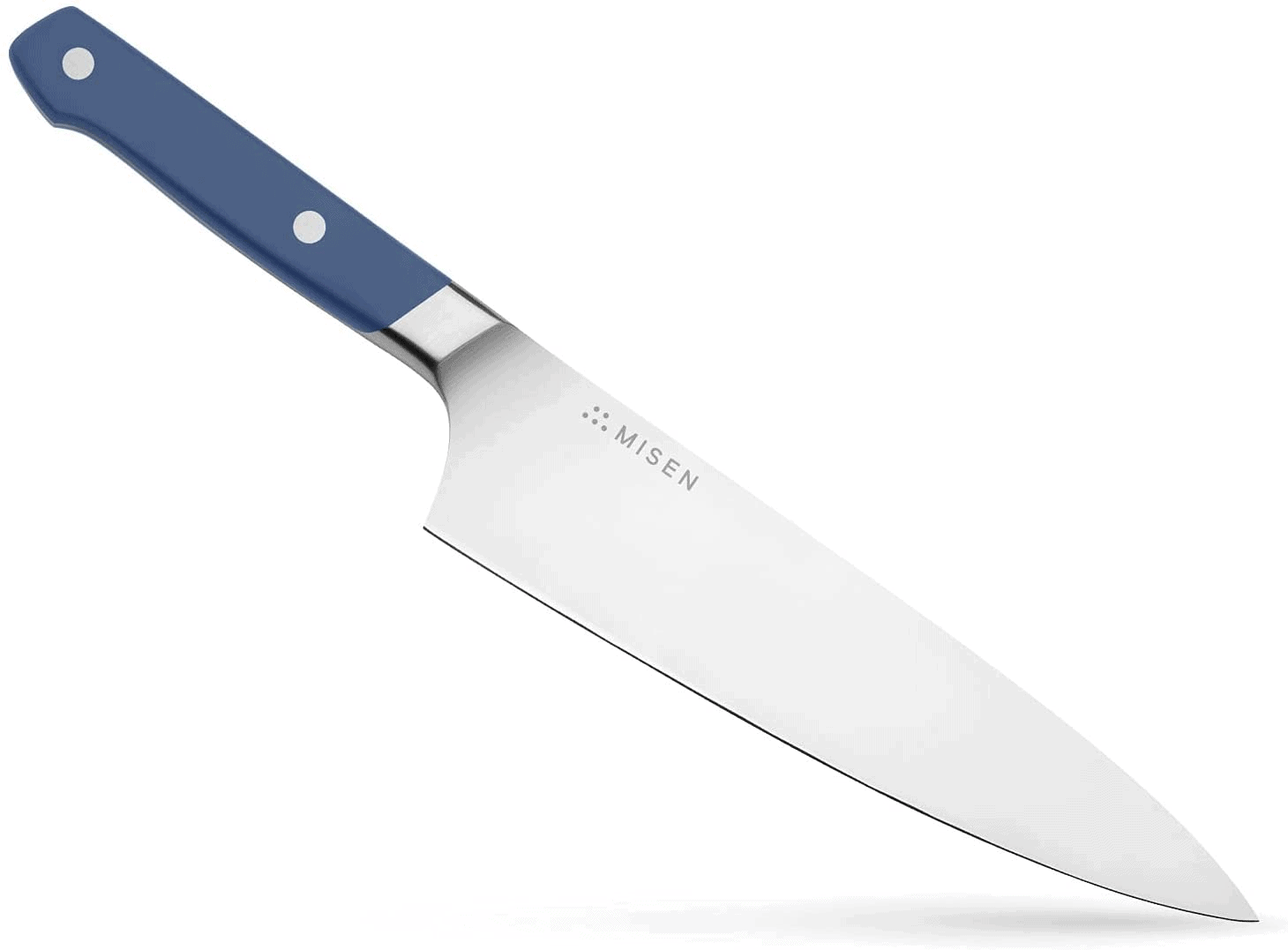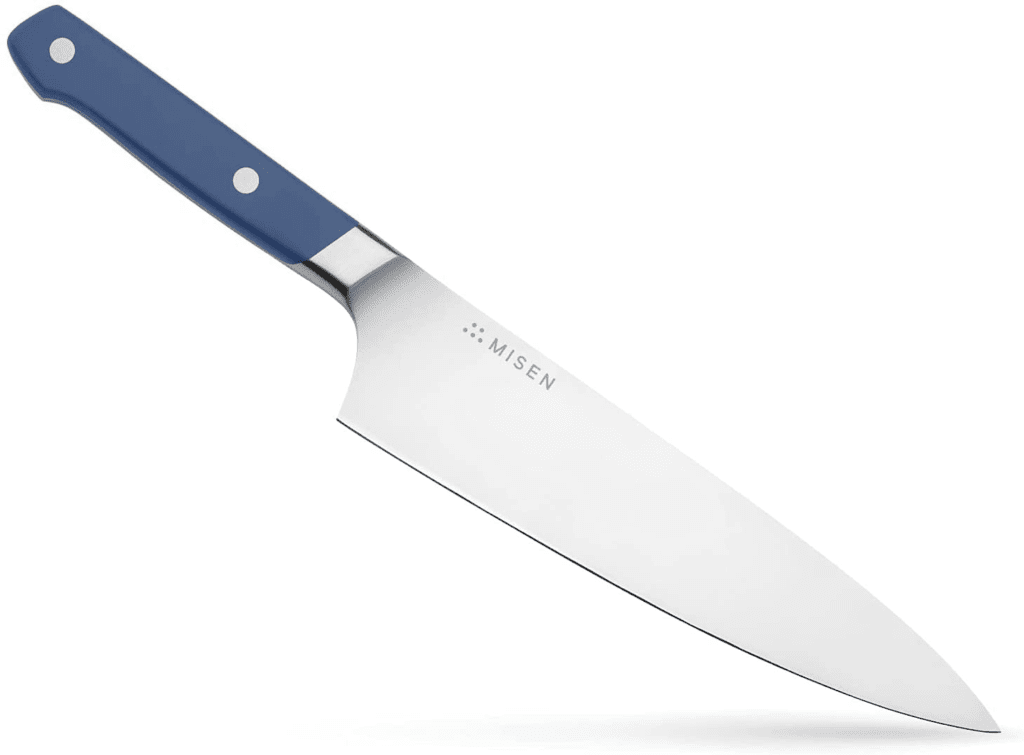 If you are a professional, you'll want the best of the best in your toolkit. If you're on the hunt for a new chef knife to add to your collection, we recommend this one from Misen!
It's sure to become a staple in your lineup and is a great replacement for any old, dull knives you're looking to let go of. This chef knife has an 8" high carbon steel blade that is well balanced and ultra-sharp. The blade was uniquely designed to feature elements of both Japanese and Western chef knife designs, with a slightly smaller curve on the blade, making it ideal for both quick rocking chops and thin, precise slicing movements.
It also has a unique sloped bolster under the handle, allowing for a more comfortable handhold, and better grip. If you want a high-quality knife that will stay sharper, longer, this knife is a perfect choice.
Chef Knife FAQ
Below you'll find some of the most frequently asked questions shoppers have when shopping for their very own chef knife. Read on to learn more!
What is a chef knife?
A chef knife is a versatile kitchen knife used by cooks across the globe. For a majority of cooks, this is the knife they can use for anything and everything. A chef knife is characterized by its long blade, usually around 8", and its curved edge giving it a distinct rocking motion when in use.
The blade is strong and large enough to handle cutting and carving meats, breaking through tough bones. Its curved blade also gives it the motion needed to chop herbs and greens with surprising speed. It's also great for chopping fruits, vegetables, dairy, and more!
In short, a chef's knife is a go-to knife for anything and everything knife-related in the kitchen. It's the perfect tool for most average cooking tasks.
Can a chef knife do everything?
A chef knife can do nearly everything, but it can't technically do it all. As we've stated above, this is a great go-to knife to do a majority of the work in the kitchen. Cutting meats, vegetables, fruits, and herbs are perfect tasks for a chef knife to take on.
However, some kitchen tasks do require a knife that is a bit more delicate. For example, de-boning and skinning a fish is better suited towards a fillet knife. Or if you were trying to shuck oysters, you may want a specific oyster knife, that's smaller in size.
Chefs have a large toolkit for a reason— it takes a wide range of tools to get the job done! While you might not be able to do everything with a chef's knife, you can get pretty close.
What size chef knife should I buy?
When shopping for a chef knife, you'll notice that a majority of them come in at the 8" size range. This is a typical, standard sizing for a chef knife. However, it is possible to find them in the 11"-13" range as well!
It all comes down to what feels comfortable in your hand, and your cooking style. If an 8" chef knife doesn't feel long or sturdy enough to you, consider sizing up! If you find yourself often working with larger meats or produce, a bigger knife might be more your style. However, for the average home cook or chef, an 8" knife should be perfect in size for you.
What is the best chef knife material?
There are a ton of different materials out there for knives, including stainless steel, titanium, ceramic, and more. We recommend sticking with stainless steel and high carbon stainless steel your best choice.
Steel knives will give you the sturdiness and strength you're looking for, and help you avoid the rusting, corrosion, and wear that can appear on other knife materials. That's why steel is what you'll most commonly find when shopping for knives. However, do keep in mind that steel does dull over time, so you will need to take care of your knives and sharpen them regularly to keep them in peak form.
How do I sharpen a chef knife?
You can sharpen a chef knife in a variety of ways! It honestly comes down to personal preference, but we'll list out a few of the best ways to get the job done.
A standard knife sharpener (like this one here) is the easiest way to go about it. You simply run the blade along the sharpener point you need, and you're good to go. You can also use a classic sharpening rod, running your knife blade at an angle along the side to give it the edge it needs.
If you're too nervous to try sharpening your knives, you can always search for a local knife sharpener in your area.  This will ensure a great edge on your knife but it can cost a bit of money.