Master chefs have specialty utensils in their kitchens designed to do a specific job and are used only for that specific job. On the other hand, many of us tend to use highly versatile utensils or make do with what we have.
Sauté pans are highly versatile utensils worth the money for a few good reasons. For one, they are mostly robust and sturdy, making them extremely durable. They also are made of materials that can retain heat well, which means you can use them for sautéing vegetables, fish, meat, and a host of other foods.
Top Recommended Option: Tefal Jamie Oliver Stainless Steel Premium Series Non-Stick Saute Pan and Lid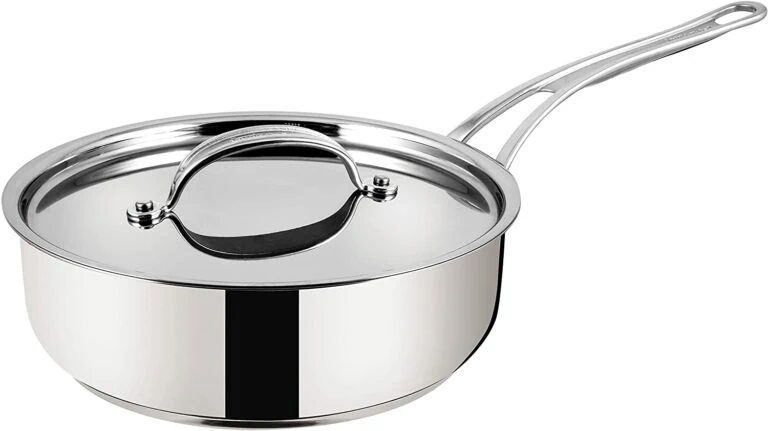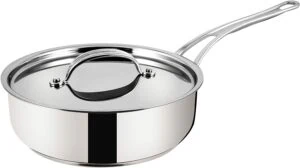 This Tefal Jamie Oliver Stainless Steel Premium Series Non-Stick Saute Pan and Lid has been endorsed by world-renowned chef Jamie Oliver.
As soon as you pick it up, you get a small peek into its quality by how it feels in your hands. It's not too heavy, but it isn't light and flimsy either. It's just rightly weighted, which speaks to its manufacturing quality and durability. The silicone-wrapped handle is not only comfortable but also quite sturdy.
Tefal is renowned for including a red Thermo spot on the base of their pans, which lets users know when the utensil is ready to use, and this pan has one. It doesn't take long to heat, but you need to be careful as it gets hot quickly. Once this saute pan heats up, it can hold steady and reliable heat throughout the cooking process.
The nonstick coating of this stainless steel pan has been reinforced with titanium. You don't even need to use a spoon when stirring the food. Just a little shake and everything moves around effortlessly. Finally, the lid fits tightly without letting out much steam.
Pros
High quality nonstick cooking surface
Top tier manufacturing
Sturdy and durable
Features the famous Thermo spot from Tefal
Excellent heat distribution
Cons
The nonstick doesn't do well with metal utensils
Best Luxury Option: Le Creuset Toughened Nonstick Saute Pan


Designed and manufactured by a trustworthy brand, this Le Creuset toughened nonstick saute pan is for people who aren't afraid to invest a bit of money into their sauté pan adventures. The features make it worth every penny. It's a deep pan with straight sides and an exemplary nonstick quality.
The nonstick feature is so good that even though this pan is dishwasher safe, you will hardly ever need to use the dishwasher to clean it. This is because the nonstick surface is so smooth that even after hours of cooking sauce in this pan, all you have to do to clean it is give it a light hand wash, and you are done.
Apart from that, other features make the Le Creuset saute pan stand out from the rest. Let's start by talking about one of the most important features of a sauté pan: the handle.
The handle is tightly riveted on so that it doesn't move or feel like it's going to break off should you lift the pan when it's full. Furthermore, the handle is extremely comfortable, making this pan a joy to use.
Another excellent Le Creuset saute pan feature is its heat distribution capabilities. This pan is designed to keep your food cooking evenly throughout the entire process. Finally, it comes with a tightly fitting lid that hardly lets any steam escape when cooking.
Pros
Excellent quality nonstick surface
Deep saute pan
Tight-fitting lid
Outstanding heat distribution
Sturdy and comfortable handle
Cons
Best Budget Option: T-Fal Specialty Nonstick 5 Quart Jumbo Cooker Saute Pan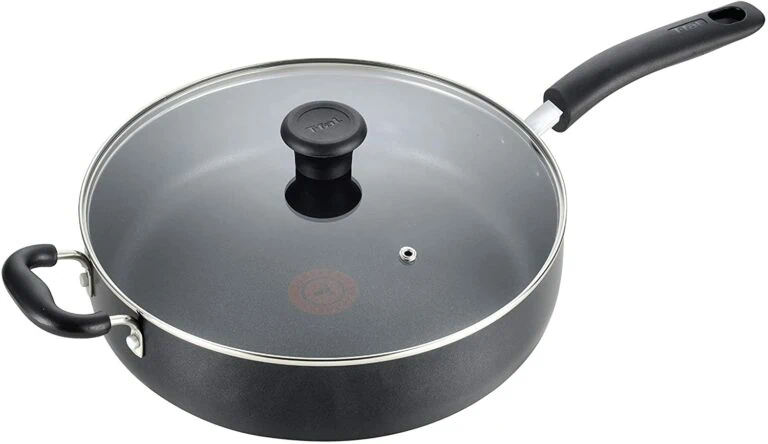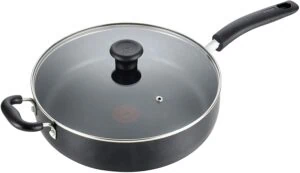 If you want a sauté pan but don't want to spend a fortune to get one, then you might want to give this T-fal Specialty Nonstick 5 Quart Jumbo Cooker Sauté Pan a second look. As affordable as it is, this pan is full of premium features.
The T-Fal nonstick saute pan offers 5 quarts of cooking space, making it the best saute pan for large families. It has excellent nonstick qualities, which feature toxin-free properties on the interior and exterior. The pan is also highly compatible with almost every cooktop, with the most notable exception being an induction stove. It's also oven safe up to 350 degrees.
Furthermore, it features T-Fal's Thermo Spot indicator, which lets you know when the pan is hot enough and ready for use by turning red. Finally, this pan has "stay-cool" helper handles that are safe and easy to use. The sturdy handles allow you to seamlessly transfer the pan from the cooktop to your oven or staging area without the use of oven mitts.
Pros
Dishwasher safe
Stay-cool helper handles
Toxin-free nonstick exterior and interior
Huge 5-quart capacity
Limited lifetime warranty
Cons
The bottom is a bit thinner than most of the competition
Best Classic Option: Cuisinart Chef's Classic Saute Pan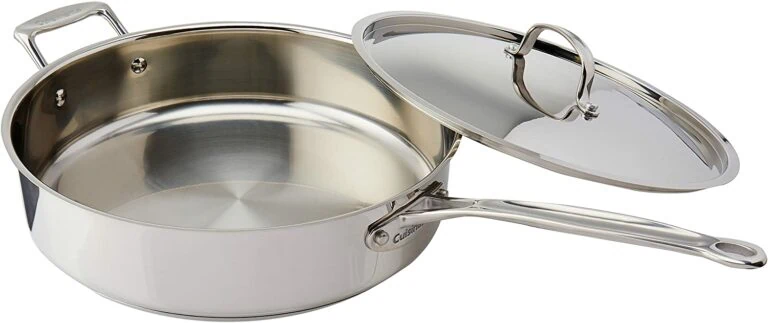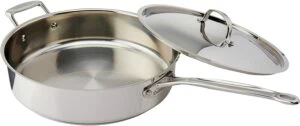 This Cuisinart Chef's Classic Saute Pan is one of the best stainless steel pan options available on the market today. This pan is a classic and is highly regarded in culinary circles because of its sleek and stylish look and its high-quality build.
As is the case with the best sauté pans, it heats rather quickly and quite efficiently. Thanks to its aluminum encapsulated base, that heat is evenly distributed throughout the pan with no isolated hot spots to ruin your cooking.
One of the best features of the Cuisinart Chef's Classic saute pan is that you can easily use it on almost any cooking surface, including an induction cooktop. It comes with a lid that locks in the flavor, ensuring that your meals are tasty when they are done. It also has drip-free pouring, which goes a long way toward keeping your kitchen clean and neat once you are done cooking.
This large sauté pan offers you 5.5 quarts of cooking capacity, making it ideal for large families or social gatherings. It also features integrated measurement markings that help you keep track of your recipes. Finally, it has helper handles in the front and back, making it easy and safe to use despite its large and often heavy capacity.
Pros
5 quarts of cooking capacity
Secure front and back helper handles
Dishwasher safe
Lifetime warranty
Secure lid
Works well with most cooking surfaces, including induction
Sleek and classic look
Cons
Best Ceramic Option: Greenpan Venice Pro Tri-Ply Ceramic Nonstick Saute Pan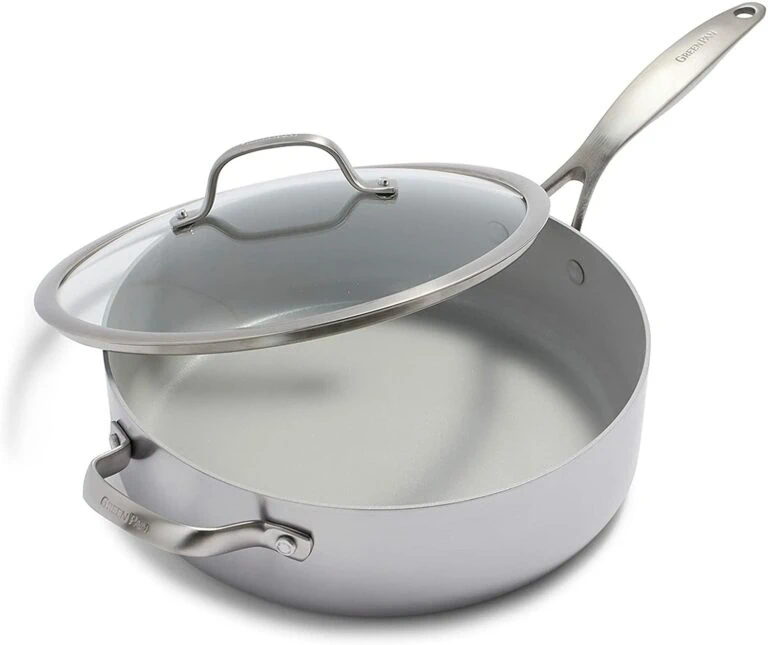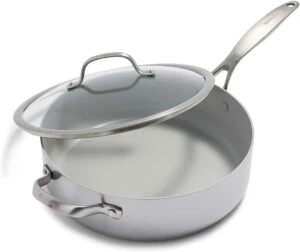 One thing that stands out about this Greenpan Venice Pro Tri-Ply ceramic nonstick sauté pan is that it's infused with diamonds and features a healthy ceramic nonstick coating that is PFAS-free and PFOA cadmium and lead-free. This means that you don't have to worry about toxins when dealing with this pan.
Since this coating is diamond-infused, the pan is safe to use with a metallic utensil. You don't need to worry about scratching that nonstick coating, which offers incredible durability, easy cleaning, and impressively balanced heating throughout the pan.
Furthermore, this Greenpan Venice saute pan features a multi-layered stainless steel body that has been reinforced with Evershine technology. This makes it resistant to discoloration over time, meaning that it will keep looking new even with continued use.
The pan is oven and broiler safe, up to 600 degrees Fahrenheit. It comes with a durable glass lid that makes it easy for you to monitor your food as it cooks and a riveted stainless steel handle that makes it easy to transfer it from the cooktop to the oven or vice versa.
Pros
Easy to clean
Oven safe up to 600 degrees Fahrenheit
Durable glass lid
PFOA and PFAS-free coating
Suitable for a wide range of cooktops, including an induction cooktop
Cons
Best Premium Option: Tower Trustone Frying Pan and Saucepan Set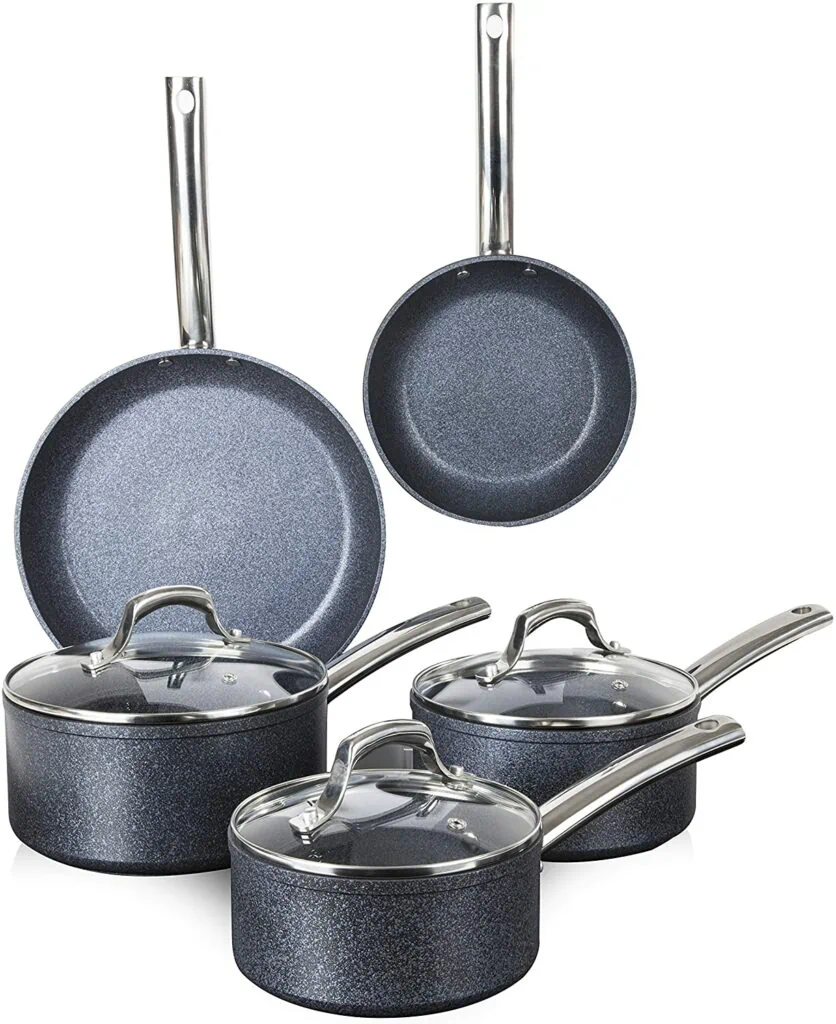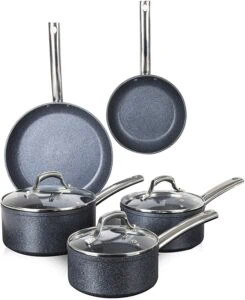 We started by mentioning that some people aren't keen on buying specialty utensils for specific needs. If you are one of these people, you should consider purchasing the Tower Trustone Frying Pan and Saucepan Set.
Even though these are specialty products, they come in a set, which means you will have a few specialty products for a host of specific needs. For starters, it's a range of cooking utensils that cover the 16 to 28 cm area with nothing but pans. There are saucepans within this single set, and there are frying pans.
The best part is that all of them are made out of heavy gauge aluminum that can distribute heat evenly through the cooking utensil during the entire process. These pots are not only robust and durable, but they are also reasonably light in weight. They all feature an impressive nonstick property that also makes them scratch-resistant.
The pan has ample space for you to cook or saute enough food for a reasonably large family. The lids on the pan fit tightly enough but are capable of letting off some steam, not so much that the pan dries out, but just enough to keep your meals cooking at just the right temperature and moisture level.
Finally, every pan in this set is dishwasher safe and versatile; they can be used on almost every stovetop.
Pros
Comes in a set
They have effectively functional lids
Excellent nonstick quality
Big enough to cater to a big family
Reasonably light
Value for money
Dishwasher safe
Cons
Not every single one of them has a lid
Best Nonstick Option: Ninja Foodi NeverStick Hard-Anodized Saute Pan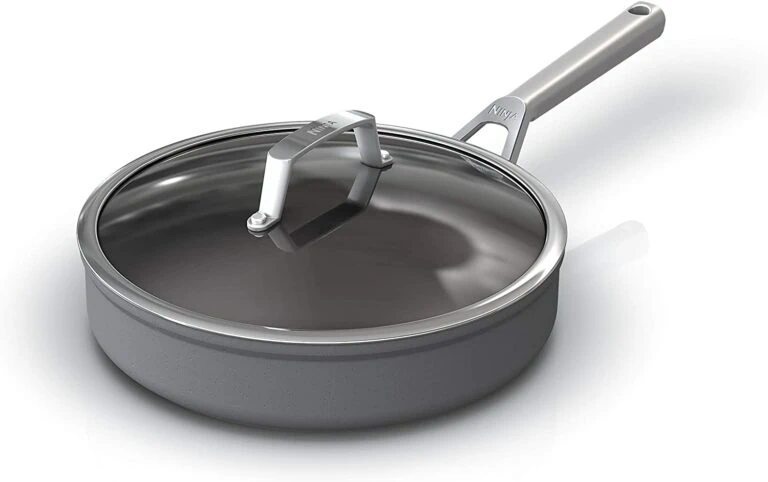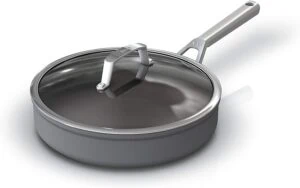 Some people simply must have a nonstick pan in their kitchen, regardless of the specialty. If you are one of these people but aren't convinced that most brands offer truly nonstick sauté pans, then consider this Ninja Foodi NeverStick Hard-Anodized Saute Pan. The nonstick feature on this pan is so well-manufactured that the brand actually offers a 5-year NeverStick warranty with every purchase.
That is very much in keeping with the brand's commitment to excellence. This pan is quite unique because it's made at an incredible temperature of 30,000 degrees Fahrenheit, while most of the competition manufactures their pans at only 900 degrees Fahrenheit. This particularly high temperature is what protects the pan from flaking and chipping over time, which means that you have a durable product in your hands.
This Ninja Foodi pan is particularly versatile in that it can be used to cook a wide variety of meals, including sticky foods like tofu. You might have to season the pan some to get the best results when dealing with particularly sticky foods. At its core is a 4.5-inch aluminum base that ensures the pan retains heat throughout the cooking process without having hot spots that can ruin your meal.
Finally, the Ninja Foodi pan comes with a tempered glass lid with a stainless steel rim. This tempered glass lid effortlessly forms a tight seal over the pan, which locks in the moisture without clouding over, allowing you to see the cooking process as it progresses.
Pros
Commendable nonstick quality
Oven safe up to 500 degrees Fahrenheit
Versatile
Durable
Doesn't flake or chip with time
Excellent nonstick qualities
Reliable brand
5-year NeverStick warranty
Cons
The Best of the Rest: All-Clad Saute Pan


One of the main reasons copper is a popular material used in the kitchen is its excellent heat distribution. This All-Clad Saute Pan is the perfect choice for those after that particular quality.
It has a polished and sleek look that will make you look good even when your guests arrive is only an added benefit. There are many wonderful features to revel in here. It's made of 18/10 stainless steel, which is renowned for its incredible durability. This kind of steel is not only durable but also safe, meaning that it won't react with your food no matter how hot or how long it stays in the pan.
What most people forget about copper is that it's quite dense and heavy, which means that this All-Clad saute pan isn't going to be as light as many on this list. However, it makes up for that by being capable of retaining heat for longer, leaving your food with a nice sear when needed.
Besides, this copper pan has sturdy helper handles made out of stainless steel. These handles make moving the pan easy without feeling the weight disadvantage too much.
This is a huge 5-quart saute pan with tall sides, making it ideal for large families and increases the ease with which you can stir food once you start cooking. Finally, the copper pan comes with a stainless steel lid that does its job efficiently.
Pros
Versatile and can be used on a hot of cooktops, including induction
Oven and broiler safe up to 600 degrees Fahrenheit
Excellent heat distribution
Made out of 18/10 stainless steel
Sturdy handles
Cons
What to Look for in the Best Saute Pans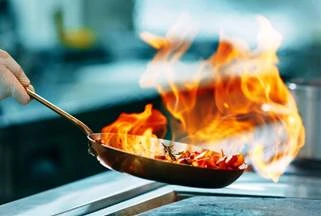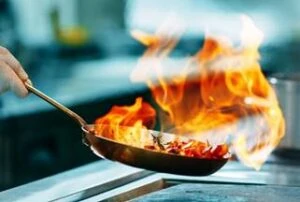 Let's take a quick look at some of the qualities that make a sauté pan worth its salt on the market today. You need to consider these factors when buying your next sauté pan.
Handle
Your saute pan will be heavy, mostly because you will want to cook quite a bit of food in it at the same time. This means that you need to buy a pan with sturdy handles, allowing you to safely carry that pan around the kitchen and even to the dinner table without it breaking off. The best of them have two handles that don't get hot even as the pan remains on the stovetop for hours on end.
Size and Shape
Saute pans come in quarts. Loosely translated, a sauté pan that measures 1 quart can cook enough food for one person. Therefore, if you have a big family or like cooking for friends, you might consider buying a larger sauté pan that offers you larger volumes, such as a 5-quart pan and so on.
Shape, on the other hand, really depends on what you mostly intend to cook in the pan. If you are one for making pan sauce or love cooking with a lot of oil, then you might want to get a pan that has steep and deep walls. However, if you like to sear dishes, you need to choose a shallower pan.
Material
The material of which a pan is made determines a great deal about that utensil. There are several different materials that the most popular sauté pans are made from, each with its own advantages and disadvantages. Hard anodized aluminum is one of the more popular options.
Pans made out of hard anodized aluminum materials are lightweight and affordable. They conduct heat quite fast and evenly but aren't as durable as most people would like. You can, however, choose a pan made out of hard-anodized aluminum, which is more durable.
Stainless steel is another excellent material option. Stainless steel pans are safe and easy to use. You can stick them in the dishwasher and use them on almost any cooktop. Another option that can't be ignored is cast iron. Pans made out of this material are extremely reliable and durable but heavier.
Other factors, such as the lid, the nonstick cooking surface, and ease of cleaning, will determine just how ideal your cookware is to use.
There you have it, a list of some of the best saute pans on the market today. Every single cookware option here is good enough to grace any kitchen. They have been field-tested and found to be of excellent quality and reliability. All you have to do now is choose one that suits you, buy it, and enjoy making delicious pan sauce right in your kitchen.
FAQ
What is the difference between a sauté pan and a frying pan?
A sauté pan tends to be deeper with straight sides, meaning that it offers more cooking space than your typical frying pan, which tends to be shallower.
What's the best size sauté pan to buy?
This will depend on how many people you intend to cook using the sauté pan. As a rule of thumb, a 1-quart capacity in sauté pans translates to a meal for one person.