The best grill tongs are functional tools and a must-have cooking tool for every kitchen. But it is fair to say that sometimes, it is also the most overlooked kitchen gear. A great pair of grill tongs should not only do the job of lifting food off the grill while keeping it intact but should also be able to protect you from the hot grill grates.
So, you need to pick a sturdy and ergonomic pair for safe flipping and maneuvering. A decent barbecue set is not complete without a pair of reliable grill tongs in place.
We have rounded up a list of the best grill tongs for you to review. So, whip out your barbecue set and cutting board for another backyard cookout!
Kitchen Tongs and Grill Tongs
Tongs are tools for gripping and lifting objects with a pivot end handle. Though all of them look similar, they are built differently. There are common fire-tongs designed for use on picking or transferring coals on the stove. There are also serving tongs for picking foods like salads, which are referred to as kitchen tongs.
Grill tongs, on the other hand, are a cross between fire tongs and kitchen tongs. They are intended for picking and handling hot food off grill plates.
You might ask, is it okay to use a kitchen tong as a grill tong? You can, but it might be dangerous. Kitchen tongs are designed to be shorter than grill tongs, which may put you at risk of burning your hands as you cook. Grill tongs have heat-resistant handles made of silicone or rubber material.
Quick View
Best Overall Grill Tongs: Cuisine Art Locking Grill Tongs
Best Premium Grill Tongs: Grill Hogs 16-inch Barbecue Tongs
Best Value Tongs: OXO Good Grips Locking Tongs
Best Grill Tongs for Beginner: Daily KISN 17-inch Grill Tongs
Best Front End Designed Tongs: Weber Original Tongs
Best Conventional Scissor Tongs: HINMAY Extra Long Barbecue Tongs
Best Heavy-Duty Grill Tong: Shark BBQ Long Grilling Tongs
Best Grill Tongs Set: Mountain Grillers Grill Tongs Set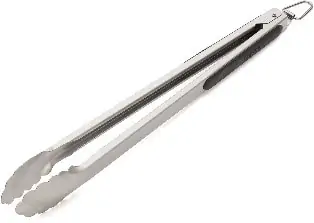 Cuisine Art is one of the most trusted brands when it comes to cooking tools. The Cuisine Art Locking Grill Tongs will prove to be a prudent buy for all your grilling needs. It has a 16-inch reach for safely maneuvering foods across the fire.
Its scalloped spoon design is ideal for handling a variety of foods of different cut sizes. These BBQ tongs can handle large cuts and delicate and tender meat properly to remain intact and presentable.
The Cuisine Art tongs are made from brushed stainless steel, making them durable and able to withstand extreme heat. For added safety and comfort, the tongs come with a cushioned silicone grip with the manufacturer's embossed logo.
This grilling tong also has a simple locking mechanism that locks the tool closed with a simple push or pull. A D-ring is added on the end of the tongs for hanging and easy storage.
Product Features:
16-inches long
Silicone grips
Scalloped spoon
Brushed stainless steel tong
A pull-tab release locking mechanism
Pros:
Safe and comfortable to use
Easy storage
Easy to hold
Durable
Cons:
Stainless steel may rust
Sharp scalloped edges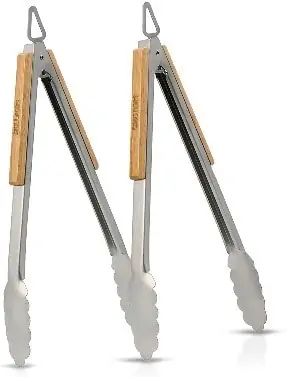 One of the primary requisites of the best grill tongs is their ability to handle massive heat while protecting the user from it. The profile design of the Grill Hogs barbecue tongs is a functional and standout feature. They have a smooth and sturdy damage-resistant oak wood grip that keeps the hand cool during grilling. The hardwood handle is a unique, rustic, and stylish feature.
Like most grill tongs, the Grill Hogs also feature a lock and hook combination. This allows quick opening or closing of the tongs when in use. It is also a practical feature for easy storage. A lock and hooks close the tongs so they will not occupy much space in your drawer. You can also choose to hang the grill tongs on hooks when not in use.
Grill Hogs well-crafted grill tongs are also made from durable and high-quality stainless steel. Through proper usage, they can withstand rusting as much as evading the heat of the grill. Overall, these compact grill tongs are a decent barbecue tool handy even for beginners.
Product Features:
16-inches long
High-quality stainless steel tong
Oakwood grip handle
Lock and hook locking feature
Scalloped edge
Pros:
Heavy-duty
Stylish design
Easy-to-clean
Durable
Cons:
May not be compatible with fragile food items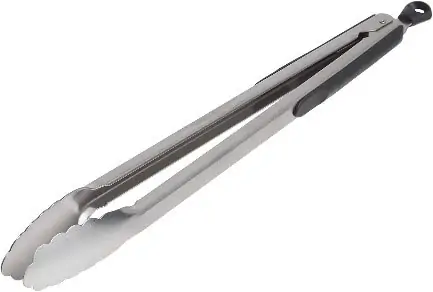 The OXO Good Grips are versatile grill tongs with features ideal for cooking, tossing, grilling, and turning slabs of meat. The brushed stainless build allows easy cleaning without compromising durability. They are also durable enough to save you from the frequent replacement of your tools.
If your concern is the rusting of stainless steel, OXO Good Grips reinforced it with extra chromium alloy to solve the problem. It makes the product less prone to rust but still of food-grade quality.
At 16 inches long and 8 oz light, these grill tongs provide safe and comfortable food handling. The rubber grip handle is durable, non-slip, and flexible. The handle tends to stay cool and is easier to handle since its ergonomic design allows added comfort. It is also pressure-absorbing to help reduce tension in the arms and hand. These best grill tongs sure do make your outdoor cookout sound a bit handier and less tiring.
Product Features:
16-inches
Brushed stainless steel
Scalloped spoon pincers
Rubber handle
Large hanging loop
Dishwasher safe
Pros:
Versatile
Rust-proof
Easy-to-clean
Durable
Ergonomic design
Cons:
Poor grip
Pincer tips prone to misalignment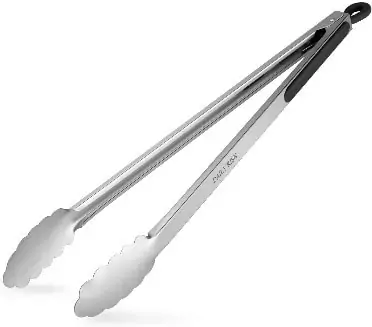 Tongs vary in length, but for the best grill tongs, they should be between 15 to 20-inches for safety. Logically, shorter tongs will put your hand closer to the fire and risks burning. Daily KISN's 17-inch grill tongs are dependable tongs for your hot business. The tongs are made of stainless steel with a non-slip silicone grip handle that can withstand temperatures up to 480°F.
These grill tongs are a popular choice for both household and professional use. They are lightweight, weighing only about 6.8 oz to minimize the pressure on your arms. Daily KISN grill tongs have a ring pull-lock mechanism for opening, closing, and storing. The tongs are also dishwasher-safe for no-fuss cleaning.
Product Features:
17-inches
Brushed stainless steel tong
Scalloped tip
Non-stick
100% BPA-free
Pros:
Dishwasher-safe
Long enough for handling
Stain and odor resistant
Cons:
Quite frail for heavy slabs of meat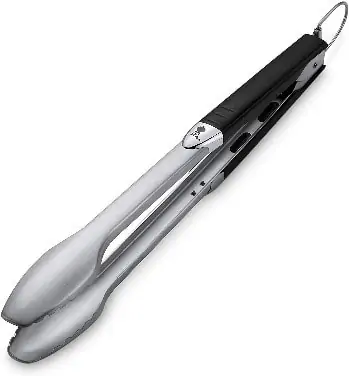 Weber Original is another popular choice in the roster of the best grill tongs and other barbecue accessories.  Weber is one of the trusted brands and is considered an icon for all your barbecue needs. For wherever there is barbecue, there is also a Weber or two.
Weber's 17-inch grill tongs have the perfect balance of mechanism and tension with the 1.4 lbs. weight. They handle the food well but do not require much grasp strength. These grill tongs are safe, reliable, and handy to use.
One of the most notable features of the Weber grill tongs is the unique front-end design. Instead of the usual scalloped edge that points sideways, this one is pointing downward. It gives the tongs better leverage in food handling.
Weber's soft-touch handle provides a non-slip grip for added comfort and safety.
Product Features:
17-inches
Stainless steel construction
Dishwasher-safe
Non-slip soft handle
Pros:
Heavy-duty
Reliable
Safe and easy to use
Cons:
Requires use of both hands for locking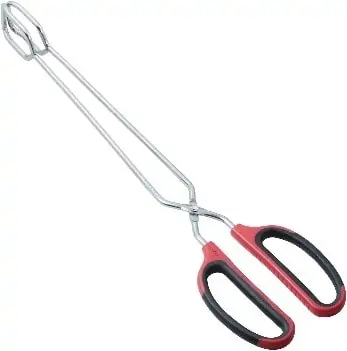 The catch with scissor tongs is that they go easy on delicate food like seafood and thinly sliced meats. While traditional grill tongs are easy-to-use, scissor-type grill tongs like the HINMAY are also handy for some occasions. The pivot point reduces pressure in the arm and gives you better control over flipping and roasting.
This scissor grill tong is made of austenitic stainless steel construction that can withstand extreme heat up to about 1112°F. It has a metal imprint in its pincer for preventing slippage of food. To give the user a better grip and control, the handle is reinforced with silicone material.
Product Features:
16-inch scissor grill tongs
Stainless steel wire tong
Non-slip handle
Pros:
Heat-safe
Professional chef quality
Durable
Great for handling delicate food items
FDA certified
Cons:
Quite feeble
Tendency to misalign at the pivot end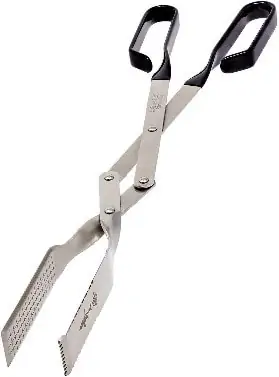 Shark BBQ's long grilling tongs are another heavy-duty scissor-type tong to consider. To make grilling less tedious, they made a little upgrade with features that every cook looks for in their grill tool.
Unlike the usual wire end, these BBQ grill tongs have a wide grip spatula, a stamped surface, and a sharp serrated knife edge. The notched tip is designed to secure food in its place. So, no more crying over your steak landing on the floor or a whole mess of delicate grilled food disintegrating under the tongs.
At 17.5 inches of reach, these cooking tongs are a reliable tool that are also safe to use. It has a soft-touch heat-resistant handle with a unique design for assuring a firm but comfortable grip. No matter how long you are grilling, these tongs will not tire out your thumb. These Shark BBQ tongs are definitely one of the best grill tongs to have by the fire.
Product Details:
5-inches
Scissor-type
Unique design
Top-quality stainless steel
Heat-resistant handles
Three accessories in 1
Pros:
Versatile
Easy-to-use
Strong and sturdy
Rust-resistant
Cons:
Pivot points need frequent lubrication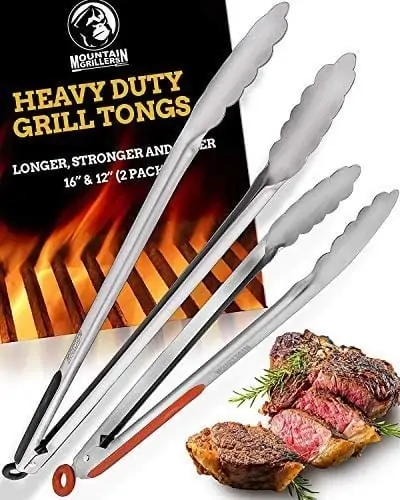 The Mountain Griller Grill Tongs Set gives you versatility to choose the reach you need with your tool. It comes in a 12-inch and 16-inch choice, guaranteed to give you a safe distance from the fire.
The different size set also comes with a purpose other than just evading burns. With two sets of tongs, you can also avoid cross-contamination when cooking. You will have grill tongs for turning cooked food and another set of tongs for handling raw food. The different colored handles make for easy differentiation while cooking.
These long metal tongs also come with a non-slip handle for precise and safe grip. They have scalloped edged pincers for the secure handling of food. The handy lock loop is ideal for hanging the tongs by the grill when not in use. This set perfectly complements any grill and are the best grill tongs you can get for a fair price.
Product Features:
12-inch and 16-inch set
Stainless steel
Non-slip grip handle
Scalloped spatula
Pros:
Hygienic
Safe
Versatile
Dishwasher safe
Cons:
Too small hanging loop for other grill hooks
How to Choose the Best Grill Tongs
When picking the best grill tongs, you will notice that they are built almost similarly. Their pincer shapes, body and grip materials, and even their lengths look the same. So, which one should you get? What are the important features that define the best grill tongs?
Maybe you can start with your design preference. And here are a few more of the considerations that you should look for.
The Design
Grill tongs have two common design styles: the traditional utility pincer type and the scissor type. Traditional tongs are arguably the most widely used grill tongs today. Whether you prefer one over the other boils down to how you are going to use them.
Scissor-type grill tongs have pivot points that work like scissors and need little dexterity to operate. They provide a better grip for delicate foods like seafood and corn on the cob. Traditional tongs, on the other hand, are simple to use and easy to manage. They are versatile but are more expedient when it comes to large slabs of meat.
Like traditional grill tongs, scissor tongs are also built with a long reach for burn protection.
Size
The length says everything about the best grill tongs for protecting you from accidentally scorching your arm while cooking. Most grill tongs have a size range between 12-inches and 20-inches.
Shorter tongs are more stable and easier to maneuver, although they put you right in the line of fire. Longer ones are safer, but they can get wobbly regarding their length. The right length lies along 16 to 17.5 inches to provide better protection without compromising leverage. This length provides you with the right balance, strength, and protection.
Weight
The weight of the grill tongs determines their strength and capability. A decent weight you should look for lies between 4 and 8 ounces. If the tongs are too lightweight, they may prove to be weak. When the tongs are too heavy,  it can put a strain on your arms.
Tip Material
Stainless steel is the most common material used for grill tongs because of its ability to handle extreme temperatures. You may see grill tongs marketed as chrome-plated, but it does not equal durability compared to stainless steel.
Silicone grill tongs are heat resistant. Although they can also withstand heat, they are not as tough and long-lasting as metal tongs. If you do choose silicone, make sure the tongs are always BPA-free and food safe.
Locking Mechanism and Hook Features
The locking mechanism of the best grill tongs is intended for convenience, ease of use, and storability. Most of the tongs have pivot ends that lock if you turn the tongs upward or open when you point them downward. This is handy when managing utensils around a narrow grill. Choose grill tongs with locks that are workable using only one hand for added convenience.
Some grill tongs also come with a hoop (sometimes doubles as the lock) for easy storing. Keeping large tools like grill tongs can be daunting without the lock and hook features. Hook ends will let you keep your grill tongs in hanging storage instead of taking space in your kitchen drawer.
How to Take Care of Grill Tongs
Rust is the number one enemy of any metal tool and is unavoidable over time. However, you can delay the corrosion and depreciation of your grill tongs through proper use and maintenance. The proper use equates to diligent cleaning and drying after every grill session.
Because grease and food debris can be quite tedious to clean up, here are some approaches to try:
Soak the grill tongs in hot and soapy water until the grease lifts. Use a rough sponge and old toothbrush to get rid of all the residue
Use an all-natural solution by mixing 4 cups warm water, ¼ cup baking soda, and lemon juice. Leave the tongs to soak before washing them clean
Wipe the tongs intermittently with a vinegar-dampened cloth during grilling to prevent the build-up of grease
Wipe the grill tongs dry after every wash before storing
FAQ
Can I use grill tongs with plastic tips?
By any means, no. Plastic is not food-safe and will not stand the heat. It will only melt and leach chemicals into your food.
Is it safe to put the grill tongs in the dishwasher?
Not all grill tongs are dishwasher-safe. Always read the label and make sure that they are before stowing them in the dishwasher.
Is a wooden handle good for grill tongs?
Wood tends to stay cool to the hand while cooking and is also comfy to hold. However, they are prone to dirt and are worn out easily.