If you're ready to whip up something special in the kitchen, you're going to want a whisk at the ready! These handy kitchen tools are beloved by all kinds of cooks, becoming an essential item for many in the kitchen.
There is a wide variety of different kinds of whisks out there, meaning there's a wide variety to choose from for your kitchen. You may think a whisk is unnecessary, but we promise there is a ton of amazing use to get out of this tool. All it takes is a little practice. Once you master your technique, you'll be ready to impress.
In this article, we're going to help you find the perfect whisk for you. We'll unpack exactly what a whisk is, what they're used for, and everything you need to know about them before you buy. Then, we're listing out our top picks for the best whisk you can buy.
Quick View
Top Recommended Product: OXO Good Grips 9-Inch Whisk
Top Budget Product: KUFUNG Kitchen Stainless Steel Whisk
Top Premium Product: Met Lux 16 Inch x 3 Inch Baking Whisk
What Is a Whisk?
Let's start by answering the most important question: What is a whisk?
A whisk is a kitchen tool with a long handle with several metal wires at its end, usually in a rounded shape. A whisk is used for a technique called whisking. Whisking is the act of continually moving your whisk through liquid ingredients to combine them while aerating it.
Though a whisk was made with whisking in mind, that's not all it's good for. A whisk is great for combining ingredients, wet or dry, especially when baking. The wired end allows for fast stirring and quick ingredient incorporation. A whisk is also great when cooking any sort of sauce or gravy, as the thin metal wires are great at breaking up lumps and clumps of things like flour.
The whisk has evolved over time, and now there are many diverse versions of this popular tool. While some people may prefer to replace these tools with things like hand mixers or stand mixers, there's still something to be said about the whisks designed to be used manually. Those are the whisks we'll be exploring today.
Whisk Buying Guide
We think you should know a few things before you dive in and buy your own whisk.
Different Kinds of Whisks
I bet you didn't know there were a ton of different versions of the whisk out there! We know a good kitchen is an organized kitchen, so don't feel the need to buy every model under the sun. You should keep in mind exactly what you want your whisk to do before you buy, so you don't have a ton of different tools taking up space in your drawers.
Let's explore the different kinds of whisks and what they do:
The Balloon Whisk
The balloon whisk gets its name because of the shape of its wires, similar to the shape of a hot air balloon. This is the most popular form of whisk and probably comes to mind when you picture them in your head.
These whisks are great for basic whisking, stirring, and blending of ingredients. It can stir your batter, whip your eggs, and mix dry ingredients no problem! Their larger, round shape makes them good for combining ingredients in bowls.
The drawback of this whisk style is that they are not great at combining ingredients in dense mixtures, as they tend to get clumped up between wires. Getting some batters or doughs incorporated would take a lot of patience and time.
The French Whisk
A French Whisk is similar in both shape and style to the balloon whisk! It has the same rounded wire end; however, this whisk is narrow and usually a bit longer.
This whisk model is best suited for making sauces. Its longer shape gives you some distance from pans and bowls, making it great for stovetop use. The wires are also closer together, meaning it's better and combines dense mixtures, unlike the balloon whisk.
The Ball Whisk
The Ball Whisk is not the most popular whisk model out there, but it's still quite useful. This whisk has a long handle with long, straight wires. Rather than forming any rounded balloon end, each long metal wire ends with a small metal ball.
These whisks are used much the same as other models, great for whisking, stirring, and combining. These whisks are best for reaching the edges and corners of containers as they don't have a rounded shape. However, some cooks say they aren't as effective as other round whiskers.
The Flat Whisk
A flat whisk, sometimes called the roux whisk, looks like a balloon whisk if it had been flattened out. Its wire metal ends come to a flat, rounded shape,  designed to cover more surface area on pans. This makes it the perfect tool for those making sauces. Plus, its flat design makes it a bit easier to clean than rounder whisk models.
The Mini Whisk
A mini whisk is exactly what it sounds like—a miniature version of a whisk! A mini whisk usually looks like a scaled-down version of a balloon whisk. However, many popular variations feature different shapes, such as a spiral end or coil end.
A mini whisk is meant to combine smaller amounts of ingredients. It's perfect for things like emulsifying a vinaigrette, beating a single egg, or even frothing a small amount of milk for a coffee.
The Danish Dough Whisk
Out of all the whisks on this list, the dough whisk is definitely the most interesting-looking. While many people prefer to make things like bread using a stand mixer, the dough whisk was designed to mix the dough by hand.
Here, the wires at the end of the handle form a series of three circles, all sitting within one another. It's designed to mix and combine batters and doughs without getting clogged.
Whisk Material
As with all kitchen tools, the material your tools are made of matter! Most whisks available for purchase today will be made of stainless steel. This material is dishwasher safe, and most importantly, durable. With a whisk, you'll need the metal wires to be flexible enough to have a bit of bend but strong enough to not break. Stainless steel, in this case, is perfect for the job.
However, there are, of course, non-metal options, the most popular of which is silicone. As stainless steel can easily scratch up non stick cookware, a silicone whisk is often seen as a more favorable choice for some. Stainless steel, though, is the favorite of most cooks. Its sturdiness and stiffness are necessary for the force needed for whisking.
Handle Length and Material
The length of your whisk handle might not sound important, but it does matter. This mostly has to do with heat while cooking.
If you think you'll be whisking a lot over heat (making sauces, gravies, etc.), you'll want a longer handle. This will keep your hands farther away from the heat while cooking, saving your fingers. However, if you're doing more hand mixing in bowls where you might want to get a little closer, a shorter whisk handle may suit you better.
The material of the handle itself can also be important! Hand mixing and whisking can be laborious, so you'll want something that feels good in your hand.
Going for a handle made of silicone or rubber can help you prevent slipping or dropping the whisk. A metal handle can be fine; be sure to read reviews to ensure it doesn't get hot if using it on heat. Wood handles are also common and can be super comfortable. Just be sure to hand wash wood only, as dishwashers can damage and warp it.
Our Top Picks for the Best Whisk
It's shopping time! Here are our picks for the best whisk products: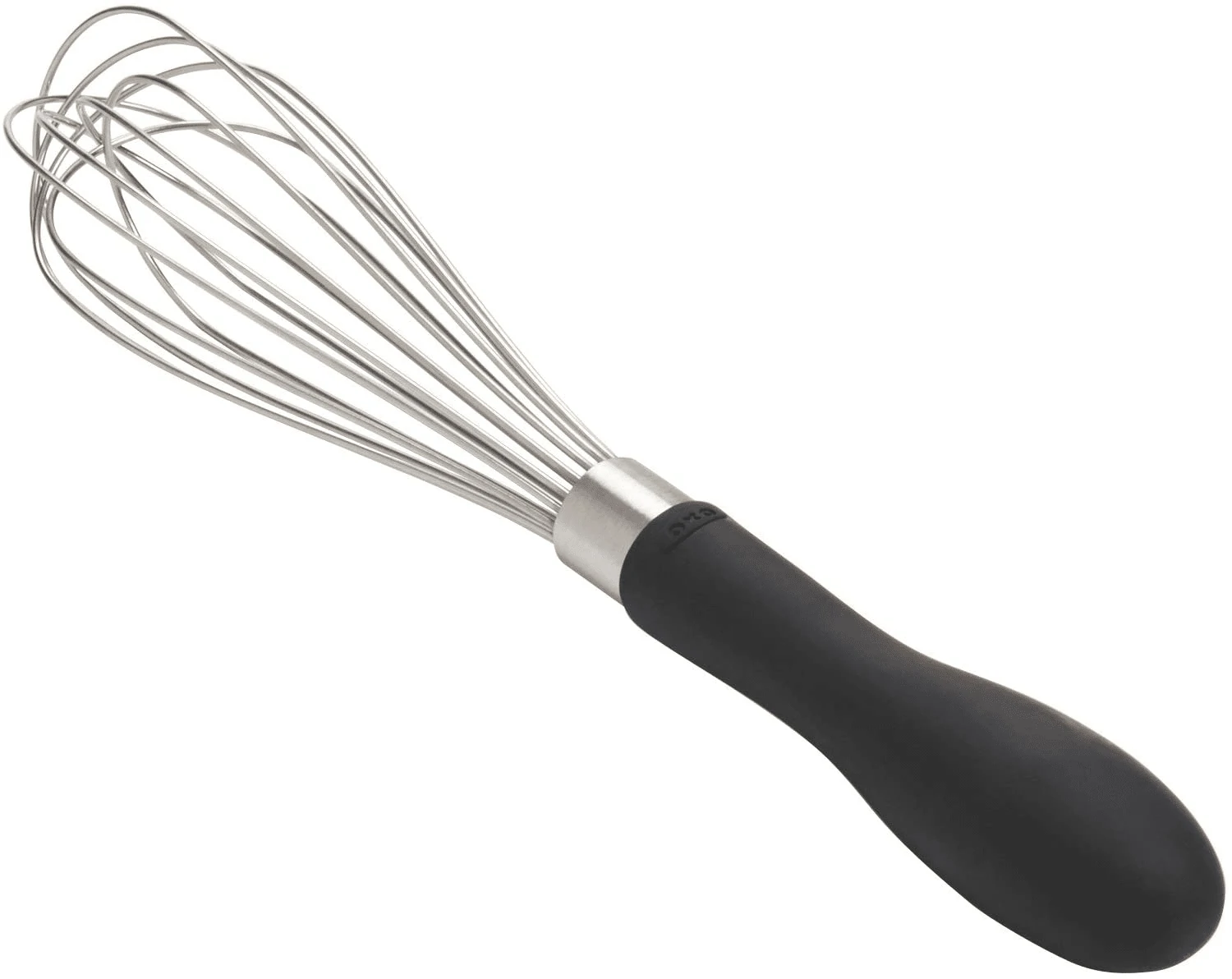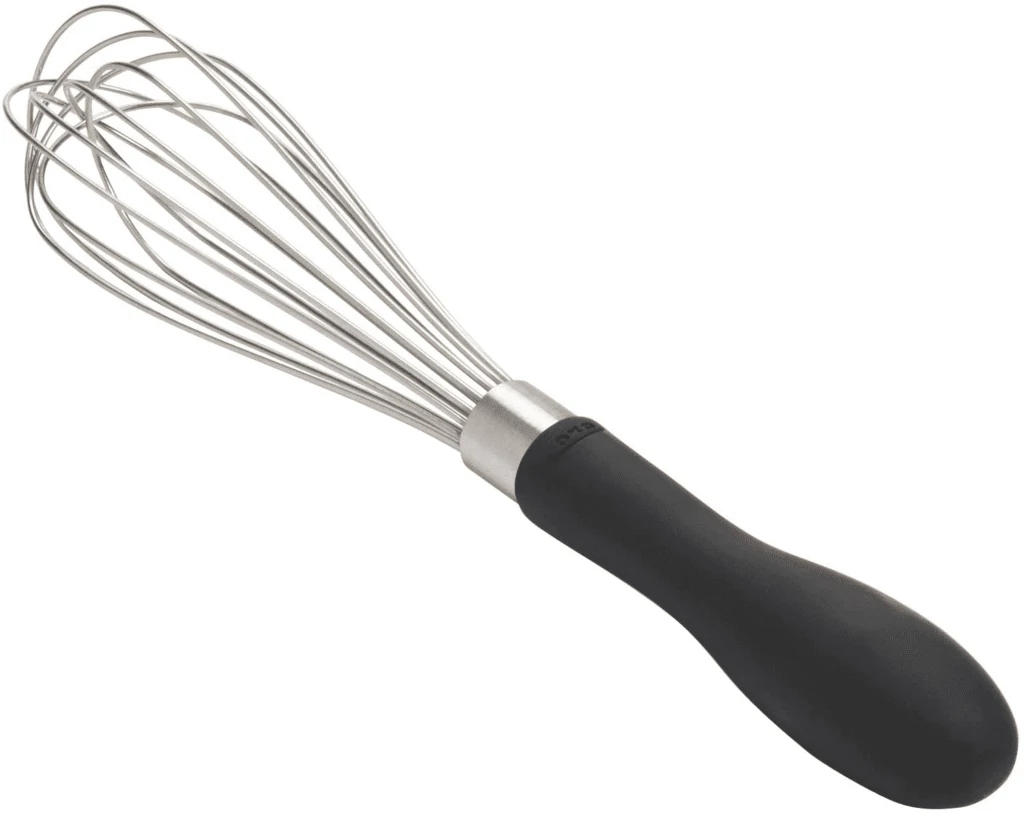 This whisk from OXO is a great fit for any kitchen! Here we have a classic French whisk made of polished stainless steel with a comfortable silicone handle. The handle is comfortable to hold and non-slip, meaning fewer accidents in the kitchen. This whisk comes in both a 9 inch and 11-inch size range, so you can pick the sizing that works best for you.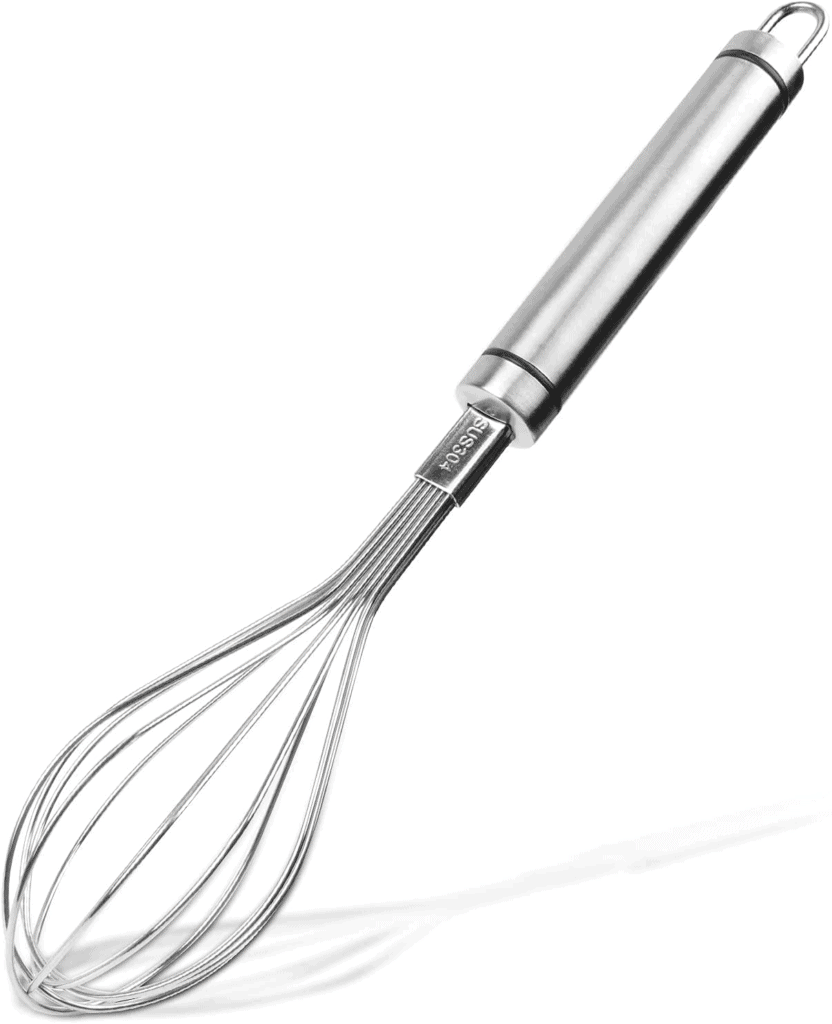 Those looking to save will appreciate this whisk from KUFUNG. This is a balloon-shaped, stainless steel whisk perfect for blending, whisking, beating, and stirring ingredients. The stainless steel is durable and rust-resistant, and as this entire whisk is made of it, it's dishwasher safe. There's also a convenient loop on its end for hanging kitchen storage.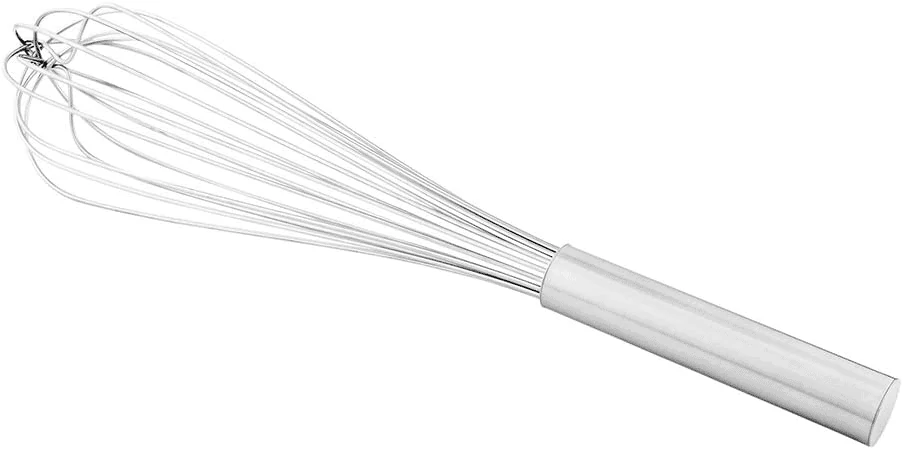 If you want something a little fancier, here's a great French whisk! This whisk is completely stainless steel, making it durable, dishwasher safe, and rust-resistant. It's perfect for sauces, batters, and more. It is available in both 12" and 16" size variations, and you can even choose between the French or Piano (aka Balloon) styles for the whisk end. These whisks are professional quality, meaning they're built to last!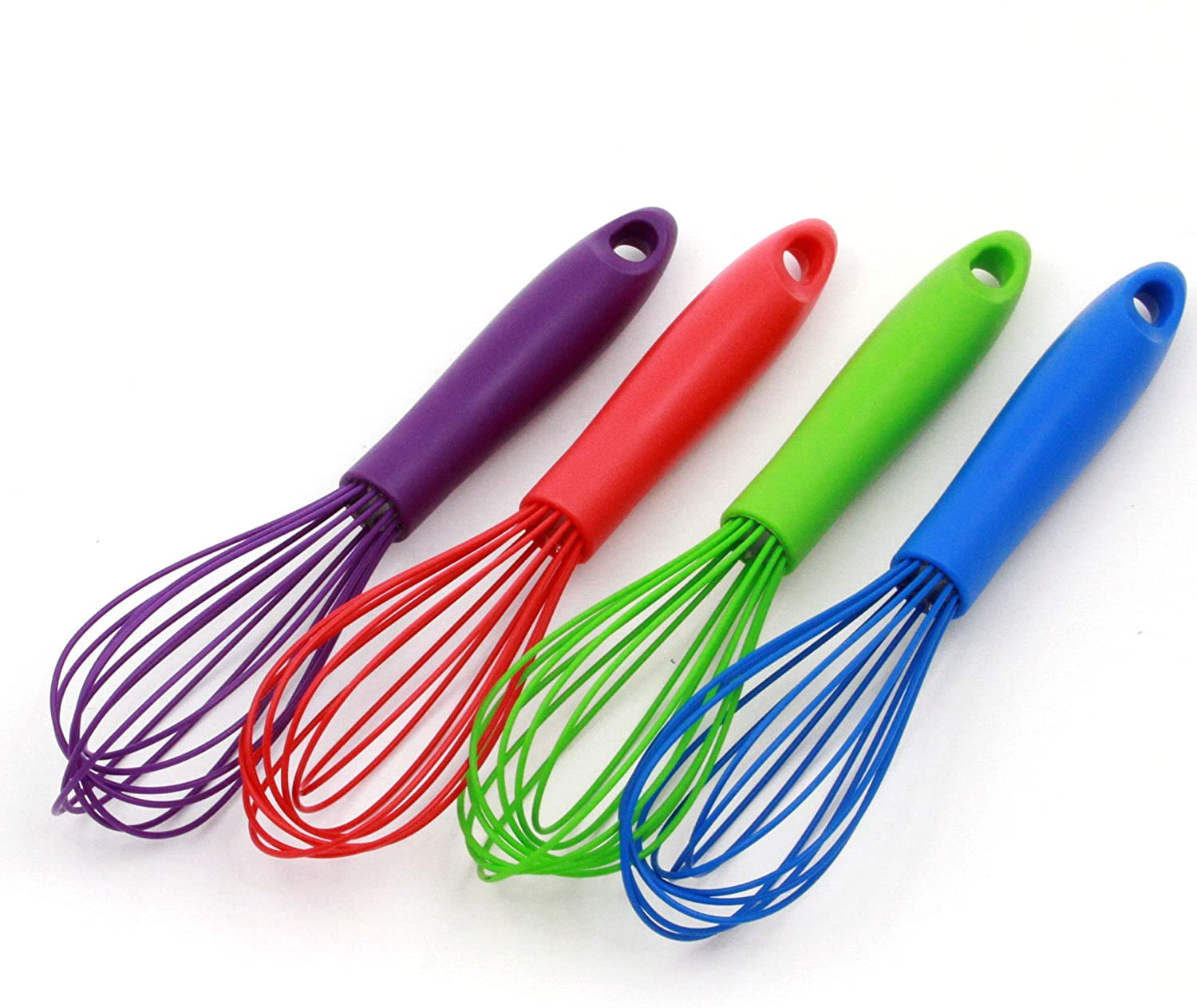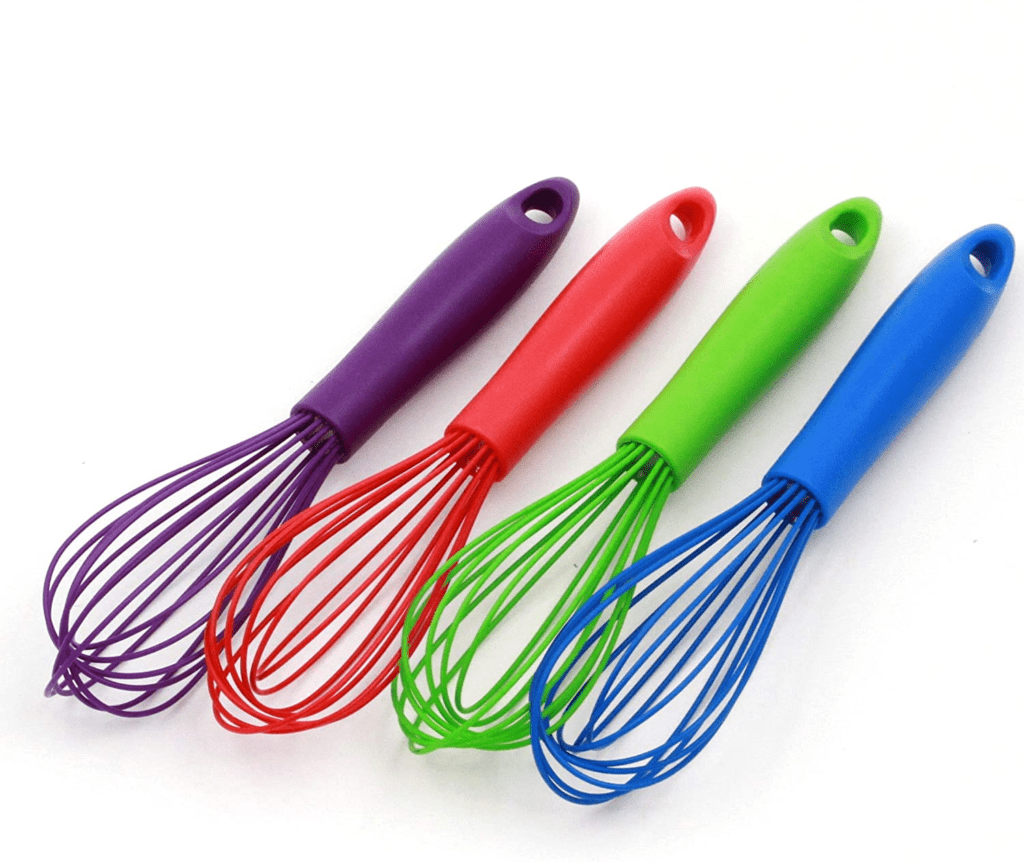 Those looking to protect their non-stick pan from the effects of stainless steel may find a silicone whisk more to their liking. If that's the case, we recommend this whisk from Chef Craft! These whisks are totally silicone and heat resistant up to 450 degrees Fahrenheit. They are also dishwasher-safe for easy cleanup. Best of all, they come in a wide range of colors to match your personal style!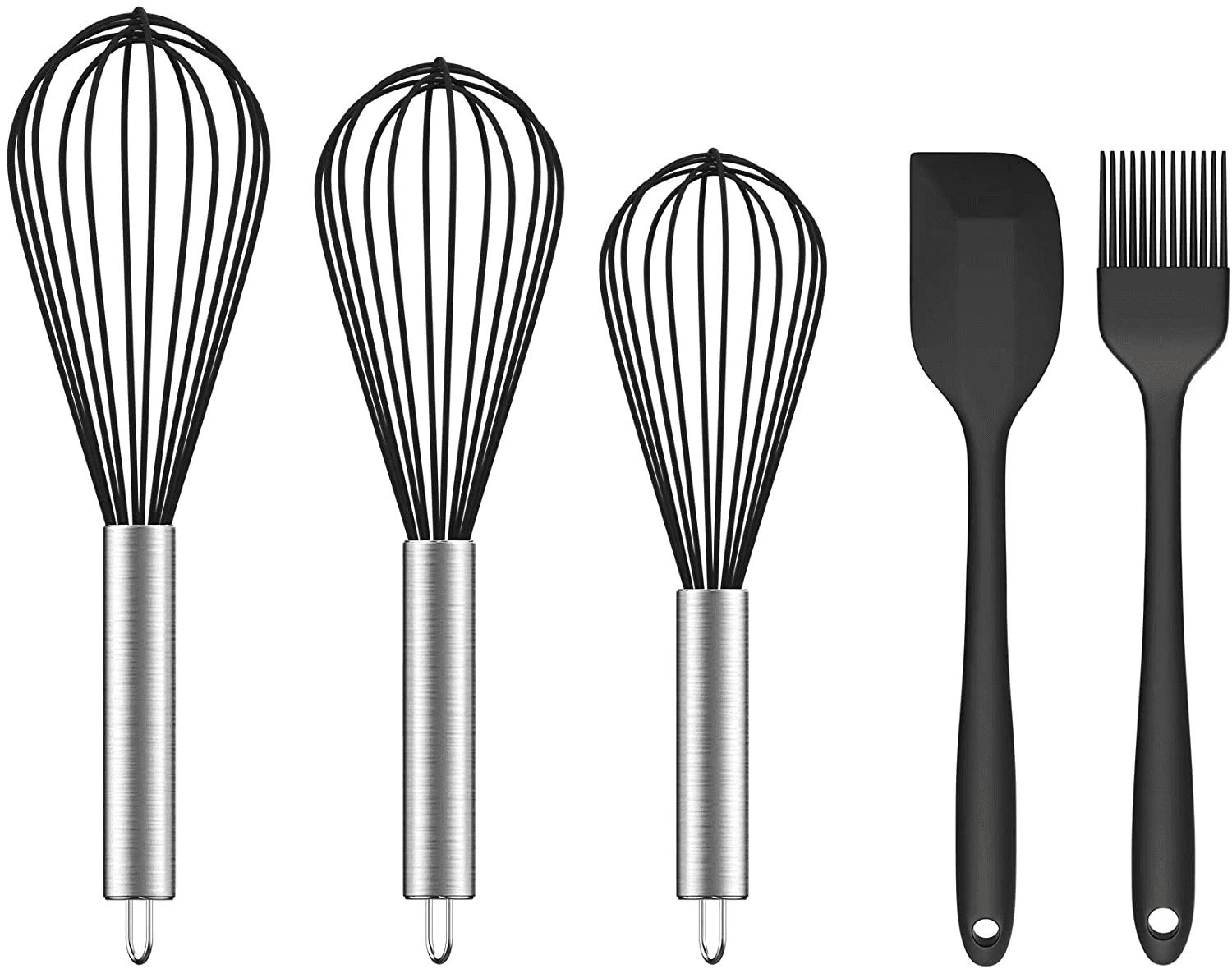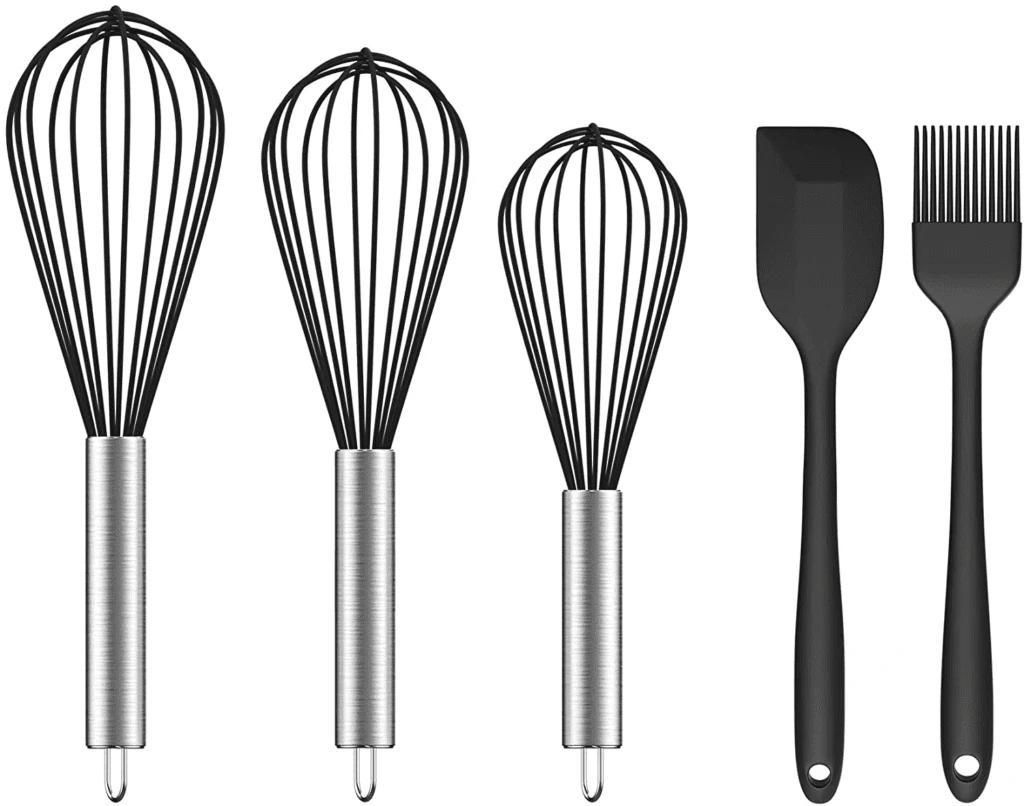 If you've been looking for a new whisk for your baking, consider getting a set like this one here. This whisk set comes with three different silicone whisks, giving you size options for your different needs. It's also handy for any instances where you may need to whip up more than one ingredient at a time. This set also comes with a silicone brush and a silicone spatula, which are both super handy when baking in the kitchen.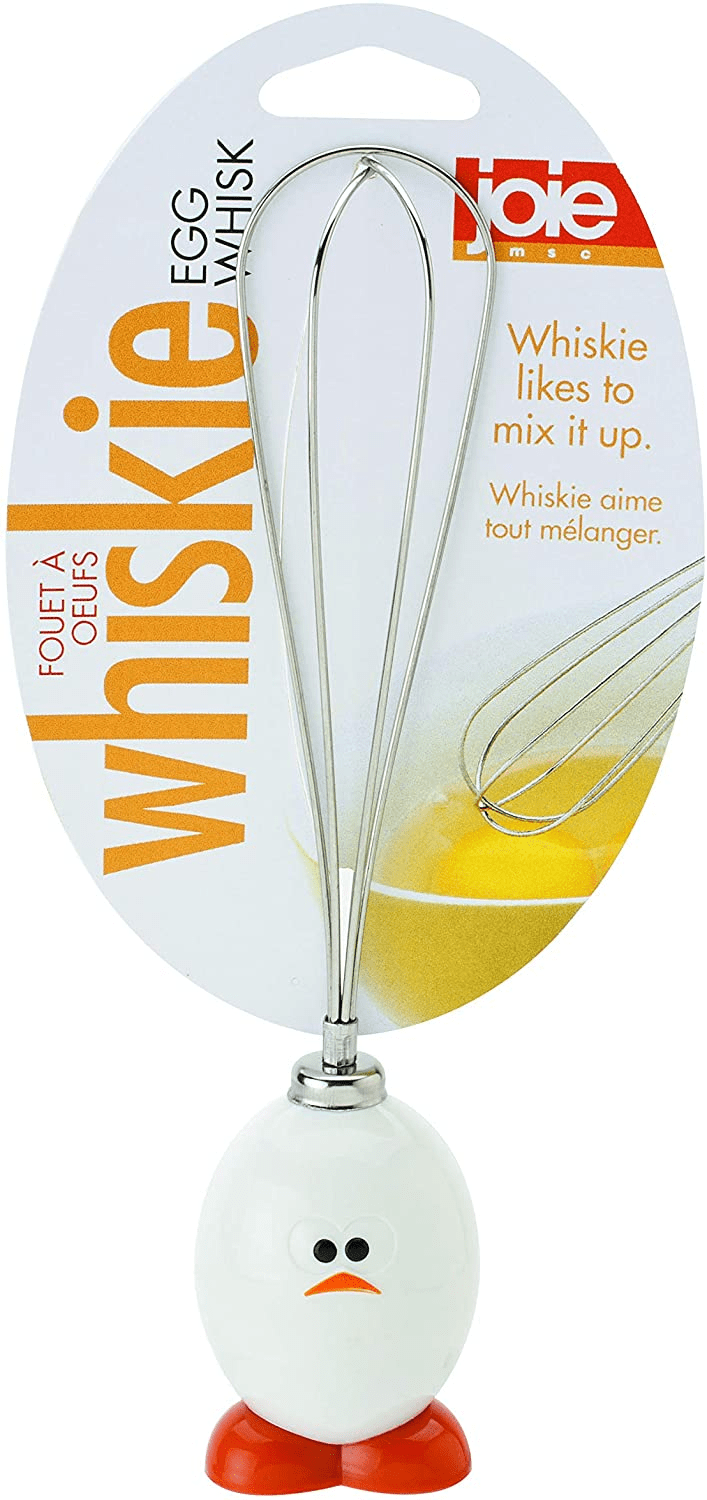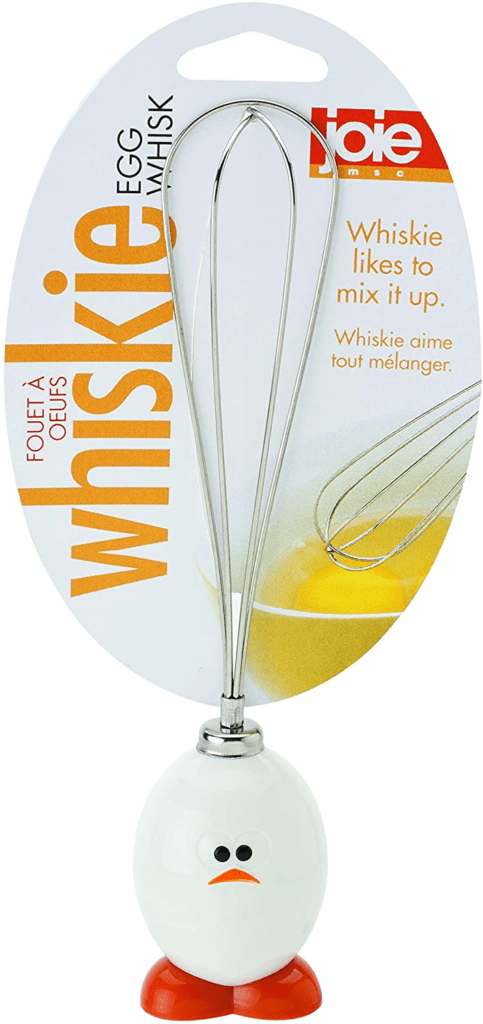 This whisk is just plain fun! Decorate your countertops with this adorable little egg whisk from Joie. Here you'll find a stainless steel whisk that's great for eggs, as well as sauces, gravy, and batters. Its handle is a bit small, but the adorable chicken design is just too cute to pass up.
Whisk FAQ
Here are some of the most frequently asked questions about whisks:
What are whisks used for?
A whisk is a kitchen utensil used to mix and combine ingredients together while adding air to the mixture. This act of mixing ingredient(s) while aerating is called whisking.  While whisks were invented with whisking in mind, they are also great at mixing ingredients together without aeration.
What kind of whisk should I buy?
The type of whisk you buy depends on its intended use. A balloon whisk or French whisk is perfect for the average cook looking to get as much use out of their whisk as possible. If you're mostly using your whisk for sauces or gravy, you may want to go for something like a flat whisk or ball whisk. People making doughs would do best with a Danish dough whisk.
Is hand whisking better than using a mixer?
For many cooks, the task of whisking something by hand is a bit too taxing. There's a reason hand mixers and stand mixers were invented and exploded into popularity! They can get whisking done fast, without you breaking a sweat.
There's no shame in using these tools if whisking and mixing by hand is too tasking. In most instances, it's perfectly acceptable to opt for an electric tool over a whisk if you need to. However, if you can, you should stick to using a whisk by hand in areas where you need more control.
For example, if you are making a meringue or whip cream with a super-specific texture, it can be better to whisk by hand to ensure you're making the correct texture. When mixing by hand, you can be in total control and have less risk of over-mixing anything.