Everything you need to know about how to cook collard greens by simmering on the stove until their' silky soft and delicious.
How do you cook collard greens the easy way? First, carefully wash the collard greens, remove the stems, cut the leaves into strips, and simmer them in water for an hour. Then drain the greens and sauté them with olive oil and garlic for 10 minutes, add salt and pepper to taste, and enjoy!
Cooking collard greens shouldn't be intimidating or confusing. These healthy, vibrant greens are easier to cook than you might think. While it can be time-consuming to reach the perfect soft and silky texture you want, it's mostly a hands-off process. And it always pays off, once you sit down to a bowl of hot, homecooked collard greens for dinner.
What are Collard Greens?
Collard greens, often fondly called simply "collards", are dark green leafy vegetables in the Brassica family. This family of veggies includes cabbages, broccoli, cauliflower, and Brussels sprouts. Collards are a popular dish in Southern American cooking, where they're often cooked as a side dish with savory meat dishes. The most edible part of collards are the thin leaves. The stems can be very tough and fibrous and are best removed before cooking (more on that below).
The flavor of collards on their own can be quite peppery and mustard. As they cook, they easily absorb the flavors of the cooking liquid or other ingredients. But they always add a mineral flavor to the finished dish. This flavor pairs especially well with salty pork, including bacon, ribs, and roasts.
How to pick the best collard greens
If you want to pick the best of the best when it comes to collard greens, there are a couple of things you have to keep in mind:
First, buy fresh – frozen produce is always second-tier quality at best, there's no reason to risk it.
Second, the key is in the leaves. Your collard leaves should be tender, never tough. If you're able to remove the leaves off the stem easily, that's a good sign of freshness. If they stand up on their own, that's another good sign. Leaves that are wrinkled, wilted or have brown or yellow spots are probably past their prime. They won't have the same flavor, texture or nutritional content of a fresher bunch.
Finally, it's all about location, location, location! The farmer's market is usually the best place to get your vegetables – and when it comes to collard greens, this rings true as well!
How to Cook Collard Greens on the Stove
Once you've selected a vibrant green bunch of collards, it's time to prepare them! First, gather a few simple ingredients. As for equipment, you'll need a large stock pot and a frying pan. A strainer will also come in handy later in the recipe.
Ingredients
For the simplest, but still delicious, preparation for collard greens, grab a short list of ingredients:
1 bunch collard greens
1 clove of garlic, minced
Olive oil
Salt
Pepper
1 bunch is usually about 10 leaves, which will feed roughly 4 people as a side dish. If you want to round out the dish more and stretch it a bit further, add bacon, pancetta or sausage to the collards when you sauté them before serving.
Prepping the collard greens
Step 1: Wash the collard greens
As with any fresh veggie, washing your collards is the first step to cooking them. The best way to ensure the greens are thoroughly clean is to soak them. Fill a large pot or baking dish with cold water and add the collard greens. Let them soak for at least five minutes and up to 20. This is also a good way to bring any slightly wilted leaves back to life, just make sure you're using very cold water.
After soaking, drain the leaves and shake them dry. No need for a thorough drying here.
Step 2: Trim off the stems
Next, it's time to trim your greens. The stems are quite tough and many people find them unpleasant to eat, so especially if this your first time cooking or eating collard greens, it's a good idea to trim them off. It's also easy to do by stacking up all of your greens and removing the stems with a chef's knife.
If you want to try the stem, it's totally edible! However, it's better to simmer the stems in a separate pan as they take longer to cook than the leaves. Another way to use the stems instead of wasting them is to turn them into a flavorful vegetable broth with any other scraps you have.
Step 3: Cut the leaves into strips
Next, while you have the collards on the cutting board, slice them widthwise into thin strips. 1/4 of an inch is great.
Cooking the collard greens
Step 1: Bring a pot to a boil
Fill a large stockpot with water and bring it to a boil over high heat.
Step 2: Simmer the collard greens
Once the water is boiling, put the collard greens in the pot and return it to a simmer. Cover the pot, leaving a small crack in the top to avoid boiling over, and cook the greens for at least one hour and up to two hours. The longer you simmer the collard greens, the more tender they'll become. But for most people, 1 hour will be enough.
Step 3: Heat a skillet
Towards the end of the simmering time, you'll need a large frying pan and the olive oil. First, drain the cooked collard greens and let them dry off in a colander for about 10 minutes. Then, heat a drizzle of oil in the skillet and heat over medium heat.
Step 4: Add garlic and sauté the greens
Once the oil is hot, add the minced garlic and sauté it until fragrant, just 30 seconds. Next, add the collard greens in the pan and sauté them, stirring regularly. Add salt and pepper to taste.
Continue to cook for 5 to 10 minutes, until the liquid has evaporated and the greens are a bit crisp on the edges. Serve up your perfectly cooked collard greens and dig in!
How do you get the bitterness out of collard greens?
Collard greens by themselves can have a slightly bitter flavor that you may not expect from leafy green vegetables. If you're not a fan of bitter flavor, ingredients like salt and fat (such as cooking oil, butter or meats) can help balance the bitterness. Also, spices like crushed red pepper flakes or hot peppers add a nice counter flavor to bitterness in the greens.
Another trick to help neutralize some of the bitter flavor in the greens is to add a teaspoon of salt and the juice of one lemon into the water before you add the greens. This also helps bring more brightness to the finished dish, and it's certainly worth trying. For extra-tender collard greens, add 1/8 of a cup of white distilled vinegar.
Can you eat the stems of collard greens?
You can, the stems of collard greens are fully edible. The only reason to remove them is if you're not a fan of the tough and fibrous texture.
Can you eat collard greens raw?
Yes, collard greens are totally edible in their raw state. They're less popular raw, however, because these greens are tougher than your typical leafy greens. However, if you'd like a unique salad base or even a healthy substitute for a wrap, collard greens are with a try.
What to serve with collard greens
As with most leafy vegetables, collards pair well with a wide range of side dishes, entrees and flavors. For a classic Southern dish, you can serve your simmered collard greens with cornbread and barbecue ribs. A simpler weeknight version of this dinner could be pan-seared pork chops and a side of fluffy Carolina rice.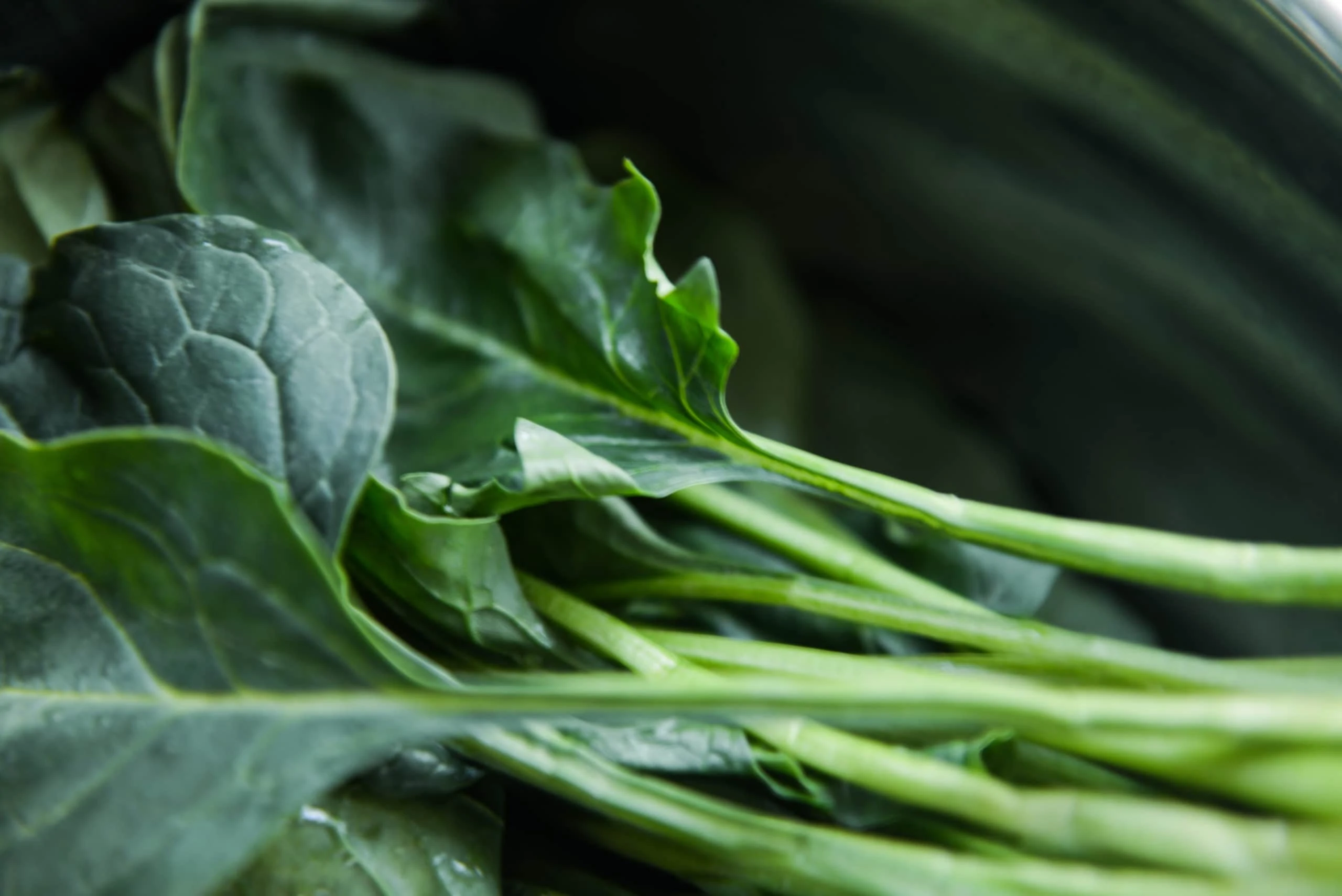 How to Make Collard Greens
How to simmer, then saute collard greens that are perfectly silky and tender.
Equipment
Large pot

Colander

Cutting board

Chef's knife

Large skillet
Ingredients  
1

bunch

collard greens

1

tbsp

olive oil

2

garlic cloves

minced

salt and pepper

to taste
Instructions 
Bring a large pot of water to a boil.

Trim the stems off of the collardg greens and cut the leaves into thin ribbons about 1/4-inch thick.

When the water boils, add the greens and bring to a simmer. Cover most of the way and simmer for 1 hour and up to 2 hours, until the greens are very tender.

Drain the greens and let them dry for 10 minutes in the colander.

Heat the olive oil in a large skillet over medium heat. Add the garlic and cook for 30 seconds. Add the collards and cook for 5 to 10 minutes, until crisp on the edges. Season to taste with salt and pepper.