Oven-baked cod is a simple, light and healthy entree that pairs well with your favorite fresh herbs and seasonings. Here is everything you need to know to make the best cod in the oven for dinner tonight.
To make simple oven-baked cod, follow these straightforward steps: First, pat the fish dry, season it with olive oil, lemon juice, salt, and pepper, then bake it at 400°F for 10 minutes, plate and enjoy.
It's incredibly easy and tasty! Pair your baked cod fish with rice or potatoes for an incredible meal that's nearly effortless to make!
What is Cod?
Cod is the colloquial name for codfish. There are several fish species covered by the name "cod", but the two most common species that you'll come across at the grocery store are:
Atlantic cod, which is found in cold waters of the North Atlatnic ocean
Pacific cod, which, as you might have guessed, is found in the North Pacific ocean
Codfish weigh 11 to 26 pounds on average, though they are more commonly sold as pre-cut fillets rather than whole fish.
When cooked, cod has a pearly white color and a light, flaky texture. They're prized for their meaty texture and mild flavor, which lends itself well to a variety of flavorings and food pairings.
Haddock is a term used for young Atlantic cod, which is often cut into strips for deep frying. If you've had fish fingers, you're probably enjoying haddock.
What's the best way to cook cod?
Cod, like many varieties of seafood, benefits from a gentle cooking process. It has a delicate texture and usually a thin cut, which means that this flaky white fish cooks quickly. Avoid long or high-heat cooking, which can result in burnt or over-cooked fish with a rubbery texture.
Some of the best ways to cook cod at home include:
Steaming over seasoned liquid
Poaching in water or broth
Quickly stir-frying with vegetables
Pan searing on the stove top
Broiling in the oven
Breading and deep-frying
However, baking cod in the oven is one of the best all-around ways to prepare this popular fish. Using your oven is a largely hands-off cooking process. It also produces reliable results if you follow the recipe. In addition, the constant heat in your oven cooks cod slowly and evenly so the outside of the fillet doesn't get overcooked before the inside is cooked through. Finally, when you cook cod in the oven you can season the fish however you like. From dried seasonings to fresh herbs to sauces, dressings and marinades, you can add it all to your oven-baked cod.
If this is your first time cooking cod, in particular, it's best to start with this easy and delicious cooking method.
How Much Cod Per Person?
The general rule of thumb when shopping for seafood to feed a crowd is to purchase 6 to 8 ounces of protein per person. To feed two adults, opt for a full pound of cod. If you end up with leftovers, you can always use them to top your salad for lunch tomorrow. Or, turn them into easy fish cakes for dinner!
How to Make Oven-Baked Cod
Once you've picked out your cod fillet and brought it home, it's time to turn on the oven and get cooking! Here's how to make the best oven-baked cod any night of the week.
Ingredients
Staring out with the ingredients for htis easy recipe, you'll need the following common kitchen items:
1 pound fresh cod fillet
1 lemon
Olive oil
Salt
Cayenne pepper
This list of ingredients makes a simple, yet flavorful, dish of oven-baked cod. If you'd like to add more flavor, you can sprinkle the fish with any of your favorite dried or fresh herbs, sauces or seasonings. For a fast and easy flavor-enhancer, add a dusting of curry powder or Old Bay seasoning.
You can also play with other kinds of citrus. Fresh juicy oranges, limes or grapefruit will all complement the tender fish.
Prepare the cod
Step 1: Dry the cod
First, gently pat your cod dry with paper towels. This will help it absorb the seasoning and allow it to crisp up a bit in the oven.
Step 2: Season the cod thoroughly
Next, place the cod fillets on a parchment paper-lined baking sheet. Drizzle each fillet with a thin coating of olive oil. Squeeze the lemon juice on top of the fish as well. Follow with a healthy pinch of salt and pepper to season the fish.
Baking the cod
Step 1: Preheat the oven
Preheat the oven to 400°F (205 °C).
Step 2: Cook the cod
When the oven reaches the right temperature, place the baking sheet into the oven on the middle rack.
Bake the cod for 10 minutes. After 10 minutes, remove the baking sheet from the oven and check the fish. Codfish is cooked when the flesh flakes easily into thick, meaty flakes, and the center is no longer opaque. If your fish is not quite there after 10 minutes, bake for another 2-5 minutes, checking frequently to avoid overcooking.
Step 3: Plate the cod
Once the cod is cooked through, remove it from the baking sheet with a thin fish spatula and immediately place it on serving plates. Serve it up hot!
How do you know when cod is cooked?
Both taste and texture are good ways to gauge whether or not your oven-baked cod is fully cooked. One easy way is to use a fork to gently check the texture of the cod in the thickest part. If you struggle to insert a fork all the way to the center of the fish, it's probably not done yet.  Color-wise, the fish should be pearly white all the way through. Remember that your fish will continue to cook for the first 5 minutes or so after you remove it from the oven.
The most accurate way to check that your fish is cooked through is with an instant-read thermometer. According to FoodSafety.Gov, fish with fins, like cod, are fully cooked when they register 145°F internally.
Should I cover cod when baking it?
You can cover your oven-baked cod while it's cooking, but it's not necessary. If you prefer a more delicate, steamed texture and flavor, tent the baking dish with aluminum foil. You can also add a splash of water or broth to create more steam around the fish as it cooks.
However, you can just as easily follow the recipe as written without cover the fish and have perfectly cooked oven-baked cod with
Why is my cod rubbery?
Overcooking cod will turn it into a rubbery mess. The more you cook cod, the dryer it'll get – eventually, it'll turn out rubbery. Make sure you always cook seafood right but be careful not to overdo it!
What to serve with cod
Because cod has such a mild flavor, it's easy to pair with your favorite side dishes for a well-rounded meal. It might not sing on its own on your dinner plate, but with a few additions to your menu, you can bring a delicious meal to life around your oven-baked cod.
The key for a great cod companion is to avoid overpowering the fish. Some delicious and classic dishes to serve alongside your cod (however it is cooked) include:
Salads: Leafy greens make a light, healthy and delicious bed for your codfish. You can prepare a Caesar salad and top it with a beautiful fillet of cod.
Rice: Few things in this world don't mix well with rice. And cod can become a filling and satisfying meal with a side of perfectly cooked white or brown rice. For more flavor and color, make it into rice pilaf.
Potatoes: A baked potato is another traditional and beloved side dish for cod. The best thing about potatoes is that you can put it in the oven, forget about it, cook the cod, and take it out when it's done! Whipped, scalloped and crispy roasted potatoes are all also excellent companions to oven-baked cod.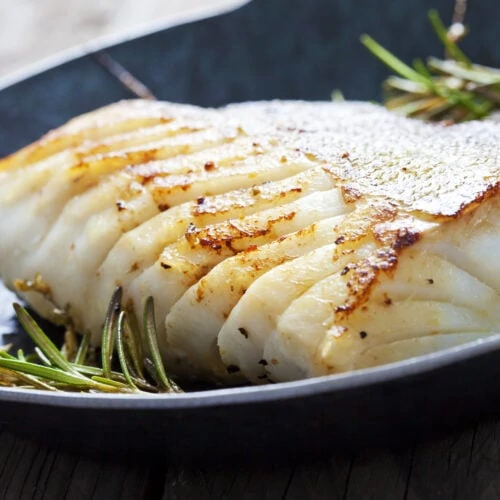 Oven-Roasted Cod
How to make delicious oven-baked cod for a light and healthy seafood dinner.
Equipment
Baking sheet

Parchment paper

Fish spatula
Ingredients  
1

pound

cod

1

tbsp

olive oil

1

lemon

salt and pepper

to taste
Instructions 
Preheat the oven to 400°F. Line a baking sheet with parchment paper.

Place the cod on the prepared baking sheet. Drizzle with a thin coating of olive oil and the lemon juice. Sprinkle with a large pinch of salt and pepper.

Bake for 10-15 minutes, until the fish registers 145°F on an instant-read thermometer.