How to cook leeks: Wash them first, then slice them in half the long way and chop them into even slices. Wash them one more time for good measure, then quickly sauté them in a skillet with olive oil for 5 minutes, add salt and pepper to taste, and enjoy!
What are Leeks?
Leeks are a wonderfully savory white and light green vegetable with a unique shape. They have a leafy top that you don't eat (you can compost the leaves or try one of the suggestions at the end of this article). The edible part is a white and light green bottom that you prepare and eat. You can make simple and delicious sauteed leeks for a fast weeknight side dish with this healthy allium. 
If you haven't cooked with leeks before, don't be intimidated. They're actually easier to cook than they look. In fact, the hardest park is knowing how to properly cut the veggies. But this guide covers everything you need to know to properly prepare and cook simply sauteed leeks. It might just become your new favorite vegetarian recipe!
How to Cut Leeks
Leeks are a one-of-a-kind vegetable. Their flavor is similar to onions but milder. And their shape is like a scallion, but much, much bigger. 
For this reason, they need to be treated differently than other vegetables that you may cook more often at home. 
The good news is that despite their unique shape and size, it's not at all difficult to prepare leeks for cooking.
It is important to follow the right process for cutting leeks for a few reasons. First, the vegetables have long, tough fibers running up and down the length of them. These can be unpleasant to chew and are best cut into smaller pieces before they're cooked. 
In addition, leeks are grown partially underground (the white parts stay eighteen because they're covered with dirt to protect from the sun). For this reason, the vegetables can be very dirty. Even if your leeks look pristine and clean on the outside, there's a good chance that dirt is hiding inside the layers. 
That's why the very first thing to do with leeks is to wash them thoroughly. Place them under running water and give them a good rinse. Use your hands to remove any visible dirt. 
Next, place the leeks on a cutting board. Use a sharp chef's knife to remove the root end first. Then slice off the darker green leaves. 
After that, slice each leek in half the long way. Then line each half side by side and slice the halves into even half-moons. Aim to make these cuts as even as possible so your leeks cook evenly. 
You may see some more dirt in the leeks as you cut them. That's why the final step in preparing leeks for cooking is a second rinse. 
Transfer all of the cut leek pieces to a colander and run under cold water. Use your hands to separate the pieces and clean them very thoroughly.  
There you have it: perfectly prepped and washed leeks ready for sautéing. 
How to make sauteed leeks
At this point you want to get your ingredients prepped. 
Ingredients
Here's what you need to make easy sautéed leeks:
4 Leeks, sliced into half-moons and well washed

Olive oil

Salt to taste

Pepper to taste
Prepping leeks
Step 1: Prep for sauteing
See above for the detailed steps to clean and slice the leeks for this recipe. This is the most important step to remove dirt. In addition, be sure to cut each leek into evenly-sized pieces. This will help ensure that the leeks will cook evenly so you don't end up with some burnt pieces and others that are not yet cooked all the way through. 
How to Cook Leeks

Step 1: Heat up a skillet
Heat a medium skillet over medium-high heat. Wait for the skillet to properly heat for a few minutes. 
Step 2: Pour olive oil into the skillet
Once the skillet is hot, add a drizzle of olive oil to the skillet and wait until it's shimmering. Swirl the pan to spread the oil out into a thin, even layer. 
If you prefer butter, you can use butter instead of olive oil. If you go with butter, wait until it's fully melted before moving on to the next step in the recipe.
Step 3: Saute the leeks
When the olive oil is hot enough, place the sliced leeks in the skillet. Stir them continuously and cook for 5 minutes.
The leeks will be cooked when they start to soften up. Wait until they are tender but not browned. Recuse the heat if necessary to avoid browning or burning your vegetables. 
Step 4: Season the leeks
Before you plate the leeks, season them with salt and pepper. A pinch here and there will do, there's no need to go overboard! Finally, plate up your sautéed leeks and enjoy!
How to serve sautéed leeks
You can enjoy the leeks as a simple vegetarian side dish, or mix them with scrambled eggs, spread onto a sandwich, top a salad, and more. Sauteed leeks are especially delicious on a homemade pizza with bright basil pesto and your favorite melty cheese. You can use them in place of caramelized onions in many recipes. This easy dish is a great thing to keep in the fridge and add to all sorts of dishes. 
This recipe is especially delicious with meat dishes like roast pork or simply poached chicken. It adds a nice savory and fresh flavor to your plate. 
Do you cook the leaves of leeks?
The dark green leaves on leeks are in fact edible, however, they are much tougher than the white root end of the vegetable.  
For this reason, the two should not be cooked at the same time. The tough greens benefit from a longer, slower style of cooking, which softens up the fibers. 
What can you do with the tops of the leeks?
You can use the top part of the leeks – the leaves – if you're cooking a soup or something similar. Add the dark green leaves to a pot of simmering soup (or homemade stock) to improve the flavor with a vibrant allium flavor. In most cases, you'll want to discard the leek leaves before serving the soup, as they often stay quite tough and difficult to chew. If you braise the leek greens for a long time in the oven with a flavorful liquid, you may be able to break down the fibers enough so they are edible and delicious. 
What's the best way to cook leeks?
There are three common ways you can cook leeks. You can boil, pan fry or fry leeks. The best way is to pan-fry them–sauteeing leeks with olive oil is the easiest and tastiest way to go at it. Boiling, or poaching, is easy but can be bland flavor-wise. Frying is great but requires a large amount of messy, hot oil and work. Try all three and see which one you like best!
Flavor pairings for sauteed leeks
If you're looking to add extra flavor to your sautéed leeks, the options are pretty endless. This mild allium is easy to elevate with any of your favorite flavors or seasonings from around the world. 
Try fresh or dried herbs like thyme, oregano, rosemary or basil. Or add more allium flavor with shallots, scallions or onions. 
You can even go a spicy route with chili flakes, paprika or hot sauce. 
Or, add a cheesy garnish with grated Parmesan or mozzarella to top your sautéed leeks just before serving. 
Storage suggestions
You can store leftover sauteed leeks in an airtight container in the fridge for up to five days.  Be sure to let the dish cool fully before you store it. 
Cooked leeks do not freeze well, as the texture can turn mushy. So it's best to enjoy this treat fresh!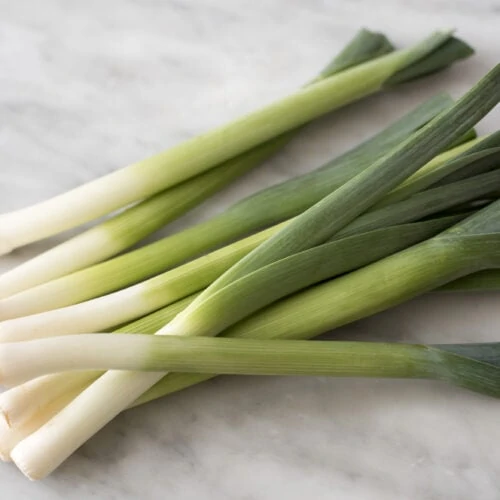 Perfect Sauteed Leeks
Make quick and easy sauteed leeks with nothing more than olive oil and a hot skillet!
Equipment
Chef's knife

Colander

Cutting board

Large skillet

Wooden spoon or spatula
Ingredients  
4

large

leeks

Cleaned and sliced into half-moons

1

tbsp

olive oil

salt

to taste

pepper

to taste
Instructions 
Carefully clean the leeks using the instructions outlined above.

Heat a large skillet over medium-high heat with the olive oil. When the oil is shimmering and moves freely in the pan, add the leeks.

Cook, stirring, for about 5 minutes, until the leeks are softened and starting to brown Reduce the heat if necessary to avoid burning. S

Season to taste with salt and pepper and serve.