Learn to make the best roasted Brussels sprouts for a healthy vegetarian side dish seasoned with garlic and parmesan.
Want Brussels sprouts that make your mouth water? Roasting them develops a crispy, toasted outer texter with a soft and creamy interior. And when you add savory seasonings like salt, pepper, garlic, and parmesan, you have a delectable treat you'll want to make again and again.
Plus, this recipe for roasted Brussels sprouts is quick and easy. How do you make roasted Brussels sprouts? First, trim and cut the Brussels sprouts to even-sized pieces. Then season them with garlic, parmesan, salt, and pepper; and finally, roast them at 400°F (205°C ) for 20-30 minutes. Enjoy them hot!
Picking the Best Brussels Sprouts In the Supermarket
Before you start roasting, it's important to know how to select the best produce at the supermarket. Here are a few notes to keep in mind when shopping for Brussels sprouts:
Make sure the Brussels sprouts feel tightly compacted. You should be able to squeeze a Brussels sprout and feel its hardness. If it's soft, it's not that good.
The smaller the better. Small Brussels sprouts are better than their larger counterparts. Small Brussels sprouts tend to be on the sweeter side. Larger ones feel more like cabbage.
Brussels sprouts are sold in a few different ways. The freshest option is attached to the stalk still. These will have the best flavor and peak nutrition. The second-best option are whole, untrimmed Brussels sprouts. And finally, if you can't find whole or on-the-stalk Brussels sprouts, trimmed sprouts are available. As soon as vegetables are cut, they start to lose their nutrition and texture. So the longer the veggies have been stored after trimming, the lower quality your Brussels will be.
How to Store Brussels Sprouts at Home
If you're not used to buying Brussels sprouts, you may wonder how to store them until you're ready to cook them.
If you plan to use them soon, refrigerate them.
In most situations, you'll probably intend to cook your Brussels sprouts soon after buying them. In that case, store them in your fridge. Keep them in a bag if they already have their stalks removed. The bag should be loose to allow some air in, but not wide-open, which can dry out the vegetables. Keep them in the crisper drawer if you have one.
If the Brussels sprouts still have their stalks, then you can place them in a cup of water (stalk down) in the fridge, similar to the way you preserve fresh-cut flowers.
Either way, if you place them in the fridge, you want to use the Brussels sprouts within a week. Otherwise, they start losing their sweetness.
Storing them long-term? Freeze them.
Stocking up for the future and don't intend to eat those Brussels sprouts right away? You can keep them from going bad by freezing them.
The simplest way to do this is to blanch and then freeze them. First, trim and rinse the sprouts before adding them to a boiling pot of salted water. Depending on their size, keep them in the boiling water for 3-5 minutes. Remove the Brussels sprouts when they are bright green and tender, but not mushy.
As soon as the sprouts reach your desired doneness, remove them from the pot of water and plunge them into a bowl of cold ice water and let them cool. When they're cool enough to handle, gently pat the sprouts dry. Then arrange them in a single layer on a baking sheet and place the baking sheet in the freezer for one hour. When the Brussels sprouts are solidly frozen, transfer them to an airtight container or bag. You can now keep them in the freezer for up to six months. Add frozen Brussels to soups, sauces and other dishes. Or roast them in the oven to crisp up for a tasty side dish.
How to Make Roasted Brussels Sprouts
This is the best way to make delicious Brussels sprouts that win n the flavor and texture categories every time.
Ingredients
First, arrange the following ingredients for the recipe:
1 pound of Brussels sprouts
3 thinly sliced cloves of garlic
¼ parmesan cheese
Olive oil
Salt and pepper
Prepping Brussels Sprouts
The prep work for roasting Brussels sprouts doesn't take long.
Step 1: Trimming the edges
The first thing you need to do is remove any excess or damaged parts. That means the stem and any leaves that aren't in a good state. Loose leaves should be cut as well.
It's easy to remove these parts of the vegetables with a chef's knife or even a pair of kitchen shears. simply snip away any not-so-pretty pieces.
Step 2: Rinsing the sprouts
Once you removed all the bad sections, give the Brussels sprouts a good rinse. There is usually not very much dirt on Brussels sprouts, but it's always important to wash your produce.
First, place the vegetables in a colander and use cold water to rinse the sprouts. When you're done washing, use paper towels or a dry dishcloth to pat the excess water off.
Step 3: Cut the Brussels sprouts
If your Brussels sprouts are in several different sizes, for example, some small and some large, you'll want to trim the larger pieces down to about the same size as the smallest ones. You can simply slice them in half through the stalk. This helps to ensure that the roasted Brussels sprouts cook evenly.
Step 4: Season them up
Once the sprouts are cut into even-sized pieces, it's time to add the flavor. Place the Brussels sprouts on a baking sheet lined with parchment paper (for easier clean-up). Then add a generous drizzle of olive oil. You need just enough oil to coat the vegetables on all sides in an even layer. Then add the thinly sliced garlic, parmesan cheese, and top it off with salt and pepper. Give everything a good toss for even coating.
Roasting Brussels Sprouts
Roasting the Brussels sprouts in this recipe is no work at all! Now that the prep work is over, you just need to pop the seasoned Brussels sprouts into your oven.
Step 1: Preheat the oven
Heat your oven to 400°F (205°C ).
Step 2: Put the Brussels sprouts in the oven
Now, you have done enough work! When the oven reaches its temperature, place the baking sheet of Brussels sprouts in the oven and roast for 20 to 30 minutes. If you would prefer, you can use a cast iron skillet, but try not to overcrowd it. Take this time to relax or whip up something to go with them. Rotate the pan and give the veggies a stir halfway through cooking.
Step 3: Check the sprouts occasionally
After 20 minutes, check that your sprouts are golden and crisp on the outside and fork-tender on the inside. If not, continue roasting for another 5 to 10 minutes.
Finally, remove your roasted Brussels sprouts from the oven and serve them up hot.
Bon Appetit!
Can You Overcook Brussels Sprouts?
Like many other foods, you can overcook Brussels sprouts. The best way to avoid mushy or burnt roasted Brussels sprouts is to check them often.
What Makes Brussels Sprouts Bitter?
Poor seasoning and bad cooking techniques turn your Brussels sprouts into a bitter mess. If you know what you're doing, this won't happen– but then again, most people don't know how to cook Brussels sprouts! Be sure to have this recipe down and you'll never taste a bitter Brussels sprout ever again.
What to Serve with Roasted Brussels Sprouts?
Serve this simple veggie side dish with delicious brined and poached chicken breast or pan-seared tuna steak. You can also add this to a celebratory holiday meal alongside a center-piece-worthy entree like pork roast or a whole roast chicken. You can even toss cooled roasted Brussels sprouts on a green salad for a healthy lunch option.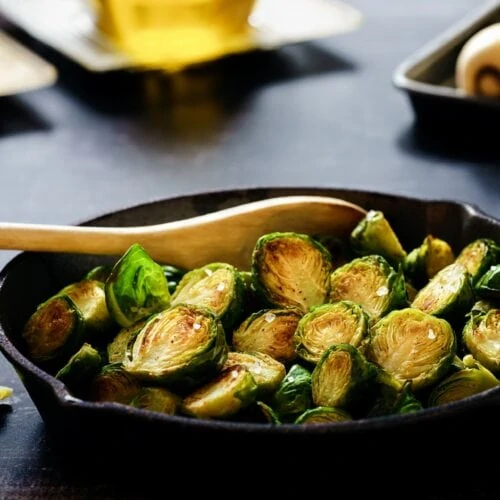 Roasted Brussels Sprouts
Roasted burssels sprouts with garlic and parmesan are crispy on the outside and tender on the inside.
Equipment
Baking sheet

Colander

Chef's knife

Cutting board
Ingredients  
1

pound

of Brussels sprouts

3

thinly sliced cloves of garlic

¼

parmesan cheese

Olive oil

Salt and pepper
Instructions 
Wash and trim the brussels sprouts. Pat them dry with paper towels.

Preheat the oven to 400°F.

Place the sprouts on a parchment-lined baking sheet. Drizzle with olive and add the garlic, parmesan, salt, and pepper. Toss to coat evenly.

Roast for 20 to 30 minutes, until crisp on the outside and tender on the inside