How to cook prime rib for juicy, meaty and savory meat that makes a delicious and show-stopping centerpiece.
To cook prime rib the right way, start by heavily salting your roast and letting it come up to temperature for 3 hours. Meanwhile, preheat the oven to 550°F. Roast for 15 minutes at 500°F to develop a crust, then reduce the heat to 325°F and continue cooking for 12 minutes per pound for rare and 14 minutes per pound for medium-rare. Let the meat rest for 15 to 30 minutes on a cutting board before slicing it and serving with homemade gravy. 
Prime rib is a celebratory meal, however you slice it. It makes a stunning large-format meat dish to set on your table. But it doesn't have to be complicated to make. In fact, cooking prime rib the right way is easier than you think and always yields lip-smacking results.
How much Prime Rib Per Person?
When shopping for prime rib to feed a crowd, a good rule of thumb to know how much to buy per person is that 1 rib will serve 2 to 3 people.
How Long to Cook Prime Rib?
The key to properly cooing prime rib with a crispy, golden crust and juicy, tender interior, is to start at a high oven temperature for a short amount of time. Start cooking your roast at 500°F for 15 minutes. Then you can reduce the oven temperature to 325F. From here, cook your roast for 11 minutes per pound for rare and 14 minutes per pound for medium-rare meat.
How to Cook Prime Rib
Ingredients
To make a juicy centerpiece worthy roast prime rib, you'll need these simple ingredients:
One standing rib roast (see above for how many pounds to buy per person).
Salt, to taste
Pepper, to taste
Equipment
There are a few key pieces of kitchen equipment you'll need to perfect your roast. Namely:
A roasting pan large enough to comfortably fit your standing rib roast, with sides.
A high-quality instant-read meat thermometer
Steps to Roast Prime Rib
Step 1: Prepare the Roast
If there's a lot of visible fat on your roast, you may need to cut away excess fat. However, that fat is also key to building flavor and succulence in your roast, so don't take off more than you think is necessary. in many cases, the rost has already been trimmed by your butcher before you bring it home, so you may not need to do any excess cutting.
Generally, you want to make sure that the prime rib is at room temperature before roasting. You can let it come to temperature for up to 3 hours before roasting. Place the meat on the roasting pan fat side up and sprinkle it liberally with salt. this will help tenderize the muscles and flavor the meat as it rests. be sure to keep the meat covered.
Step 2: Season the Roast
Towards the end of the resting time, preheat your oven. Start at 500°F. This is usually the highest a home oven will go, but if yours goes higher, crank it up to the highest temperature. Uncover the meat, and you'll probably notice moisture on the surface from the salt. Pat the meat dry with paper towels.
At this stage, you can add any seasonings you'd like to add more flavor to your roast. Sprinkle the meat with dried or fresh herbs, spices, or flavoring pastes to your liking.
Popular spices for prime rib include cayenne, black pepper, garlic powder, onion powder, or adobo seasoning.
Step 3: Roast the Meat
Now your meat is ready to go into the hot oven. Roast the meat at 500°F for 15 minutes. This creates a nice brown crust on the fat side of the meat. It also renders the fat, which will drip down and infuse the rest of the roast with flavor as it cooks.
After the first 15 minutes at high heat, reduce the oven to 325°F. From here, you can finish cooking according to the size of your roast. the rule of thumb is to cook 11 minutes per pound for rare and 14 minutes per pound for medium-rare.  Of course, if your roast didn't come up to temperature before roasting, a chilled cut of meat will take longer to cook the way through. the only way to know for sure that your roast is finished cooking is to consult your meat thermometer.
Step 4: Check for Doneness
When you're halfway through your estimated cooking time, remove the roasting pan from the oven. Use a meat thermometer in the thickest part of the roast (avoiding any bone). If you find that the meat is cooking more quickly than you expected, reduce the oven temperature to 200°F and continue cooking.
Prime rib is done cooking when it registers 115°F for rare and 120 to 130°F for medium. Remember that the meat will continue to cook after it's removed from the oven.
Step 5: Rest
Transfer the roast out of the roasting pan and onto a wooden cutting board. Cover it closely with aluminum foil and let it rest for 15 to 30 minutes. This allows the carryover cooking to finish cooking the roast and it ensures that the juices in the meat stay inside, rather than running all over your cutting board when you slice into it.
While the meat rests, you can make a quick gravy with the giblets and juices left in your roasting pan. In fact, you can cook the gravy directly in the roasting pan on your stove, no need to pour the contents into a saucepan. Start by adding broth to scrape up any browned bits on the bottom of the roasting pan. Stir the sauce over medium heat on the stove. Then thicken the gravy by adding a slurry. Mix 1 tablespoon of the hot liquid with 1 tablespoon all-purpose flour in a small bowl into a paste. Then stir this paste into the gravy, whisking until it's thick. You can add a second slurry if the gravy isn't thickened to your liking. Season the gravy to taste and reserve it, warm, to serve with your roast.
Step 6: Slice and Serve
After a full resting time, you can uncover the roast and slice it for service. First, cut away any butcher twine holding the roast together. Then slice the rack of ribs and remove the bones. Serve the slices of prime rib with your pan gravy.
What to Serve with Prime Rib
This is a classic dish to make for special occasions, especially Christmas and Easter. some favorite side dishes to pair with this meaty entree include:
Mashed sweet potatoes
Rice pilaf
Green salad
Crispy Brussels sprouts
Baked potatoes
Bread rolls
Storing Leftovers
Leftover prime rib makes excellent sandwiches. Serve thin slices of your roast between slices of toasted bread smeared with horseradish for a classic deli order at home.
You can store leftover meat for up to four days in an airtight container in the fridge. You can also freeze slices of prime rib roast for up to three months. It's best to freeze them on a baking sheet first to avoid freezing all of the slices in a pile that's difficult to separate.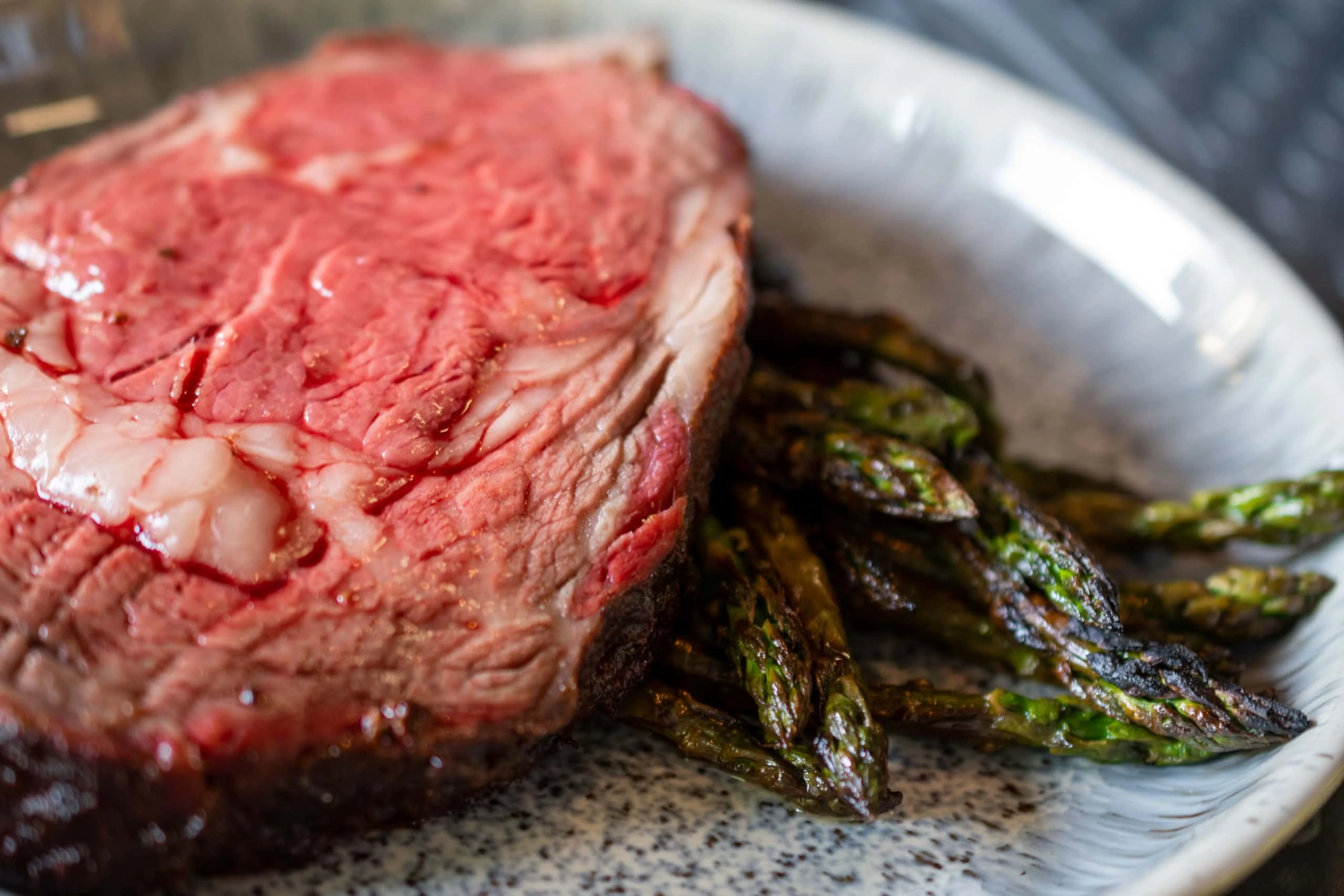 Prime Rib Roast
Perfect prime rib roast with a crispy crust and juicy, rare or medium-rare meat.
Equipment
Rosting pan

Meat thermometer

Cutting board

Carving knife
Ingredients  
1

3-7 rib

standing rib rack

Salt and pepper
Instructions 
Sprinkle the meat liberally with salt and let the meat come to room temperature for 3 hours.

Preheat the oven to 500°F.

Dab the meat dry with paper towels, add any additional seasonings and place in the oven. Roat for 15 minutes.

Reduce the oven to 325f and roast for 12 minutes per pound for rare and 14 mintues per pound for medium-rare.

Check for doneness with a meat thermometer. Remove from the oven, transfer to a cutting board and cover the meat with tin foil. Rest for 15 to 30 minutes before carving and serving.