When fall weather is in the air, it means one thing: it's time to cook more acorn squash. This nutrient-filled, naturally-sweet vegetable is incredibly versatile and easier to roast acorn squash at home than you might think!
How do you cook Acorn Squash? Start by cutting the squash in half and removing the seeds. Season with salt and olive oil, then place on a parchment paper-lined pan in a 400°F oven for about an hour.
Whether you want to take your side plate game to the next level this fall or get ready for the next fall season, the best way to do it is by learning how to cook acorn squash. From creamy lightened-up macaroni and cheese to a simple roasted vegetable side dish, the possibilities are endless when it comes to how you can transform acorn squash in the kitchen.
Cooking simple roasted acorn squash is easier than you might think. With a few simple pantry staple ingredients, a baking sheet, and a hot oven, you're well on your way to making delicious roasted acorn squash halves. This squash is also the perfect fall food to enjoy all season long.
What is Acorn Squash?
Acorn squash is a variety of winter squash. It's in season in North America from the early fall through the winter. Acorn squash is generally harvested when it's fully ripe, which means it's ready to eat straight off the vine. At peak ripeness, the average acorn squash weighs between 1 and 3 pounds.
Relatives include hardy squashes like butternut, delicata, and honey nut squash.
Storing Acorn Squash
Acorn squash is a very shelf-stable vegetable. You can store whole squash at room temperature on the counter for up to two months. Once it's cut, wrap leftover uncooked squash in plastic wrap and store it in the fridge for up to two weeks.
Leftover cooked acorn squash should be stored in an airtight container in the fridge and enjoyed within 4 days. Reheat it in a warm oven or in the microwave until hot.
Should I go sweet or savory with my acorn squash?
One of the great things about acorn squash is that it can satisfy people with a sweet tooth and those who prefer things a little more savory. By all means, try both sweet and savory options when you have the time, it's the only way to truly know what you like!
For your first time cooking acorn squash, let's take the savory approach. This way, you can make a quick and easy side that pairs well with any of your favorite proteins, including meat, poultry and fish. You can also enjoy the acorn squash as the main event on your dinner plate if you like.
How to Choose the Best Acorn Squash for Roasting
Before you get into the kitchen, you need to choose your vegetables. At the grocery store or market, look for an acorn squash that's heavy, with a shiny dark green skin. Spots of yellow, orange, or red are normal. What you want to avoid are soft spots, visible scars, and other signs of age.
In general, winter squash are hardy vegetables, so it's not difficult to find an acorn squash in good shape. They last months after harvest, unlike more delicate summer squash.
Ingredients For Savory Acorn Squash
Once you've selected and brought home your fresh acorn squash, you need just a few more ingredients that are probably already in your pantry. Here's what you need for the simplest acorn squash preparation:
1 acorn squash
1 teaspoon of olive oil
Salt and pepper to taste
Prepping Acorn Squash
Step 1: Clean your Squash
Even though you won't be eating the skin, it's best to wash the acorn squash before you cook it. Cleaning an acorn squash takes a minute under cold running water, and it prevents unsavory things from getting into your hands, knife, and kitchen!
Because squash often sits in the field for a long time after harvesting, there may be stubborn areas of dirt stuck to the skin. If that's the case with your squash, give it a thorough scrub with a vegetable brush.
Step 2: Slice it up
After you're done cleaning your acorn squash, it's time to break the squash down. Grab a sharp, large chef's knife and a large cutting board that won't slip and slide under your knife. Set the squash on your cutting board on its side in a way that stabilizes it. Set your knife in between two of the ridges on the squash and slice down to slip the squash in half the long way. You can leave the stem on or trim it off, depending on your preference.
If you find yourself struggling to break through the tough skin and flesh of the squash, don't worry. You can still enjoy your roasted squash side dish tonight. Instead of wrestling with it (which is likely to cause harm to you, not the squash), pop the vegetable in the microwave for a minute. If one minute doesn't soften things up enough, keep microwaving in one-minute intervals until the squash is soft enough to get your knife through. Take care to not over-do it with the microwave and also be careful when cutting into a squash that is potentially steaming inside.
For this simple roasted acorn squash preparation, you just need to cut it in half. For faster cooking, you can break the squash down into smaller wedges.
Step 3: Scoop stuff out
Once you slip open your squash, you'll be left with a mess of seeds in both halves. These are fully edible, and best roasted, but you'll want to clean them out first. Use a large spoon to scrape the seeds and any stringy membrane out of the squash. Save the seeds to roast up a tasty snack for later.!
Step 4: Seasoning your squash
Acorn squash has a naturally bold, sweet flavor. It doesn't need a ton of added seasoning to shine. So before roasting, drizzle each half with a little olive oil and a sprinkle of salt and pepper. If you'd rather experiment, feel free to add any of your favorite seasonings at this stage.
One traditional (and delicious) Mediterranean route is to add a dash of dried oregano and parmesan cheese to your acorn squash. This adds herby, umami flavors to the already tasty dish.
Cooking the acorn squash
Step 1: Preheat the oven
Now, your acorn squash is dressed and ready to be cooked. Preheat the oven to 400°F (205°C). Place the squash halves on a baking sheet lined with aluminum foil for easy cleanup.
Note that winter squash tends to leak a sticky, sweet juice during baking. If this gets onto your baking sheet, it can be very difficult to clean. It's best to protect your bakeware with parchment or aluminum foil.
Step 2: Cook the squash!
Place the baking sheet with the squash in the oven to bake for 45 to 60 minutes. Check the squash flesh with a fork every five minutes after you're past the 40-minute mark. Once it easily fork-tender, the squash is done.
Can you eat the skin of the acorn squash?
The skin of the acorn squash is edible and, if cooked correctly, is rather tasty. If you prefer to skip the skin, you can peel the squash with a vegetable peeler before roasting. Or, after roasting, the squash usually slips right out of the peel.
Nutritional Benefits of Acorn Squash
Compared to other popular winter side dishes like potatoes, winter squash offers some important nutritional benefits. The orange flesh is a sign that this vegetable is packed with vitamins and minerals. One cup of acorn squash boasts 10% of your daily recommended intake of Vitamin A and 25% of your daily needs of Vitamin C. With only 56 calories and less than 1 gram of fat, acorn squash is a light, nutrient-dense vegetable that fits easily into a healthy diet.
And despite its naturally sweet flavor, acorn squash is actually quite low in sugar. 1 cup contains 15 grams of carbohydrates and – grams of sugar. This means that a serving of acorn squash won't cause a spike in blood sugar.
Other Acorn Squash Recipe Ideas
Once you master roasted acorn squash, the options are endless for other ways you can enjoy this healthy winter vegetable. Here are some fun and tasty ways to cook acorn squash to try next:
Acorn Squash stuffed with sausage and bread stuffing
Maple-glazed roasted acorn squash
Cheesy baked acorn squash wedges
Mashed acorn squash
Grated acorn squash fritters
Baked Acorn Squash stuffed with butter, brown sugar, cranberries, and walnuts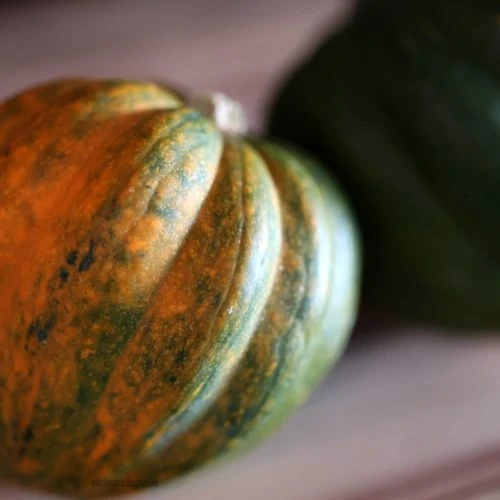 Simple Roasted Acorn Squash
Roast acorn squash with a drizzle of olive oil and a sprinkle of salt and pepper for a filling, healthy vegetarian side dish.
Equipment
Baking sheet

Cutting board

Chef's knife
Ingredients  
1

acorn squash

halved

1

tbsp

olive oil

plus more as needed

salt and pepper

to taste
Instructions 
Line a baking sheet with parchment paper and place the squash on top, cut side up.

Drizzle each half of squash with olive oil and sprikle with salt and pepper.

Roast for 40 mintues, then check for doneness with a fork. Continue roasting until the squash is fork-tender, checking every 5 mintues.