If you are craving Carnitas, but don't have hours to spend in the kitchen, then this recipe is for you!
How do you make best carnitas in a dutch oven? Start by cutting a pork shoulder into 1 inch cubes. Add the pork to a dutch oven and cover with garlic, onion powder, ground cloves, cayenne pepper, cumin, and salt. Add 2 cups water plus some oil to a dutch oven, stir everything, cover, and braze at 325 F for about 3 1/2 hours. There's a bonus step at the end that takes these over the top!

This simple recipe takes almost no time to prep and can cook while you work. The smell in your house will be amazing!
How do you make pork tender?
There are two keys to cooking tender pork: time and temperature. The quality of the cut also plays a role, but any grocery chain that sells pork shoulder or pork butt should offer similar quality cuts of meat.
Cook it low and slow – no matter if its shoulder, belly, loin, or any other cut, pork benefits from a low-temperature, long cooking process. If you are in a hurry, it's best to order a pizza. To make great tasting and tender pork, you'll need to allow enough time to break down the fat. If the temperature is too high, the meat can dry out and become tough. Take your time when it comes to cooking pork and you will taste the difference!
Ingredients
3 lbs. pork shoulder (some fat will be trimmed, so buy 4 lbs.)
3 bashed garlic cloves (or 1 teaspoon garlic powder)
1 Tablespoon of chili powder
2 teaspoons cumin
1/2 teaspoon onion powder
1/4 teaspoon ground cloves
1/2 teaspoon cayenne
2 cups water
1/4 cup olive oil
1 1/4 teaspoons Salt
When buying your ingredients for this recipe, keep these tips in mind:
Pork Shoulder and Pork Butt can be very fatty. Plan on 1/3 of the cut to be fat that will be mostly trimmed away before cooking this recipe. If you want enough servings for several people, be sure to buy a slightly larger cut of meat. If you increase the amount of meat, be sure to adjust the amount of spices and oil to match.
Prepping the pork for carnitas
Defrost the pork shoulder
If you had the pork shoulder in the freezer, defrost it in the fridge overnight.
Cut into cubes
Cut the pork roughly into 1 inch (2.5cm) cubes.
Slow Cooking carnitas in a Dutch Oven
Step 1: Put everything together in a dutch oven
Put all of the pork in the dutch oven and cover with spices.
Add the water and olive oil. Then stir everything together so it is evenly mixed and coated with the seasonings.
Step 2: Bake for 3-4 hours
Once all of the ingredients are in place, place your dutch oven in an oven preheated to 325 F. Cook the pork for 3-4 hours checking at least every hour to ensure not too much of the water has evaporated. It's okay if some of the pork is above the water line, it will develop a nice crust on top and add to the texture when finished.
When the pork pulls apart easily with a fork it will be ready to serve.
Note: if you want to speed up the process, you can try to set the temperature a little higher to 350 F, but you'll run the risk of making the meat too tough rather than brazing it. It really just takes time at a low temperature to break down the collagen and fat in the pork meat.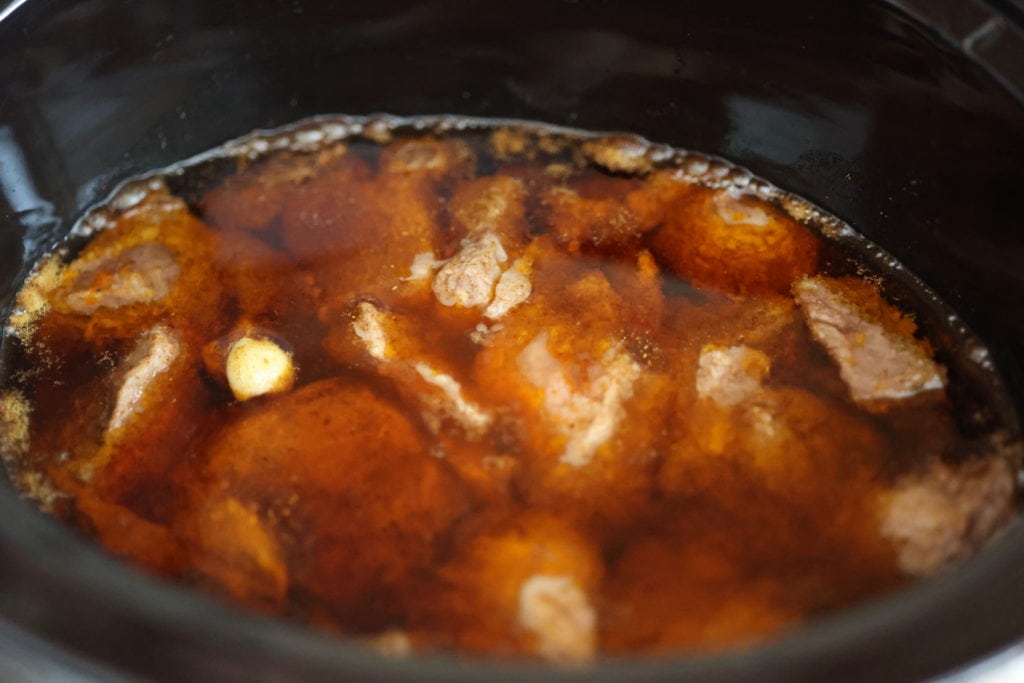 Step 3: Shred the pork
Once the pork is fully cooked, you should be able to pull it apart with a fork. The fork should insert easily into the meat without much resistance.
Shred the meat into the desired consistency and at this point you can serve. However, we recommend the next step to take this flavorful meal to the next level.
Step 4: Sear the edges
After the crock pot has done its work, you can put the pork in a non-stick pan on a medium heat for a few minutes to create some browning on the edges. Add a little bit of olive oil to the pan, let it come up to temperature before adding the carnitas to the pan. This will give the meat a restaurant grade finish, just take care to not over-do it!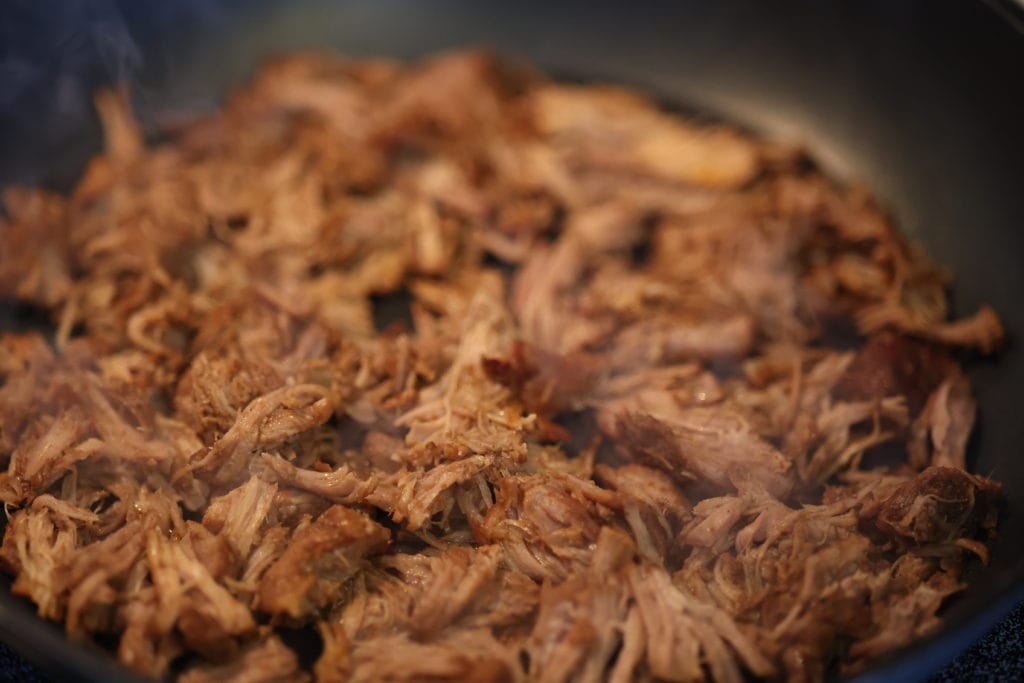 Optional Step: Tacos de Carnitas
Get some flour or corn tortillas and top the carnitas with your favorite salsa, some shredded cabbage, and guacamole!
Toast the corn tortillas in a dry non-stick frying pan or comal on a medium high heat for a couple minutes on each side until they start to brown.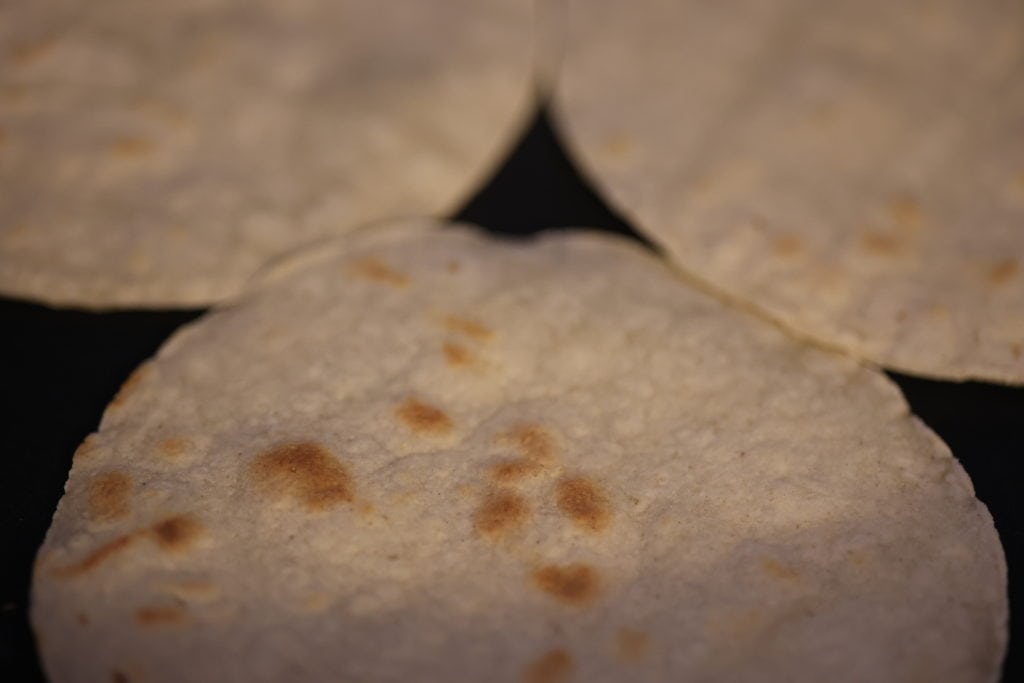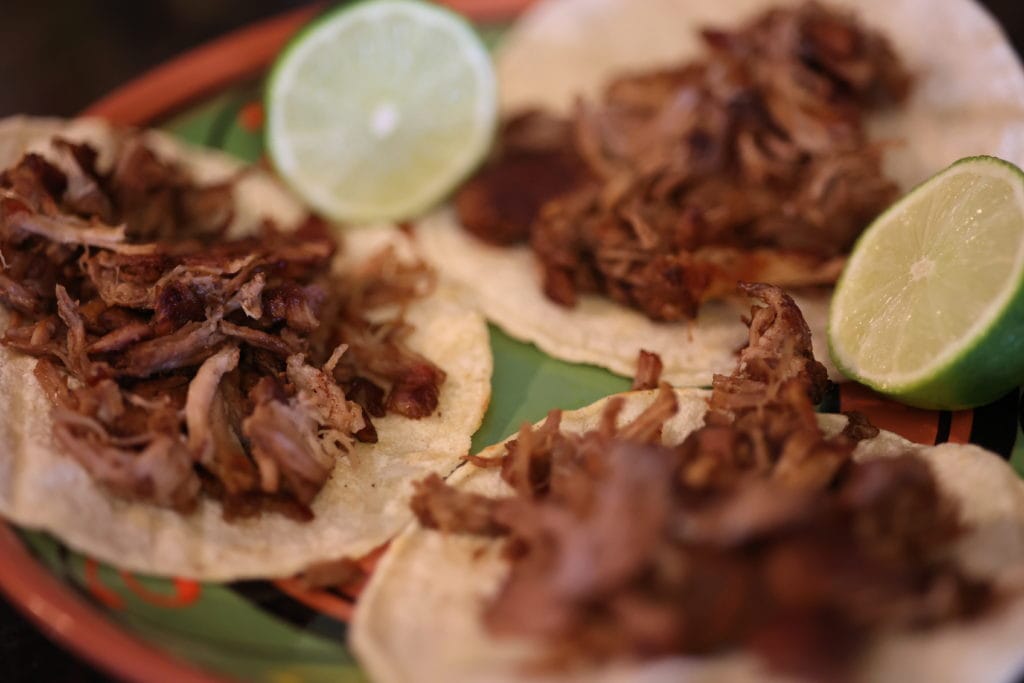 How can you tell pork is fully cooked?
If you aren't sure if the pork is done, cut the pork and check if it is pink in the middle. Pink pork needs a little bit more cooking time, pale pork is cooked. You can also check the temperature with a thermometer which should reach 160F for cooked pork.
How do you cook pork so that is moist and juicy?
Following the slow cooker method outlined above is a great way to keep the meat juicy. You will want to keep a lid on the slow cooker and be sure the meat isn't cooking without some sort of liquid to keep it moist. If you cook it in a dutch oven, keep the lid on it throughout the process. Cooking the meat in the oven without a lid or some covering will dry it out.
How do you avoid overcooking pork shoulder?
The best way to avoid overcooking pork is to keep an eye on the internal temperature of the meat as well as the texture of the meat. The higher the cooking temperature, the less the cook time. The meat should reach an internal temperature of 160 F, but if brazing for several hours it will likely be over 200 F by the time its falling apart.
Also, the meat should pull apart fairly easily with a fork when it is ready, but don't cook it so long that it dries out or disintegrates.
If the meat is mushy or doesn't maintain threads or strings of meat and just falls apart into particles instead, it's been overcooked. You can still try to eat it, but it might not taste as good.