How to cook quick, easy, and foolproof pork chops for a healthy protein on even the busiest nights of the week. Two straightforward, flavorful methods: pan-seared pork chops with a fast pan sauce and crispy deep-fried pork chops. 
To make juicy, flavorful pork chops with a crisp exterior and just-pink interior, you can pan-sear or deep fry them. Pan searing is a simple matter of seasoning your pork chops with oil, salt and pepper and searing in a hot skillet for about 4 minutes per side, until a golden sear develops and the meat is cooked through. Complete the dish with a fast pan sauce of onion or shallot, white wine, and butter for richness.
For deep-fried pork chops, bread your pork chops in a coating of flour, egg wash, and breadcrumbs. Heat cooking oil to 350°F and fry the pork chops until golden on all sides and the internal temperature reaches 145°F.
Whether you choose to pan-sear or deep-fry your pork chops,  these are both foolproof, fast, and guaranteed delicious ways to turn "the other white meat" into a satisfying weeknight dinner.
How to Pan-Sear Pork Chops
First up: pan-seared pork chops. This method results in golden, crisp pork chops with a beautiful sear on both sides. This is a great method for beginner cooks. All you need is a large skillet and your stove.
Ingredients
To make this quick pan-seared pork chop recipe, you'll need a few simple ingredients:
2 bone-in pork chops*
1 shallot or 1/2 a red onion, diced
Canola oil
Salt and pepper and other seasonings of choice
White wine or chicken broth
Unsalted butter
*It's important to choose pork chops that are all the same thickness. Otherwise, you may end up over- or under-cooking one pork chop. You can also use boneless pork chops with these recipes.
Equipment
The most important piece of equipment for perfectly pan-seared prok chops is a heavy, spacious skillet. Cast-iron is the best material for building a sear on meats. In addition, metal tongs are useful for flipping the meat in the skillet.
Step 1: Build Flavor with Aromatics
To infuse flavor into your pan-seared pork chops, start by dicing a shallot or half of an onion. The allium flavor elevates pork for an effortlessly complete dish.
Next, heat a large skillet over medium heat. The best way to build a beautifully seared crust on your pork chops is to add the meat to a hot pan. So be patient and let the skillet heat for several minutes. Meanwhile, prepare your meat by coating the pork chops on all sides with a high-heat cooking oil. Sprinkle on salt and pepper, along with any other dried seasonings you have on hand. A light sprinkle of garlic powder or cayenne are both easy ways to enhance your dinner.
Step 2: Sear the Meat
When your pan is hot and your meat is well seasoned, carefully place the pork chops into the pan. Be careful not to overcrowd the pan, which will steam your meat instead of searing it. At most, most skillets can fit 2 to 3 bone-in pork chops at a time. Cook the meat, undisturbed for 3 to 5 minutes, until the meat releases easily from the pan and has a nice brown sear on the bottom.
Use metal tongs to carefully flip the pork chops and sear the other side for another 2-3 minutes, until golden brown.
Step 3: Rest the Meat & Finish the Dish with a Quick Pan Sauce
When the pork chops are nicely seared and firm to the touch, transfer them out of the skillet and onto a plate. Cover the meat with plastic wrap and let it rest while you finish the dish.
Add our diced aromatics to the hot skillet over medium-low heat. The remaining fat in the skillet will cook them quickly. When the shallot or onion is softened, add a few splashes of white wine or chicken broth and scrape up anything that has stuck to the bottom of the pan. Be sure to use a wooden spoon or rubber spatula for this, not a metal spoon, which can damage the surface of your skillet. Finally, add in a few tablespoons of butter and melt, stirring, until the sauce thickens up. Stir in any juices that have accumulated on the plate with the meat. Taste and adjust your sauce with salt and pepper and turn off the heat.
Step 4: Serve
It's dinner time! Uncover the pork and slice on a wooden cutting board. Divide the pork chops between plates and spoon your glistening pan sauce on top. Pan-seared pork chops with a fast pan sauce are complemented by steamed white or rice or crusty bread on the side.
How to Deep Fry Pork Chops
Once you've mastered pan-seared pork chops, you can try your hand at deep-frying them. This method makes ultra-crispy pork with a just-pink interior.
Ingredients
Here's what you need to master deep-fried pork chops for dinner:
2 bone-in pork chops
Salt and pepper
Bread crumbs
Flour or cornstarch
2 eggs, beaten
Lemon zest or fresh herbs of choice
Canola oil
STEP 1: Bread the Pork Chops
Before you start cooking, let your pork chops come to room temperature on the counter. This ensures the meat cooks evenly all the way through.
To prepare your pork chops for deep frying, coat them in a quick breading. First, beat two eggs with a splash of water until very smooth in a shallow dish. In a second dish, add a layer of all-purpose flour or cornstarch. And finally, for the maximum crunch, add panko breadcrumbs to a third shallow dish. You can amp up the flavor with a sprinkle of lemon zest or fresh herbs in the breadcrumbs.
Working one at a time, coat each pork chop on all sides in a thin coating of flour or cornstarch. Tap off any excess. Next, dip the meat in the egg wash and let any excess slide off. Finally, press the pork chops into the breadcrumbs to evenly coat on all sides.
STEP 2: Prepare the Oil & Cook
Fill a large, deep pot with vegetable or canola oil halfway. Heat over high heat until the temperature reaches 350°F. Temperature is very important here. If the oil is too hot, it can be dangerous and become a potential fire hazard. Also, it will burn the exterior of the pork chop before the interior rises. If the oil is too cool, your bread crumbs will absorb the oil instead of crisping up.
When the oil is at temperature, carefully place each pork chop into the pot with long tongs, making sure not to splash the hot oil. Cook no more than two pork chops at a time to avoid lowering the temperature of the oil too much. Cook the pork chops until they reach an internal temperature of 145°F. Transfer the cooked meat to a paper towel-lined plate to absorb any excess oil. Let them cool slightly then serve!
Serving Suggestions
Wondering what to serve with your perfectly cooked pork chops? In general, this protein is pretty complementary to a variety of different flavors. Here are a few classic flavor pairings that really make pork chops shine:
Apple and cinnamon
Rosemary
Dried fruits, like prunes and apricots
Mint jelly
And try our other pork recipes, like pulled pork carnitas.
Bone-in Or Boneless?
Both of these methods for how to cook pork chops can be made with bone-in or boneless chops. The option is yours, though in general bone-in cuts of meat tend to have more flavor. They also have an added visual appeal from the bone. If you're struggling to remove the bone from your pork, know that the meat becomes easier to remove after cooking and resting.
How to Know that a Pork Chop is Done
The most foolproof way to ensure your pork is fully cooked is by taking its temperature with an instant-read thermometer. The USDA mandates that pork be cooked to 145°F. If you don't have a thermometer, you can carefully make a cut in your pork and inspect the inside. The meat is done when it's very firm with just a hint of pink in the center.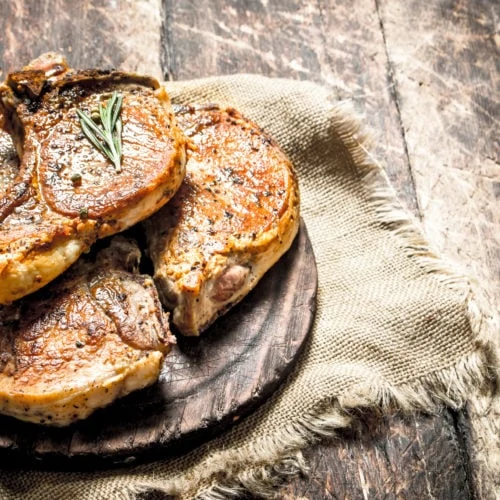 Pork Chops Two Ways: Pan-Seared and Deep-Fried
How to cook perfect pork chops two ways: by pan-searing on the stove and by deep frying. Both are crispy on the outside and perfectly pink on the inside.
Equipment
Large cast-iron skillet

Tongs

Large, deep pot
Ingredients  
For Pan-Seared Pork Chops
2

bone-in or boneless pork chops

canola oil

Salt and pepper

to taste

1

shallot or 1/2 red onion

diced

1/4

cup

white wine or chicken broth

2

tbsp

unsalted butter
For Deep-Fried Pork Chops
2

bone-in or boneless pork chops

2

eggs

1/4

cup

all-purpose flour or cornstarch

1/4

cup

panko breadcrumbs

1

tbsp

lemon zest

optional

canola oil

for frying
Instructions 
For Pan-Seared Pork Chops
Coat the pork chops in oil and sprinkle with salt and pepper on both sides.

Heat a large skillet over medium-high heat until very hot. Add the pork chops and sear for 3-4 minutes per side, until well-seared. Transfer to a plate and cover with alumium foil.

Add teh shallot or onion to the skillet over medium-low heat and cook for 1 minute, until softened. Add the chicken broth or wienand bring to asimmer. Add the butter and whisk until fully melted. Turn off the heat and season to tste with salt and pepper.

Slice the pork chops and spoon the sauce over the meat to serve.
For Deep-Fried Pork Chops
Let the pork chops come to room temperature.

Fill a large pot halfway with canola oil. Heat to 350°F.

In a shallow dish, whisk the eggs with a splash of water and a pinch of salt until very smooth. In a second dish, spread out the flour or cornstarch. In a third dish, spread out the breadcrumbs.

Dip the pork chops first in the flour to coat, then in the egg wash and finally in the bread crumbs, letting any excess fall back into the bowls.

When the oil reaches 350°F, carefully place the prok chops into the pot and cook until crisp on all sides and the internal temperature reaches 145°F.