Attention fish lovers! If you are one to cook fish in the kitchen often, we have a suggestion for you: It's time to invest in a fish spatula.
While you can technically use any old metal spatula for cooking fish, the fish spatula is a kitchen tool that will change your pan-frying game. A fish spatula is designed specifically for flipping fish fillets, without damaging your delicate food.
If you're interested in learning more about the fish spatula and exploring a list of the best fish spatulas available today, keep reading!
What is a Fish Spatula?
What makes a fish spatula different from a typical wooden spatula or plastic spatulas? Well, it all comes down to the design, which was made with fish in mind.
A fish spatula (sometimes called a slotted fish turner or slotted offset spatula) shares many similarities to both the slotted spatula and offset spatula. They are characterized by their short, often wooden handle and distinct metal blade. The blade on a fish spatula is often stainless steel, with a unique curved shape and long open slots that take up a majority of the surface of the spatula head.
This design was made to allow this spatula to perfectly pan fry delicate fish. Due to its thin blade with distinctive curves and slots, a fish spatula can get under delicate pan seared foods like fish very easily. The slots also allow liquid to be drained away when picking things out of the pan.
While a fish spatula is perfect for fish, it can be used in a wide variety of ways. (In fact, some cooks swear by it being the best, and only, spatula you'll ever need.) These spatulas are perfectly capable of pan-frying other foods like eggs, pancakes, burgers, and veggies.
Fish Spatula Buying Guide
Now that we know what a fish spatula actually is, we can explore what you need to keep in mind before you buy.
Spatula Material
The stuff your spatula is made of can make a big difference during the cooking process/
Typically, you can expect most fish spatulas to be made of stainless steel, or high carbon stainless steel, fitted with wooden or plastic handles.
The reason most of them are made of metal is because of the thinness needed for these spatulas to work. Most often, silicone, plastic, or nylon spatulas cannot be made as thin as something like durable stainless steel, without losing some of its strength.
Stainless steel allows the fish spatula to be exceptionally flexible and thin, without compromising its hardness. This means, while delicate, it isn't likely to break.
However, this doesn't mean fish spatulas come in metal only. Many home cooks prefer to stay away from metal utensils. This is often to preserve the life of their nonstick cookware, which is prone to damage when metal is used on their surfaces.
If you have a nonstick pan you want to preserve, it's better to use a silicone spatula than a metal one. This will lead to significantly less damage to the pan.
It is possible, though, to find durable nonstick cookware! Despite the risks to your pots and pans, we still recommend shopping for a classic, metal fish spatula, to get the best cooking experience.
Spatula Head Shape
When shopping for a fish spatula, it's important to pay attention to the shape of the head. A fish spatula is known for the distinct, curved nature of its blade.
The head of a good fish spatula should be curved, with a slight angle up to one edge. It should be wide at the top, going narrower as the blade gets closer to the handle. The head should also, always, feature long slits, taking up a majority of the blade surface.
Spatula Flexibility
As we touched on above, the spatula should have a certain degree of flexibility if you want it to work properly. If the head is too stiff, it won't do well at bending perfectly under delicate foods like cod, or other fish fillets.
At the same time, you don't want something so flexible that your food easily falls off the head during flipping and turning.
This is why metal is a great choice in spatula heads, for something both flexible and strong. If you buy a fish spatula and find it too flexible or too stiff for your liking, it's a good sign that it isn't quite right and needs to be returned.
Our Top Picks for the Best Fish Spatula
It's time to take a look at our top picks for the best fish spatula!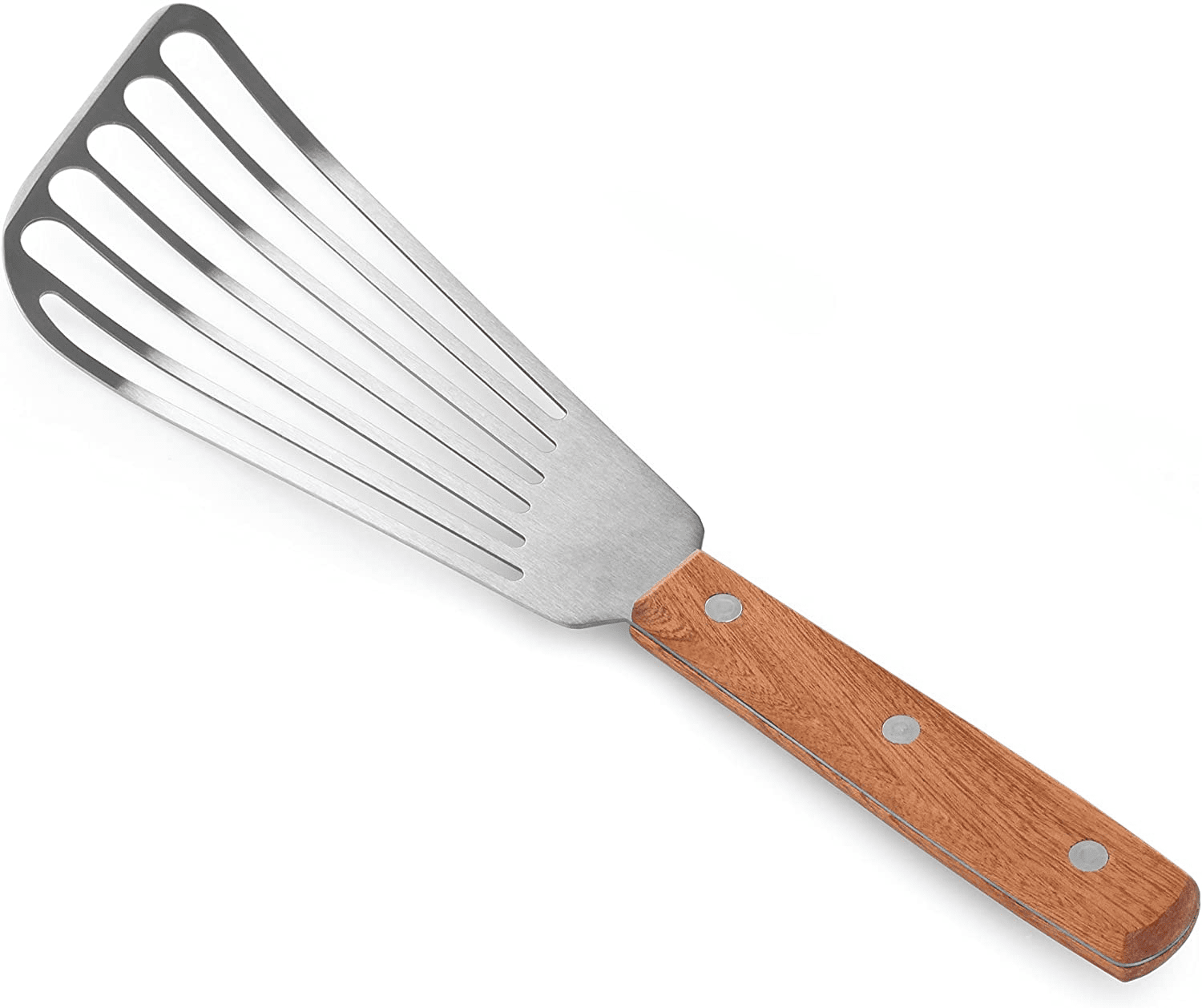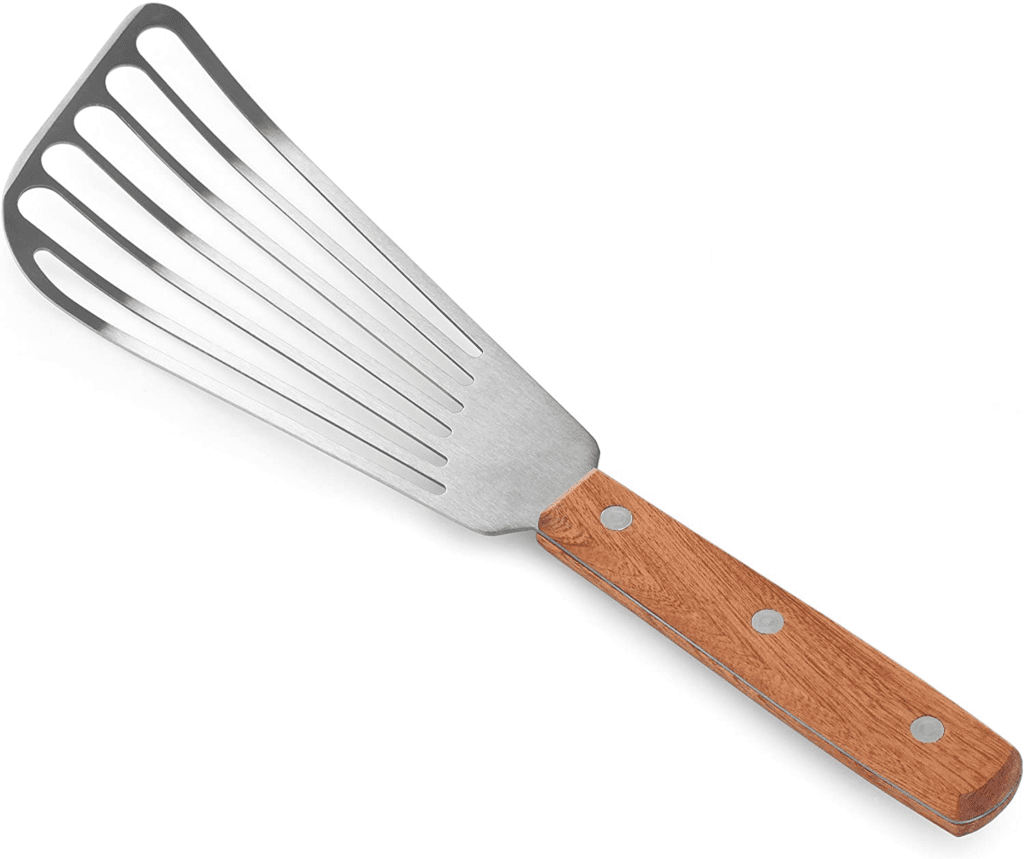 If you're looking for a fish spatula that covers all the bases, you can't go wrong with this one right here! This fish spatula has everything you're looking for: a high quality, slotted, stainless steel blade, and a solid, smooth wooden handle.
This fish spatula is commercial grade, perfect for casual cooking at home or long days in a professional kitchen. Its stainless steel blade was made to last a lifetime. It's flexible enough for delicate fish but tough enough to withstand other foods you're pan frying. We're sure this fish spatula will become your new go-to.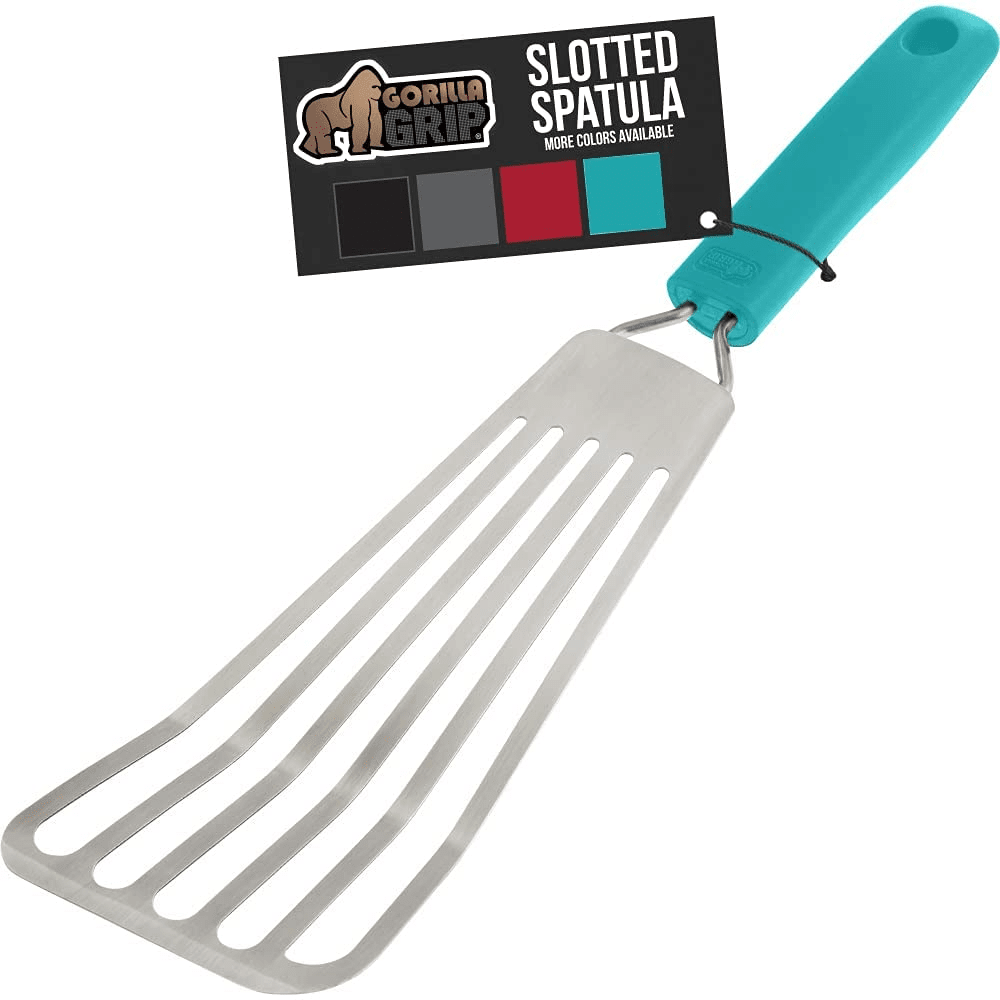 Being on a budget doesn't mean you can't get something great! This fish spatula from Gorilla Grip is still a high-quality product, despite its lower price point. Perfect for those interested in trying a fish spatula, without breaking the bank.
This fish spatula comes in two different sizes (one 11", one 14"), and is available in different colours including blue, black, grey, and red! The colored handles are made of a soft touch rubber, perfect for maintaining a good grip all while showing off your personal style.
The head here is made of durable metal, with the distinct slots known to fish spatulas, and a beveled edge. The head here is less angled and slightly longer than other fish spatulas. This makes it a bit more adept at handling a wide range of foods. However, it's still perfect for delicate fish!


If you have money to burn, you should treat yourself to a fish spatula that is truly special. This spatula from Wusthof is one of the best money can buy. We promise it's worth every penny!
This spatula is 6.5" in length, with a distinct, curved, slotted spatula blade. This spatula is made out of a single piece of stamped, high-carbon stainless steel, fitted with a polypropylene handle. It's highly durable, yet flexible enough to accomplish the delicate flipping needed with a fish spatula.
These spatulas are made in Germany, by a company that is known for its culinary utensils. If you want something to last a lifetime in your kitchen, you can't go wrong with a spatula from Wusthof!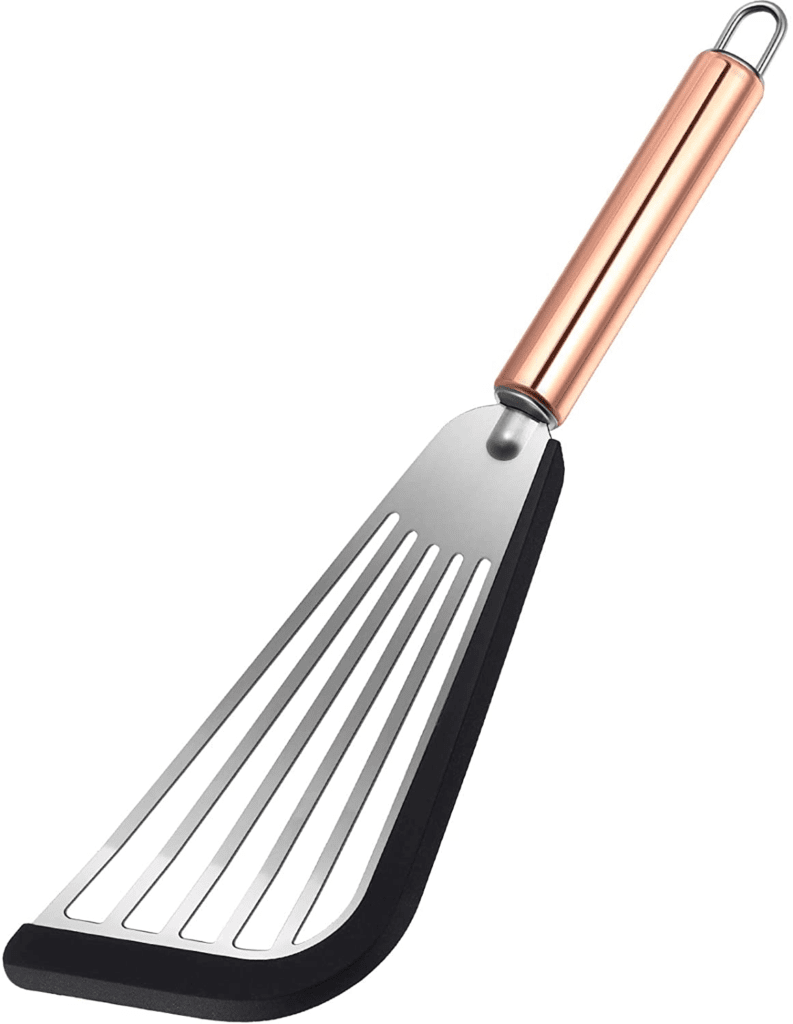 If you're familiar with cooking with any kind of nonstick cookware, you know that metal can be the enemy. Metal utensils are often the cause of accidental scrapes, scratches, and damage to cookware of any kind. If you want to buy a fish spatula that won't cause damage, you should check out one like this.
The best thing about this spatula is that it offers the best of both worlds. It's still made primarily of stainless steel, with the fish spatulas angled, curved slotted blade. However, the bottom edge of this metal spatula is lined with beveled silicone.
This will prevent the sharp edges from scratching up your cookware, while still giving you the benefits of strong, flexible stainless steel. The beveled design means it's perfectly good at sliding under delicate foods with ease.
This spatula also has a fashionable, bronze handle with a handy hanging loop on its end for more storage capabilities. It's sure to be a standout among your kitchen utensil lineup.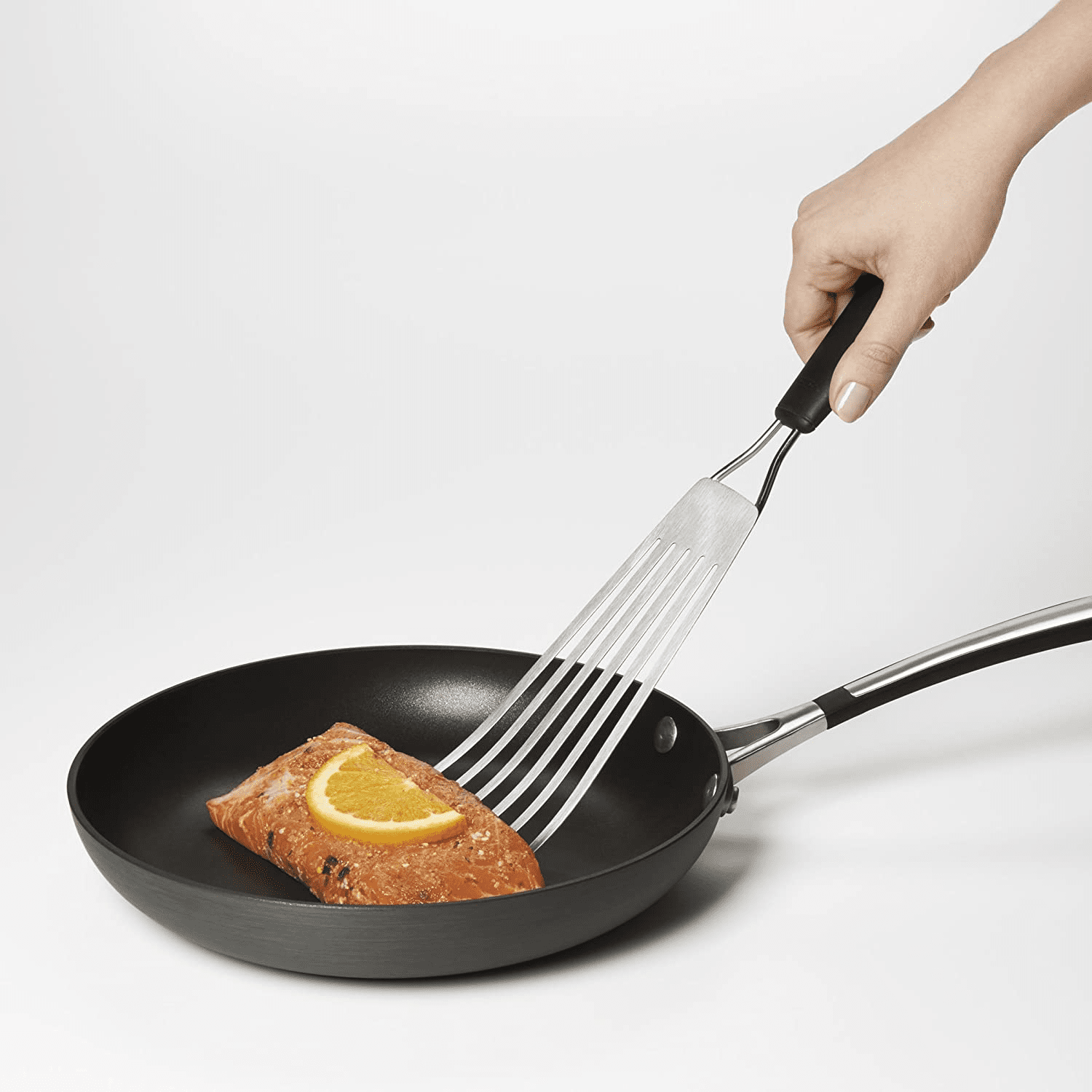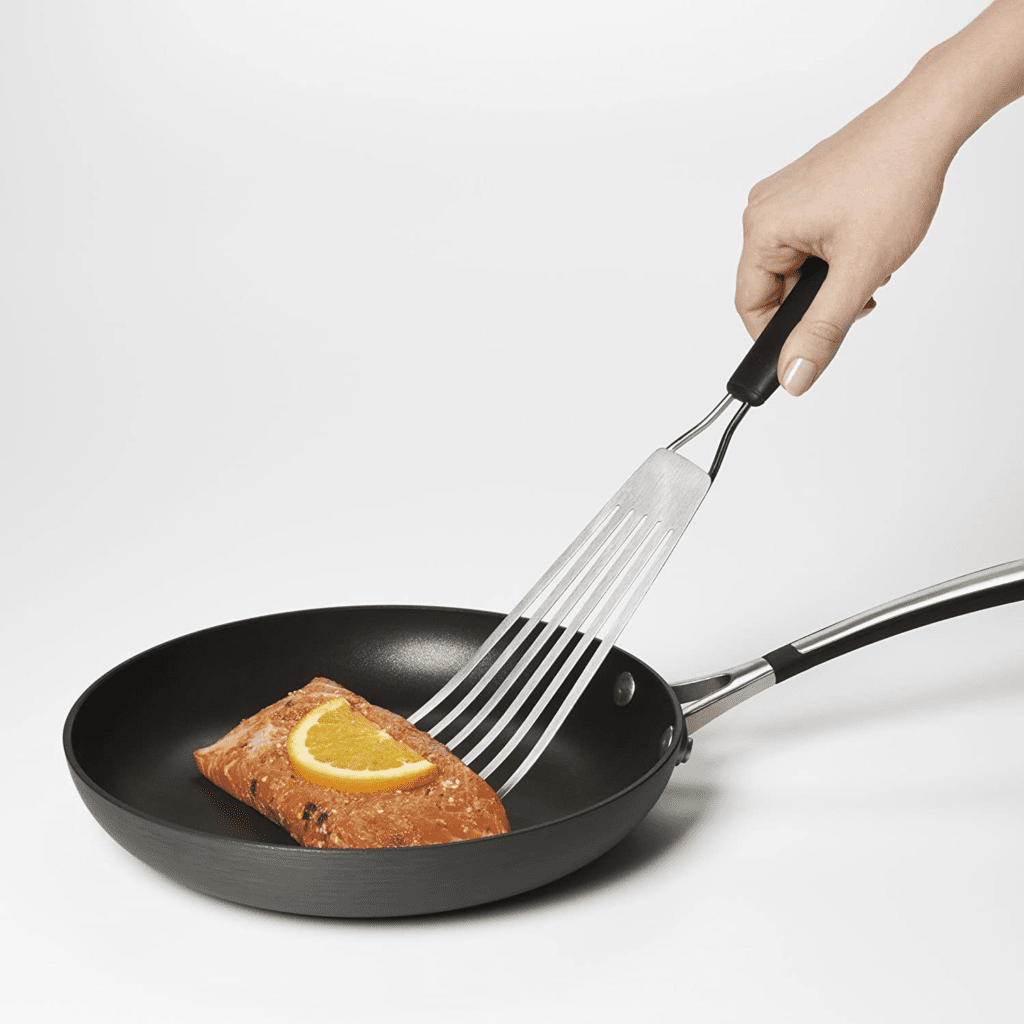 OXO is a reliable brand in the cooking world, known for its cookware, utensils, food prep tools, and much more. If you want something high quality at an affordable price point, they should be the brand name on the top of your list.
That's why we can't recommend their fish spatula enough. This fish spatula is a solid investment, with all the features that make a fish spatula so great. It has a sturdy, flexible stainless steel head, with beveled edges. It also has a solid handle, with a hanging hole for simple storage solutions.
OXO is also a brand doing good for the planet, and is a proud partner of 1% for the Planet! This means they've committed to donating 1% of their annual sales to environmental nonprofits. With values like that, there's no reason to not make them your ideal choice for a fish spatula.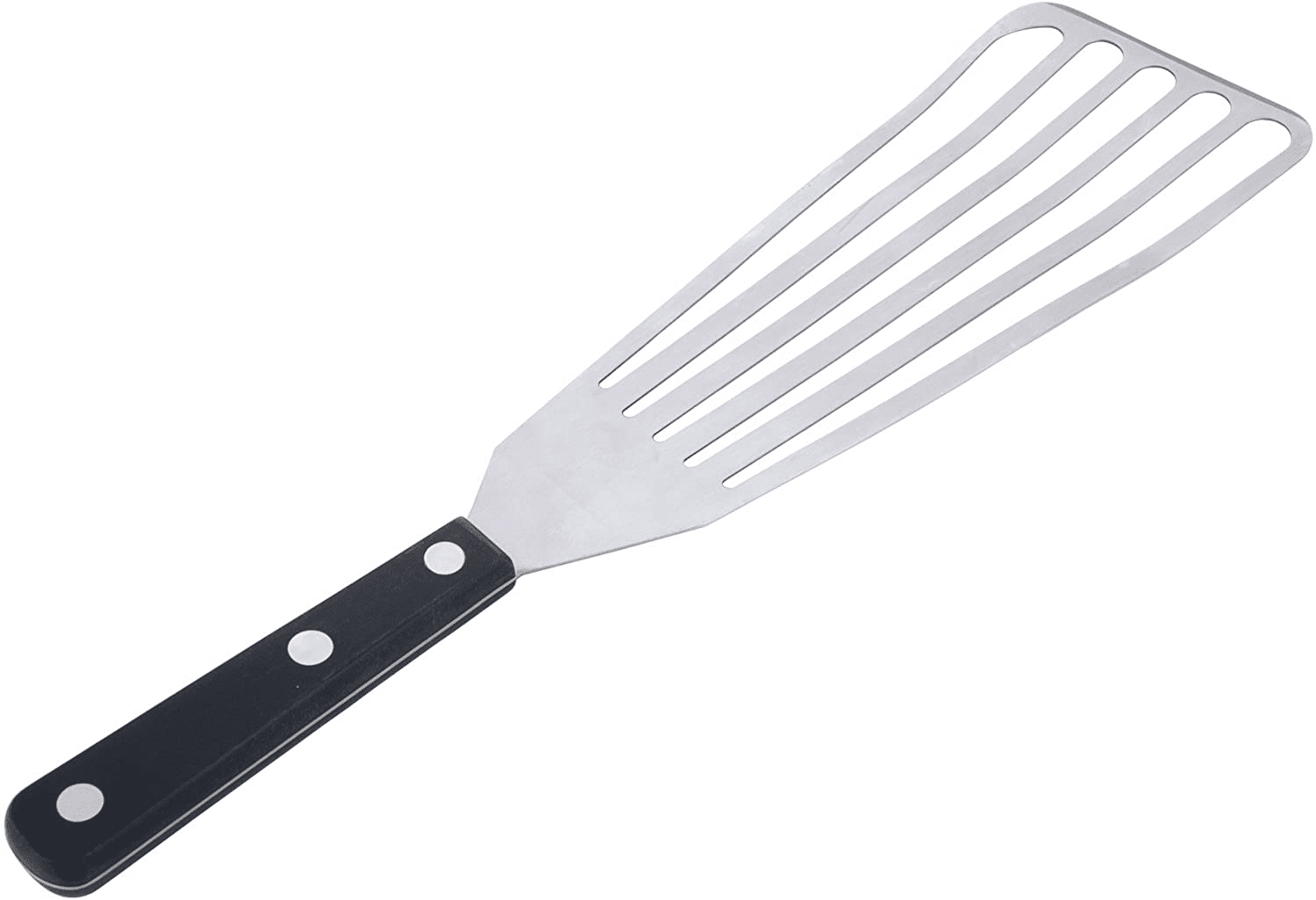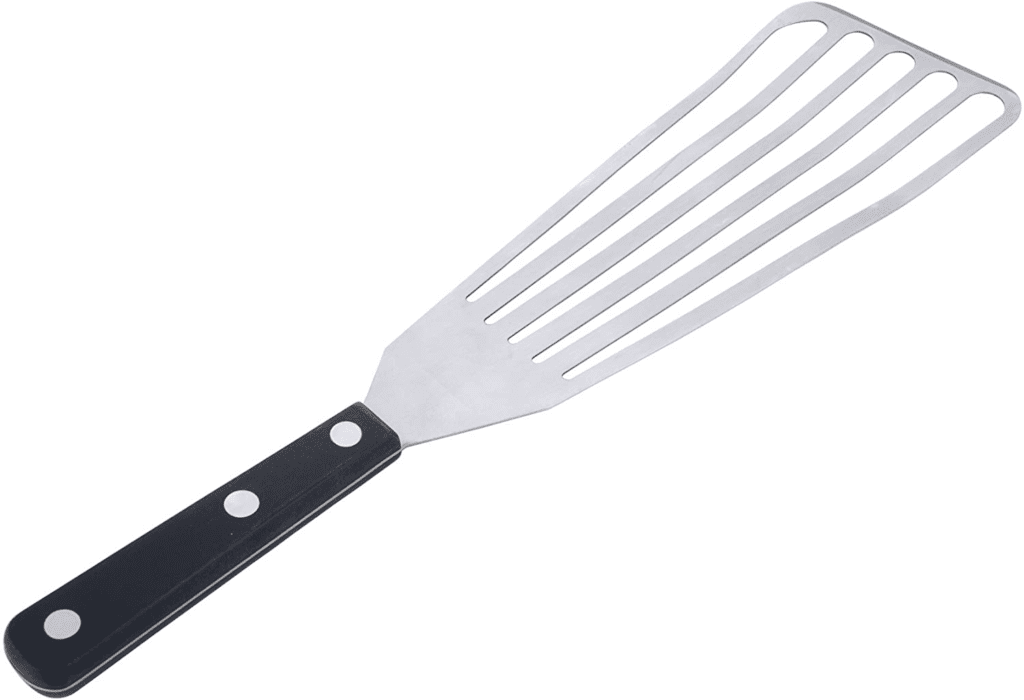 MIU France is another well-loved brand in the cooking utensil world, meaning you can expect dependable quality from any of their products. This fish turner from their spatula lineup is our recommended choice if you want to buy from this brand.
This fish spatula has a jumbo-sized slotted turner. It's less curved than other fish spatula models, but it does have the signature long slots and thin stainless steel head. This is a multipurpose slotted turner spatula, good for fish, as well as other flipping foods such as pancakes and burgers.
This spatula is made of stainless steel with a riveted handle and is dishwasher safe. If you want a dependable fish spatula, consider this one!


Though most fish spatulas are made of metal, there are some solid silicone variants out there. If you're looking for a silicone fish spatula, consider this one from Maine Man.
This fish spatula is made entirely of nonstick silicone, making it perfect for protecting nonstick or cast iron pans. It's still thin and flexible enough to turn delicate fish with ease and is heat safe up to 500° F.
This fish spatula has the signature fish spatula beveled edge for easy lifting and flipping. As it's made of silicone, this tool will never rust, won't scratch surfaces, and is even dishwasher safe!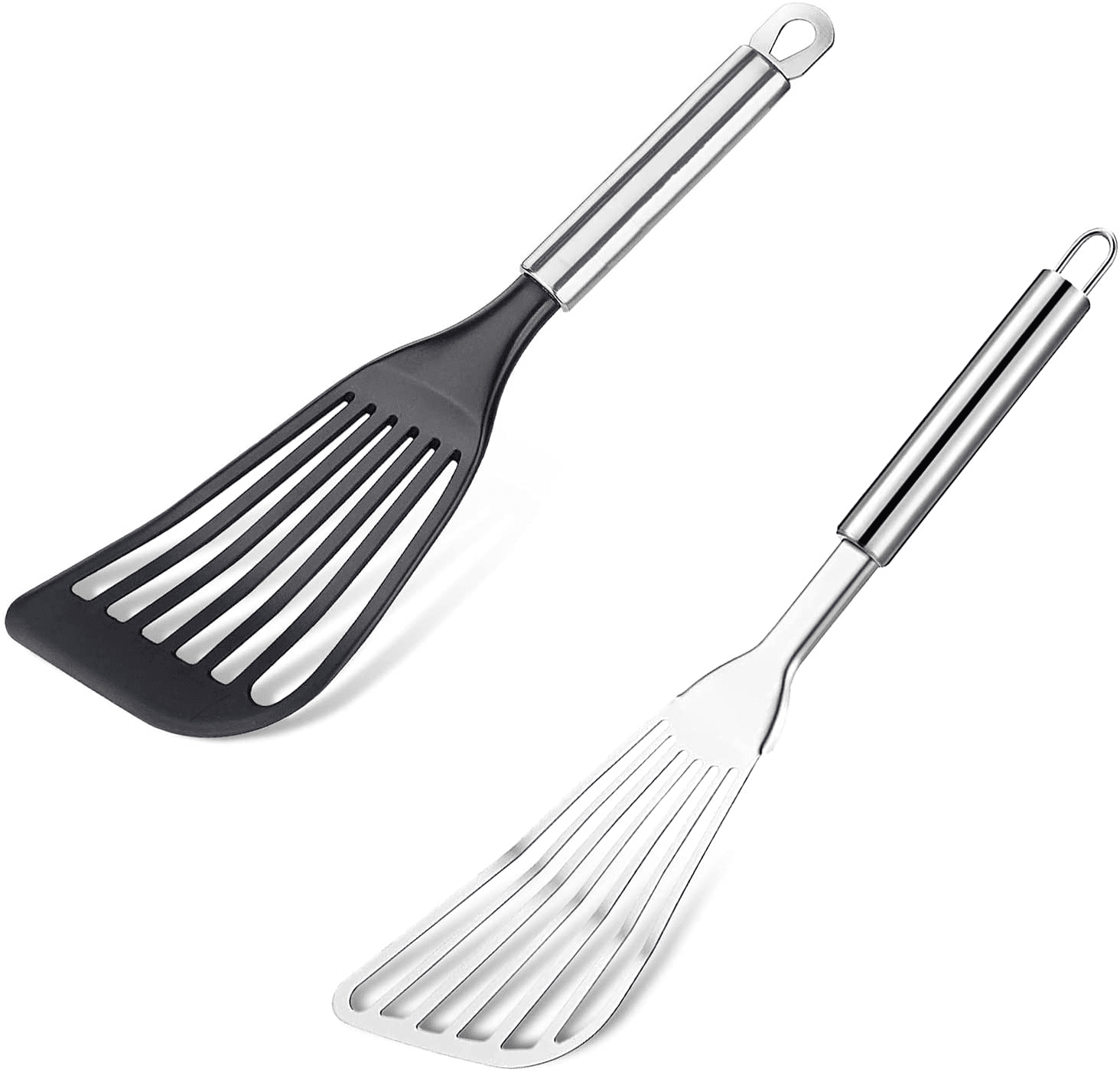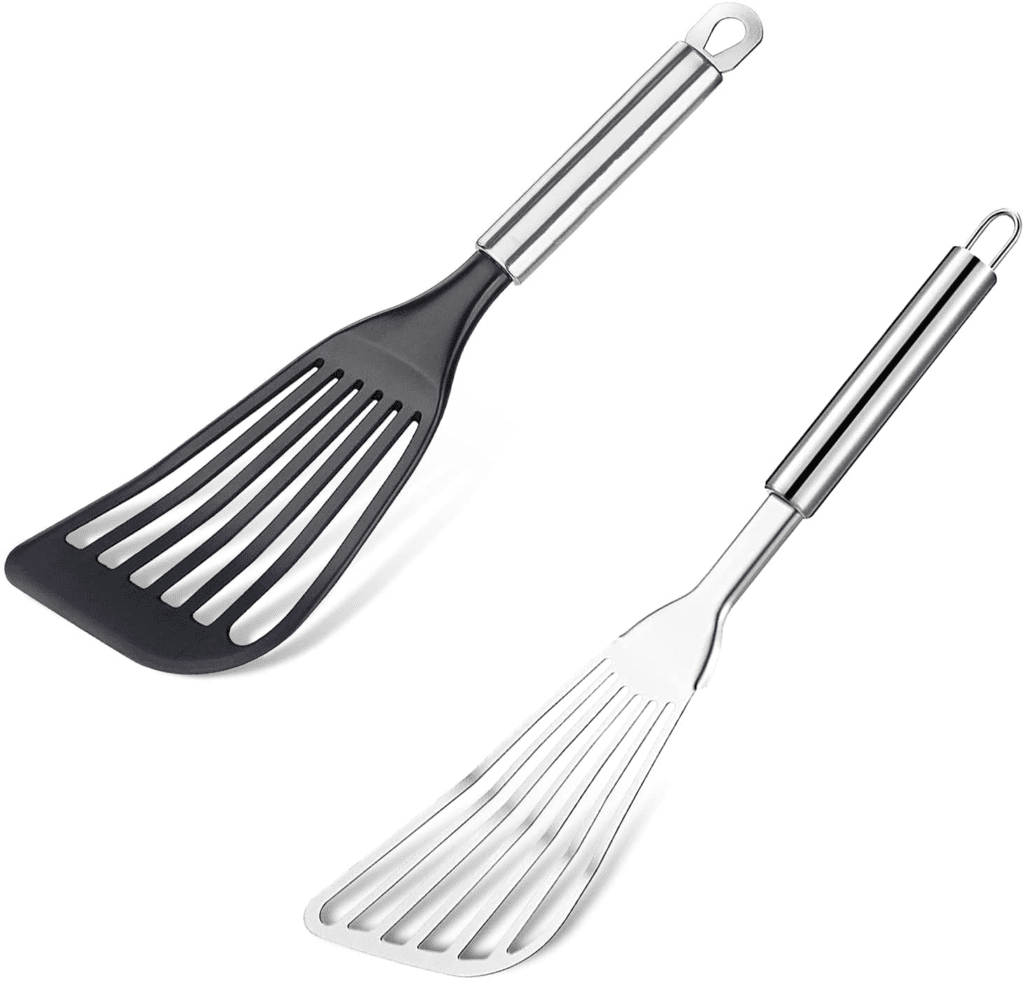 If you're torn between buying a stainless steel fish spatula and a non-metal fish spatula, why not buy a set where you get the best of both worlds! This spatula set includes both a stainless steel and nylon fish spatula, meaning you'll get to try both versions of the popular utensil.
The nylon fish spatula is thin, lightweight, and is perfect for flipping larger foods like fish fillets, or even omelets! The stainless steel fish spatula is smaller in size and more adept at turning your more delicate fish foods.
Both spatulas have stainless steel cores, for optimum quality and long-lasting use. They also have convenient hanging hooks on their ends for kitchen storage.
Fish Spatula FAQ
Buying a fish spatula is a tricky business, often leading to many questions. But we got answers! These are the most commonly asked questions when it comes to the fish spatula.
What makes a fish spatula different?
The thing that sets a fish spatula apart is its unique shape and design. Unlike other spatulas, the fish spatula is characterized by its long, curved blade with slits that cover most of the surface area. This makes the blade extremely flexible, draining, and able to slide under delicate fish fillets with ease. Fish spatulas also often have shorter handles, allowing you to be closer to whatever you're working within the pan.
Though these spatulas are made with fish in mind, they are still multipurpose! You can use this spatula for flipping pancakes, sauteeing veggies, or making eggs when you need to.
What material should my fish spatula be made of?
Your fish spatula can be made of a wide range of materials, as we explored above. However, when shopping, the best fish spatulas tend to be made of metal like stainless steel.
A stainless-steel fish spatula is thin enough to get under delicate foods like fish and strong enough to withstand heat and avoid breakage. However, there are also silicone varieties that are less likely to scratch cast iron and nonstick pans.
Who uses a fish spatula?
Anyone can use a fish spatula! However, this utensil is probably most used by professional cooks and chefs, who have access to a wider range of tools.
Where a home chef can get away with cooking fish with any kind of spatula, professional cooks are more likely to use a fish spatula specifically. When working with delicate fish in a professional setting, it's best to stick to a spatula specifically made for flipping fish.
Can I use my fish spatula for other things?
While a fish spatula is made with turning delicate fillets in mind, there's no reason you can't use it for other foods. A fish spatula's slotted design makes it perfect for use with other popular spatula foods.
If you're trying to flip a fried egg or even a pancake, a fish spatula should be able to get the job done. Keep in mind, though, that the spatula's smaller handle and blade make it ideal for smaller foods, but will also get your hands closer to heat. So while pan frying burgers or a grilled cheese sandwich might be okay, attempting to flip pork chops on a grill is better suited for other spatulas or utensils.