Finding a perfect oil sprayer that suits your cooking style is like searching for a needle in a haystack. The best oil misters save time and money and cut down on calories and waste.
Not every oil spray brings all of these benefits to the table. To make sure you aren't wasting your money by compromising on quality, we put together this list of top oil misters for your air fryers available on the market. Keep scrolling to find out more!
Quick View
Best Overall Oil Sprayer for Air fryer: Misto Brushed Aluminum Oil Sprayer
Best Oil Sprayer for Large Volume:  EVO 18 Ounce Reusable Oil Sprayer
Best Glass Oil Sprayer for Air Fryer: Ultra Cuisine Glass Oil Sprayer
Best Premium Oil Sprayer for Air Fryer: Prepara Simply Mist Oil Sprayer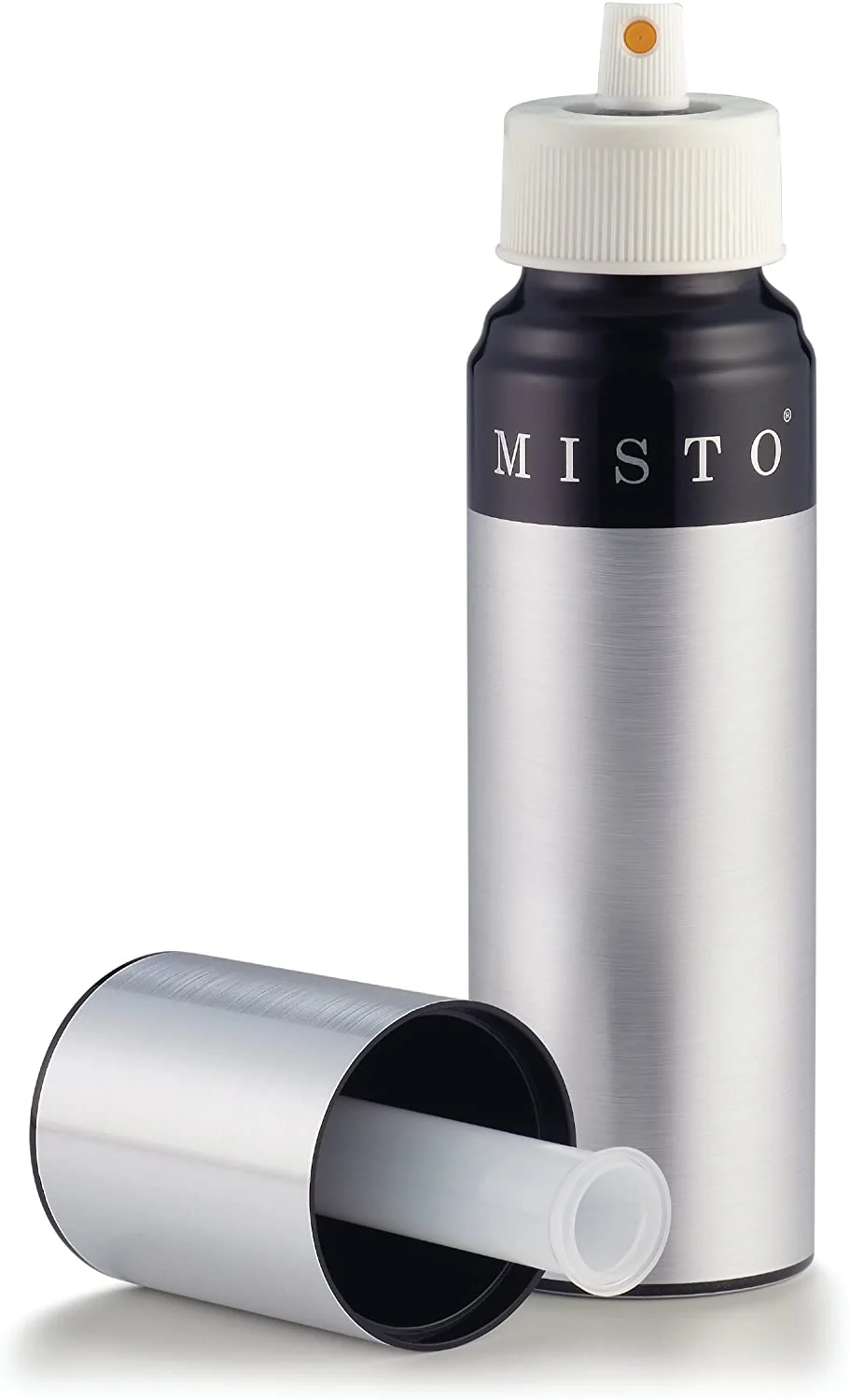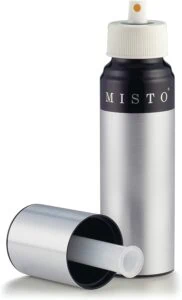 Misto Oil Sprayer has been a longtime favorite of many home cooks, owing to the innovative composition that makes it applicable for many purposes.
This oil sprayer features a unique filter that allows the chefs to add herbs and spices to flavor their oil. Apart from conventional oils, like olive oil, canola oil, or sesame oil, you can use other cooking liquids in this sprayer, like lemon juice, melted butter, Marsala wine, soy sauce, or vinegar, to name a few.
It works the same as a traditional cooking spray but gives you peace of mind by controlling the amount of oil coming from the nozzle. Not to mention that it is super easy to use. Just pump the top until the pressure builds up, and then simply press the button.
In addition to its pocket-friendly price tag, this sleek bottle is washable, and you can reuse it by removing the pump-style cap for refilling. It's BPA-free and uses no chemical propellants, further increasing its credibility.
Pros:
Easy to use pump style cap
Reusable
All plastic parts are BPA-Free making the product environmentally friendly
The material is sturdy yet very lightweight
Complete control of the amount of spray ejected
Satin-finished aluminum gives it a sleek and aesthetic appeal
Cons:
Difficult to refill and clean because of its small opening
Can only fill the bottle halfway to maintain the pressure
Leftover pressure can damage the nozzle
The surface could easily get abraded
Irregular cleaning may affect the efficacy of the spray
Keeping up with an already high bar, EVO recently released its EVO Oil Sprayer Bottle with a whooping 18-ounce capacity.
Whether marinating, sautéing, or frying, EVO enhances the cooking experience by ensuring a consistent one-fourth teaspoon of oil with every spray, and its unrivaled nozzle design allows two spray patterns, which you can switch between by simply turning the nozzle upside down.
Every EVO oil sprayer comes with a wonderful funnel, which effortlessly screws onto the bottle, allowing smooth and hassle-free refilling of your favorite oils over and over again.
Since not all oil lovers are the same, this sophisticated spray bottle comes with three reversible silicone label bands to identify the bottle's content. One last important tip for our fellow cooks is to make sure you press the trigger in one continuous motion rather than pulling it slowly to get that perfect oil mist covering every time.
Pros:
Refillable and recyclable
Lightweight and portable
Consists of BPA and DEHP free plastic
Sprays oil in a vertical or horizontal fan pattern
Optimum coverage
Ample capacity of 18 ounce
Its attractive bottle and finish would be an excellent addition to your kitchen shelves
Cons:
Rather pricey compared to other plastic sprayers
The position of the dip tube in the bottom makes it difficult to tilt and spray
Given Ultra Cuisine's years of experience in offering the best quality and performance in kitchen utensils, it is no surprise to see the brand on this list. This olive oil sprayer is just what air fryer fans need in their hands.
It is the perfect sprayer to spritz your veggies. The modern no-clog spray design means each spray delivers an even cooking oil mist for ideal coverage. A gentle press delivers a consistent spray, saving both your time and effort.
It comes with a cleaning brush that makes clean-up simple and thorough by filling and rinsing it with warm water and a removable funnel, preventing spillage and messy refills.
The one thing that accounts for the high caliber of these Ultra Cuisine oil misters is their attractive and solid construction. The high-quality glass is clear and transparent, so you can see how much liquid remains and examine the presence of contaminants at a single glance. The stainless-steel base and tops are elegant and evidence of the bottle's sturdiness and durability.
Pros:
Consistent Spray
Reusable and environmentally friendly
Easy to use and clean
Translucent bottles to keep check of the insides
Comes with a funnel for refilling
Cons:
The glass might not be thick enough, especially on the neck
Heavy compared to plastic misters
Do you often worry about harmful chemicals that might be in your plastic sprayer bottle? If yes, then Prepara Simply Mist Oil Sprayer is definitely what you need.
The Prepara Oil Mister is manufactured keeping health-conscious chefs in mind. This oil mister sprays without damaging aerosols and lessens your oil intake by spraying fine mists or streams. Each spray is 1.4 teaspoons of oil, and you can use it while cooking, dressing salads, grilling, or any other processes to avoid coating your food in your favorite oil.
This cooking sprayer's innovative design results in easy operation. Just squeeze the trigger for two dispensing options, either a fine, even mist by pulling the trigger quickly or a continuous stream of oil when pulling it slowly. No more pre-pumping!
It's 7.9 inches (0.2 m) long, which is the perfect size: not so large that you can't work the oil before it goes rancid nor too small that you're constantly refilling.
Pros:
No aerosol or pumping step needed
Glass base which is easy to wash and sanitize
Two dispensing options
Great for most types of oils and even water
Perfect for healthy and fresh eating
Cons:
Thick oils can cause clogging
Leaking may occur
On the expensive side
Buyer's Guide
The perfect oil spritzer is a long-lasting companion to your air fryer and goes hand in hand with your culinary techniques; the wrong one, however, can be a nuisance.
There are numerous types of spritzers available in the market, but you should consider a few factors before buying one.
Material
The material of the oil sprayer is the key factor for picking one. Glass, steel, and plastic are used to make the bottles, each with its benefits and flaws. A stainless-steel oil sprayer reduces the risk of corrosion and provides durability and resistance. On the other hand, plastic ones are lightweight and can be easily washed. Glass designs may weigh a bit more than plastic ones, but they are also easy to clean.
Consistency
Look for an oil spray that promises a consistent spray. It is best to choose one that emits the particles in mist form to facilitate even distribution and faster evaporation. If the sprayer makes noise, pick one with a built-in pump.
Cleaning and Maintenance
To stop the harboring of bacteria in the oil and prevent clogging, opt for an oil sprayer that is easy to clean using a simple wipe or soak in soapy water. As for maintenance, keep the container away from sunlight to protect the internal components from damage.
Size
The size of the vessel is another deciding factor. A larger vessel holds a larger volume of oil and is suitable for frequently used liquids. Conversely, choosing a smaller sprayer for the oil you only use occasionally can help conserve both time and money.
FAQs
What is the best oil to use in an air fryer?
The best oil to use in an air fryer is the one with a high smoke point. Different oils have different levels of heat at which they begin to smoke and you should select one according to the recipe. Mostly any type of food-grade oil, such as canola oil, vegetable oil, olive oil, avocado oil, and peanut oil, are great options.
How do I clean an oil sprayer?
To clean an oil sprayer, dump out any remaining oil and fill the bottle with vinegar. After all the oil residue breaks down, place hot soapy water into the vessel, and then rinse with hot water.
Where should you store your oil sprayer?
To keep your spritzer in a top-notch condition, wipe the nozzle using a clean cloth after each use. Then, store it in a moderate to a dark environment, like the one on your kitchen shelf, away from direct exposure to heat and light.
How to use oil in an air fryer?
Lightly spray or brush oil on the outside of the food. Only coat with a single layer and then operate the air fryer as usual.
Conclusion
These nifty little appliances are a blessing for air frying and can help save time, money, and effort. Plus, they can uplift the taste of air-fried foods and give a juicy texture, whether you're making a classic potato chip snack or your kid's all-time favorite chicken wings.