Are you trying to figure out how to cook London broil? It's easier than it seems!
How do you cook a London broil? Start by trimming the steak to remove any connective tissue with a sharp knife. Salt the meat generously, sear for 5 minutes on each side and finish it off in the oven at 350°F for 10 to 20 minutes, until cooked through.
What is London Broil?
As you may guess, London broil is made by broiling meat. Specifically, London broil is typically a beef dish. However, contrary to what you may guess, London broil is not, in fact, a British dish. Rather, this method of preparation comes from North America. This dish has long been relied upon as a fast, filling, and usually, inexpensive dinner to feed a hungry crowd. It often involves marinating a large cut of meat before searing it heavily on the stove or under the oven broiler, and finishing the dish in the oven.
Is London broil a good cut of meat?
While you may find cuts of meat labeled "London broil," in fact, the term refers to how the meat is cooked rather than a specific cut from the cow. The reason for this labeling is that London broil sounds like a more appetizing way to describe the typical cuts of meat used for this dish, which tend to be the less desirable, cheaper cuts from the cow's rump.
The important thing to note is that cheaper doesn't always mean lower quality. You can easily find high-quality meat for London broil from a good butcher. And if you're worried about texture or flavor, that's nothing that a good flavorful marinade can't help you overcome.
What is the London Broil Serving Size Person?
The typical rule of thumb when serving meat is to bet on each adult eating about 8 ounces (half a pound) of raw meat. If you're serving four people, buy a 2-pound cut of beef for this recipe.
Does London Broil Have to be Marinated?
The fastest and easiest way to make London broil is by adding flavor directly to the meat and searing it. This is the preparation method we're covering here. If you have extra time, you can prepare a marinade that's as simple or extravagant as you like. This type of meat can be marinated for up to 12 hours before cooking.
To make a well-balanced marinade for your steak, use a bit of acid (lemon juice, orange juice or vinegar), cooking fat (olive oil or sesame oil), and salt (soy sauce, Worcestershire sauce, miso), as well as any fresh or dried herbs you like.
How to Make London Broil
Once you've brought home your meat to make London broil, it's time to get in the kitchen and start cooking.
Ingredients
Here are the ingredients that you need to make an easy supper of London broil for 4 adults:
1 2-pound beef steak (may be labeled "London broil," but ask your butcher for a recommended cut)
Melted butter
Dry mustard powder
Salt
Pepper
Step 1: Defrost the London broil
If you have the London broil in the freezer, defrost the meat in the refrigerator overnight. If it's not fully defrosted two hours before you plan to start cooking, run the meat under cold running water until it's fully thawed. An hour or so before cooking, place the thawed meat on the counter to come to room temperature.
Step 2: Prepare the meat
Once the London broil is at room temperature, trim the meat. Use a sharp knife and a non-wooden cutting board to remove any connective tissue on your cut of meat. This is also called silverskin for its shiny, effervescent appearance. It should be minimal and easy to remove. After trimming the meat, use paper towels to gently dab it dry all over. This will help the meat sear better, as moisture is the enemy of thick, crusty sear.
If your piece of London broil is uneven, you can even things out with a meat tenderizer. In fact, a few smacks with a heavy meat mallet will help tenderize the meat regardless of shape and size.
Step 3: Season the London broil for the first time
Sprinkle salt on both sides of the meat. You're going to season the meat again, so this should be a light, even sprinkling. Kosher salt is the best variety for seasoning meat. It's not overly salty, like table salt.
Step 4: Season your steak for a second time
After you have a baseline seasoning directly on the meat with salt, it's time to build on flavor. Brush the meat on all sides with melted butter. Then, sprinkle with dry mustard, more salt, and pepper to taste. Season generously and rub everything into the meat with your hands.
Remember to season both sides!
Cooking the London broil
Step 1: Preheat the oven
Preheat your oven to 350°F (175°F)
Step 2: Heat an iron skillet
Heat a large cast-iron skillet over medium-high heat. If you don't have a cast-iron skillet, our pick is this top rated Cast Iron Skillet by Lodge. You can also opt for another oven-safe pan. After searing on the stove, the London broil will go into the oven. If you don't have an oven-safe pan, you can sear the meat in a skillet on the stove and finish it in a baking dish in the oven, though you might lose some of the flavor in the skillet when you transfer the meat.
Step 3: Sear the meat on both sides
When the skillet is hot, gently place the London broil in the pan and sear it on both sides. Let it sear on one side for 3 to 4 minutes, until the meat easily releases from the pan. Then use tongs to carefully flip the meat and sear for another 3 to 4 minutes on the other side.
Step 4: Finish it off in the oven
Carefully (use an oven mitt!) transfer the cast-iron skillet with the meat to the preheated oven. Cook the meat for 10 to 15 minutes. This oven finishing time will vary depending on how thick your cut of steak is. Check the meat after 10 minutes for medium-rare. If it's not quite done, continue cooking, checking every 2-3 minutes to prevent overcooking. A medium steak can take up to 20 minutes.
Step 5: Remove and let it rest
Take the London broil out of the oven. Transfer the meat to a cutting board to keep it from continuing to cook in the hot skillet. Cover it loosely with aluminum foil and let it rest for 5 to 10 minutes. Then slice and serve dinner!
How do you tenderize a London broil?
If you want an extra-tender London broil, you'll need a meat tenderizer (a little hammer used for meat), waxed paper, and a cutting board. Wrap the meat in the waxed paper and place it on the board. Then, hammer your frustrations away! Hit hard but not too hard–you don't want to break the cutting board or damage the meat. The purpose of this is just to loosen up some of the tight muscle fibers. It shouldn't need more than 5-10 whacks.
How do you know when the London broil is done?
When you cook London broil, the best way to make sure your meat is done is to check its internal temperature. You can do this by using a meat thermometer on the thickest part of the London broil. Your meat should be anywhere between 145°F to 150°F (57°C to 65°C), depending on whether you prefer it medium-rare or well done. According to FoodSaftey.Gov, beef is considered cooked and safe to eat when it reaches an internal temperature of 145°F. Remember that your meat will continue to rise in temperature for up to 10 minutes after you remove it from the hot oven.
What to Serve with London Broil
When you cook London broil for dinner, it's easy to pair the meat with simple vegetable and grain side dishes. Because this meat can be seasoned however you like (Asian, European, or simply with salt and pepper), the possibilities are pretty endless. Since you already have the oven on, however, London broil is a great time to make some simple roasted vegetables. Cauliflower, acorn squash, and broccoli are all healthy veggie sides to pair with your steak dinner.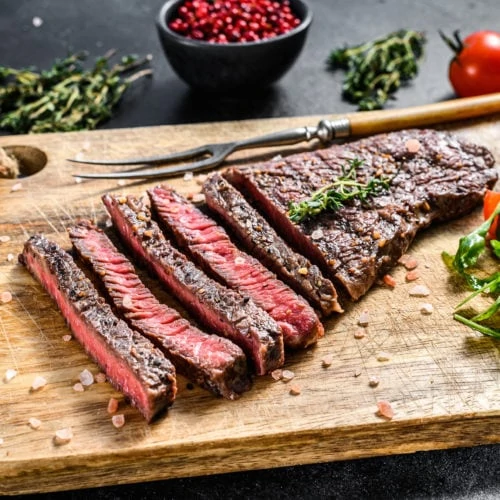 London Broil
How to sear london broil on the stove and finish it in the oven for perfectly tender steak dinner.
Equipment
Cast-iron skillet

Tongs

Cutting board

Chef's knife
Ingredients  
1

2-pound

Cut of beef for London broil

Salt

to taste

2

tbsp

butter

melted

ground mustard powder

pepper

to taste
Instructions 
If necessary, thaw the meat. Let it come to room temperature for 30 to 60 minutes before cooking. Season the meat on both sides gently with salt.

Brush with melted butter and sprinkle with mustard powder, more salt and pepper. Rub the seasonings into the meat with your hands.

Heat a large cast-iron skillet over medium-high heat. When hot, sear the meat for 3-4 minutes per side.

Preheat the oven to 350°F.

Transfer the skillet to the oven and cook for 10-20 minutes, until the internal temperature reaches 145°F. Remove to a cutting board and let the meat rest, covered, for 5 to 10 minutes before slicing and serving.