People give a lot of love to kitchen essentials, like sharp knives and fancy appliances, but they often forget about the cutting board. A cutting board is one of the most necessary kitchen tools a cook needs in their kit, but they're often last on the list when stocking up on new kitchen goods.
You may not realize it, but there's a lot to know when it comes to picking out a great plastic cutting board for your kitchen. That's why we have this buying guide here, to ensure you pick out a plastic cutting board that's perfect for you.
Let's deep dive into all the little details you need to look for when picking out a new cutting board. Then, we'll walk you through our list of the best plastic cutting boards money can buy. Let's dive in!
What is a Cutting Board?
Before you buy yourself a cutting board, let's break down exactly what this kitchen tool is.
A cutting board, sometimes called a chopping board, is a protective surface that you can use when cutting or slicing different foods in the kitchen. It protects your counters from knife marks and is a little more stable than a simple cutting mat. Cutting boards can come in a wide range of materials. The ones you'll find most often, though, are wood, glass, and plastic.
Benefits of a Plastic Cutting Board
Now we know what a cutting board is. But what are they useful for? There are many things your plastic cutting board is especially good at, especially when compared to materials like wood or glass.
Protecting Your Knives & Counters
Cutting boards protect both your kitchen counter and your kitchen knife during any slicing or cutting. Your kitchen knives can cause damage to your kitchen counters, leaving behind knife marks if you cut ingredients on them directly without a cutting board. And, in turn, your counters also quickly dull and damage your knives.
Your cutting board provides a nice gentle surface to protect these tools during the cooking process. Plastic is an especially gentle material and won't dull your knives as fast as a material like glass might. With a plastic cutting board, you don't have to worry about a dull knife.
Preventing Cross-Contamination
Cutting boards are also crucial when it comes to cooking safely in the kitchen. They are great for keeping messes and bacteria contained, as you are doing all your work on the board's surface.
This is especially important when working with meats, which can easily spread bacteria on your kitchen surfaces. The cutting board can be used for slicing and can then be easily washed after use, getting rid of harmful bacteria.
When cooking with multiple ingredients, you want to avoid getting the germs from one ingredient onto another. You won't have to worry about cross-contamination from lingering bacteria on your counters when you use a cutting board. You can prep food on your board, then easily move it away, leaving a clean counter behind.
Easy To Clean
One of the biggest benefits of a plastic cutting board is how easy they are to keep clean! Materials like wood can be super porous and become damaged easily. As wood is porous, it is not the best cutting board material when working with any meat or seafood ingredients.
The wood can end up absorbing a lot of the liquid let out by these meats, keeping bacteria trapped in the wood, leading to cross-contamination and even bad smells coming from your board over time.
Plastic, in comparison, is not porous at all, which means it won't take on any of the bacteria in these foods, and they can be easily washed away from your board after use. Plastic is also often dishwasher safe, making it an even cleaner option!
Plastic Cutting Board Buying Guide
What do you need to keep in mind before you buy? We got you covered! Here's our plastic cutting board buying guide.
Size
As plastic is a more popular material choice, you'll find a wide range of sizes when shopping for a plastic cutting board. The size you choose will depend on what you plan on preparing and cooking on your board and the storage space you have in your kitchen.
What do you plan on cooking with your cutting board? If you want to prepare this year's holiday turkey,  you'll want a cutting board that's at least 20-12 inches in length and 14-16 inches in width. However, if you're going to be sticking to prepping dinner for one in a small space, a 14-15 inch long cutting board can take you far.
Grips and Handles
To get the most out of your cutting board, you have got to keep an eye on any special features and add ons the board may have. Two of our favorite cutting board essentials are the inclusion of kitchen grips, as well as handles.
A handle on one or either side of your cutting board makes movement way easier. If you want to prep on one counter, then take your board over to the stove. A handle can make the move way easier to handle. That extra bit of control can mean fewer accidents in the kitchen and even make hanging storage after use possible.
We also love to see the inclusion of grips on a cutting board. These will sometimes look like silicone edging wrapping around the board or rubber "feet" on one or both sides. Silicone and rubber grips are perfect for keeping your cutting board secure and safe on your counter during use.
Cutting boards are used with knives, meaning you want to prioritize safety. Kitchen mishaps can happen easily if your cutting board is slippery and unstable on your counter. We recommend picking a plastic board that has some form of grip to it.
Juice Groove
This feature is the most popular one on plastic cutting boards because they are often the material of choice when cutting meat. A juice groove is a sort of well that will run around the edge of the cutting surface of the plastic board. This well is meant to catch any meat juices that happen to flow when cutting meat on your cutting board.
This juice groove is useful for a variety of reasons. It will keep your cutting surface cleaner and less slippery, allowing liquids to run off the main part of your board. It can keep your kitchen cleaner, catching the liquid before it contaminates counters or other kitchen surfaces. And juice grooves also make it easy to pour excess juice off the plastic cutting board either into a sink for cleaning or into a pot if you plan on making gravy with the juice.
The benefits of the juice groove are seemingly endless when it comes to working with meat! We highly recommend picking a board with a juice groove when looking for a plastic cutting board.
Accessories
Some accessories for cutting boards can make for a much more pleasant cooking experience.
As we touched on above, having a stable, secure surface for your cutting board matters. If you have a plastic cutting board with no grips, you can buy safety mats to achieve the same effect. These mats will often be flexible, made of plastic or silicone. You place them under your cutting board to prevent them from slipping on your counter.
Plastic cutting boards are prone to damage over time, as knives scrape at their surface. After a lot of use, your board may have some frayed cuts and slices on its surface, making it less smooth and harder to use.
While some would just replace the board, it is possible to restore it. You can purchase cutting board refinishers/scrapers that work to restore the surface of your plastic board. These tools can help to improve the longevity of your board. If you truly want your kitchen tool to last a lifetime, accessories like this help!
Our Top Picks for the Best Plastic Cutting Board
It's time to go shopping! If you've been looking for a new plastic cutting board, we're positive your perfect choice is somewhere on this list. Here are our picks for the best plastic cutting board you can buy online today.
Top Recommended Product: KitchenAid Classic Nonslip Plastic Cutting Board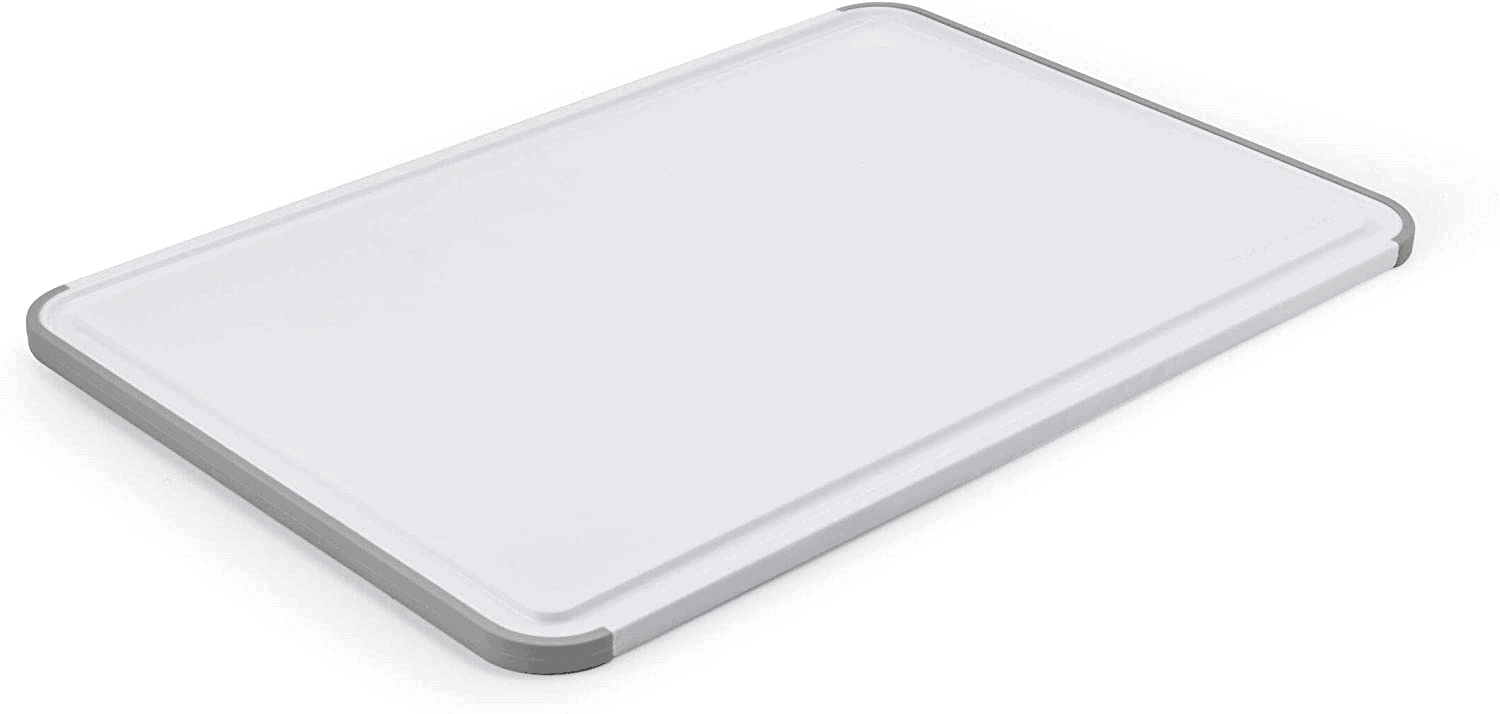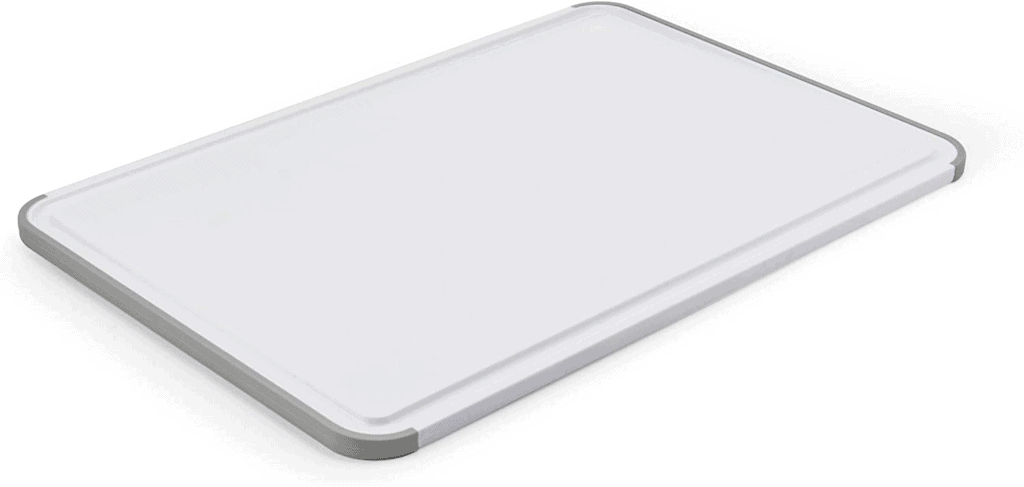 This plastic cutting board from KitchenAid ticks all the boxes when it comes to a great cutting board. This board is a great size for most kitchens, coming in at 12 inches by 18 inches. Plus, there are other, smaller variations if you need something smaller for your kitchen.
These boards are made of BPA-free plastic, making it food safe, nonabsorbent, and super gentle on your knives. It has a silicone edge along its side, making it non-slip for better stability in the kitchen. And, it has a handy juice trench, perfect for working with meat!
Best Budget Product: Raj Plastic Cutting Board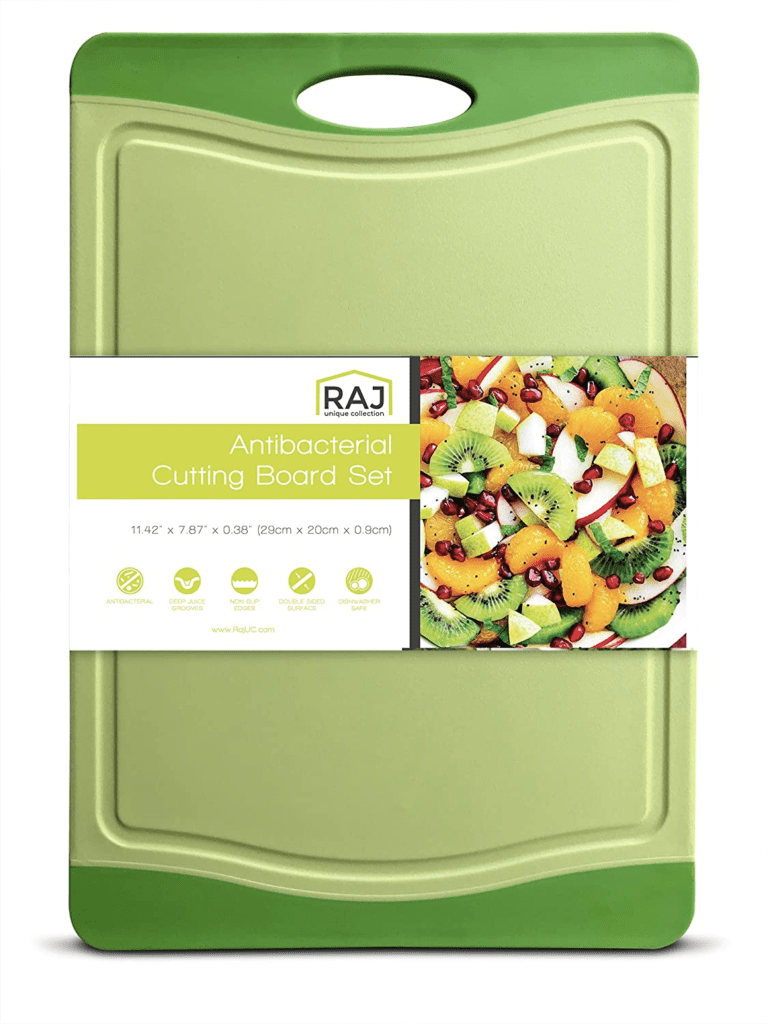 If you're looking for something budget-friendly, this board here is perfect! This board is smaller than others on our list, at 11 x 7 inches, but it sure is mighty! This board has some great additional features, including a handy juice trench and large grips on its top and bottom for better stability.
This board is dishwasher safe and stain-resistant. It's also double-sided, so you can go without the juice trench for a wider flat surface if needed.
Best Premium Product: Norpro Professional Cutting Board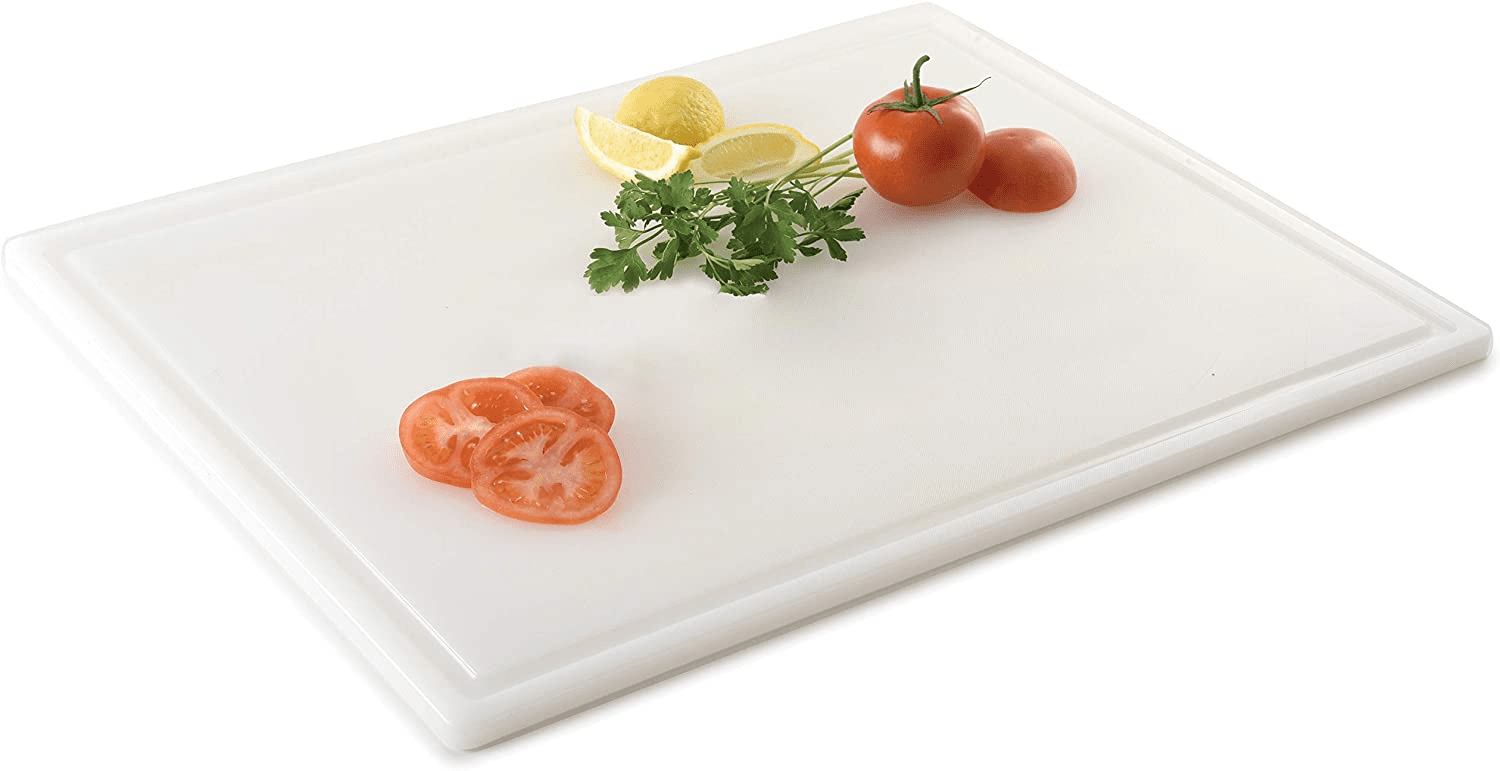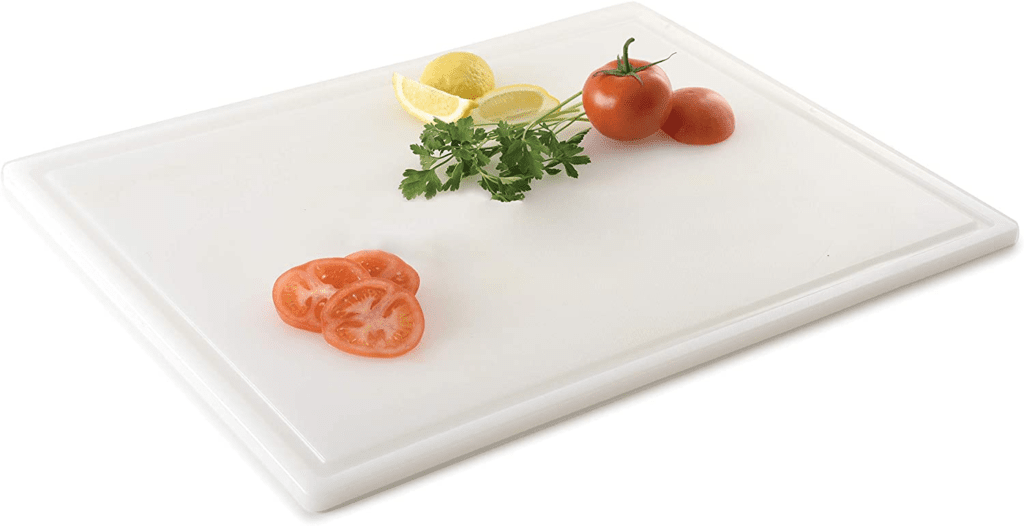 If you are looking for something of professional quality, we recommend this cutting board from Norpro. This cutting board is fairly large at 18 x 24 inches, making it great for any prep work, big or small! It's a double-sided board, with one smooth side and one side with a handy juice trench for meat carving.
This one is made of high-density polyethylene and won't scratch, crack, or warp as easily as other plastics. If you want a cutting board that provides a large, solid working area, this is the best choice out there.
Best Color-Coded Set Product: Index Color-Coded Cutting Boards Set with Holder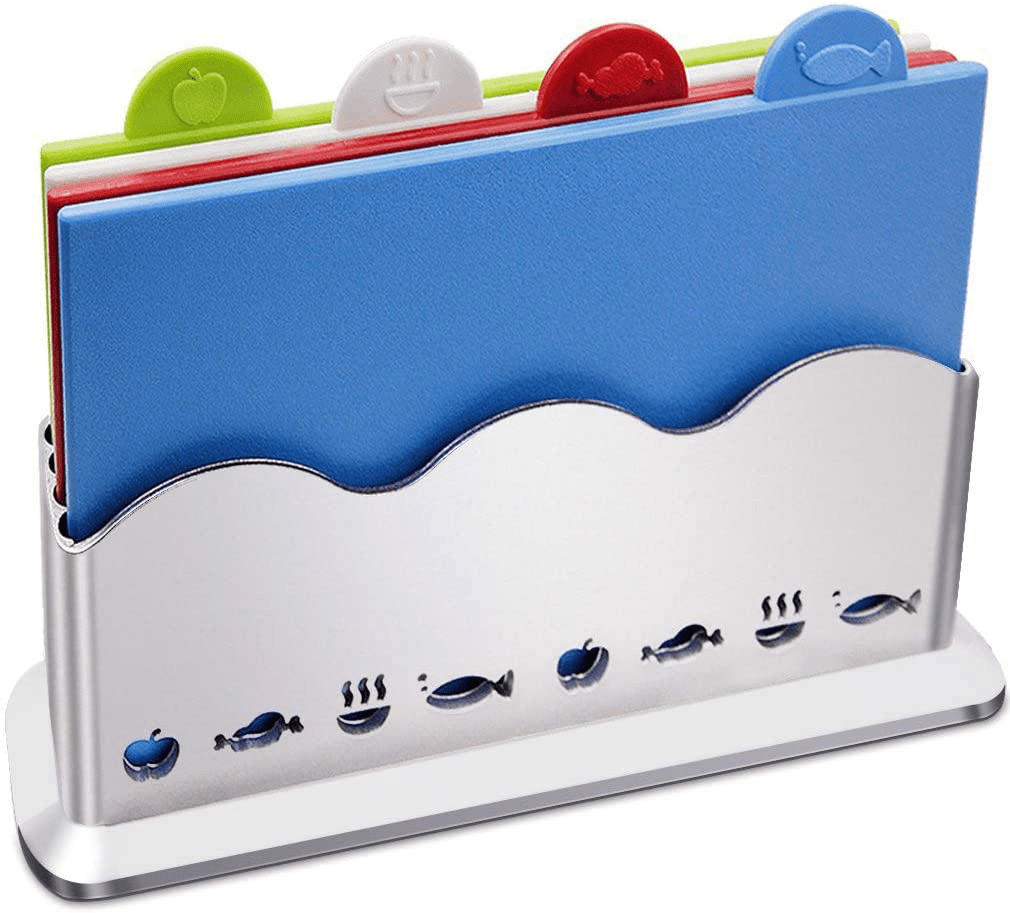 Cutting board sets can be super handy, especially for the cook trying to keep organized and avoid cross-contamination during cooking. That's why we love this color-coded set here, which has specific boards for raw seafood, raw meat, vegetables, and cooked meats.
With color-coded boards, you can safely cook while ensuring you aren't spreading any harmful bacteria. These boards are plastic, dishwasher safe, and easy to clean. They're smaller at 11 x 7 inches, making it great for cooks looking to save space.
These boards even come with a convenient storage case with hollow drainage to avoid any water or bacteria from gathering in the case. They'll look great on any counter and be a welcome addition to your kitchen.
Best Carving Product: Karving King Kitchen Dripless Cutting Board 2 in 1 System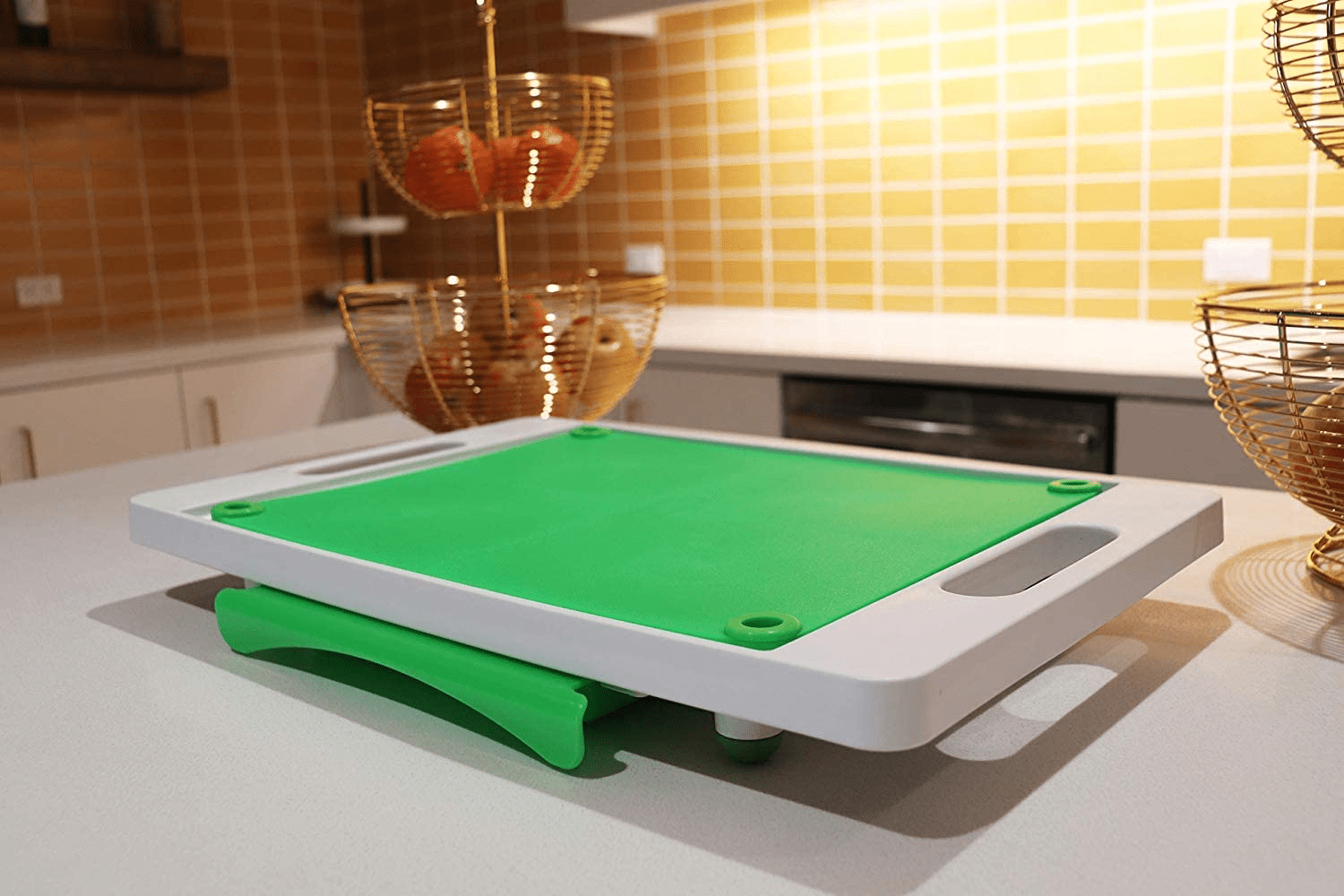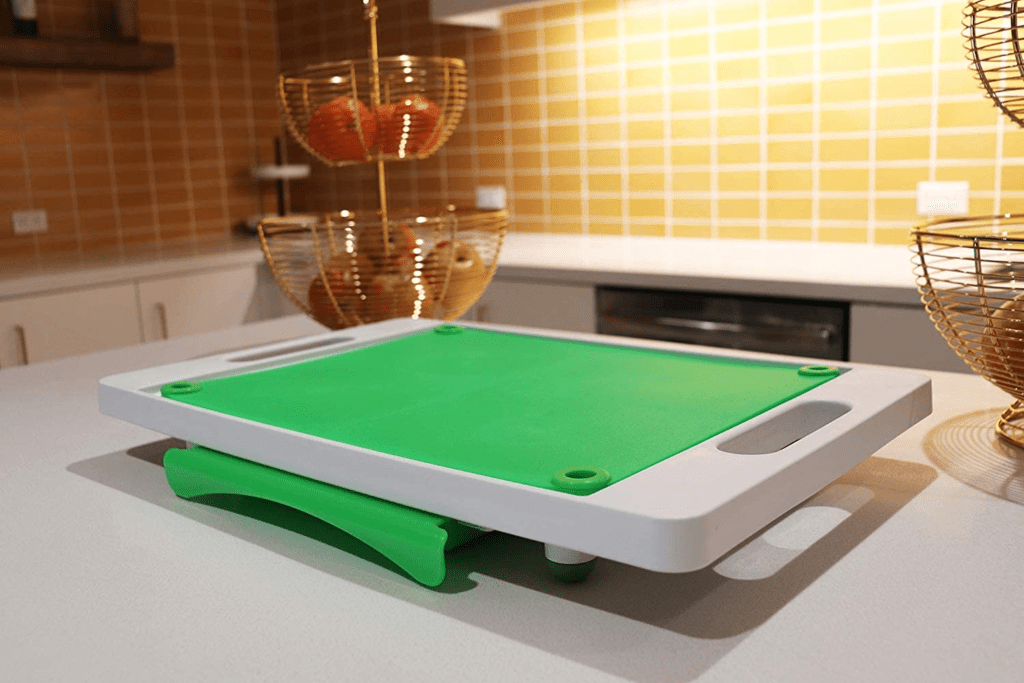 If you're looking for a plastic cutting board specifically for carving meat, this board from Karving King brings a unique design to the table.
This carving board station features a large, 20 x 13-inch plastic carving tray. This tray is elevated from the ground, with rubber non slip feet to hold it in place. The cutting board surface is fitted with unique spikes to hold meats in place during carving.
When cutting meat, any juices will drip down below the cutting board surface and get caught in the drip tray below. The drip tray has a convenient spout end, so you can easily transfer it into pots and pans when making gravy.
This product also comes with a cutting board insert for a smoother flatter surface when needed. Best of all, this product is dishwasher safe and comes in different colors to match your kitchen style!
Best Novelty Product: KitchenCraft Non-Stick Reversible Cut and Serve Strawberry Shaped Chopping Board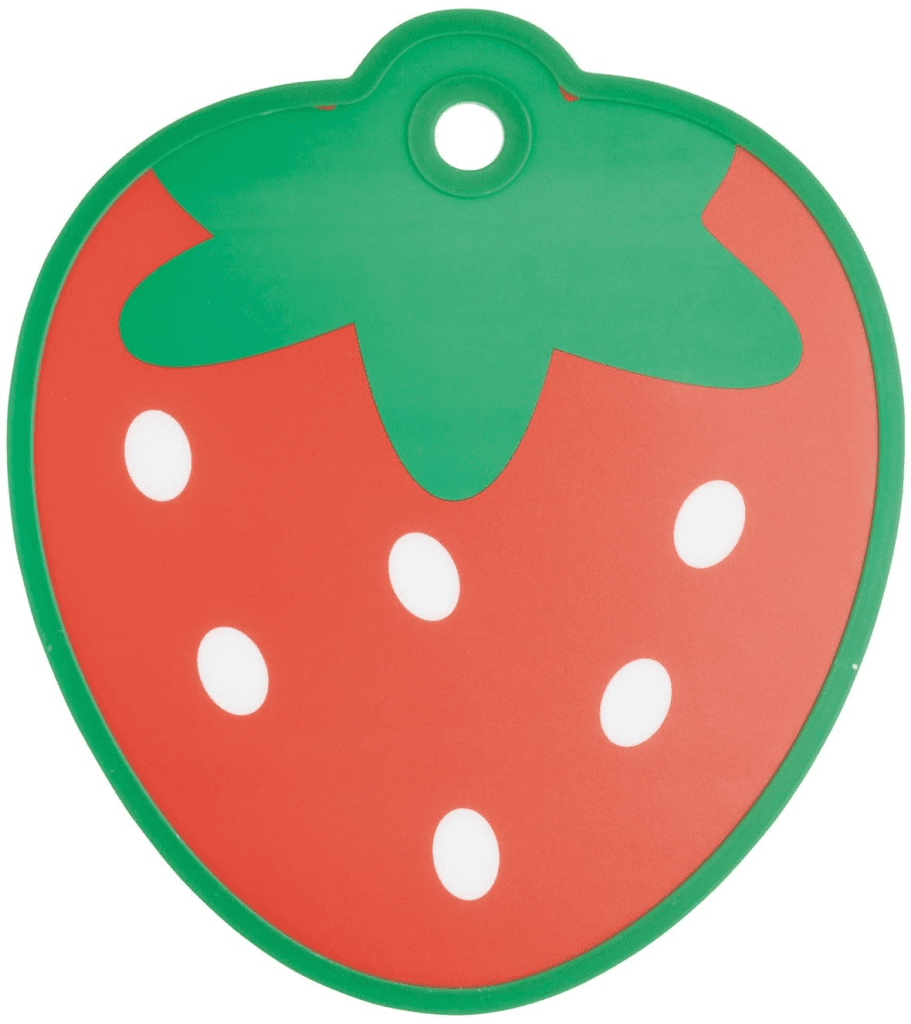 Sometimes, you just want something cute! Thankfully, cute aesthetics meet reliable quality with this cutting board from KitchenCraft. This plastic cutting board is, quite adorably, shaped like a little strawberry. Its plastic material is gentle on knives and dishwasher safe.
This board is quite small, at only 10 x 9 inches, so it's best for less heavy-duty chopping. It may not be good for carving turkeys, but you can chop up fruit just fine! If you want something bigger, KitchenCraft also offers larger cutting boards shaped like a pear, lemon, or watermelon. You can get them all, and have a cute, fruity kitchen.
Plastic Cutting Board FAQ
We got the answers to all your burning questions! Here are the most frequently asked questions people have when it comes to plastic cutting boards.
How do I clean a plastic cutting board?
A plastic cutting board can be cleaned just like any other kitchen utensil. We recommend using hot water and soap, and handwashing in the sink. Using a scrubbing brush if best here, to remove any bacteria stuck on the board's surface.
If you read your cutting boards manufacturer instructions and it's okay to do so, we also recommend putting it in the dishwasher. The dishwasher can provide that extra measure of sanitation needed for cutting boards, especially when working with meat and seafood.
How do I restore a plastic cutting board?
Plastic cutting boards can become easily damaged after frequent use. As the material is not as hard as something like glass, your knives will often leave cuts, scrapes, and indents on your board's surface over time.
The easiest way to restore your cutting board is to scrape away the damaged plastic, to reveal a new, smooth surface. The safest and easiest way to do this is with a cutting board refinisher. These tools are large and strong enough to scrape away plastic and get your board looking brand new again.
Are wood cutting boards better than plastic?
The answer to this question depends on the context of what and how you are cooking.
A wood cutting board and a plastic cutting board can be used for pretty much any food you are cooking. However, they both hold some distinct benefits depending on how you use them.
Wood is a hard, yet gentle material, good for most cooking. A wood cutting board is porous, and can often only be hand washed to avoid water damage or cracking. A wooden board also requires some regular care, in the form of monthly oiling to keep the wood dense and firm. However, it's super gentle on knives and can last a lifetime with proper care.
In contrast, plastic is nonporous, making it safer for use when cooking with meats and seafood. Its nonporous nature also makes it much easier to clean, and it can often be dishwasher safe. Plastic doesn't require the same level of care as wood, but it is more prone to damage from knives, meaning they need to be replaced more often.
In general, you can use a plastic and wooden cutting board interchangeably! However, for the safest cooking experience with meats and other bacteria-prone foods, plastic is the safer choice.