This recipe for easy Roasted Kielbasa and Potatoes transforms the beloved Polish sausage into a delicious one-pan meat and potatoes dinner.
How do you cook kielbasa? First, slice the sausage into bite-sized pieces, season them with olive oil, salt, garlic, and parsley, and transfer to a baking sheet. Roast in a 400°F oven for 40 minutes, until browned, juicy and crisp. Serve and enjoy!
Kielbasa and potatoes is a classic Polish dinner that's both filling and flavorful. And when you know how to make it in your oven, it is very likely to become your new go-to one-pan weeknight dinner. We are covering exactly what you need to know to make delicious and satisfying roasted kielbasa and potatoes for dinner tonight.
What is Kielbasa?
Kielbasa actually refers to all of the meat sausages that come from Poland. These include smokey sausages, large, thinly sliced sausages, or hot and spicy dried sausages. However, in the US, when most people refer to kielbasa, they're talking about a tubular link sausage that's often infused with Eastern European flavors like garlic, cloves, and marjoram.
Usually, kielbasa is either made with all ground pork, or a combination of pork and beef. It is often smoked and can add a wonderful smoky flavor to dishes made indoors.
Kielbasa vs. Bratwursts
Kielbasa is not to be confused with German bratwurst sausages. While they are similar, kielbasa are technically from Poland, while bratwursts are from Germany. That being said, there are many similarities between these two European-style sausages. For example, both are often sold in a similar long tubular shape and can be smoked or dried before sale. You'll also find similar seasonings in both kielbasa and bratwurst sausages, so if you enjoy this recipe for kielbasa and potatoes, next time give it a try with bratwurst!
What's a good side dish for kielbasa?
Kielbasa sausages pair well with any dish you'd normally enjoy with sausages. One of the most classic meals featuring kielbasa is simply a roasted or grilled sausage topped with plenty of tangy sauerkraut.
Or, for a Polish twist on your breakfast, you can serve kielbasa alongside scrambled eggs and buttered toast.
Kielbasa is also an easy and flavorful way to add protein and smokiness to brothy soups. It pairs well with cabbage, beans, leafy greens and root vegetables for a hearty and warming stew.
On its own, kielbasa is excellent simply sandwiched into a toasted bun with your favorite toppings, including pickles, mustard and hot sauce.
But for today's recipe, you won't need any side dishes at all. In fact, this roasted kielbasa and potatoes dish comes together in just one pan and it includes everything you need for a filling and comforting meal: protein, sides, and all.
How to Make Roasted Kielbasa and Potatoes
Ready to get cooking? Let's dive into the recipe for this hearty Polish dinner you'll be craving all week long.
Ingredients
First, assemble your ingredients. You'll need the following items for this one-pan dinner:
1 pound of kielbasa
3 pounds of small red potatoes
2 minced garlic cloves
2 tablespoons of minced fresh parsley
Olive oil
Salt
You can use other seasonings and herbs if you like, for example, garlic powder will work instead of fresh garlic. Minced chives, basil, cilantro, tarragon, and other fresh or dried herbs are all good substitutes to parsley as well.
Prep the ingredients
Step 1: Wash the potatoes
First, prepare your potatoes for roasting. Since these guys grow underground, you can expect some dirt to cling to their skin. Run the spuds under cold water and gently scrub any dirt off the surface of the potatoes. Place the clean potatoes on a cutting board for the next step.
Step 2: Slice the kielbasa and potatoes
Next, working on a cutting board, slice the kielbasa into roughly 1-inch rounds. There's no need to measure but opt for similar-sized pieces so the meat cooks evenly. Likewise, cut the potatoes into halves or quarters if they're very large. Place the meat and potatoes into a mixing bowl.
Step 3: Season the kielbasa
Now let's season everything. First, drizzle the olive oil into the bowl, using just enough to lightly coat the sausage and potatoes pieces. Next, add a few pinches of salt. And finally, add the finishing touches of garlic and the parsley.
Remember that the sausage itself is already highly seasoned and flavored with herbs and spices, so you don't need to go overboard with salt and other seasonings in this dish.
Not too sure about how much seasoning you need? A good rule of thumb is for every pound of kielbasa, use 2 tablespoons of olive oil, 1 teaspoon of salt, 2 pressed garlic cloves, and 2 tablespoons of minced parsley. If you don't have fresh parsley, you can use 1/2 tablespoon of dried parsley.
Step 4: Stir thoroughly
Make sure you stir the contents of the bowl once or twice to coat everything nice and evenly.
Cooking kielbasa
Step 1: Preheat the oven
Preheat the oven to 400°F (205°C). While you wait for the oven to come up to temperature, find a large rimmed baking sheet. For easier clean-up, you can line the baking sheet with parchment paper as well.
Step 2: Put everything in a baking sheet
Spread the kielbasa and potatoes into a single layer on the baking sheet. Make sure every piece has space around it to brown. If you're doubling the recipe, you may need to use two baking sheets.
Step 3: Roast the kielbasa and potatoes
Place the baking sheet in the oven and cook the kielbasa for 40 to 50 minutes. Stir the sausage and potatoes after 20 minutes. Once the time is up or the potatoes are brown and crispy, check that the potatoes are fully cooked. Use a fork or a skewer and insert it into a potato. If you get to resistance, then you're ready to serve and enjoy!
Do you have to cook kielbasa?
Kielbasa is almost always sold pre-cooked in America. Part of the sausage-making process for kielbasa is to cook and smoke and cook the meat before it's packaged and sold to consumers. However, cooking the kielbasa at home will help the meat get nice and crispy on the edges and allows some of the fat inside to render out and season your potatoes or other side dishes.
How do you know when kielbasa is done?
When roasting kielbasa, you don't have to worry about undercooking it. In most cases, you're using fully-cooked sausage. Of course, always double-check the package to ensure this the case. So your sausage is cooked when it has the golden brown edges you're looking for.
However, if you happen to have kielbasa that is not fully cooked, the best way to know that your meat is ready to eat is by testing it with an internal thermometer. According to FoodSaftey.Gov, ground meats and sausages are considered safe to eat when they reach an internal temperature of 160°F.
What to Serve with Roasted Kielbasa and Potatoes
If you're looking for a nice side dish to round out this meal, try something green and fresh like roasted broccoli or a simple side salad tossed in a light vinaigrette.
Storage Suggestions
You can store leftover roasted kielbasa and potatoes in an airtight container in the fridge for up to four days. To reheat, you can roast the dish on a baking sheet in the oven or simply pop it into the microwave until hot.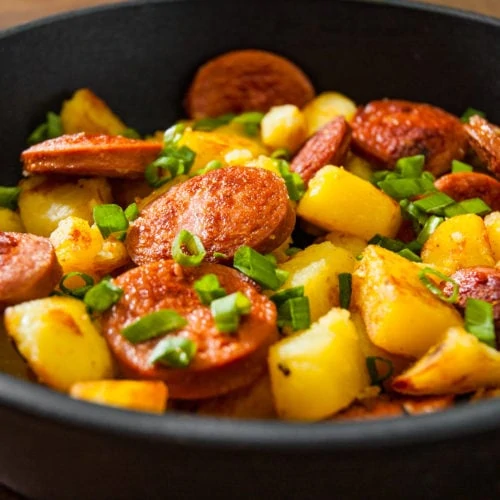 Roasted Kielbasa and Potatoes
How to roast kielbasa and potatoes for an easy one-pan meat and potatoes dinner recipe.
Equipment
Baking sheet

Cutting board

Chef's knife
Ingredients  
1

pound

kielbasa

3

pounds

small red potatoes

2

tbsp

olive oil

2

garlic cloves

minced

1

tsp

salt

2

tbsp

minced fresh parsley
Instructions 
Preheat the oven to 400°F.

Slice the sausage into 1-inch pieces. Slice the potatoes in half or quarters so they're a similar size to the sausage pieces.

In a bowl, toss the sausage and potatoes with the oil, garlic, salt, and parsley.

Arrange on a baking sheet and roast for 40 to 50 minutes, until crispy on the outside and the potatoes are fork-tender.