Learn how to cook creamy and delicious pinto beans from dried for a healthy plant-based protein source. Plus, how to turn them into easy refried beans at home. 
Pinto beans are an excellent and healthy protein source to add to your diet. And when you cook them from dried, you can tap into an entirely new depth of flavor and texture. Plus, it's easier to do than you might think! 
How do you cook pinto beans from dried? First, soak them overnight until soft. Then drain the beans and simmer them in a pot of water for 2 hours, until tender. Then you can enjoy them as-is or transform them into easy refried beans!
Want to go the extra mile and make refried pinto beans? Sauté the cooked pinto beans in olive oil with garlic, jalapeños, lime juice, and paprika for a couple of minutes, serve and enjoy!
What's the difference between pinto beans and refried beans?
Pinto beans are a variety of raw beans, much like black beans, kidney beans or white beans. You can buy them dry or canned. Dried beans must be soaked and cooked to become edible. You can season them with spices and herbs before you serve and enjoy them. 
Or, instead of eating the cooked pinto beans as-is, you can make an entirely new dish of refried beans. Refried beans is a delicious traditional Mexican dish that consists of very soft, almost pureed pinto beans seasoned with spices
No matter how you decide to eat your beans, pinto beans make a delicious and healthy meal! Either way, however, you'll start by soaking the beans and simmering them until soft. Read on for the easy step-by-step instructions to cook pinto beans from raw. 
How to cook pinto beans from dried
Let's start at the beginning, with instructions to turn dried pinto beans into a soft and flavorful side dish. Then, read on for instructions to make refried beans. 
Ingredients
To simply cook pinto beans from raw, you only need two simple ingredients (plus water): 
1 pound of dried pinto beans

Salt, to taste
However, if you'd like to go the extra step and make your cooked pinto beans into creamy refried beans, you'll need a few extra ingredients:
4 cloves of minced garlic

1 diced jalapeño

Juice of half a lime

1 teaspoon of smoked paprika
While these are suggestions for how to season your refried pinto beans, you can feel free to experiment with other seasonings and spices. Pinto beans offer an excellent blank canvas to add your favorite flavors. 
You can go spicy with a dash of cayenne or chili pepper. Or add an herbal note to your cooked pinto beans with fresh or dried herbs like cilantro, basil or parsley. Other spices that pair well with pintos include cumin, turmeric, cardamom, and even cinnamon. 
Prepping dried pinto beans to be cooked
Step 1: Wash the pinto beans
First, clean your dried beans. To do this, place the dried pinto beans in a large bowl. Take a moment to carefully sort through the beans. Remove anything that shouldn't be there. This includes little rocks and beans that have gone bad. Don't worry, this sort of debris is a natural result of the harvesting and drying process. 
It's normal to find small things in your dried beans, which is why it's always important to thoroughly check them before cooking.  You should follow the same strategy for other dried beans and legumes, including chickpeas and lentils. 
Step 2: Soak the pinto beans
Next, place the bowl of beans in the sink and cover them with cold water by several inches. Now the beans will need to soak for at least 6 hours. As the beans soak, they will absorb water. So keep an eye on them and add more water as necessary to maintain several inches over the beans at all times. 
The beans can soak right on the counter, no need to place them in the fridge. You can cover them with a dishtowel to prevent anything from falling into the bowl. 
Step 3: Drain the bowl and rinse the beans
After the beans are done soaking, drain the water from the bowl. Transfer the beans to a colander and rinse them under running water for a minute or two.
Cooking pinto beans
Step 1: Fill a large pot with water
Now, you're ready to start cooking the beans. Find a pot large enough to hold all of the beans, plus water. Add the beans, then cover with two inches of water. If you're measuring, you can use about 10 cups of water per pound of beans.
Step 2: Boil the beans
Place the pot of beans on the stove over high heat and bring the water to a boil. As soon as the water begins to boil, reduce the heat to a simmer. Then cover the pot and let the pinto beans cook at a simmer for 2 hours.
Check the simmering beans every so often and add more water as necessary so they are always fully submerged by at least two inches as they cook. 
Step 3: Check the beans
After the beans have cooked for two hours,  remove the lid and taste your pinto beans. If they are tender, soft, and delicious, you're good to go! However, if they're still hard in the center, they need a little bit more time. Continue cooking the beans for up to 30 more minutes, until they reach your desired texture. 
Bear in mind they need to be tender but a little bit firm. If you overcook them they'll become mushy!
Step 4: Serve and enjoy or make refried beans
Once the pinto beans are done, you can drain them, season with salt or other flavorings, and serve them up hot. Or, if you have more time, you can turn them into creamy refried beans. If that's your plan, then don't discard the cooking water in the pot just yet. 
Cooking refried beans
Here's how to turn your soft-cooked pinto beans into delicious refried beans.
Step 1: Heat a skillet
First, heat a medium-sized skillet over medium-high heat. Add a drizzle of olive oil just to coat the surface of the pan. Swirl the pan to coat with the oil. When the oil shimmers, it's hot enough. 
Step 2: Add jalapeños and garlic
Once the oil is warm, add the minced garlic and the jalapeños. Cook, stirring occasionally for 5 minutes until the jalapenos start to soften. If the garlic is browning too quickly, reduce the heat to prevent burning. 
Step 3: Cook the refried beans
Next, add the cooked, drained beans to the skillet and saute for 2 minutes.
Step 4: Simmer the refried beans
Add half of a cup of the bean cooking water into the skillet. Then reduce the heat to medium and simmer. Squeeze half a lime into the skillet and add the paprika or other seasonings. Stir and continue to simmer until the water is mostly gone and the beans are very tender and soft. Taste and adjust the seasonings as needed.
If your beans are not as tender as you'd like when the water is evaporated, you can add more liquid as necessary and continue to cook until you reach your desired consistency. If you like very smooth refried beans, you can puree the mixture with an immersion or upright blender. 
Do pinto beans have to be soaked before cooking?
Yes, you have to soak dried pinto beans before cooking them. Soaking the beans is important for several reasons. First, it removes indigestible elements from the beans. It also cleans them well. And it begins the softening process so your beans cook in just two hours and have a better flavor and texture. 
On the other hand, if you buy canned beans, you do not need to soak them, these have already been fully cooked. 
Are refried beans fried twice?
Don't let the name fool you, refried beans aren't actually re-fried! They are cooked twice, but not fried twice. Refried beans are named that way because you have to cook them first and then fry them second.
What to serve with refried pinto beans
Pair your creamy refried beans with other savory dishes like tacos, burritos or fajitas. This side dish is also great with simple pan-seared pork chops or slices of pork roast.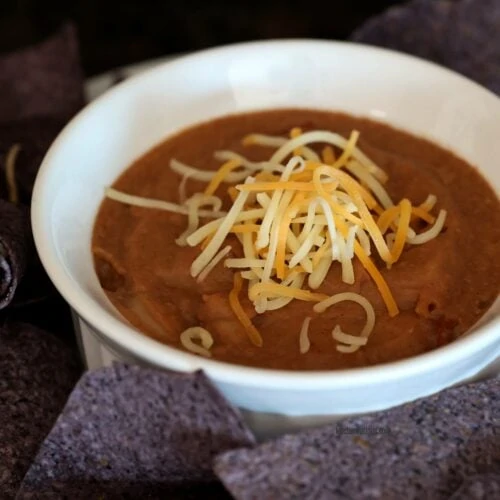 Refried Beans from Dried Pinto Beans
How to make creamy and delicious refried beans using dried pinto beans.
Equipment
Large pot

Colander

Wooden spoon

Cutting board

Chef's knife
Ingredients  
1

pound

dried pinto beans

Salt

to taste

4

cloves

garlic

minced

1

jalapeño

diced

1/2

lime

juiced

1

teaspoon

smoked paprika
Instructions 
Wash and sort the pinto beans to remove any debris.

Place the beans in a large bowl and cover with water. Soak for 6 hours, adding more water as necessary to keep the beans submerged.

drain the beans and transfer to a large pot. Cover by two inches with water and bring to a simmer. Cover the pot and simmer the beans for 2 hours, until very tender.

Drain the beans, reserving 2 cups of the cooking liquid.

First, heat a medium-sized skillet over medium-high heat. Add a drizzle of olive oil just to coat the surface of the pan. Swirl the pan to coat with the oil. When the oil shimmers, it's hot enough.

Add the garlic and jalapenos and cook for 5 minutes, stirring.

Add the beans and cook for 2 minutes.

Add 1/2 cup bean cooking liquid and bring to a simmer. Add the lime juice and paprika and cook until the water is mostly gone and the beans are very soft. Season to taste with salt and if you like, puree or mash the refried beans.