Learn how to make the best meatballs Italian-style with a bread-based panada, ground beef, pork, dried spices, and cheese for extra flavor.
How do you make the best meatballs? First, prepare the panada with bread and milk. Then prepare the meatball mix with seasonings and ground meat. Refrigerate this for 20 minutes, then shape your meatballs by hand. Finally, bake them at 425°F for 20 minutes and serve.
How to make the best meatballs
There are hundreds, if not thousands, of different ways to make great-tasting meatballs. Every recipe is an opportunity to induce ground meat with flavor in the form of dried and fresh herbs, melted cheeses, and more seasoning. 
This recipe for the best meatballs follows a traditional Italian style. It carefully walks you through the steps to produce perfectly shaped, juicy and delicious meatballs with a few ingredients and nothing more than your oven. 
Tips for making meatballs
Before you start cooking, here are the most important tips to keep in mind in order to make the all-around best meatballs:
One of the best ways to maximize the flavor of your meatballs is to combine different varieties of meat: A lot of people go 100% beef when they prepare meatballs (and if that's what you are after, go for it!). However, you can take your homemade meatballs from good to great by adding ground pork, sausage, and other flavorful meats into the mix. Each variety of meat brings its own flavor and texture that's hard to replicate another way. 

Milk and bread matter: When you prepare meatballs, you need to mix them correctly, or you risk ending up with an odd texture. Or worse, your meatballs will fall apart before you can plate them. The panada, a simple mixture of milk and breadcrumbs, is the key to keep everything together. It also keeps the meat tender and juicy. 

Get your hands dirty: Meatballs need to be gently mixed together. They also need to be mixed just right. And the best way to know when yoru meat mixture is properly mixed without overdoing it is to use your hands. Use just your fingertips to delicately work the seasonings and meats together to a uniform consistency. Be sure to stop before things get tough, dense, or gluey. 
Ingredients for the best meatballs
Here are the ingredients to line up when you're ready to make the best Italian-style meatballs at home with several varieties of meat and plenty of seasoning:
1 pound of ground beef

1 pound of ground pork

3 crushed cloves of garlic

2 eggs

1 diced onion

1/2 cup of whole milk

1/3 cup of bread crumbs

1/4 chopped bunch of fresh parsley

2 tablespoons of olive oil

2 tablespoons of grated Parmesan cheese

1 teaspoon of dried Italian herb seasoning

2 teaspoons of salt

1 teaspoon of ground black pepper

1/2 teaspoon of red pepper flakes
Making the meatballs
Step 1: Prepare the panada
Start making your meatballs by assembling the panada. To do this, add ½ cup of whole milk to a medium bowl. Add ⅓ cup of breadcrumbs and stir to combine. Then simply let this mixture sit for 20 minutes. The bread crumbs will absorb the milk and turn into a creamy paste-like substance. This will help bind your meatballs together and help them retain moisture. 
Step 2: Prepare the meatball mix
While the panada soaks, you can get started mixing up the meatball ingredients. The first step is to cook the onions. Heat a large skillet over medium heat. Add olive oil to warm. Once the oil is smoking, add the onions and sauté for 20 minutes, until they are softened and caramelized. Stir the onions regularly to prevent burning. 
While the onions cook, get out a second mixing bowl. Add all of the remaining ingredients to the bowl. Don't mix anything yet. When the onions are cooked, add them to the bowl with the remaining meatball ingredients, along with the panada. Give everything a gentle mi with your hands, making sure not to overmix.
Step 3: Chill the meatball mix
Now, this mixture will need to chill for 20 to 30 minutes. Cover the bowl tightly with plastic wrap and place it into the fridge. This step helps the flavors develop and helps the meatballs adhere better to themselves so they won't fall apart during cooking. 
Cooking the meatballs
Step 1: Preheat the oven
While the meatballs are chilling, preheat your oven to 425°F (or 220°C).
Step 2: Get the baking sheet ready
Grease a large rimmed baking sheet with nonstick spray or line it with a piece of parchment paper. This will make clean up a lot easier. 
Step 3: Shape the meatballs 
Remove the bowl of meatball mixture from the refrigerator. Wet your hands (it can be helpful to have a bowl of water at your workstation for this job) and shape the mixture into small, evenly-sized meatballs. They should be about 1-inch in diameter. Arrange each meatball on the prepared baking sheet. 
It's best to work quickly here, as the meat mixture shouldn't warm too much or be handled too much before cooking. 
Step 4: Roast the meatballs
When all of your meatballs are shaped and on the baking sheet, transfer the baking sheet to the oven. Cook the meatballs for 20 minutes. Rotate the pan halfway through cooking for even browning. 
Step 5: Serve
When the meatballs are browned on all sides and no longer pink in the center, they are cooked. Remove the baking sheet from the oven and serve them up!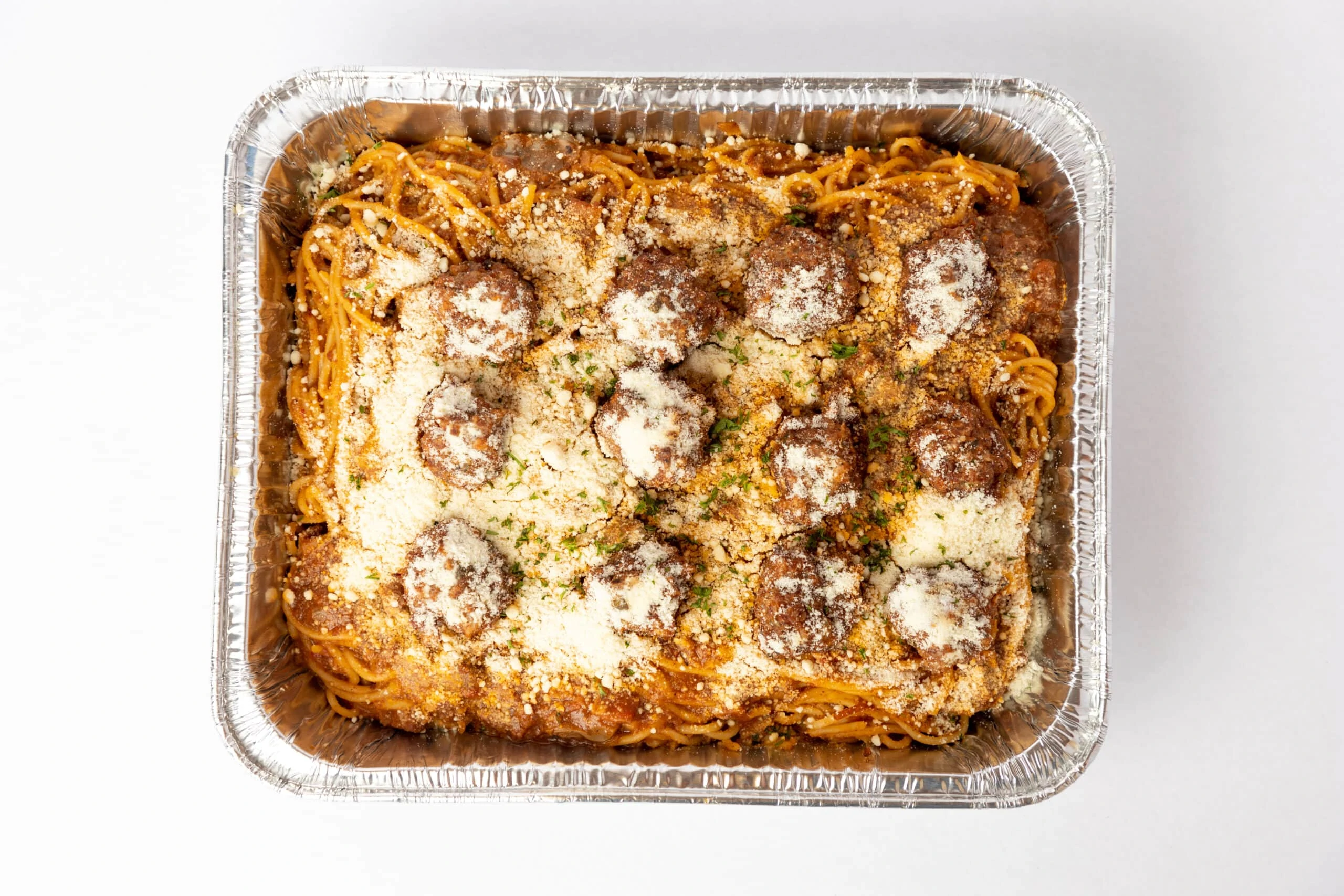 Is it better to fry or to bake meatballs?
You can bake meatballs by following this recipe. Or, you can pan- or even deep-fry them. Both methods work to thoroughly cook the meatballs and all are worth trying. However, roasting the meatballs in the oven is an easier more hands-off method that is better for first-time meatball makers. 
Deep frying meatballs will add extra oil to the finished product, and will also give each and every meatball a perfect golden brown, crispy crust all the way around. You won't get quite the same level of the golden crust by roasting the meatballs in the oven. 
How to know if meatballs are cooked
There are two ways to check whether your meatballs are cooked or not: looks and temperature. 
First, you can play it by eye if you want to. All you have to do is check the outside and inside of one of your meatballs. Cut it in half. If the outside is brown and the inside is no longer pink, you're good to go. Pink meatballs aren't safe to eat!
If you have a meat thermometer, insert it into one of the meatballs on the center of the baking sheet. According to FoodSaftey.Gov, meatballs are considered safe to eat when they register 165°F (73°C) on an instant-read thermometer.
What to serve with meatballs
The classic serving suggestions for these herby, Italian-style meatballs is spaghetti and tomato sauce. However, you can mix things up and build a healthy rice bowl topped with meatballs. Add a side of roasted veggies for a well-rounded and easy roasted dinner or meal prep recipe. 
Storage suggestions
You can store leftovers in an airtight container in the fridge for up to four days. For longer storage, freeze the meatballs on a baking sheet for one hour. Then transfer to an airtight container and store in the freezer for up to six months.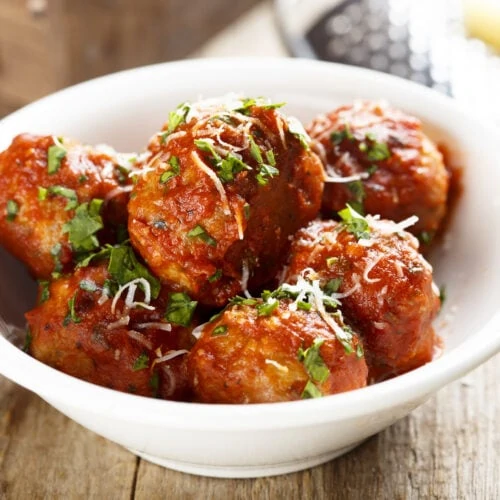 Italian-Style Meatballs
These Italian-style meatballs are the best oven-roasted meatballs you can make!
Equipment
Baking sheet

Mixing bowl

Small mixing bowl

Parchment paper

Large skillet

Tongs

Wooden spoon
Ingredients  
1

pound

of ground beef

1

pound

of ground pork

3

crushed cloves of garlic

2

eggs

1

diced onion

1/2

cup

of whole milk

1/3

cup

of bread crumbs

1/4

chopped bunch of fresh parsley

2

tablespoons

of olive oil

2

tablespoons

of grated Parmesan cheese

1

teaspoon

of dried Italian herb seasoning

2

teaspoons

of salt

1

teaspoon

of ground black pepper

1/2

teaspoon

of red pepper flakes
Instructions 
In a small bowl, combine the bread crumbs and milk and let sit for 20 minutes.

Meanwhile, heat the oil in a large skillet. Add the onion and sauté until soft and caramelized, about 20 minutes.

Combine all of the meatball ingredints in a large bowl, along with the panada and onions. Cover and chill in the fridge for 2 minutes.

Preheat the oven to 425°F. Grease or line a baking sheet.

Shape the meatball mixture into 1-inch balls and place on the baking sheet.

Roast for 20 minutes, until brown on the outside and no longer pink on the inside. Remove from the oven and serve.