Make the best one ingredient ice cream with creamy frozen banana for a healthy dessert that's naturally dairy-free, vegan, and guilt-free!
How do you make the best one-ingredient ice cream? Simply blend a large, ripe frozen banana in a food processor or blender until it's creamy, spoonable, and delicious! Add any of your favorite toppings and enjoy!
Do you ever crave sweet, chilled ice cream but maybe you don't want to eat all the processed additives? Or maybe you're lactose intolerant so traditional ice cream doesn't get along with your digestive system?
One-ingredient banana ice cream is not new to those in health food circles, but let me be the first to introduce you to this dessert wizardry you will love. It's one of the simplest, most delicious, and most fun recipes you will come across.
Have I mentioned that it's also super nutritious? The banana packs very high protein content, folates, fiber, potassium, and vitamins C and B6. What more, it's also naturally sweet, so no need for additives, sugars, or even dairy products if you are allergic. Take a look at this simple, one-ingredient banana ice cream recipe!
How to Make One-Ingredient Ice Cream with Bananas
Is your mouth watering for dessert yet? Here is everything you need to know to make the creamiest, dreamiest one-ingredient dessert.
Ingredients
Yes, you really can make this ice cream with only one ingredient. It's also amazingly inexpensive to make since bananas are cheap.
One large ripe banana
Milk (optional)
Equipment Needed
You probably have most, if not all, of the necessary tools to make this recipe. You need the following items, many of which are recommended on our list of The 21 Essential Tools Required for Every Kitchen at Every Level:
1 chef's knife
1 mixing bowl
Cutting board
Food processor or blender
Freezer-safe container or gallon-size freezer bag
Prep the Ingredient(s) for Homemade Ice Cream
The prep work for banana ice cream is quite simple, and most of the steps take almost no time at all. As a result, this is a great recipe for those of you who have busy lives. You can enjoy the quick and easy work by yourself or even invite your family members to help you with this kid-friendly prep.
Step 1: Peel your banana(s)
You can use as few ingredients as a single banana if you are making a small treat for yourself. However, you can easily scale the recipe up to feed a crowd. Use 4, 6, or more bananas, as long as they fit easily inside your blender or food processor. Make sure you are using overripe bananas for a caramelized texture and sweeter flavor. If the peel is nice and dark, you've got a good banana for the job.
The first step is to simply remove and discard the banana peels.
Step 2: Set your peeled bananas aside
Next, place the peeled bananas on a clean cutting board. Peeling them before freezing them ensures the peels don't get stuck to the rest of the fruit later on.
Step 3: Slice your bananas into coin-like pieces
Using a knife (it can even be a butter knife), cut the bananas into coin slices about a ½ inch thick. If you want, you can cut them into smaller pieces that are easier to process.
Step 4: Arrange your bananas in the freezer-safe container
The next step is to lay the banana slices in a freezer-safe container in a single layer. Ideally, the banana slices won't overlap, because then they will stick together when frozen. You can also use a freezer bag if you prefer that to a container. After sealing the bag or container, toss them in your freezer.
Step 5: Leave the bananas to freeze overnight
You want the bananas icy when you go to use them. If you are in a hurry, you can leave them in the freezer for a minimum of 6 hours. Otherwise, you can keep bananas in your freezer for up to three months and use them whenever you like. If you ever have a banana that is nearing too ripe, it's easy to peel, slice, and toss it into the freezer for future one-ingredient ice cream nights.
Mix and Serve One Ingredient Ice Cream
Now that your bananas are frozen, you're ready to move on to the next phase.
Step 1: Remove your banana slices from the freezer bag or container
The first step is to place the frozen banana slices on a cutting board or plate. If somehow you've ended up with a big clump of banana pieces, rather than individual pieces, you can use a knife to chop them apart a bit. If they're simply too solidly frozen to cut, then let the bananas warm on the counter for a few minutes, until you can easily get a knife through the block.
Step 2: Place your blender or food processor in a secure place
If you don't leave your blender or food processor out on the kitchen counter, take the time now to set it up. I recommend using a food processor for better results. However, a very powerful blender will also work.
Step 3: Pour your banana pieces into the food processor or the high-speed blender
Next place all of the banana pieces into the machine you intend to use.
Step 4: Start pulsing
If your machine has a pulse feature, use it to start blending the bananas and break them down. At first, the frozen banana will change and turn into a crumbly texture almost like sand. Keep pulsing and soon the pieces will look more like mashed potatoes. When necessary, take off the lid and scrape down the sides of the food processor with a rubber spatula in between pulses so that all the banana pieces are rotating and making contact with the food processor or blender blades.
Step 5: Keep pulsing until the banana becomes gooey
Bananas contain a high pectin content, which is what gives this one-ingredient ice cream its gooey, ice-creamy texture when blended.
You can add some milk (dairy or non-dairy) if your processor or blender is not strong enough to smoothly blend the bananas on its own. Or, add a splash simply if you prefer to have a softer, milkier final product.
Step 6: Switch from pulsing to blending
At this point, the banana should looks like chunky oatmeal. Continue mixing until the bits of banana smooth out, and the mixture becomes creamy. You can turn the blender or food processor on all the way now, not just pulsing.
Step 7: Blend for another few seconds until the ice cream texture aerates
You want the texture to be somewhat fluffy. You can also add other ingredients, such as chocolate chips, nuts, nut butter, or sprinkles at this point. Have fun customizing your ice cream!
Step 8: Scoop your one ingredient ice cream into an airtight, freezer-safe container
Using a spatula, scoop the mixture from the blender or processor into the container. A spatula that bends somewhat at the tip helps scrape parts of the mixture that may stick to the bottom.
Step 9: Freeze the banana ice cream mixture until solid
Once frozen, the texture of your one-ingredient ice cream will be like that of traditional ice cream: cold, creamy, melty, and soft.
You can eat it straight from the food processor, but it will be very soft. If you prefer a firmer texture, simply store it in the freezer for a few hours to firm up more before serving.
Step 10: Serve
Grab a bowl, dish up some of this scrumptious "ice cream", and enjoy!
Fun Things to Add to Your One Ingredient Ice Cream
Take your banana ice cream to the next level by adding some of your favorite things. You can make an ice cream concoction as unique as you! Here are some additional ingredients to try.
Chocolate chips/caramel chips
Strawberries/other fruit
Peanut butter
Honey
Candy
Protein powder
You can turn to this unbelievably easy recipe again and again as long as you have a banana. An excellent addition to your recipe collection, banana ice cream is sure to become a favorite with you and your loved ones.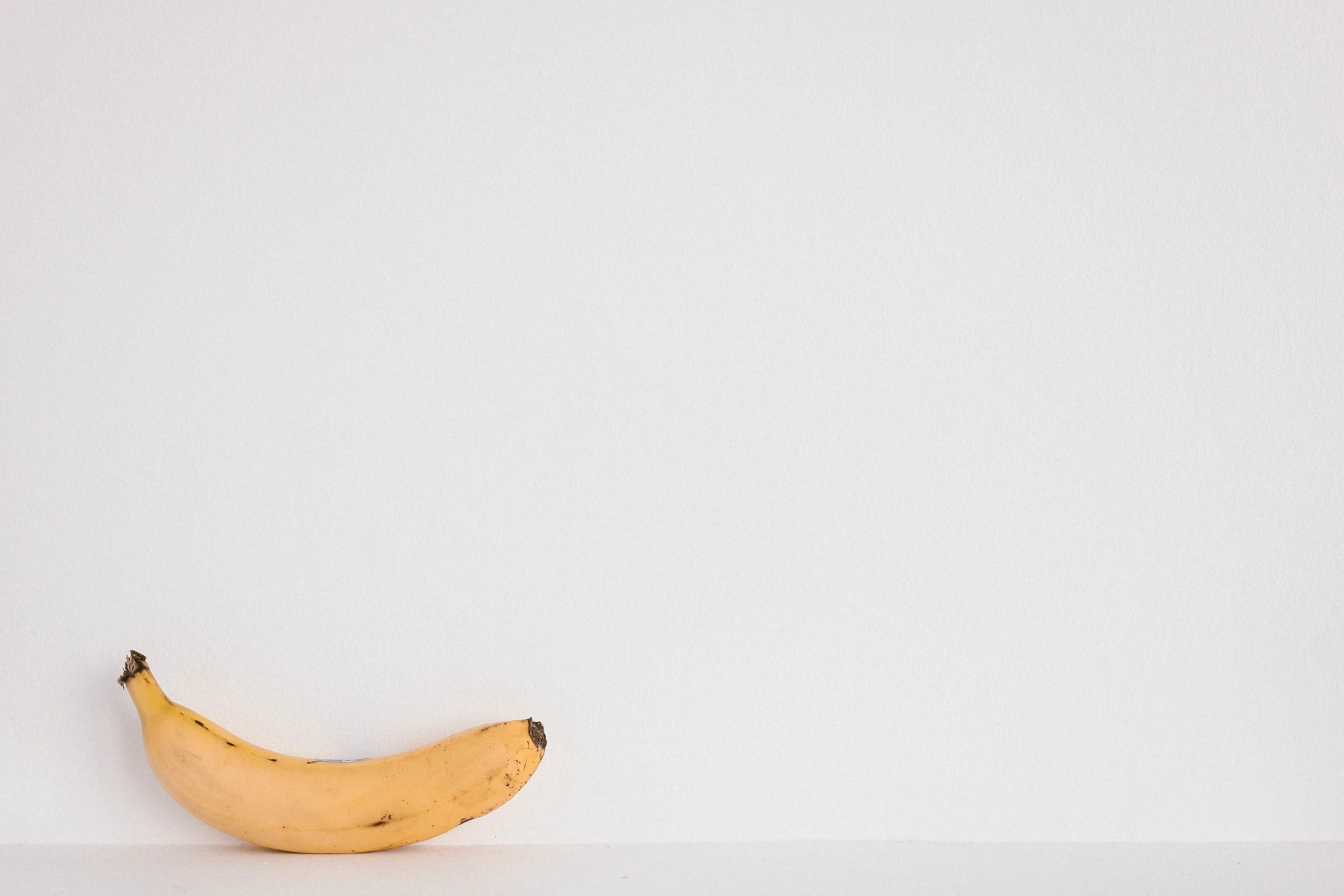 One-Ingredient Ice Cream
Make creamy and delicious ice cream at home with a frozen banana and a food processor.
Equipment
Food processor or blender

Chef's knife

Freezer-safe container

Cutting board
Ingredients  
1

Banana

sliced and frozen for at least 6 hours
Instructions 
Place the banana in a food processor or blender and pulse until crumbly. If you like, add a splash of milk (dairy or dairy-free) and blend on high until light, creamy and smooth. Serve as-si or return to a freezer-safe container and freeze until more firm.