Roasted Turnips is an easy and delicious vegetarian side dish to learn to cook at home.
How to roast turnips? Wash them first, peel them second, chop them into cubes, season them with olive oil and salt, bake at 400 for 30 minutes, and serve.
What are Turnips?
If you're not familiar with turnips, they're a great root vegetable to try out. The most common variety of turnips that you'll find at most grocery stores is called the white turnip. This vegetable is a round bulb-shaped root. It's mostly white with a slight purple-magenta-like shine around the top. The greens are large, long and leafy.
Turnips are technically part of the mustard family of vegetables, and you can taste the slightly sharp mustard-like flavor. This vegetable is thought to be indigenous to Asia, but it's not grown and enjoyed around the world, including throughout Europe and North America.
Can You Eat Turnips Raw?
Yes, you certainly can eat raw turnips. Uncooked, turnips have a very sharp and snappy texture and a bold peppery flavor. They're often shaved or sliced very thinly and tossed into salads, vegetable slaws or used as a crudite for dipping. In general, turnips are often cooked much the same way as other root vegetables like carrots, radishes, and beets.
How do you cook turnips?
If you're not a fan of raw turnips, however, you may in fact love them cooked, as the texture and flavor changes quite a bit.
There are several different ways you can cook turnips at home. The most popular cooking methods include oven roasting, steaming, boiling, or baking. This article covers exactly how to roast turnips in the oven. This method brings out the vegetables' natural sweetness and yields a delicious texture that's soft on the inside and crisp on the outside. The best way to find your favorite way to cook turnips is to try them all and see which one you like the best!
Other delicious ways to try cooking turnips after you master this roasted turnip recipe include:
Steaming and pureeing turnips into a fluffy and creamy mash
Stir-frying turnips with other vegetables until crisp-tender
Simmering in soups or stews
Or, try them as-is straight from the store! Slice them up thinly and enjoy the pure crisp flavor of raw turnips.
How to Choose the Best Turnips
When you're shopping for your turnips to roast, look for white bulbs that are firm with a pearly color. The amount of red or purple on the carrot isn't necessarily an indication of flavor. Instead, pick up the turnip and give it a gentle squeeze. These root vegetables should be very firm and heavy. Avoid any vegetables with soft spots or wrinkles.
And the best bet for freshens is to buy turnips that have their greens still attached. This is a sign of freshness for all products, including carrots, beets and radishes. Once the greens are removed, the vegetables will start to lose moisture and nutrients. Plus, you can even cook the turnip greens as a peppery side dish.
Your turnips will come either individually or as a bunch, but the bunch is usually the only way to get greens, so choose that if it's an option.
How to Roast Turnips
After you have selected a bunch of turnips to bring home, it is time to get cooking! Here are the steps to making simple and delicious roasted turnips at home.
Ingredients
1 bunch white turnips (roughly 1 pound)
2 tablespoons of olive oil
2 teaspoons of salt
This roasted turnip recipe will feed four as a side dish. It's easy to scale up or down using the same proportions listed above to feed more or fewer people.
Prepping turnips
Step 1: Wash the turnips
Of course, the first step for every recipe with vegetables is to thoroughly clean your produce. Turnips grow underground, so be sure to scrub them well. You can do this with a special vegetable scrub brush or your hands.
Step 2: Remove the leaves
Once the turnips are washed, it's time to trim them up a bit.  Place the vegetables on a cutting board and use a sharp chef's knife to remove both the bottom root end and the leaves from the turnip. You can cut about 1/4-inch of the top. Save the leaves to saute if you like, or discard them.
Step 3: Peel the turnips
Peeling turnips is an optional step, but it can make a big difference in how your vegetable dish looks and tastes. Some people think that turnip skin adds a slightly bitter flavor to the vegetables after roasting. This is more true for larger turnips, so if you're working with very big vegetables, it's highly recommended to do away with the peel.
Step 4: Chop the turnips into cubes
Next, cut the turnips down to size. You can cut them into any shape you like, but the most important thing is to keep your cuts as close in size as possible. This ensures that your vegetables cook evenly.
The best way to cut turnips is to cut each vegetable in half first, then into quarters, and so on. Your goal is to have small and even cubes ready to cook. You could also cut the turnips into wedges, sticks or discs if you prefer.
Step 5: Season the turnips
Next, put the chopped turnips in a mixing bowl. Drizzle them with olive oil, using just enough to evenly coat all of the turnip pieces in a thin layer of oil. Toss them, then sprinkle in the salt and pepper and toss again to coat evenly.
Roast the turnips
Step 1: Preheat the oven
Preheat the oven to 400°F (200°C). Line a large rimmed baking sheet with parchment paper. This makes clean-up easier, but is totally optional if you don't have parchment paper on hand.
Step 2: Place the turnips on a baking sheet
Place the seasoned turnips on the baking sheet. Arrange them in a single layer, leaving as much room as possible between the pieces. If you're doubling the recipe, you may want to use two baking sheets. If your vegetables are too close together on the baking sheet, they'll end up steaming, rather than roasting up nice and crispy.
Step 3: Roast the turnips
Place the baking sheet into the oven when it reaches the temperature. Roast the turnips for 30 minutes, stirring them after 15 minutes for even cooking. After 30 minutes, test the turnips with a fork. If a fork easily pierces the vegetables with a bit of resistance in the center, the roasted turnips are done. They should be golden on the outside.
Finally, remove the roasted turnips from the oven, serve and enjoy!
Do you have to peel turnips before cooking?
It all depends on what you like. You can eat the turnips without peeling them if you want to. Keep in mind that if you do, you're bound to end up with a strong after-taste. This isn't too bad if you love turnips, though.
If you do decide to peel the turnips, use a vegetable peeler if you can – it'll make the task 10 times easier than a knife.
Storage Suggestions
You can store cooled roasted turnips in an airtight container in the fridge for up to 4 days. Add them to salads for a nice upgrade at lunch, or reheat them in the microwave or in the oven until warm.
Can I eat raw turnips?
There's nothing wrong with eating raw turnips, however, they can be a little bitter tasting. If you decide to eat raw turnips, remember to peel them, remove the leaves and the root, and wash them thoroughly. Whenever you're eating something raw, you have to be extra careful when it comes to washing it!
What to Serve with Roasted Turnips
Roasted turnips make a nice side dish with cool weather dishes like pork roasts, whole roast chicken or your favorite braised meats and stews.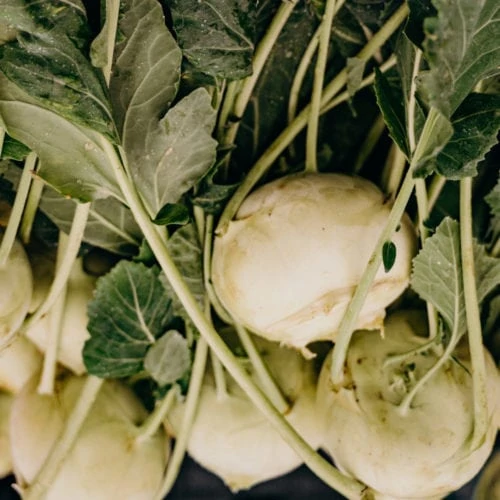 Roasted Turnips
How to roast turnips for a quick and easy 30-minute vegetarian side dish.
Equipment
Chef's knife

Cutting board

Baking sheet
Ingredients  
1

pound

white turnips

diced

1

tbsp

olive oil

1

tsp

kosher salt

1/2

tsp

black pepper
Instructions 
Preheat the oven to 400°F. Line a baking sheet with parchment paper.

In a mixing bowl, toss the diced parsnips with oil, salt and pepper until evenly coated.

Transfer to the baking sheet, spread out as much as possible, and roast for 30 mintues, stirring after 15 mintues.

When the parsnips are golden on the outside and fork-tender, they are done. Serve hot and enjoy!