There are certain essentials that every kitchen needs, and an omelette pan is one of them. Like its close relative, the frying pan, the best omelette pans have a few things in common. They are flat, have a wide bottom, and most of them are nonstick, or at the very least, offer low-stick or nonstick capabilities, making them quite easy to clean.
Ultimately,  an omelette fry pan is all about helping you cook the best omelette you can dream up. With its high and low heat tolerance, as well as an easy food release, finding the right omelette pan for your kitchen should make your egg-loving life and cooking experience more pleasant.
The trick is in finding the right one for your specific needs. Here are a few of the best omelette pans on the market today for your consideration.
Top Recommended Option: Calphalon Contemporary Hard-Anodized Omelette Pan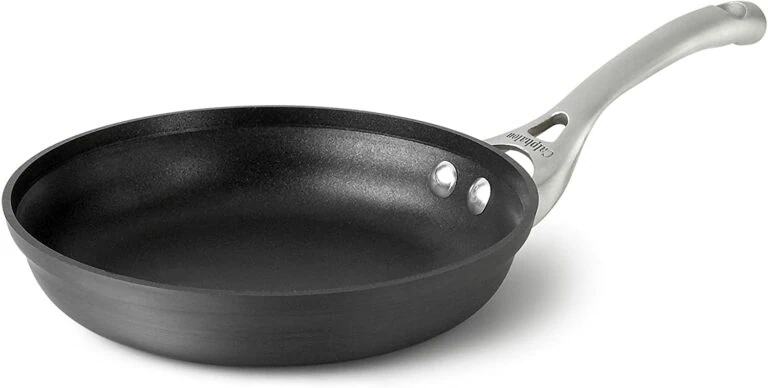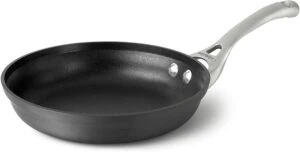 At the very top of our list is this wonderful Calphalon Contemporary Hard-Anodized Omelette Pan. Made out of heavy gauge aluminum construction, this omelette pan provides even heating, ensuring that your omelette is properly cooked through and through. It is extremely durable and dishwasher safe due to its hard-anodized finish.
The pan has a flat and wide bottom, which goes a long way toward ensuring even better heat distribution as well as providing you with enough room for cooking all kinds of omelettes in your kitchen.
Speaking of durability, this Calphalon omelette pan has three layers of nonstick coating on its interior. The first two layers are designed for durability, while the third is specifically tasked with easy food release. This means you no longer have to worry about your omelette sticking to the pan regardless of the ingredients used.
As far as aesthetics and design are concerned, this Calphalon omelette pan has sloped sides, allowing easy rolling and tossing of food. It also comes with a long, brushed handle made of stainless steel. This handle is designed to stay cool even when the pan is on the stovetop for a prolonged period of time.
Finally, the Calphalon pan is oven-safe, which means you can use it for much more than just cooking omelettes. It can also be your go-to utensil for baking gourmet dishes.
Pros
Made out of heavy gauge aluminum
Long, stainless steel handle
Dishwasher safe
Wide, flat bottom
Sloped sides
Nonstick
Handle remains cool
Oven safe
Cons:
Oven safe only up to 450 degrees Fahrenheit
Best Luxury Option: TeChef Specialty Frittata Omelette Pan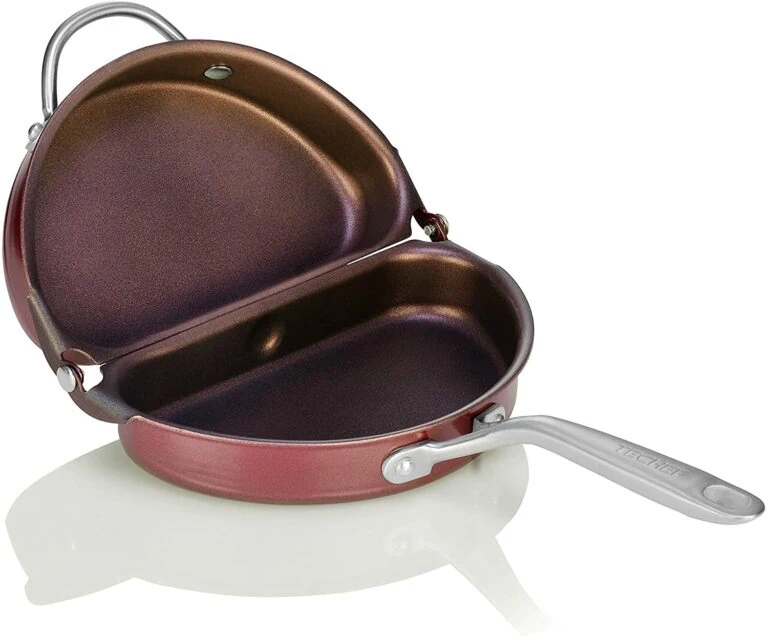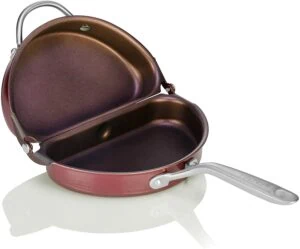 Even though most of the best omelette pans are designed with sloped edges to help you flip and turn the omelette over when cooking, that still requires you to have some skill in that sector, which often introduces human error into the mix.
This TeChef Specialty Frittata Omelette Pan is designed to eliminate that risk, so you don't have to worry about sharing your omelette with the stove or your kitchen floor whenever you try to flip it as they do on TV. The pan itself is divided into two pans connected by a hinge.
This allows you to flip over your omelette easily without turning it or using a spatula. All you have to do is close the pan and flip it over with the contents safely secured inside.
Apart from this feature, the omelette pan has all the right qualities for a good luxury pan. For one thing, it's coated with New Teflon Select nonstick coating, which makes it both easy to use and clean.
It also has stainless steel handles designed to remain cool even when left on the stovetop for a prolonged period. These stainless steel handles are double-riveted, making them extra-strong, stable, and durable. Finally, the TeChef omelette pan is dishwasher and oven-safe for your convenience.
Pros
Unique design
Easy to use
Nonstick
Hinged design makes omelette flipping easy
Stainless steel handles remain cool
Dishwasher and oven safe
Cons:
No stick coating isn't scratch-resistant
Best Premium Option: TeChef Tamagoyaki Japanese Omelette Egg Pan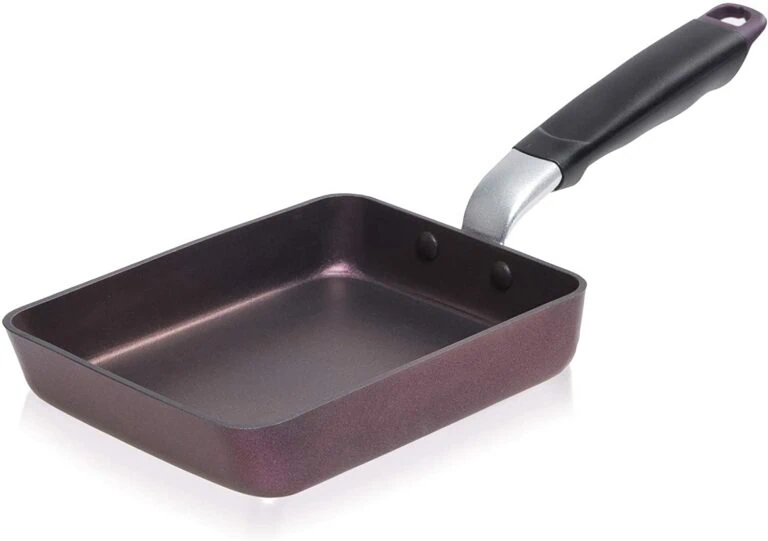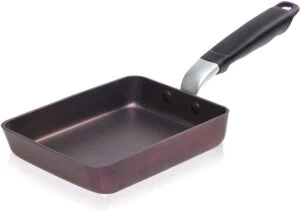 There are some products on the market that have all the right features. A good example would be this TeChef Tamagoyaki Japanese Omelette Egg Pan. Not only does it come with the latest nonstick properties (New Safe PFOA Free Teflon Select), but it also features patented and proprietary scratch-resistant technology, which makes it one of the most durable omelette pans on this list. These are also some reasons why it has taken the "best premium" spot.
What makes this TeChef tamagoyaki pan even more unique is the shape. Unlike most omelette pans, this one isn't circular in nature – it's rectangular. It still has sloped edges that allow for easy flipping and food release, but the shape makes it perfect for more than just omelette flipping.
With this pan, you can cook pancakes and even sandwiches as easily as you can omelettes. It's made out of extra-heavy gauge aluminum with a stainless steel base. Finally, unlike many other options on this list, this omelette pan is induction-ready, which means that you can use it in pretty much any kitchen.
Pros
Works well with induction stovetops
High-quality nonstick properties
Scratch-resistant
Good for sandwiches and pancakes too
Slopped edges for easy flipping
Easy to clean
Cons
It's only best for Japanese-style omelettes
Best Budget Option: CAROTE 8 Inch Nonstick Skillet Omelette Pan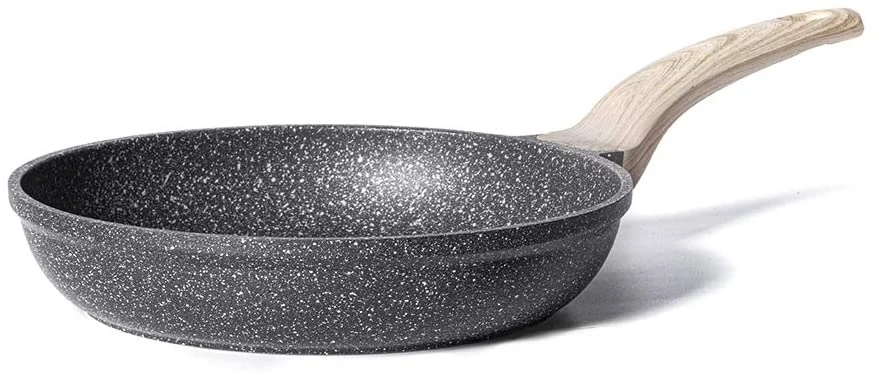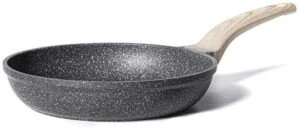 Even though this CAROTE 8 Inch Nonstick Skillet Omelette Pan is the most cost-effective option on this list, it's still one of the best omelette pans on the market today. Made out of eco-friendly granite and nonstick material, this pan is healthier and safer to use than most other options available from competitors.
Designed to be used on almost every stovetop available, including an induction cooktop, this omelette fry pan heats up quickly and evenly for better and faster cooking results.
It features an extended bottom which gives you enough space for all your omelette ingredients while requiring less oil and releasing less smoke. This is a sturdy option that can be used for much more than just omelette cooking.
The CAROTE omelette pan is designed with a heavy gauge and durable die-cast construction. It can outlast most other omelette pans while still giving you premium service.
Pros
Swiss nonstick coating
Easy to clean
Outstanding nonstick performance
Heats up evenly and quickly
Doesn't need seasoning before or after use
Cons
The size options are limited
Iwachu Medium Iron Omelette Pan


If you are worried about any negative health effects of nonstick coating or are concerned that you might end up scratching your omelette pans in the long run, then cast iron is the way to go. This Iwachu Medium Iron Omelette Pan is an excellent option for people with these concerns.
Unlike most omelette pans, it has an oval shape and is handmade in Japan from Nambu iron, a material of an extremely high quality that the Japanese people have trusted for over 400 years.
While cast iron isn't exactly nonstick, it's low-stick, which can be just as effective with the right kind of care. This pan is designed to resemble a big spoon, which makes it easy to flip food and release it. It also comes with a smartly designed handle that remains cool throughout.
Pros
Unique design
Made out of cast iron
Durable
Handle remains cool
Comes in a number of sizes
Easy to clean
Cons
 Nordic Ware Italian Frittata and Omelette Pan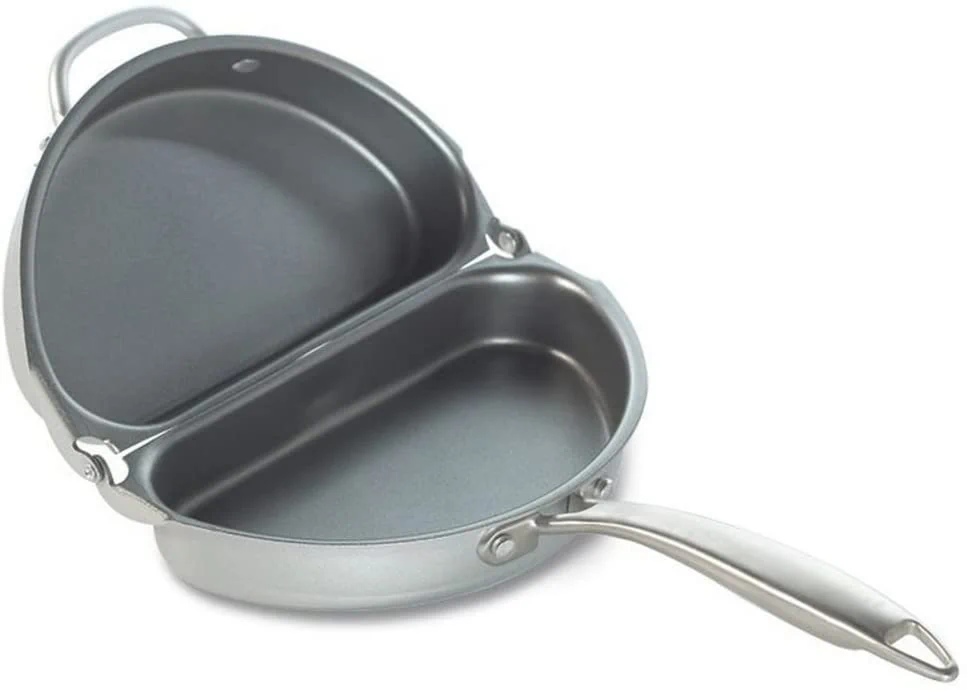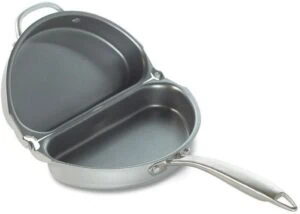 The Nordic Ware Italian Frittata and Omelette Pan is a great choice when you want to make your omelettes with ease. The nonstick coating of this omelette fry pan makes it easy to flip your omelette and is incredibly easy to clean when you're done.
The Nordic Ware pan's hinge design helps eliminate any messes or spills when cooking and flipping your omelette. When folded, it is easy to store due to its compact design. There are two handles you can grasp while cooking.
The aluminum construction of this Nordic Ware frittata and omelette pan allows the heat to be evenly distributed, allowing you to achieve good browning on both sides of your omelette if desired.
Pros
Affordable price
Nonstick surface makes cooking easier
Easy and quick clean up
Easy to flip
Durable construction
Cons
When closed, the two sides may not sit flush against each other
Handle can get hot
Comes in one size -4 inches
What to Look for in the Best Omelette Pan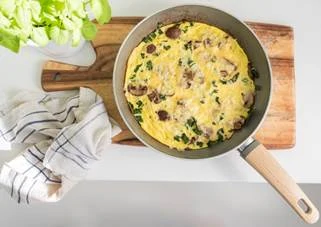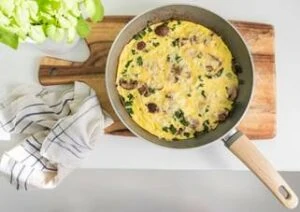 Whenever you are thinking of buying something, there are certain fundamental qualities that you must keep in mind. While most of these qualities fall under the "personal preference" purview, many of them are both practical and logical.
Here are some of the most important factors to consider when choosing the best omelette pan on the market for your needs.
Type and Shape
There are several different types and shapes when it comes to omelette pans. There are your traditional omelette pans that are round or circular. These happen to be the most common and easiest to use. With this type of omelette pan, you won't need any fancy cookware to make your eggs. They are the basic models, but they still get the job done.
Then there are other models, such as the Japanese omelette pans, which tend to come in rectangular or square shapes. These are both interesting to look at and use. They can be used to make regular omelettes, but you are better off using them to make Japanese-style omelettes. Known as tamagoyaki pans, you will need special spatulas and other cookware to use these types of omelette pans.
Finally, you have omelette pans that feature a hinged or clamshell design. These tend to be unique and are a bit fancier than your typical omelette pans. You don't have to be a skilled cook with this type of pan to flip your omelette over. All you have to do is close the lid and turn the pan over to the other side. Each of these pans has its own advantages and disadvantages. It all comes down to what you prefer.
Material
Like most cookware, omelette pans come in various materials, from cast iron to aluminum, ceramic, copper, granite stone, and carbon steel. Every single material has its own advantages and disadvantages, and you need to know what these are before you decide to buy. Some materials are better at conducting heat quickly, while others are slower but do a better job of distributing that heat evenly. No matter which way you lean, choosing an omelette pan that works well with your type of stovetop should be a priority.
Size
Omelette pans come in a wide range of sizes from 8-inches to 12-inches, with the 10-inch option being the most popular. Other alternatives, such as the Japanese omelette pans, come in smaller sizes and different shapes. It's all about what size you prefer and what kind of omelette you intend to cook.
Handle
You need to consider one main factor when discussing omelette pan handles: how they conduct heat. You need to choose an omelette pan with a handle that remains cool no matter how long the pan stays on the stovetop. You also need to find a comfortable handle for you to use and one that allows you to easily flip the omelette while cooking.
Bottom Design
This will entirely depend on the kind of pan you prefer. Regular omelette pans that are round in nature tend to have wide and thick bottoms, which give you enough room to flip and cook your eggs as desired.
Other designs, such as the Japanese-style omelette pans, have square or rectangular bottoms, all of which serve a specific purpose. The idea is to ensure that the bottom of the pan is wide in relation to the side walls. This allows for easy flipping and comfortable cooking.
When choosing an omelette pan for your home, find one that resonates with your omelette cooking habits and needs. The options here are all excellent. All you have to do now is find one that speaks to your particular needs.
FAQ
Are omelette pans worth the money?
Of course, the answer to this question depends on the amount of money you spend on your omelette pan. However, if you are asking whether or not buying an omelette pan is worth the money, then yes.
If you are a fan of eggs or cook a lot of omelettes in your home, having a pan specifically designed for this purpose will make your life easier and enhance your cooking experience.
What's the biggest difference between an omelette pan and a frying pan?
Frying pans tend to have sloping sides and are typically sold with lids, while omelette pans have flared sides and don't typically come with lids.
Is cast iron a good material for an omelette pan?
Cast iron is an excellent material for omelette pans. This is mostly because it conducts heat evenly.