Your cooking arsenal isn't complete without the best kitchen tongs. When looking for the best kitchen tongs, you have to consider the materials they are made from as well as their ability to serve their intended purpose in your kitchen.
There are various kitchen tong types, and you cannot simply substitute one for the other. If you are unsure which kitchen tongs to use, then read this guide and see our recommendations!
What Are Kitchen Tongs?
Tongs are kitchen tools you can use to hold hot foods that you cannot otherwise handle directly with your bare hands. There are two main types of tongs: grill tongs and kitchen tongs. Tongs have long handles to ensure that the person who cooks does not have to suffer from heat or burning.
Kitchen tongs, as the name itself suggests, are the ones used inside the kitchen for cooking. Kitchen tongs are made from various materials ranging from stainless steel to silicone. Kitchen tongs also serve various purposes. So, whether you are turning patties or pork chops drenched in oil or simply tossing a salad before serving it, there are specific kitchen tongs for every use.
Quick View
Best Salad Tongs: KEBE Buffet Party Salad Tongs
Best Pasta Tongs: Rosle Stainless Steel Spaghetti Tongs
Best Pom Tongs: SOLEADER Pom Tongs
Top Recommended Product: Kitchen Aid Stainless Steel Utility Tongs
Best Budget Product: KUFUNG Silicone Kitchen Tongs
Best Premium Product: StarPack Home Premium Silicone Kitchen Tongs
Types of Kitchen Tongs
Some think that all tongs are the same and that you can use them for all types of foods. However, it is vital to understand that no two tongs are similar. All of the best kitchen tongs have their unique characteristics, as well as uses. That is why you might need several tongs in your kitchen arsenal.
Here are some of the most common kitchen tongs that you can find in people's kitchens:
Salad Tongs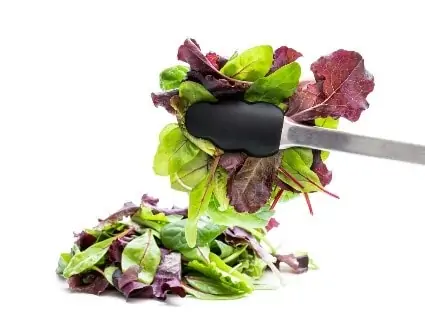 Out of all the best kitchen tongs, salad tongs are one that most households have. You can easily distinguish salad tongs from the other kitchen tongs with their design. Salad tongs feature a spoon and a spork (spoon and fork combined) on their end. With these characteristics, this kitchen tong is conveniently used for scooping, mixing, and serving salads.
Salad tongs are not used for cooking. Thus, you can have them in stainless steel, plastic, or wood, depending on your choice.
High-Heat Tongs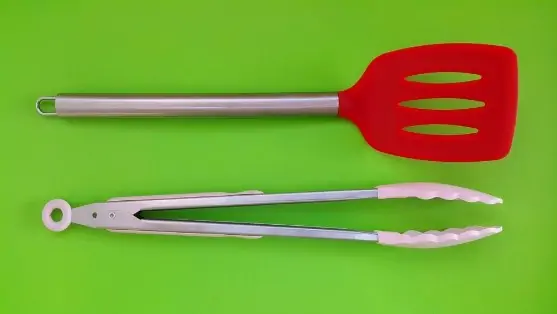 Most kitchens have at least one pair of high-heat tongs. This tool gives you the ability to handle hot foods when cooking and transferring. High-heat tongs are usually covered with a silicone or nylon layer at the tips so that they can resist heat. High-heat tongs are never made with plastic materials since plastics melt in the heat.
Pasta Tongs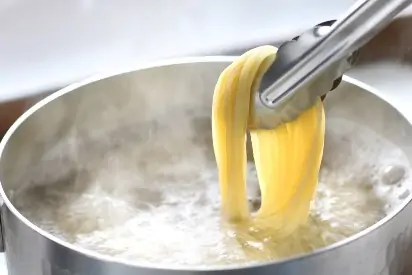 If salads have their special tongs, so does pasta. Pasta tongs feature a teeth-like design. This type of kitchen tong provides a firmer grip on various types of pasta, particularly noodles. If you need to properly plate and toss spaghetti dishes, you need to have this type of kitchen tong.
Scissor Tongs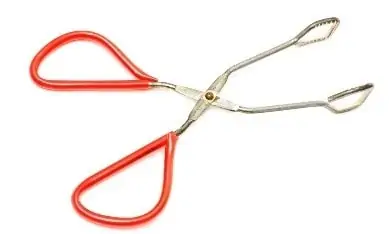 Your collection of the best kitchen tongs will not be complete without a pair of scissor tongs. What makes scissor tongs special? Scissor tongs are recognizable with their thin pincer-like ends. This pair of tongs is often utilized in the kitchen for holding big and large objects like corn cobs. Scissor tongs are also used for grabbing toasts, pastries, and even dried foods.
Pom Tongs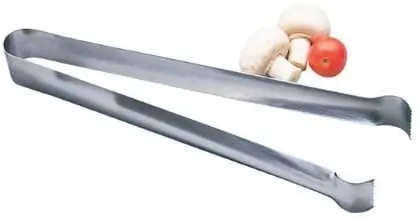 You might not be familiar with pom tongs since this type of tong is not very common. Pom tongs are used to grab foods with delicate edges. The most recognizable attribute of the pom tongs is their curved and jagged-edge pincers. Pom tongs are often used by professional chefs when cooking and flipping bacon. They are also used in salad bars and buffet lines to pick up delicate desserts and fine appetizers.
Utility Tongs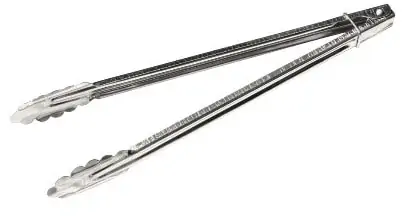 Utility tongs are the best kitchen tongs for all-around use. This type of tong usually has ends with scalloped edges that are useful for grabbing and turning. Since they have a scalloped edge, these tongs are great for turning meat and work well with vegetables and scooping.
Most utility tongs are also made with non-stick handles and stainless-steel pincers. Therefore, they can withstand heat and grease brought about by cooking.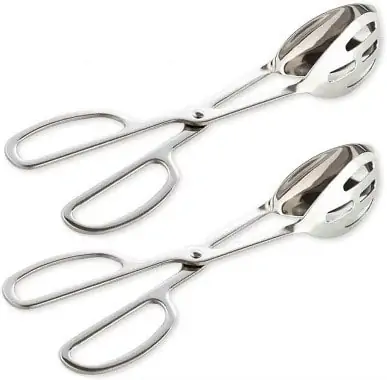 Salad tongs come in handy for parties and family dinners. The best kitchen tongs for the salad category come from KEBE.
These salad tongs boast 10-inch polished stainless steel. The polished interior and exterior of the salad tongs guarantee that the shine will never fade or get distorted. It is easier for you to maneuver this pair of salad tongs with its scissor-like handle when picking up salad greens and veggies. The ends are also beautifully curved to prevent any slippage of the ingredients.
Product Features:
10-inch length
6 oz
Stainless steel construction
Ergonomic handles
Pros:
Eco-friendly
Heat-resistant
Not toxic
Easy to clean
Does not tarnish or corrode
Cons: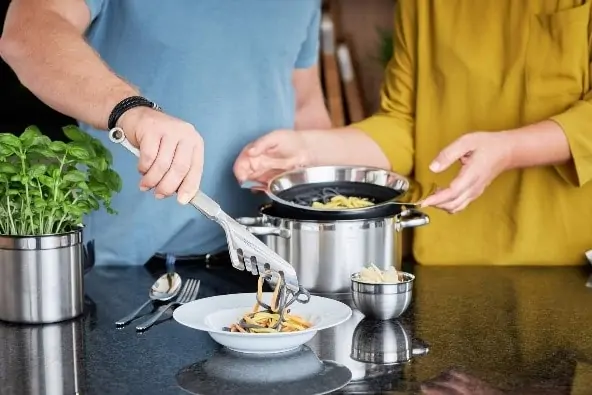 Pasta is best served using pasta tongs. These tongs help the pasta to stay together while preventing the noodles from breaking. Pasta tongs have teeth-like edges so that they can grab the pasta better. Rosle's Spaghetti tongs are one of the best kitchen tongs in the market for serving pasta.
These pasta tongs are designed and engineered in Germany. The inside prongs lock together so that the pasta can be picked up conveniently and securely. You are guaranteed a better grip. It also features 18/10 stainless steel that makes it a durable choice for tongs.
Product Features:
12-inch length
9 oz
18/10 stainless steel tong
Polished hanging loop
Dishwasher safe
Pros:
Highest grade material
Easy to wash
Diagonal grip
Cons: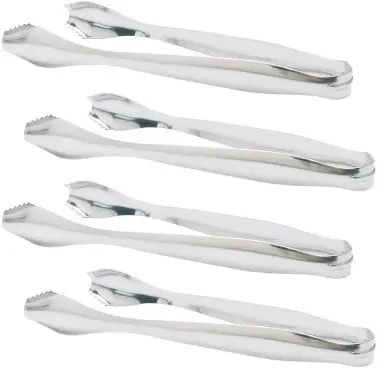 The curved and jagged edges of pom tongs are great when handling delicate ingredients and food. Some pom tongs also act as ice tongs due to their compact size and hardy construction. The best kitchen tongs you need for small servings will prove to be these SOLEADER Pom Tongs.
They are made from food-grade 304 stainless steel that ensures safe contact with food. This steel is also considered durable and resistant to corrosion, so they will last a long time. The ergonomic handle features a flexible and comfortable grip no matter what you pick up – be it ice or sugar cubes, bacon, olives, or shredded cheese.
Product Features:
7-inch length
4 oz
304 stainless steel tong
Mirror-polished
Smooth edge
Dishwasher safe
Pros:
Easy to clean
Safe for food contact
Durable
Comfortable to hold
Resistant against corrosion
Cons: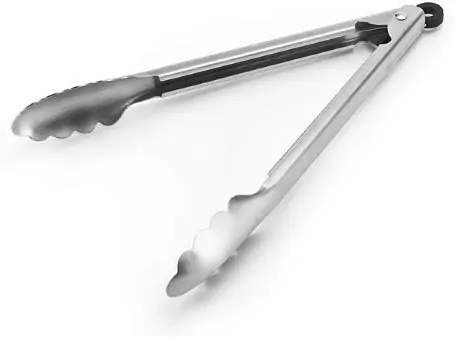 Among the best kitchen tongs choices, our top recommended product is Kitchen Aid's Stainless Steel Utility Tongs. Since utility tongs are all-around tongs, you can use them for almost anything. Coming from Kitchen Aid, one of the leading kitchen tool and ware brands, these utility tongs will surely not disappoint you.
The stainless steel construction of these tongs guarantees durability and strength. Since they are made from steel, these kitchen tongs can also resist heat. The utility tongs are equipped with a lock mechanism so that you can easily store them in your kitchen drawer without them taking up much space. If the lock mechanism is not used, the tongs can open to an angle of up to 30°.
Product Features:
28-inch length
4 oz
430 stainless steel frame
Dishwasher safe
With locking mechanism
Pros:
High-quality and durable
Easy storage
Convenient to clean
Lightweight
Reputable brand
Cons: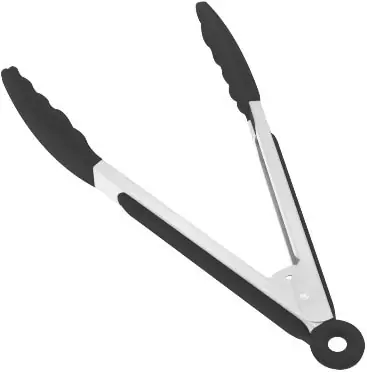 You do not need to spend a lot of money on an expensive brand to get exactly what you want. There are also affordable tongs that are still useful and durable, like the KUFUNG Silicone Kitchen Tongs.
These kitchen tongs are the perfect fit for those working within a tight budget but still want to ensure that their kitchen utensils are long-lasting and resilient against tough kitchen conditions. You can also pick the length that suits your needs best since these tongs are available in various sizes: 7-inch, 9-inch, and 12-inch.
These kitchen tongs boast an ergonomic design that guarantees comfort and efficiency while cooking. They feature a pull-ring design as a locking mechanism, making it easier to close and hang them up for storage. The durable spring mechanism of these kitchen tongs also guarantees a stronger grip on food while cooking.
The main feature of this kitchen tong is its soft silicone-coated head. The non-toxic silicone prevents it from sticking to surfaces. It will also prevent the scratching of your pans and other non-stick surfaces.
The silicone tip is heat resistant up to 480°F. That is why you can use this kitchen tong for most of your cooking and baking needs. They can even double as grill tongs when needed.
Product Features:
Dishwasher-safe
Ergonomic design
Silicone covered stainless steel
Non-stick design
Pros:
Available in various sizes
Affordable
Durable
Comfortable to hold
BPA-free
Heat-resistant
Cons:
Silicone ends may fall off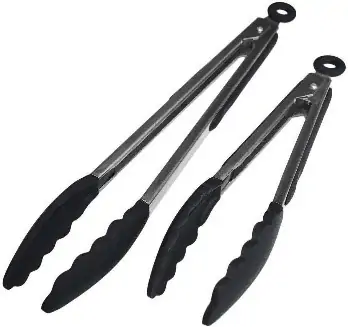 StarPack Home's Premium Silicone Kitchen Tongs are the best out of the best on this list. That is why we saved them for last. The premium set is composed of two pairs of tongs of different sizes. The shorter tongs are at 9 inches, while the longer kitchen tong measures at 12 inches. Since they come in a set, you don't have to purchase different-sized tongs separately.
The unique feature of these tongs is the high level of heat resistance they can endure. It can withstand heat up to 600°F, which is one of the highest in the market for kitchen tongs.
Moreover, they have sturdy silicone tips and handle to guarantee you do not have to feel the heat in your palm while cooking. The silicone component also assures that no melting, flaking, or rusting occurs, protecting your food from unwanted chemical contamination.
The tongs also have a ring-pull lock mechanism. This allows for a more secure grip and easy storage.
Product Features:
00mm stainless steel
100% BPA-free silicone
Ring-pull locking system
Dishwasher safe
Pros:
Available in 3 colors
Easy to clean
Heat-resistant
High-quality LFGB Grade materials
Comes in 2 pairs
Cons:
Smell of food may linger
Water seeps through the silicone cover
How To Choose the Best Kitchen Tongs
You do not simply pick a pair of tongs and add them to your shopping cart. To ensure that you get the best kitchen tongs available, there are several things you should consider before making a purchase:
Purpose
As mentioned earlier, there are several types of kitchen tongs you can choose from. Each type has its own purpose and usage. You must know how to distinguish each tong from one another so that you can get the correct set of tongs intended for your purpose.
Length
Tongs have various sizes depending on their uses. The sizes range from 6 inches to 20 inches. However, the long sizes are often reserved as grill tongs. For general use in the kitchen, tongs that are 12 inches long are often recommended. This length is enough to keep your hand safe from the heat while ensuring that you have better control when handling food.
Tongs that are too long may be hard to control and are not recommended except on special occasions such as grilling or dealing with high heat foods.
Materials
The best kitchen tongs should be made from the most durable materials available. Stainless steel is the primary material used since it is durable enough and can withstand high heat.
However, the kitchen tongs can also be covered with silicone at the edges for better resistance against heat and to make them non-stick.
Additionally, some tongs that do not need to contact heat can be made from plastic or wood. When choosing plastic tongs, make sure that the plastic is food-grade for safe and healthy eating.
FAQs
Can I use grill tongs as a substitute for kitchen tongs?
Yes, you may. However, it is not advisable since grill tongs are too long to be used indoors.
How many tongs should I have in my kitchen?
While some people only have one, the recommended number is two. Two tongs allow efficient movement as well as safe food handling in the kitchen. With two tongs, you can use one when turning and flipping uncooked meat and other ingredients. The second one can be used for already cooked foods. You cannot simply use one pair of tongs for uncooked and cooked foods because you risk food contamination.
What should I look for in the ideal kitchen tongs construction?
The best kitchen tongs will prove to be easy and comfortable to use while also being well-built. Many chefs prefer silicone over nylon because of the higher heat resistance. Silicone tongs are also highly durable and more environmentally-friendly than plastic tongs. In addition to the materials, check the pincers, the length, and the locking mechanism of the tongs.