Yes, you can make a smoothie bowl using an ordinary blender! Smoothie bowls are thick blends of whole foods such as frozen fruits and vegetables, topped with nuts, fresh fruits, seeds, and other food items.
The toppings add texture and a crunchy feel to the smoothie with ice cream-like thickness and consistency.
While ordinary blenders are better suited for making drinkable smoothies, you can still use a high-powered blender to make a smoothie bowl.
But how do you choose the best blender for smoothie bowls? And what's the best blender you can use to make a smoothie bowl? Read on to know what factors to consider and which blenders are the best on the market for making a smoothie bowl.
Best Blender for Smoothie Bowls Buying Guide
This section explores the different aspects you must consider when buying a blender for smoothie bowls. Each aspect is essential, but what matters most is the nature of the blades, the power rating, and the blender's capacity.
Blades
The blades of a blender should be one of the first things you consider. A blender's blades are usually stainless steel and have four to six tips. They are arranged to provide enough surface area for contact with the ingredients.
Stainless steel blades are easy-to-clean, but doing so can be difficult if they are too sharp. Good blender blades shouldn't be too sharp. A little bluntness is ideal to ensure that they won't cut your fingers if you happen to wash them by hand.
Another thing to check concerning the blades is how well they attach to the base. Poorly fixed blades mean less blending power transfers to the blades, giving you a hard time when blending tough ingredients like frozen vegetables and fruits.
Blender Power
The wattage of a blender indicates how much power its motor produces for turning the blades to crush the ingredients adequately.
For smoothie bowls, you'll want a blender with at least 350 watts. Five hundred watts is the middle ground at which it's easy to blend tough ingredients. The more power a blender has, the easier it is to crush ingredients.
Jar Material
Most high-end blenders have plastic jars for a reason. Plastic jars are more durable as they are resistant to breakages, even when abused. They are also lightweight.
The plastic body construction of the pitcher or jar ensures it can withstand the stress associated with blending. However, some are made with weaker plastic and are prone to breakages at the slightest abuse or prolonged usage.
If the plastic is porous, be sure to expect your blender to absorb some nasty smells if you do not clean the jar well or in good time.
Blender jars made of glass are more good-looking and do not absorb smells if not cleaned properly or in time. The two disadvantages of glass blenders are their extra weight and proneness to breaking if abused.
Tamper
Some blenders come with a handy tamper you can use to push down ingredients toward the blades. This ensures that all the ingredients are blended fully to a thick consistency.
The tamper is ideal for removing air pockets in the blend to make it smoother.
If your blender doesn't have a tamper, you'll spend more time trying to force all the ingredients toward the blades for blending. You might have to turn off your blender and scrape off the unblended materials on the sides of the pitcher before turning the blender on once again.
Jar Capacity
The capacity of a blender is how much fluid it can hold in the jar or pitcher. Before blending, you can fill up the blender to a comfortable level, but the level after blending will be lower, especially when making a smoothie bowl.
Most blenders have a pitcher capacity of 40 to 72 ounces. The capacity you choose will depend on your needs. For a large family, you'll want a blender with higher capacity so that you blend fewer times but still have the whole family or guests well fed.
If you are buying a blender just for you, one with a lesser jar capacity is ideal. It can help you avoid making excess smoothie bowls that go to waste if not consumed in good time.
Blender Settings
Blender settings usually include speed variations and programs you can use to adjust the blending process. A blender with a high-powered motor and 3 to 12 speed settings is ideal for smoothie bowls.
The blender may also have manual and pre-programmed settings or programs for adjusting the process.
Blender Size and Design
The design and size of your preferred blender also come into play. A good blender should have a sleek design not only for the pitcher but also for the base. However, most blenders have big, heavy bases.
You might also want to consider the color of the blender. Bright colors are ideal for adding pomp and color to your kitchen. You could alternatively choose dull colors if you want a low-profile kitchen.
While still on the subject of size, it's important to note the measurements of the space where you'll be using or storing your blender. Some countertop blenders are too long, making it hard to store or use them well between kitchen cabinets and the countertop.
Our Top Picks for the Best Blender for Smoothie Bowls
The following products are our top picks for the best blender for smoothie bowls available on the market today.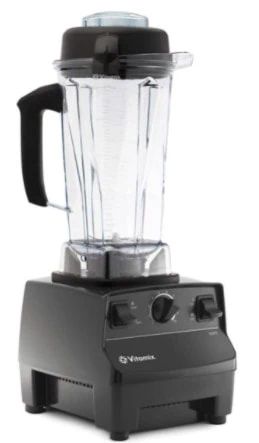 Vitamix blenders are among the best you can find on the market. They come at a higher price point, but they are worth the money.
Our top pick — the Vitamix 5200 blender is suitable for making smoothie bowls, given its top-notch features such as variable speeds, large pitcher, hardened stainless steel blades, tamper, 6-foot power cord, and generous 7-year full warranty.
You can vary the speed to create various textures or even rotate the tamper or dial during blending to ensure total control of the whole process.
The high-capacity 64-ounce pitcher is ideal for preparing medium to large servings for a few people.
Although not mentioned in the buying guide, it's important to check on the nature of a blender's power cord.
A short cord may not reach the area where you want to operate your machine from, while an extremely long cord may be a nuisance in storing and moving around the kitchen.
The blades of the Vitamix 5200 blender are made of hardened stainless steel and can cut through the toughest ingredients like frozen items.
We like this blender for one other reason – it's easy to clean using just some soap and clean, warm water. You can add the mixture to the blender and let it clean itself out for 30 seconds to a minute.
What's more, the blender comes with a handy tamper you can use to ensure every piece of ingredient is blended.
The Vitamix 5200 blender is your best choice if you have a large family or often have guests coming over to visit.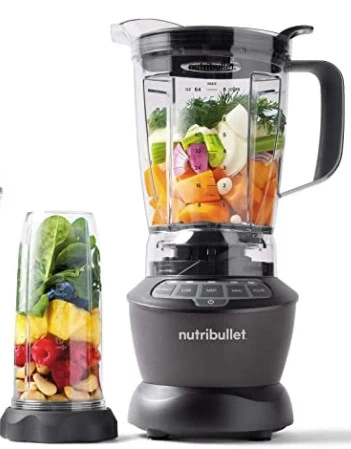 At just a little over $100, the NutriBullet Combo Blender is an excellent choice if you are on a limited budget but must get a blender that whips up the best smoothie bowls while extracting the highest amount of nutrients.
The NutriBullet Combo Blender has unique features such as three precision speeds, a powerful 1200-watt motor, a large 64-ounce jar, a tamper, a single-serve cup, and an Extractor blade.
The 1200-watt motor is powerful enough for plowing through hard items such as frozen vegetables and fruits. When you combine this with the speed settings and pulse function, you get a full-control blender at its reasonable price point.
The cup and jar are BPA-free and easy to clean manually or in the dishwasher. The blades can be cleaned in these two ways as well.
One thing you'll like about this combo blender is the highly clear jar that makes it easy to observe what's on the inside and see if you've got it all blended well and ready for consumption.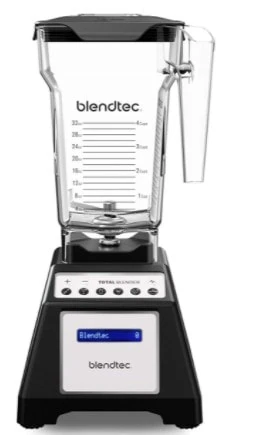 The Blendtec Total Classic Original Blender is another favorite among smoothie bowl lovers. It features a 75-ounce jar for large one-time servings, 10 speed settings, and six pre-programmed cycles.
According to Blendtec, the brand's blenders do not require a plunger or tamper. Their technology allows the blender to automatically pull materials toward the blade rather than spinning them in a circle.
The blade is thicker and dull to ensure you don't injure yourself with pokes and cuts during cleaning or setting up.
The large 75-ounce jar offers a 34-ounce blending capacity ideal for servings for up to four people at a go. That's just about the average family size in most homes, meaning you don't have to take the blender on a second blending spree to serve your family fully.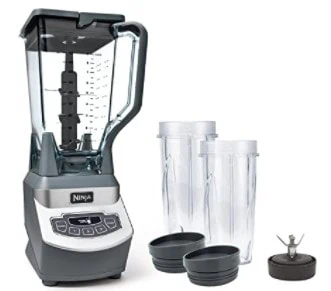 Another ideal blender for making smoothie bowls is the Ninja BL660 with a 72-ounce pitcher and an 1100-watt base. While it is a functionally valuable blender to add to your kitchen, it might not be the best when it comes to looks.
The Ninja blender offers you optimum control with a pulse function, single-serve functionality, four manual programs, and three speed settings.
The blender comprises BPA-free components such as the blades, cups, and pitcher, all of which you can clean easily in the dishwasher or with soapy water.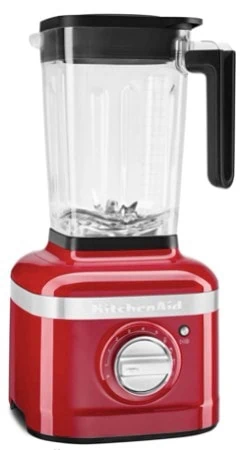 KitchenAid blenders are also widely celebrated as functionally valuable appliances for the kitchen. The KitchenAid K400 Countertop Blender fulfills this promise with its 1200-watts motor power, variable speed dial, three preset programs, and Soft Start function.
If you have had trouble using blenders that jerk up and cause splatter because of shifting abruptly from zero to high speeds, the Soft Start function of the K400 is the solution for you.
The function allows the blender to start blending slowly as it pulls the materials toward the blade and then accelerates it to a suitable speed for a full blend.
One thing you might not like so much is the blender's square-shaped jar design that makes cleaning the jar by hand somewhat harder if you don't have a dishwasher.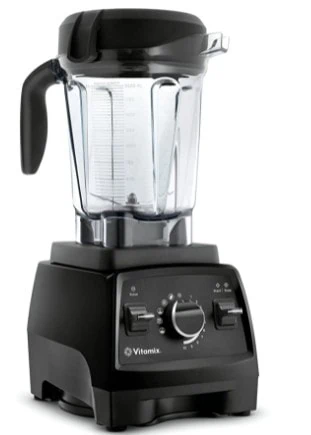 Yet another popular Vitamix blender, the Vitamix Professional Series 750 Blender, features a 64-ounce pitcher, five pre-programmed settings, tamper, pulse function, variable speed control, 6-foot power cord, and hardened stainless steel blades.
A notable thing about the blender is the low-profile jar that makes it easy to store under a kitchen cabinet. However, the base is a bit broad, and the long power cord may give you storage problems if you can't leave the base permanently on your countertop.
The blender has a low-profile tamper that makes it easy to ensure all the frozen material for your smoothie bowl has been blended fully.
Vitamix sells the Vitamix Professional Series 750 Blender as a self-cleaning appliance that only requires warm water and a little dish soap to clean itself up in 30 to 60 seconds.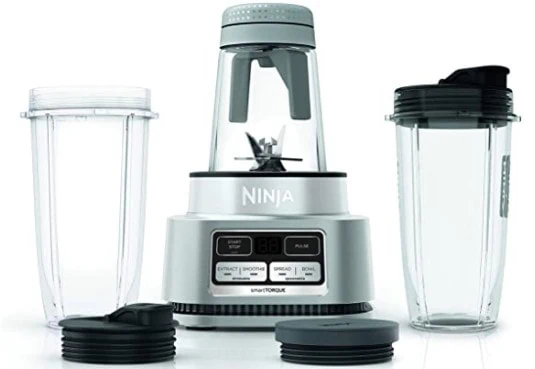 This is the only blender in our list that is explicitly branded as a smoothie bowl maker suitable for handling frozen ingredients and turning them into delightful smoothie bowls. And for good reasons.
Firstly, the blender has a powerful 1200-watt motor ideal for powering through tough frozen ingredients.
Secondly, it has a built-in tamper, which makes it even more attractive on top of its already low-profile look. The tamper and powerful motor mean you don't have to pause the blender to shake or stir when dealing with heavy frozen loads.
The Ninja SS101 sells as a two-in-one blender with two single-serve functionality featuring Nutrient Extraction and the smoothie bowl maker functionality, which is part of the blender's six different programs.
Despite its unique features, the Ninja SS101 fails on one crucial aspect — the small 14-ounce smoothie bowl maker is quite the deal-breaker. Nevertheless, you'll love the blender for its versatility in functionality.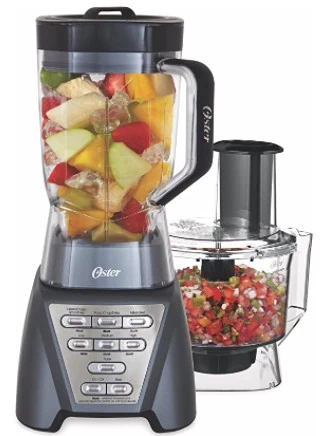 The Oster Pro 1200 blender makes it to our list of the best blender for smoothie bowls because of its 8-cup BPA-free jar, 7 speed settings, 5-cup food processor, and powerful 1200-watt motor.
The blender-food processor combination makes the Oster Pro 1200 ideal for making smoothie bowls as you can choose between the two. You can use the food processor attachment if you want a thick smoothie bowl. The blender itself is ideal for making a thinner smoothie bowl.
Conclusion
If you have any doubts about making a delightful smoothie bowl using an ordinary blender, you can try out any blender recommended in our list. If you want a blender specifically designed for making smoothie bowls, pick the Ninja SS101 Foodi Smoothie Bowl Maker.
The Oster Pro 1200 Blender-Food Processor combination is also excellent for smoothie bowls. Otherwise, you can't go wrong with any of the others, and your body will thank you for introducing nutritious smoothie bowls to your diet.
Best Blender for Smoothie Bowls FAQs
Here are some commonly asked questions about smoothie bowls and using blenders to make them.
Do You Need a Special Blender for Smoothie Bowls?
You do not need a special blender for smoothie bowls. The ordinary blender you use to make smoothies can also make a smoothie bowl, provided you have the ingredients in the right state, such as frozen fruits rather than fresh ones.
Is a Ninja Blender Good for Smoothie Bowls?
Ninja blenders are among the best on the market, and they are good for smoothie bowls. Be sure to check on the Ninja blender's power rating, settings, capacity, among other key aspects discussed in our buying guide above.
Can You Make a Smoothie Bowl in a Blender?
You can make a smoothie bowl in a blender using fresh fruit or vegetables and less liquid to ensure a thick, paste-like blend that can hold various toppings without them sinking.
What Blenders Are Good for Smoothie Bowls?
All the blenders in our list are ideal for making smoothie bowls, and you can't go wrong with any of them that you choose according to your needs and preferences.
From the Vitamix 5200 Blender to the NutriBullet Blender Combo to the Ninja Professional Countertop Blender, you have multiple options to choose from to suit your needs.
What's the Difference Between a Smoothie and a Smoothie Bowl?
The primary difference between a smoothie and a smoothie bowl is the thickness. This is brought about by the nature of the ingredients used in making each item.
While smoothies use fresh fruits and vegetables and less frozen ones, smoothie bowls use frozen vegetables and fruits. It is frozen fruit and vegetables that give smoothie bowls extra thickness, almost like ice cream.
Also, the two items differ in texture. A smoothie is smoother, while a smoothie bowl is usually a bit rough — especially if the blender or processor didn't crush the frozen ingredients well enough.
With a smoothie, you don't have to make any solid item additions once it is ready. This is unlike the case with a smoothie bowl, which requires topping with nuts, fresh fruits, seeds, and even fresh vegetables for the extra kick.
The frozen ingredients in smoothie bowls also add taste, thickness, and frostiness.
Another notable difference between smoothies and smoothie bowls due to their thickness is the manner of consumption.
You consume a smoothie by drinking it directly from a container or using a straw because it is thinner. When it comes to their thicker counterparts, you can only best eat a smoothie bowl using a spoon.
 What Makes Smoothie Bowls So Thick?
 Smoothie bowls owe their thickness to frozen ingredients. The frozen fruits and vegetables add the much-needed texture, thickness, taste, and frostiness.