If you're looking to invest in a brand new paring knife, you've come to the right place! A paring knife is an extremely useful, versatile tool that can be found in kitchens across the globe. From home cooks to Michelin star chefs, anyone working in a kitchen will likely run into the need for a parring knife at some point in time. Having a good one to use when you need it can truly make a difference in your cooking game.
Let's take a look at what makes the paring knife so special, its many uses, and everything you need to know about them before you buy. Then, we'll walk you through a list of our top picks for the best paring knives available for purchase today.
What is a Paring Knife?
Before we get to shopping, let's discuss what a paring knife actually is.
A paring knife is a super important tool in your arsenal as a cook, second to the chef knife. Paring knives are small little knives (their blade length is often 3" or smaller) that are used for all kinds of kitchen prep work. Their small size and thin blades with a sharp edge make them great for detailed work that requires precision and accuracy.
In essence, a paring knife is a small, miniaturized version of the classic chef's knife. However, instead of chopping through meat and bone or handling large vegetables and fruits, a paring knife is better suited for the smaller things you need to get done in the kitchen.
What Can Paring Knives Do?
The paring knife may be small, but they are mighty! There is a ton of different kinds of work the paring knife can accomplish despite its small size.
Paring knives are most often used when it comes to preparing fruits and vegetables. Despite its small size, the paring knife blade still has a razor sharp edge, making it useful in the kitchen. They're great for slicing vegetables like onions and leeks, chopping herbs, coring tomatoes, mincing garlic, and zesting fruits. It's also great for peeling of any kind, from potatoes to apples!
They're also useful for some meats. You may not be able to carve a turkey with a paring knife, but it is useful for seafood. If you need to devein shrimp or pry open mussels, this will be your new favorite tool.
Paring knives can do some amazing decorative work on fruits and vegetables (like making fun zoodles), and can even be used in baking when working with fondant or chocolates. Due to their small size, they are the go-to tool for most chefs, especially in any detail-oriented work that needs precision cuts.
Paring Knife Buying Guide
Before you buy a paring knife, you need to know exactly what you're looking for. Let's break down some of the most important elements you'll want to consider before purchasing a paring knife.
Blade Material
The material your knife's blade is made of is of the utmost importance. The first thing you'll want to consider when buying any knife is what the blade is made of to determine its quality, and how long it will last.
Knives available today are made of all kinds of materials, but we suggest looking for any knife made with a stainless steel blade, or a carbon steel blade.
This is the most common material for knife blades, due to their resistance to corrosion and rust. They do require regular sharpening to maintain a sharp knife edge, but this can be accomplished with easily purchasable sharpening tools like a knife sharpener or sharpening rod.
Knife Size
Paring knives are known for their small size, comparable to a pocket knife or utility knife, comparable to a pocket knife or a utility knife! When shopping for a paring knife, you're most likely going to find options around the 3" size range. However, there are even smaller paring knives out there, for more extremely detail-oriented work.
If you're looking for something more universal to use, stick with the 3" size range. Go smaller if you know you'll need something smaller than that for your work.
Handle Material
The handle material on your paring knife can also make a huge difference in how you use it. Here are the different materials you're likely to come across, with their pros and cons:
Wood
Wood is a super common handle material, especially when it comes to some of the more expensive, high-quality knives available today. Wood can be a great choice if you want a knife that's balanced, maybe a bit heavier, with a good feel in your hand.
Though wood is durable, it's more prone to damage than other materials. When soaked in water or placed in a dishwasher, wood handles can be prone to cracking and breaking down. Wood can also be more absorbent of smells, which can be troublesome when cooking with things like fish, meats, or garlic. They can also be a bit more slippery when wet.
A well-sealed wood handle that's properly cared for can be great, but you should watch out for those issues.
Plastic
Plastic is perhaps the most common handle material you'll find today. A plastic handle often means your knife will be more lightweight. They also make your knife easy to clean and disinfect as the material isn't porous. However, it's not as high quality as some other materials.
Rubber
Rubber isn't the most common material, but it's great when you do find it. You're more likely to find plastic handles with some rubber on their surface than a full rubber handle. Still, you should keep an eye out for rubber as it has some great benefits!
Much like plastic, rubber isn't porous, meaning it's easy to keep clean and disinfect. Rubber will also make your knife handle much easier to hold, and less likely to slip out of your hand. This means a bit more control when cutting.
Steel
Steel is the least common material you'll find, though they are out there. There are some parring knives out there that are made using one solid piece of steel for both the knife and its handle. The steel handle will likely have some kind of texture, to offer better grip.
A solid steel knife is a good option for a paring knife. They're solid in weight, and the steel handle won't be as prone to damage as a plastic or wood handle would. The only real negative here is that they can be more expensive, and heavier than other knives.
Paring Knife Type
There are three different makes to paring knives, which have distinct differences in how they can be used or handled. When shopping for a paring knife, you'll likely run into these styles:
Spear Point Paring Knife
This is the most classic kind of paring knife, also referred to as the spear tip make. This kind of paring knife is marked by its pointed tip and slightly curved blade. It looks like a miniature version of a classic chef's knife. It's most similar to other common knives, and its versatility makes it a favored choice.
Sheepsfoot Paring Knife
This knife has a blade that's very similar to the santoku knife. Unlike the classic, this knife has a round top edge, that curves downward. This makes the entire edge of the blade a flat straight edge, rather than curved like the classic. If you're a fan of the santoku knife, you'll be a fan of this.
Bird's Beak Paring Knife
A bird's beak knife looks like, well, a bird's beak! It's all in the name. This knife has an extreme curvature to its sharp blade edge, and a sharp point. It's a great choice if you're looking for a knife that is razor-sharp, and adept at delicate detail work for things like decorative cuts and garnishes.
Serrated Knife
It is common to find different paring knife models that have a serrated edge on their blade. A serrated paring knife is useful, especially for cutting vegetables with delicate skin like tomatoes. Knives with a serrated blade are also a great stand-in for a steak knife when needed!
Price
While our guide will be offering models at varying price points, you need to make sure the price is right! Buying a paring knife can be a tricky situation when it comes to just how much you should spend.
As is the case with other knives, a paring knife can be found at a wide range of price points depending on its quality. How much you spend should directly relate to how often you intend to use the paring knife.
For most home cooks, you can expect to find a paring knife in most knife sets and bundles. There often isn't a need to spend a huge amount on a single paring knife, and it can be more worthwhile to simply shop for a set that has one in it.
However, if a paring knife is a tool you think you'll use regularly, it's more worthwhile to spend the money. If you think you're going to find yourself regularly in need of this little knife for detailed work and decorative cutting, it can be worth it to spend a little more.
When you spend more money, you can expect a well-balanced knife, a higher quality blade, and a product to last a lifetime. Superior craftsmanship can often lead to superior results. Try to determine what kind of work you'll be doing with your knife and if that work will justify the cost.
Our Top Paring Knife Picks
It's time to buy. Below, we're listing our recommendations for the best paring knife options online today.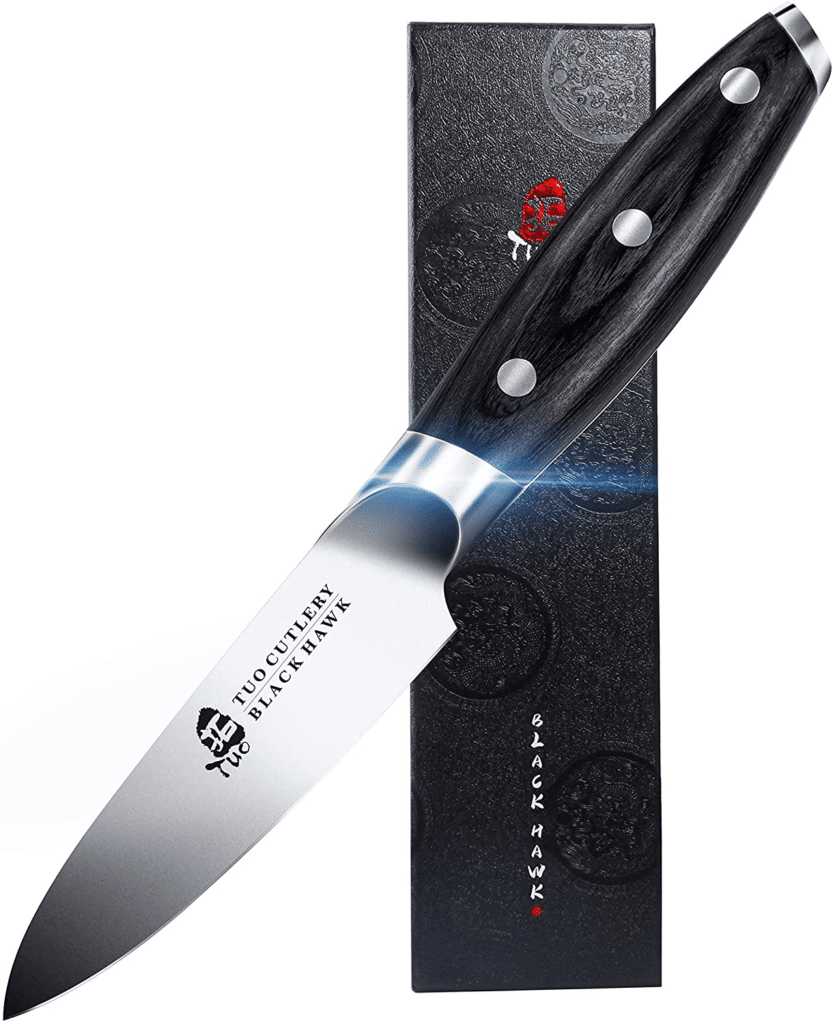 If you're looking for a solid paring knife to add to your kitchen, this one from TUO is a great choice. It's at the perfect intersection of quality, and affordability.
This paring knife has the well-loved classic paring knife shape, coming to a razor-sharp tip. The blade here is made of high carbon steel and boasts superb hardness, flexibility, and performance. It also has a curved, ergonomic pakkawood handle, designed to have a nice balanced weight for superior handling.
The TUO paring knife also comes with a 100% satisfaction guarantee or your money back, meaning there's no risk in trying it out to see if it's a perfect fit!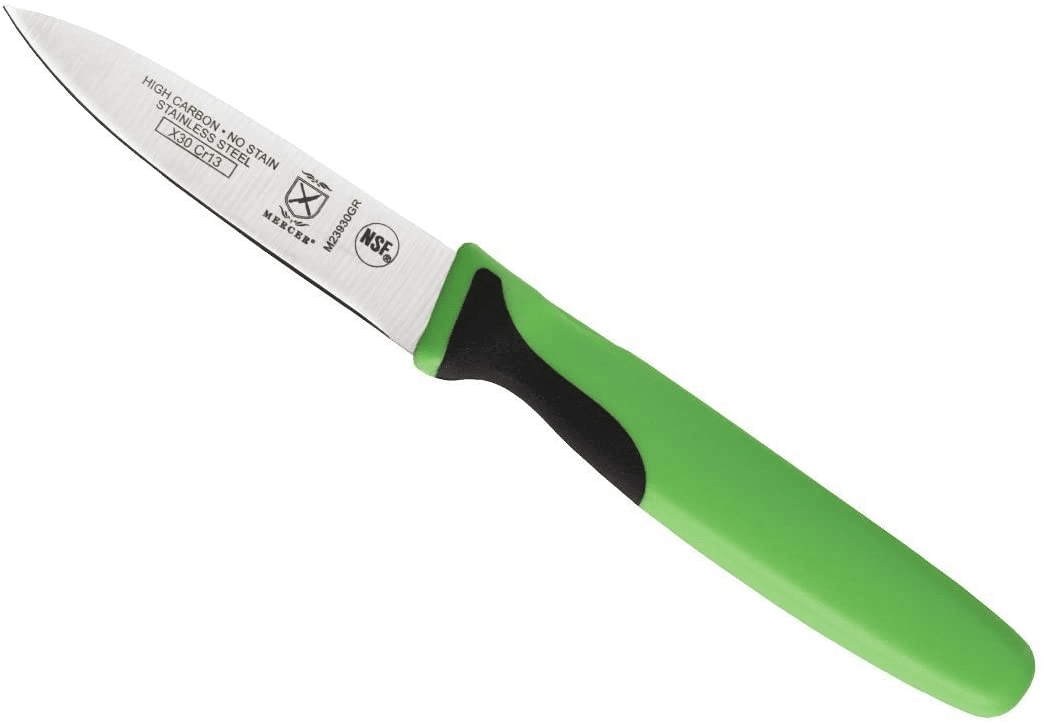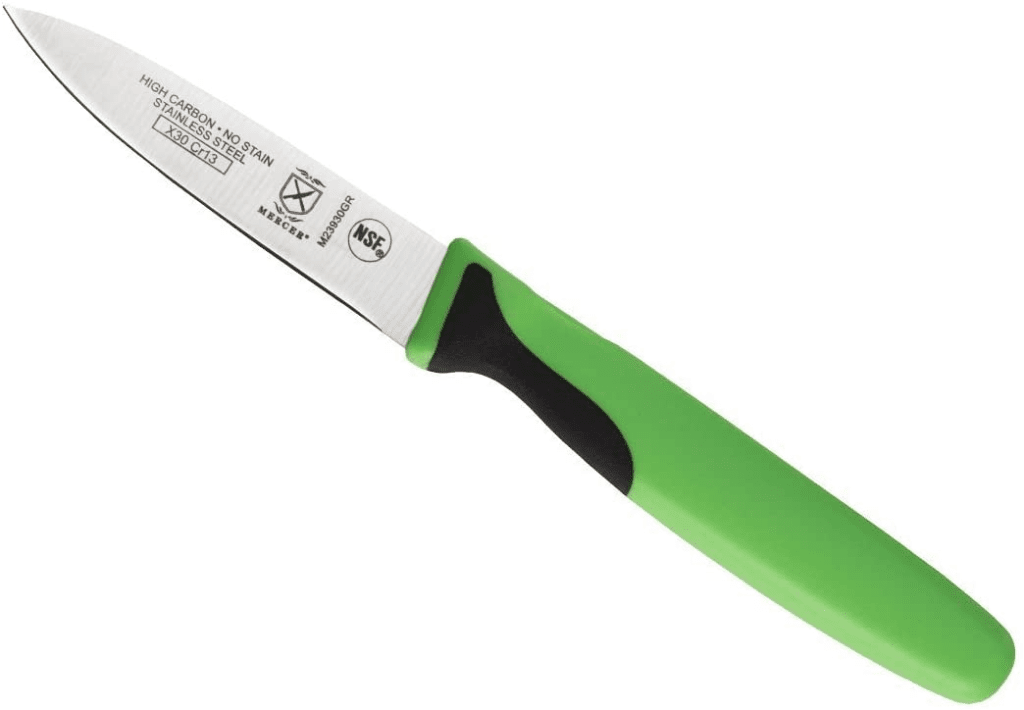 This paring knife from Mercer Culinary is the perfect choice for anyone looking to stay on budget. Here, you're getting a basic, reliable paring knife. This knife is a standard 3" in length, with a classic style high carbon steel blade. Its handle is a combination of plastic with a small rubber finger point, providing good grip and safety for your fingers.
This knife should last a long time and, if you go for it, will become a solid tool in your kitchen! Best of all, it comes in a wide variety of colors, including red, green, yellow, blue, brown, purple, and white, to match whatever your kitchen looks like. There's something for everyone with this great option.


There's no shame in wanting the best of the best! If you're looking to splurge on something truly high quality, allow us to suggest this paring knife from Wusthof.
These knives are made using a single piece of high carbon stainless steel, fitted with durable synthetic material (POM) that will resist discoloration and corrosion. You can expect this knife to look good for a lifetime. This knife has a handle bolster just under the handle for finger protection, as well as a comfortable grip in the hand.
Wusthof is a company founded 200 years ago, and they are masters in crafting cutlery, knives, and other culinary tools. They have other variations of this paring knife as well, offering different lengths, widths, and even a sheepsfoot design.
If you're looking to invest, we highly recommend it!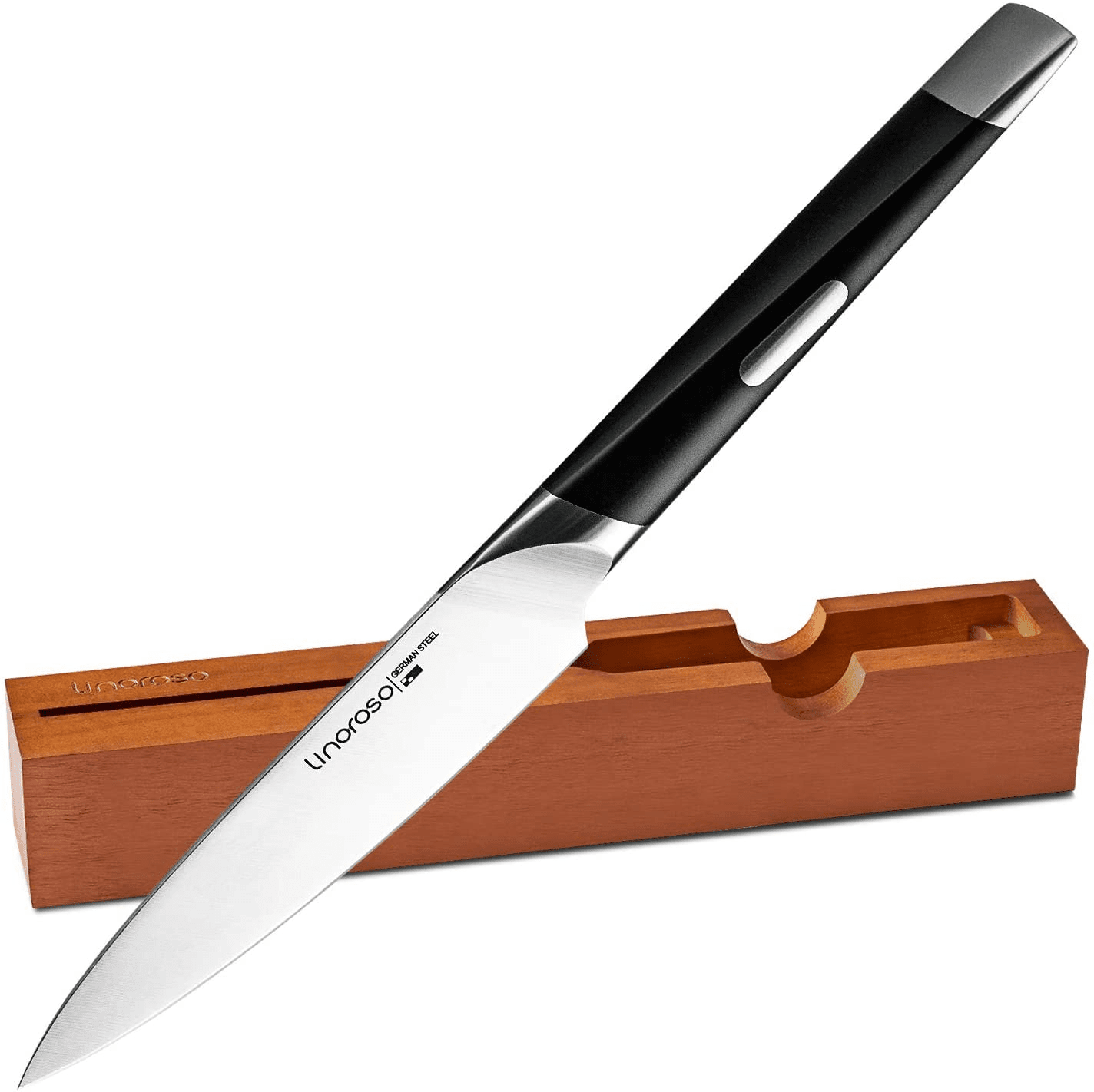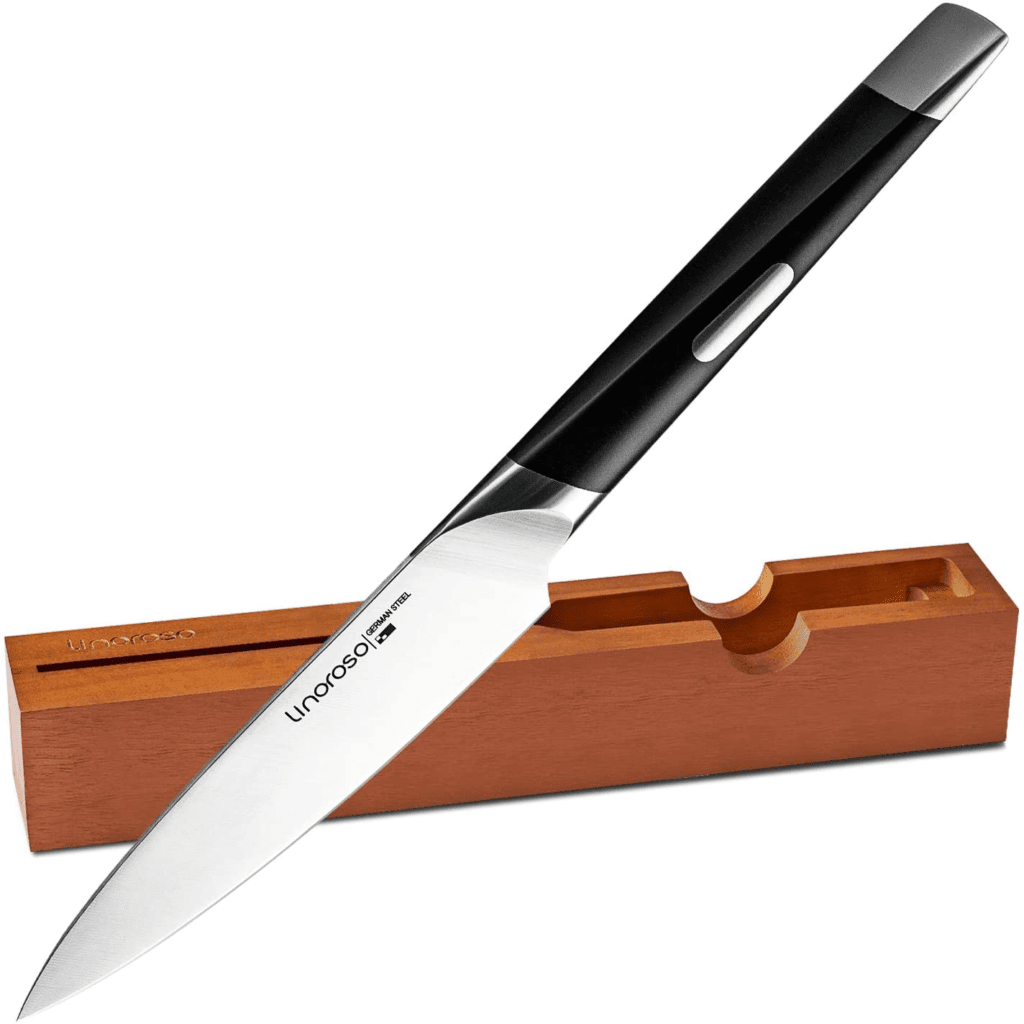 Is Christmas coming up? A birthday? An anniversary? If you have a cook in your life, a high-quality knife like this one can be a welcome surprise to receive as a present. If you want to give a paring knife to someone in your life, we recommend one like this from Linroso.
This knife stands out, with its unique, modern handle design that was made to offer superior control and comfort. Its blade is razor-sharp, made of high carbon stainless steel that's built to last.
It also comes with an elegant, oak wood knife tray for storage. This tray would look great on any kitchen counter, or make your paring knife easy to find in a drawer. Plus, by keeping the blade covered, you'll keep your knife sharper, longer.
Best of all, this knife has a lifetime, 100% moneyback guarantee. Perfect for gift giving.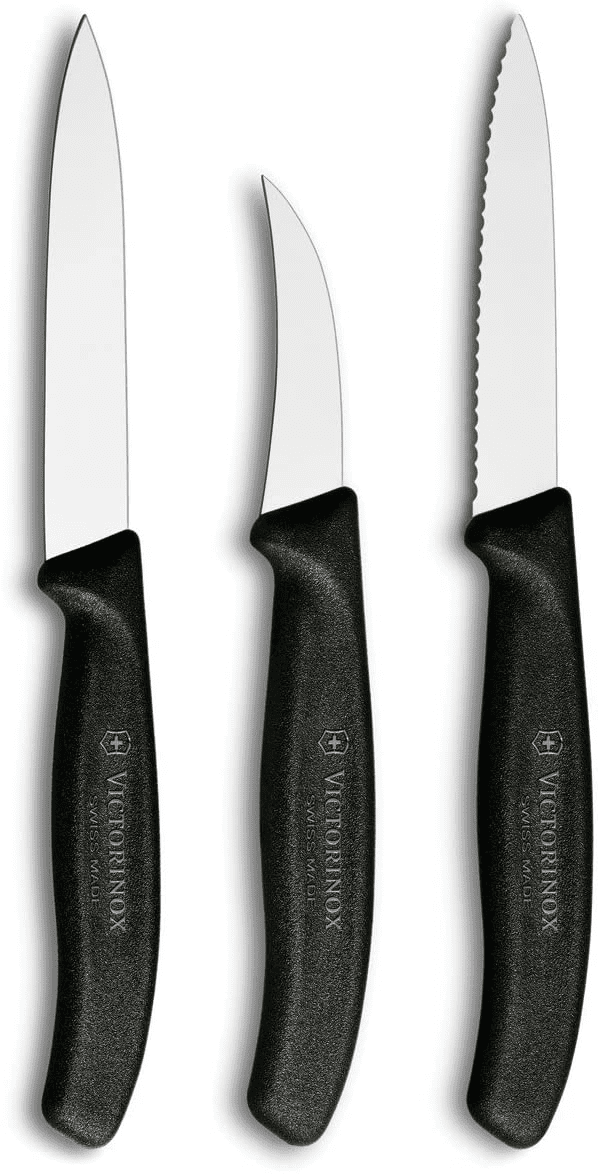 If you're unsure of what kind of paring knife you want to buy, you can always buy a set! We recommend this one from Victorinox, which has a good variety of different kinds of paring knives. All of which will be massively useful in the kitchen.
This set comes with a classing paring knife, a bird's beak paring knife, and a classic serrated paring knife. All of these knives are made of high-quality stainless steel and are fitted with ergonomic, textured handles for superior grip.
Here, you'll get to enjoy a wide variety of parring knife styles! The classic is great for everyday cooking tasks, where the bird's beak model will be useful for any precise, detailed work you may want to try in the kitchen. A serrated option is also great for cutting tasks that need a little extra edge.
Paring Knife FAQ
If you still have questions, we got answers! Here are the most commonly asked questions when it comes to the paring knife:
What does a paring knife do?
A paring knife is a kitchen knife meant for small, precise work, mainly with fruits and vegetables. Their small size makes them ideal for any detail-oriented, decorative work with fruits, vegetables, or garnishes. They're also perfect for peeling and zesting, and basic cutting and dicing.
How do I sharpen a paring knife?
You can sharpen a paring knife using any traditional knife sharpening method. Consider investing in a sharpening rod, knife sharpener, or sharpening stone to keep your paring knife in top shape.
What kind of paring knife should I buy?
When shopping for paring knives, you'll find these three versions:
The spear point paring knife, aka the classic paring knife. This knife has a pointed tip and a slightly curved edge.
The sheepsfoot paring knife, which has a rounded curved top edge, and flat bottom blade. Looks like a santoku knife.
The bird's beak paring knife, that has an extremely curved blade, that comes to a sharp, curved point. It looks like a bird's beak.
These knives are all handy tools, that can be used in various ways. The classic is an all-around good paring knife, where the sheepsfoot is better for mincing, and straight cutting. The bird's beak is best for detailed, decorative work. The one you buy depends on the kind of work you want to accomplish! If you are unsure, we recommend starting with the classic spear point.