When cooking fish, it should have a beautiful, nice sear, but you also don't want it to stick to the bottom of your frying pan. That's the problem that most people encounter when cooking fish. So, you need to use the best frying pan for fish that won't have your fish crumbling and burning in the pan.
Because cleaning up a burnt-on mess isn't easy to do, especially when it's fish. It can take forever to clean from your pan when fish burns, even with tricks like baking soda paste. So, when you cook fish, you want to make sure that you're doing it correctly the first time around.
So, what is the best frying pan for fish?
Quick View
Top Recommended Product: T-Fal Dishwasher Safe Frying Pan
Best Budget Product:  Lodge Cast Iron Square Grill Pan
Best Premium Product: All-Clad 440465 D3 Stainless Steel Frying Pan
Best Frying Pan for Fish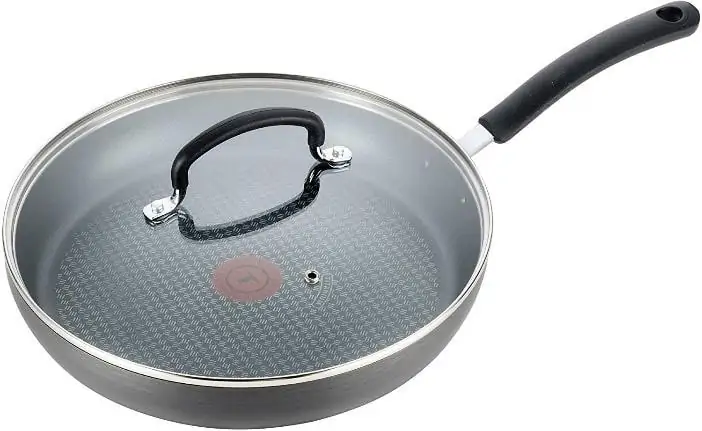 This fish frying pan features a base made from aluminum, which allows the pan to maintain temperature and heat up quickly. The surface of the cooking area is also non-stick, so your fish won't stick when you cook it even if you don't use a lot of oil or butter.
A neat thing about this frying pan is the thermo-indicator that lets you know when your pan is preheated and ready to be used. Additionally, it's dishwasher and oven safe to 350- to 400-degrees F.
This top recommended product has a reasonable price for what you're getting. This pan is perfect for all stovetop ranges as well, including an induction cooktop! Just remember not to use a metal utensil on this pan. Otherwise, you risk scratching up the nonstick surface, which will create crevices for your fish to get stuck to and burn.
Pros:
Use it on any stovetop
Dishwasher and oven safe
Non-stick surface
Cons:
Not very durable, especially when put in the dishwasher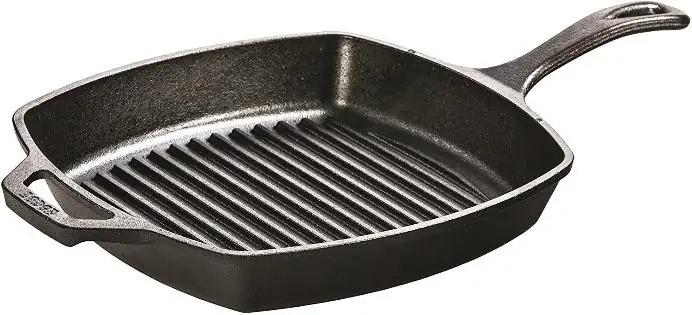 This pre-seasoned skillet that's perfect for pan frying fish. Cast iron frying pans are excellent at distributing heat evenly. Because of that, this frying pan will grill and cook your fish nicely.
You can use this frying pan on all stovetop ranges, and it's completely non-stick, just spray it with non-stick spray before laying your fish down to cook.
This frying pan withstands all temperatures because it is cast iron. It's also incredibly easy to clean after using but avoid putting it in the dishwasher. Also, take time to re-season it after using it after so many uses.
Pros:
You can use this frying pan on all stovetop ranges
Incredibly simple to clean
Durable
Extremely affordable
Cons:

This frying pan features a starburst finish, which gives you an excellent nonstick finish. Another great thing about this pan is that it heats up faster than any of the other pans on this list and distributes heat evenly. This one is our premium product choice, and it's worth the investment.
The handle on this stainless steel pan is stainless steel rivets that surround an aluminum core, giving the handle extra strength, insulation properties, and thermal conductivity. This pan can withstand anything you throw at it!
Pros:
Tri-ply stainless steel frying pan
Dishwasher safe
Non-stick surface
Oven safe
Easy to clean
Cons: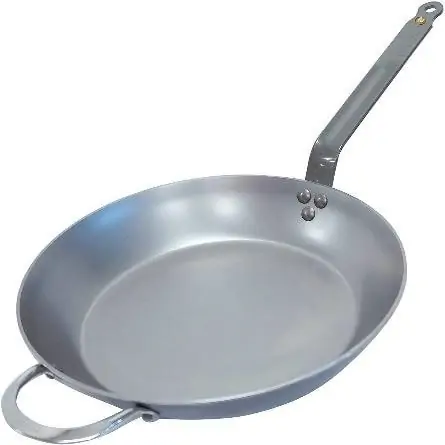 This frying pan is designed specifically for frying fish! The thick base heats up fast and evenly and can retain heat exceptionally well. It also features a non-stick surface.
This natural non-stick pan doesn't contain any harsh chemicals, including Teflon. So, as you cook with it, you'll start to notice that it gets darker in color – that's completely normal! This frying pan is also very eco-friendly, and you can use it on all stovetop ranges. It's also oven safe up to 350 degrees F.
The pan is pre-seasoned with beeswax. The downside to this pan is that it's our premium product pick, so it's expensive.
Pros:
Cast iron
Durable
100 percent eco-friendly and nontoxic
It can be used on all stovetop ranges
Cons: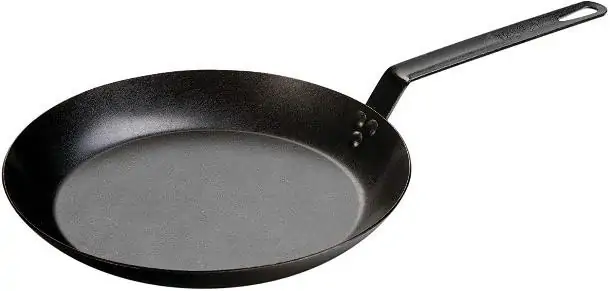 This frying pan is extremely heavy-duty and durable. Carbon steel is similar to cast iron, but it weighs less, which can be good for people who can't carry heavy objects.
It's a versatile frying pan that you can use on all cooking ranges and open flames. This pan might be smaller than the other frying pans on our list, but it still gives you enough room to fry for searing fish.
Pros:
Stay cool handle
Carbon steel material
Non-stick surface
Cons:
Buyer's Guide for Best Frying Pan for Fish
To cook the best fish, you need the best frying pan. For a frying pan to meet the criteria of being the best frying pan for fish, there are a few factors that it must meet.
It must heat evenly and be non-stick and easy to clean. Keep these things in mind as we look closer at these three factors and a couple of others.
Is It Easy to Clean and Non-Stick?
Ensure that the frying pan you go for is easy to clean. When you cook fish, it's going to leave little burnt pieces behind.
The first thing you should be on the lookout for is if the frying pan in question is non-stick. This is crucial because it helps make the cleaning process more manageable and keeps your delicate fish intact when you're cooking. If you don't butcher your fish when you're cooking, the easier the cleanup is.
Another thing is that your frying pan shouldn't have any gaps in it. Holes will only allow for little pieces of fish to get stuck and burnt, making clean-up even more complex. Even worse is that crevices make your frying pan rust faster.
Carbon steel and cast-iron frying pans are some of the best choices for frying fish because they can handle high temperatures. But cleaning these pans is harder because they require more maintenance.
Normal non-stick frying pans are fine, and you should be okay because they're simple to clean. There are even some that are dishwasher safe!
Heat Distribution
You need to have a frying pan that distributes heat evenly. Otherwise, it can create hot spots that will burn your fish. You don't want that.
Another factor to consider is how fast aluminum frying pans heat up when compared to stainless steel or copper. If you aren't experienced with an aluminum pan, you can burn your fish easier because of how fast they cook your fish. So, they take some getting used to.
Size
As a general rule, you should go for a larger frying pan. This is because a large frying pan will allow steam and moisture to escape from the fish fillet. Additionally, overcrowding a fish fillet will guarantee soggy skin or overcooked fish.
Weight
A lightweight pan isn't going to be efficient at heating up and maintaining that heat. So, when using the pan exclusively for frying fish, invest in a frying pan with a nice weight to ensure that it retains heat effectively.
Safe options to go for are stainless steel and cast iron. It would be best if you tried to stay away from cheap, lightweight aluminum non-stick frying pans.
Budget
Pans come in various price ranges. You can get a great pan at an affordable price but an even better pan at a premium price. Make sure that you're picking a frying pan that matches your needs and your budget.
Different Frying Pan Materials
When you go shopping for the best frying pan for fish, consider the frying pan's material. Some are more suitable for frying fish than others.
Three materials best suited for frying fish are carbon steel, stainless steel, and cast iron.
Carbon Steel
Carbon steel frying pans are easier to clean than cast iron frying pans and can cook food faster, too, even though they look like cast-iron frying pans. Another highlight of carbon steel frying pans is that they're lighter than cast-iron frying pans, which is perfect for anyone who can't carry heavy frying pans around their house. But that doesn't mean that they aren't durable!
They evenly distribute heat to cook your fish evenly every single time. This type of frying pan won't let you down.
Stainless Steel
Most people will opt to use stainless steel frying pans, usually because they cook well and look nice. It doesn't matter how much experience you have cooking fish with a stainless-steel frying pan because it will help you hone your skills.
A stainless-steel frying pan will distribute heat evenly, and they're also non-stick, which is perfect for frying fish. You can even put these in the dishwasher to get them clean.
Cast Iron
Cast iron frying pans are heavy, but they distribute heat and conduct heat the best. That's what makes them the best frying pan for steak. Plus, they trap flavor every time you cook and season the pan, so your fish will always have a wonderful flavor and aroma.
These frying pans can reach incredibly high temperatures, which is also great for cooking fish because you can get a nice sear, then pop it in the oven to finish cooking.
The flaw in cast iron frying pans is that they're tricky to clean and require more maintenance than the other types of fish frying pans.
Final Thoughts
Fish is a tricky and delicate food to cook in a frying pan without it sticking. But with the right pan, you can cook the perfect fish without it sticking and burning. The best frying pan for fish will have a heavy base, retain and conduct heat well, and withstand heat. It will also be non-stick, so the fish won't stick to the surface of the pan.
We hope that our frying pan review and buying guide helps you find the best pan for fish. When armed with the best frying pan, you can cook the best fish for you and your family.
FAQ
How Long Does It Take to Cook a Fish in a Frying Pan?
A good rule of thumb for frying fish in a frying pan is 10 minutes. It generally will take 10 minutes for a one-inch-thick fillet.
To properly cook the fillet, you want to:
Place the fish in the pan skin side down
Fry for about 3 to 5 minutes or until skin is crispy and brown
Flip the fish
Brown the other side of the fish for another 3 to 5 minutes or until the whole fish flakes easily when you insert a fork and is uniformly opaque
How Do I Pan Fry Without the Fish Sticking?
The easiest and best way to pan-fry a fish without sticking is to use a non-stick frying pan. If you're using carbon steel, cast iron, or stainless steel frying pans, make sure that it's properly seasoned and spray or coat the cooking surface with cooking oil.
Make sure that the fish you cook is always dry before placing it in the frying pan because the moisture on the fish can cause it to stick to the pan. Also, remember that the fish is going to stick to your pan at first.
Because of this, you must leave searing fish undisturbed for the first few minutes; otherwise, you risk damaging the fish fillet. The fish will separate from the frying pan when it's ready to be flipped – about 3 to 5 minutes.
Another thing that you should always do before putting your fish in the frying pan is to allow the pan to reach temperature. We recommend putting your frying pan on high heat and letting it preheat completely before even attempting to put the fish in the pan.
Is Pan-Fried Fish Healthy?
Yes! Frying fish in a frying pan is healthy because the frying pan allows for the exterior of the fish to get crispy fast while sealing the essential nutrients and vitamins inside the juicy, soft interior.
Unlike deep fat frying, pan-frying requires only a little dab of oil in the pan. You can even make pan-frying healthier by using olive oil.
What Temperature Should I Pan Fry My Fish?
Pan-frying fish requires you to use high heat, so you can quickly sear the fish to make the skin crispy while leaving the inside tender. The oil you use to cook your fish should be hot enough to bubble if you throw a pinch of flour. If the oil is hot enough, you'll know when you place your fish in, and it starts to sizzle.
How Do I Fry Fish in a Frying Pan Made of Stainless Steel?
To prevent fish from sticking to your stainless-steel frying pan, you need to make sure that you have plenty of oil in the frying pan before putting your fish in. We're not recommending pouring the whole bottle in, but make sure there's enough coating on the bottom of the pan.
How Should I Clean My Non-Stick Frying Pan?
Many non-stick pans nowadays are dishwasher safe, but we recommend hand washing your non-stick frying pans with warm soapy water and then thoroughly drying them before putting them away.