Is a fillet knife a part of your kitchen tool kit? If not, it should be! A reliable fillet knife can be a massively useful tool in the kitchen, especially when it comes to cooking fish.
Though a fillet knife can be used in a wide variety of ways, its most popular use is with preparing fillet fish and seafood. Whether you're cooking fish like trout, or other seafood like scallops and lobster, a good fillet knife can make a huge difference when you prep these dishes. We highly recommend adding a fillet knife into your kitchen rotation if you haven't already.
If you're curious to learn more about fish fillet knives, or are ready to purchase one, then you've come to the right place. Here we're going to explore everything you need to know about what a fillet knife is, what you need to know about them before you buy, and list our top picks for the best fillet knives available today.  Read on to learn more!
What is a Fillet Knife?
You may be asking yourself what exactly a fillet knife is, and how it differs from other kinds of knives you'd find in kitchens today.
A fillet knife is very different when compared to the average kitchen knife. The biggest difference is in the blade. On a fillet knife, the blade is thinner, lighter, and more flexible than the blade you'd find on other kinds of kitchen knives.
This is because a fillet knife is meant for the delicate work of separating the flesh of a fish away from its small bones. The flexible blade is needed to make cuts that require a high level of precision, such as removing bones and scales or cutting the skin away from a fish.
Though a fillet knife is typically used by chefs and home cooks when preparing fish, it can still be used for other delicate kitchen work! These knives can be great for cutting vegetables and fruits, they are precise enough to cut intricate shapes, and they can expertly remove peels. If you want to make decorative, standout cuts on your fruits or veggies, a fillet knife can help.
Fillet Knife Buying Guide
Before you purchase a fillet knife, there are a few key factors you'll want to keep in mind. Consider the following before you buy a fillet knife:
Fillet Knife Size
The size of the fillet knife you purchase will depend on what you plan to use it for. Typically, fillet knives can be found anywhere between 4 inches in length and 9 inches in length. The size of the knife and its blade length will depend on the size of the fish you are working with.
If you're planning on cooking bigger fish (for example, a whole salmon) you may want to go for a knife larger in size. You'll need a longer fillet knife blade to cover the surface area of the whole fish for tasks like removing skin and cutting out bones.
However, if you're working with smaller fish or delicate fish like scallops, a knife of smaller size can be more useful. They can offer the precision that is needed when handling delicate, small fish.
If you're unsure of what to choose, it's best to buy a knife somewhere in the middle. The average fillet knife can come in around 7.5 inches and is a good "all-around" size, adequate for most fish. To get the most use out of a fillet knife, go for the average 7" size unless you're positive you'll need a larger or smaller size.
Fillet Knife Blade Material
The material of the knife blade matters a lot when it comes to fillet knives, due to the delicate nature of the blade. If your fillet knife blade is made of cheap fillet knife material, it can very easily become rusted, warped, or damaged.
Though fillet knives need a strong material, they still need a certain degree of flexibility. Your knife should be built to last with a sharp blade, while still offering the flex that makes a fillet knife good at what it does.
When shopping for a fillet knife, try to find a blade that is made of stainless steel or carbon steel. Stainless steel is a strong, lost-lasting material that should resist wear and tear the best.
Fillet Knife Handle
Many shoppers don't consider handle material when looking at a filleting knife, but professional cooks know it can make a huge difference.
When working with a fillet knife, you'll want an ergonomic handle that can give you the comfortable grip necessary to accomplish delicate, precise cutting. A great blade paired with a great handle will make working with your fillet knife effortless.
On the market today, you are most likely to encounter plastic and/or rubber as the material of choice for knife handles. In fact, for some cooks, plastic is becoming preferable to wood handles, which used to be the more popular choice.
Wood can lead to slippery mistakes, as it can get wet easily and lead to handling errors. Wood also tends to absorb the smells of the foods it's handling, making it a bad choice for a fillet knife, as they're used for fish. (Of course, there are great varnished wood handles out there that can avoid this issue.)
A plastic or rubber handle will resist absorbing smells, and of course, will be way easier to sanitize and clean as they don't soak up anything. Rubber is especially useful for providing a good non slip grip on the knife. If you're a beginner, plastic and rubber handles are the best choice to make.
Fillet Knife Accessories
Depending on your usage of your fillet knife, you may want to invest in an accessory or two. The most common accessory people pair with a knife purchase is a knife sharpener. If you don't have one already, consider buying one alongside your new fillet knife. To perform its delicate work, a fillet knife needs to maintain its sharp edge.
Some fillet knives also come with sheaths, which can make them useful to take on the go. While most chefs would keep a fillet knife in their regular tool kit, a fillet knife is a popular accessory among those who like to fish.
When buying individual fillet knives, you're likely to come across knives that come with a sheath and are built for travel. They're also great for edge retention, keeping your fish knife a sharp knife.
If you're planning on an outdoor adventure where you'll fish and cook what you catch, finding a knife that comes with a sheath can be super useful. However, if you're sticking to cooking in the kitchen, it may not be necessary.
Electric Fillet Knife
You may be familiar with the idea of an electric turkey cutter, but did you know there are also electric fillet knives? Technology has taken us far with the invention of the electric knife!
An electric fillet knife can be a great choice for those looking to make the fish cutting process truly effortless. If you're in a professional kitchen cutting fish all day long, an electric fillet knife can help you save a lot of time, cutting fish with ease.
Some electric fillet knife models need to be plugged into a wall, where others are rechargeable or are battery-powered. There are tons of variations to fit your kitchen and cooking style. While some people like to stick to the classic, non-electric models, there's no shame in going this route. Every cook is different, and electric tools can be a huge help for those looking to fillet in a much easier way.
Our List of Top Fillet Knives
Now that we know all about what makes these knives great, it's time to shop! Let's take a look at our list of the top fish fillet knife products that you can purchase online today.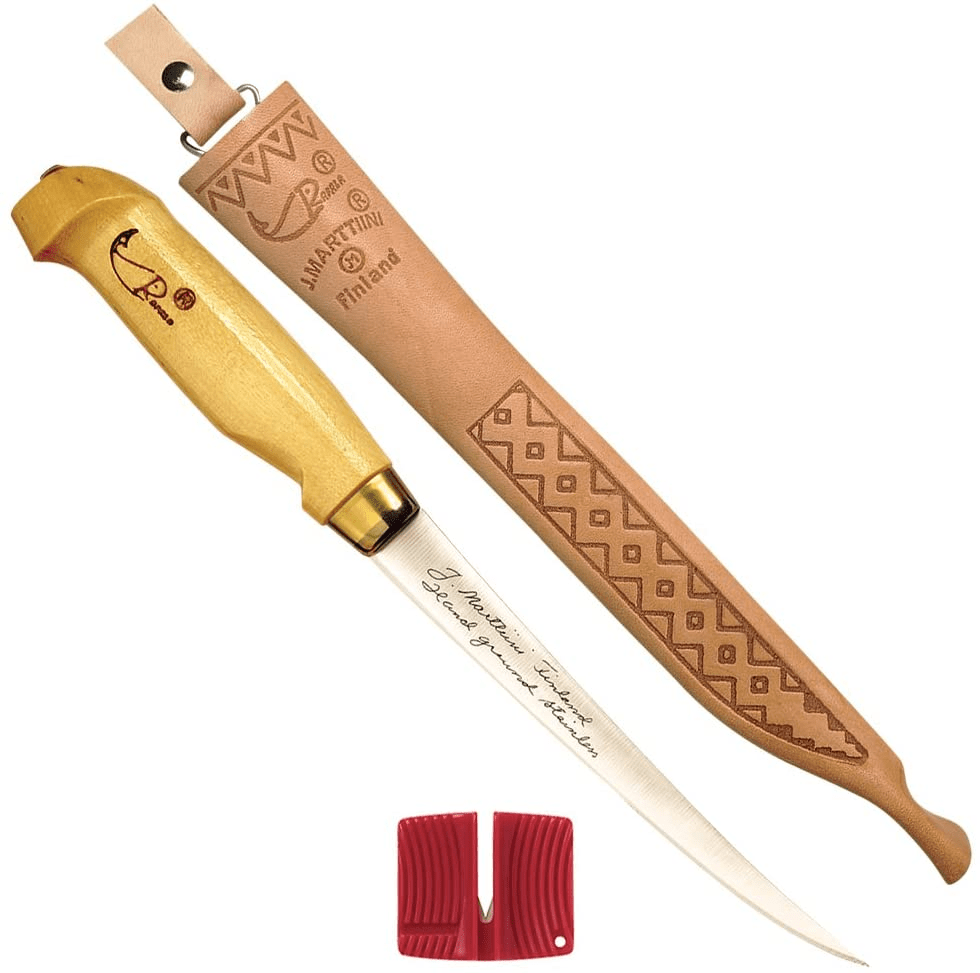 This fillet knife from Rapala is the perfect fillet knife to include in any cook's toolkit! This 6" knife is easy to use, with a flexible, stainless steel blade that was made to last. It also has a beautiful, birch varnished handle.
It even comes with a genuine leather sheath, making it easy to keep safe in the drawer or take with you on the road. Perfect for any outdoor fishing adventure. It also comes with a small, to-go-sized knife sharpener, to help you keep this knife at its best. With its great size, quality, and added features, this is a great purchase for beginners and pros.
Reviewers agree that this is a high-quality knife, and a great addition to their kitchens. Because of its average size, it's great for all your fish fillet needs, and can even be used for fruits, vegetables, and other meats in the kitchen.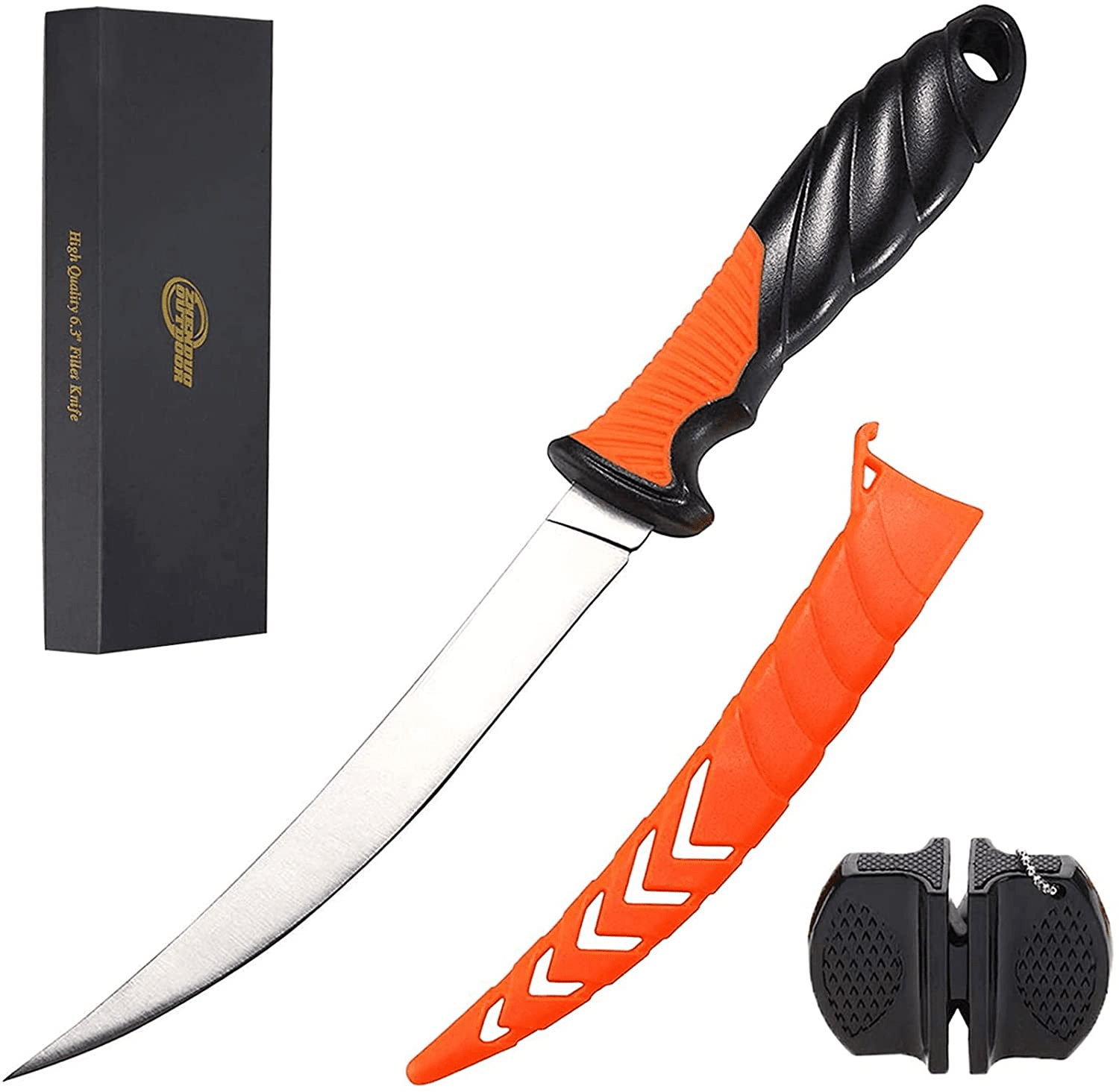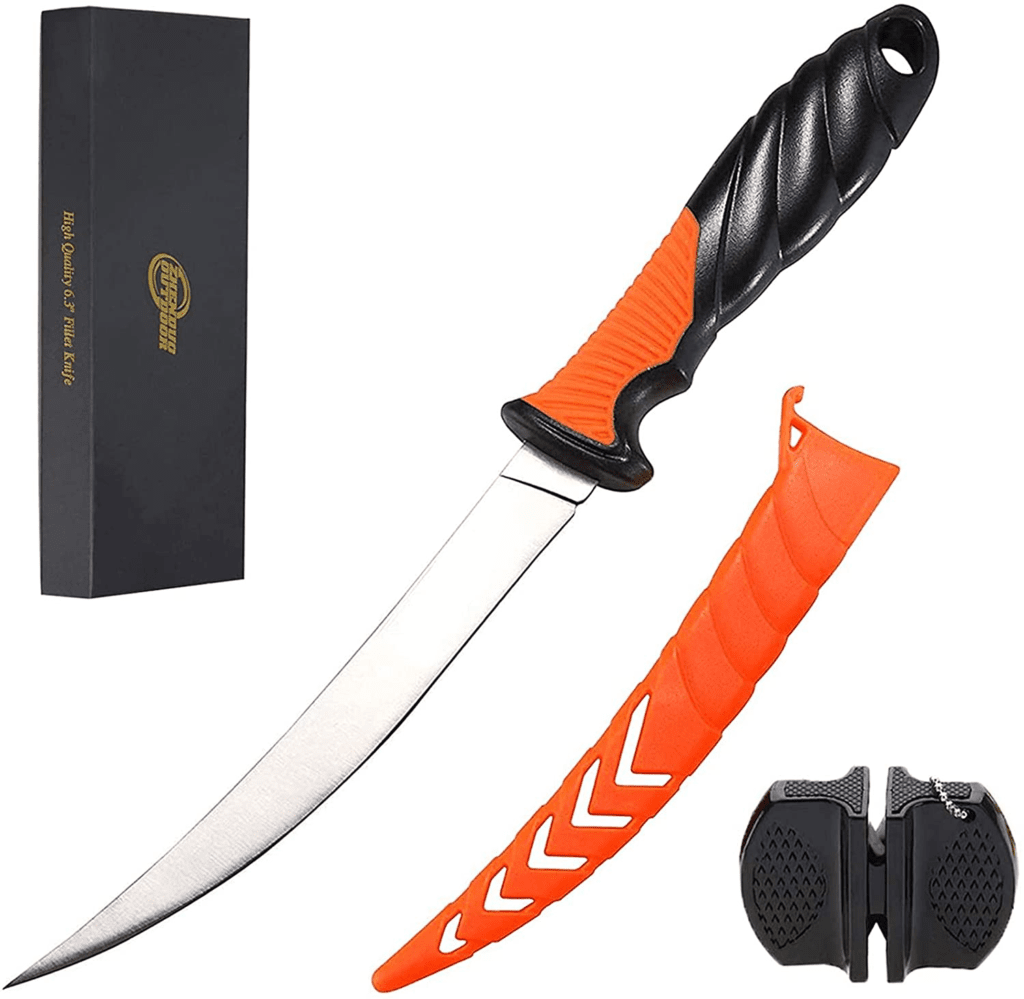 If you're looking to save, but don't want to compromise on quality, might we suggest this fillet knife from Zhenduo Outdoor. This knife is a great choice, with a stainless steel blade that is rust and corrosion-resistant. It also has a handy, non-slip rubber handle that has a comfortable grip and is safe to use in wet or slimy conditions.
Whether you're in the kitchen on a boat, you'll have a reliable blade that won't be slippery in your hands. This knife also comes with a knife sheath to protect your blade while in transit, or in the drawer. The small open V-slots on the sheath allow any moisture or water to drain easily, allowing your knife to stay dry and avoid water damage.
This knife is a great average size at 6.3 inches, making it perfect for most fish and any delicate work. It's great for any work with fish you're doing, or for cutting other vegetables, fruits, or meats. Last, but not least, this knife comes with an amazing sharpener, so your knife can maintain its precise edge. It's a great all-in-one purchase, at a great, budget-friendly price!

If you're looking for a top-quality fillet knife, look no further than this knife right here. This fillet knife from Wüsthof is one of the best on the market today. It features a sleek, ergonomic black handle and a high carbon stainless steel grade blade, made for precise cutting and easy handling.
Its thin blade was made with the flexibility needed for filleting and deboning delicate fish. This knife is also resistant to dulling and corrosion, and even comes with a limited lifetime warranty.  If you're looking to make an investment into a knife that lasts a lifetime, this fillet knife would be a great choice.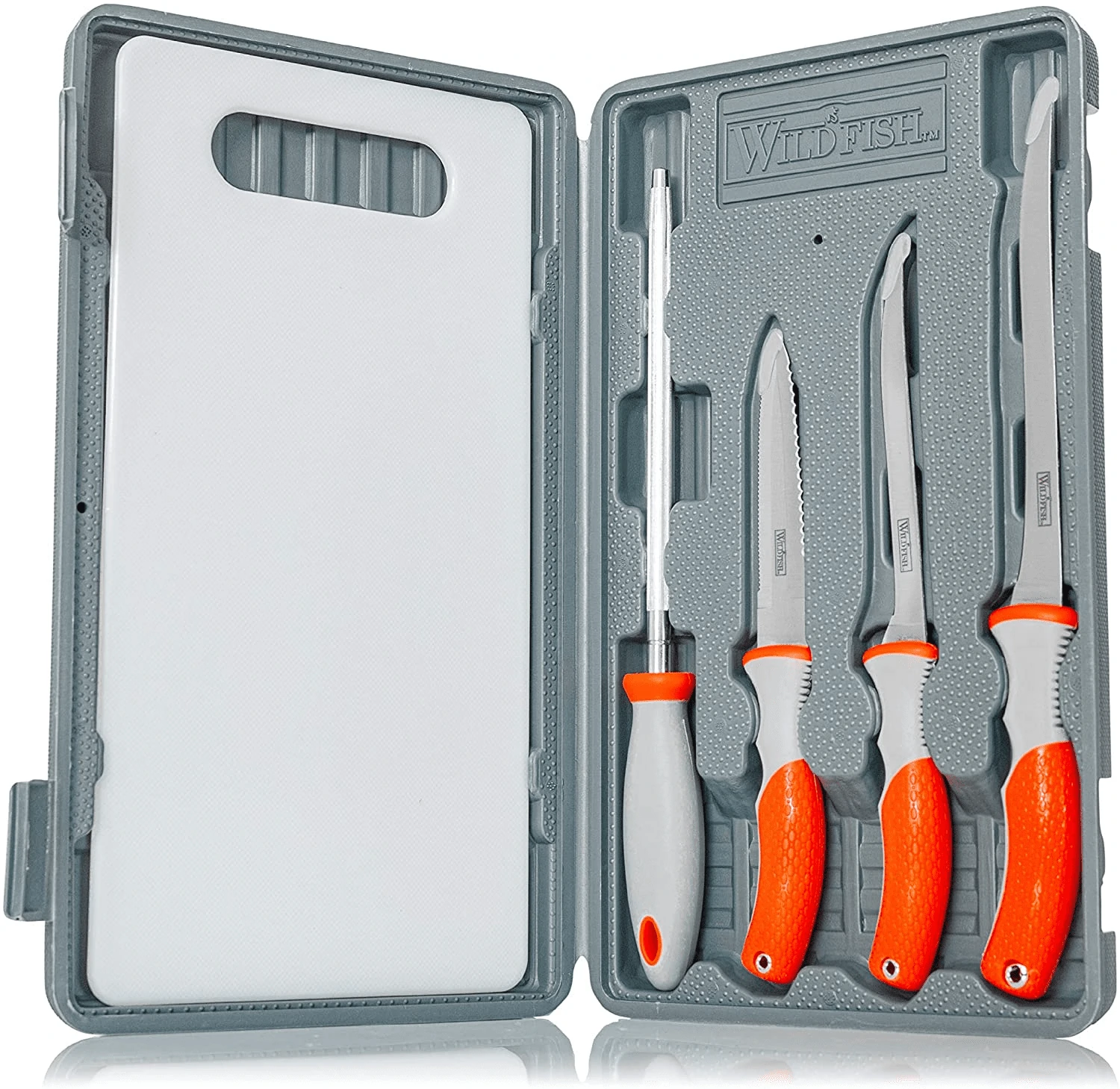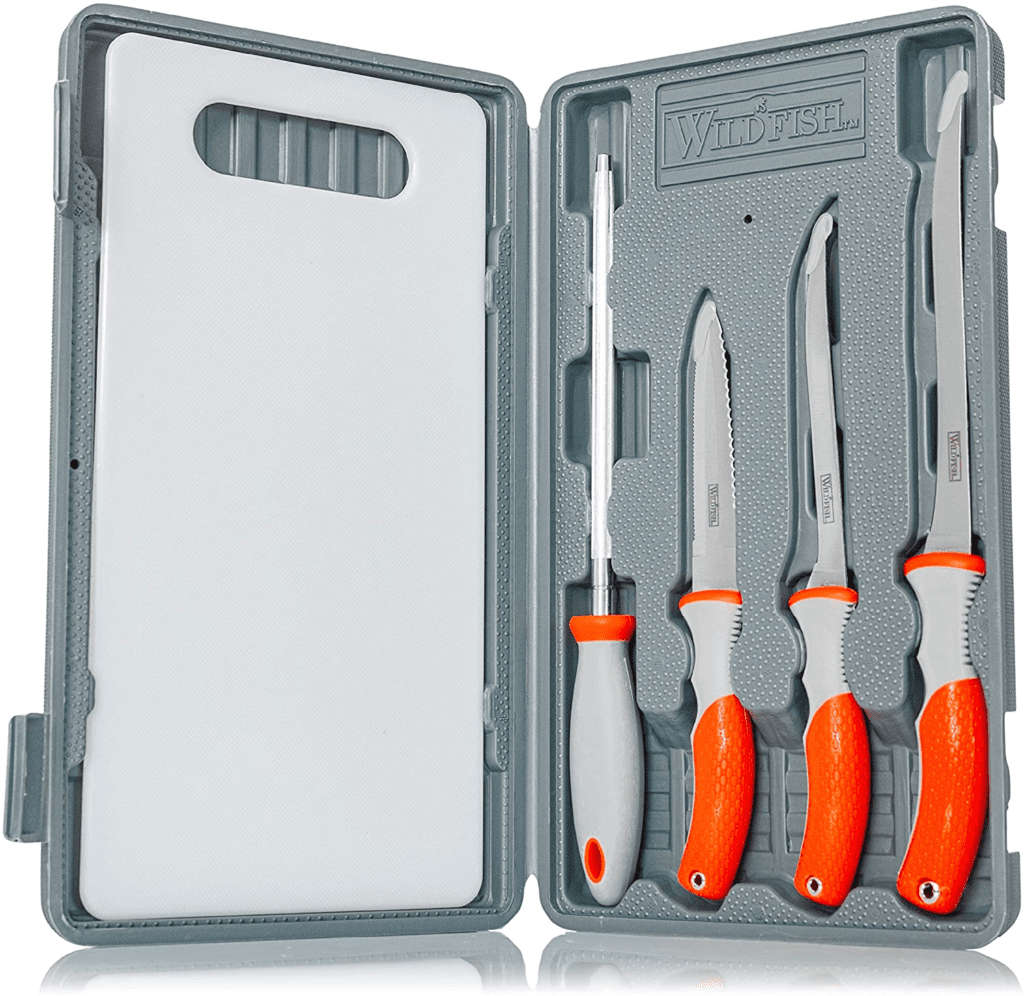 If you're having trouble knowing what kind of fillet knife you want, investing in a set can give you some peace of mind. With different fillet knife options to choose from, you'll know you have your bases covered. Our recommendation for a great fillet knife set would be this one from Wild Fish.
This set is especially useful for fishermen, who need an easy way to take all their tools with them on the go. This set will have everything you need when it comes to both knives, and their accessories.
This kit includes three different knives, as well as a sharpening rod and a cutting board. They all conveniently fit into an impact-resistant carrying case, making it easy to take on the road. It's the perfect fishing fillet knife kit.
The three knives included in this set are a 6" fillet knife with a comfortable short blade, a larger  7 ½" fillet knife perfect for skinning larger fish, and a 5" utility knife with a serrated edge, great for scaling fish, and for use with any other cutting needs, such as cutting other meats, fruits, or vegetables. All of these knives have stainless steel blades, and non-slip rubber handles.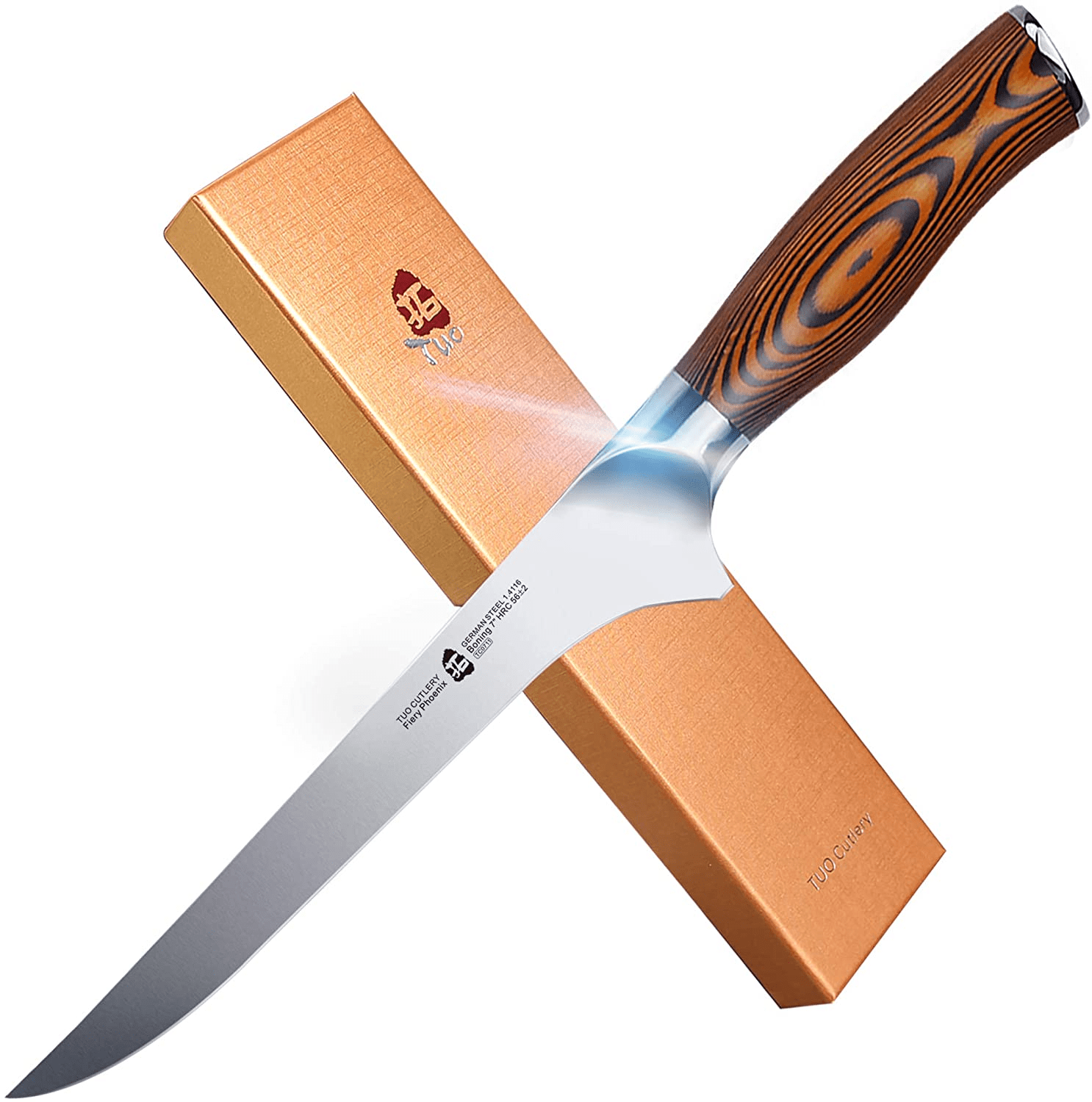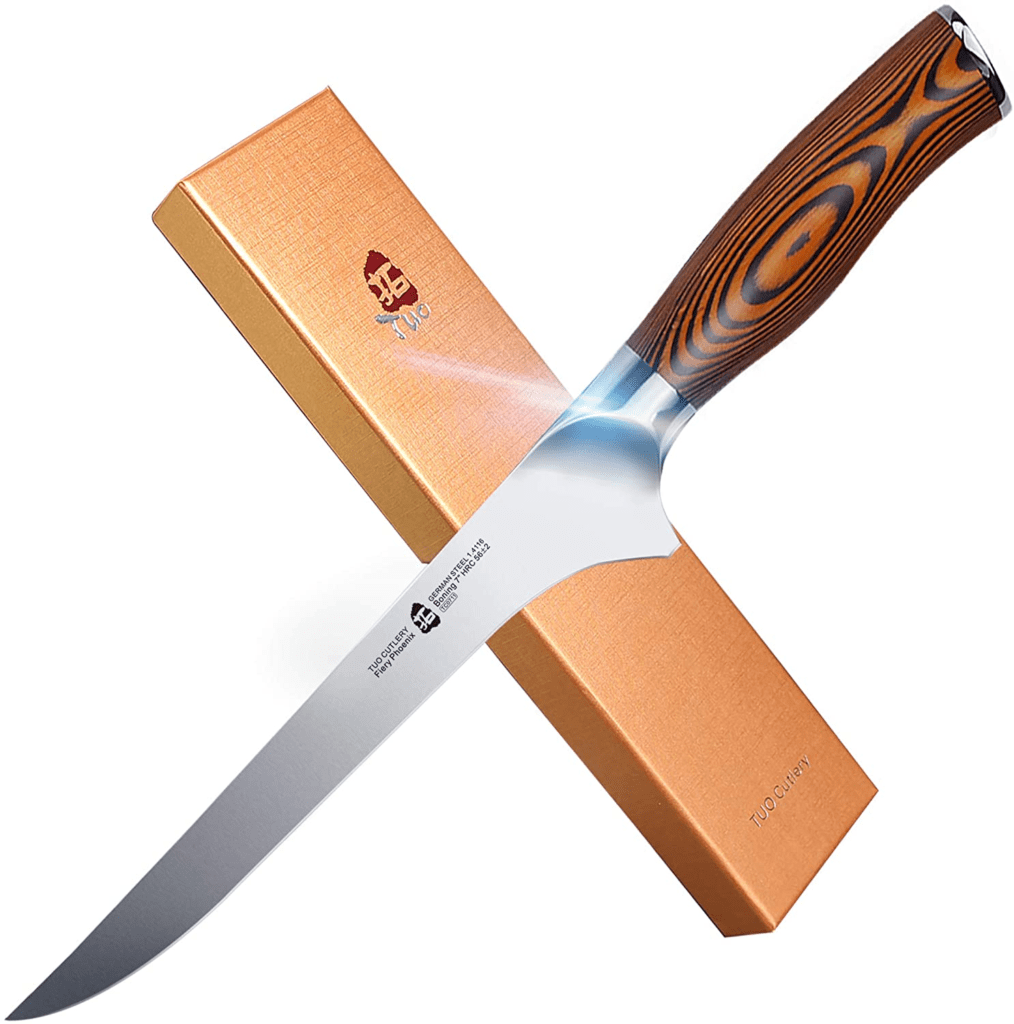 If you're looking for a beautiful fillet knife to give as a gift, we recommend this one from TUO. This is a professional quality fillet knife, intended for multipurpose use. You can use this knife for all your fish fillet needs, as well as other meats.
Its blade is made from German high-carbon stainless steel and has a luxurious pakkawood handle. It's an impressive 9" in length, making it ideal for large fish, and a perfect tool for any professional cooks in your life. It also has a 100% satisfaction guarantee, meaning you can try this knife risk-free. Plus, it comes in an amazing luxurious case, making it perfect for gift giving.


If you're interested in using an electric fillet knife, this set from BUBBA will get all your needs met! There's a reason people love a bubba blade. This rechargeable knife is battery-powered and is designed to make filleting fish a breeze. It has a non-slip handle and comes with four interchangeable titanium-nitride-coated blades.
With different blades to choose from, you'll have everything you need for all kinds of tasks. This set comes with a 7" flex blade, 9" flex blade, 9" stiff blade, and 12" stiff blade.
All of them can be stored in this set's convenient carrying case, which will also house your knives' batteries and charging cables. With a bubba knife you'll be able to fillet everything you catch, big or small, in or out of the kitchen. It's definitely a worthwhile investment!
Fillet Knife FAQ
Still got questions? Here are some frequently asked questions when it comes to purchasing a fillet knife.
What is a fillet knife for?
A fillet knife is a delicate knife used most often for skinning, de-scaling, de-boning, and filleting cuts of fish.
What size fillet knife do I need?
The size of the fillet knife you use will depend on the size of the fish you are cutting. Knives between 4"-6" are best used for small fish like perch or mackerel. A 7"-8" fillet knife is great for medium-to-large size fish like salmon or trout. Larger fillet knives that are 8" plus in length are best for large fish such as tuna.
Should I get a German or Japanese fillet knife?
When shopping for a fillet knife, you'll run into both German and Japanese-styled fillet knives. German-style knives are known for having a double-beveled blade, and they are usually a little bit thicker than Japanese styles fillet knives. A Japanese fillet knife is a much thinner style blade, with a single-beveled blade.
The main difference comes down to working style. A Japanese fillet knife is better for small, precise work. If you're looking to make fine, precise, clean cuts it's a great choice. However, for everyday chopping where you need a bit more strength or force for cutting through bones, a German blade is best.