Garlic's delicious: it's no secret. It doesn't just add a unique flavor to any meal, but it also has many health benefits. Many people will eat raw garlic to help make their sickness go away faster.
No matter how you use garlic, there's one thing you must do first: peel the papery skin away.
Peeling the skin might seem easy, but the skin does have a nasty habit of sticking to the clove of garlic. Peeling garlic using your fingernails can be a slow and painful process, and squashing the clove with the flat part of your knife only works about 50 percent of the time.
Washing your hands with regular soap won't get rid of the smell but rubbing your hands with stainless steel soap will. Even worse, both methods can leave you with "garlic finger," brought on by unavoidable garlic juice. The best way to avoid garlic fingers is to avoid touching garlic juice altogether.
That's why you need a garlic peeler. A garlic peeler is an inexpensive tool that efficiently removes the papery skin from small to medium batches of garlic. Because it can only do small to medium batches of garlic, a garlic peeler isn't ideal for restaurant quantities of garlic.
But not every garlic peeler is made equally. Some are incredible, while others aren't worth your time. The good news is that we've taken the time to research to help you find the best garlic peeler for you.
Quick View
Top Recommended Peeler: OXO Good Grips Silicone Garlic Peeler
Top Budget Peeler: Maxracy Set of 2 Silicone Garlic Peeler Tubes
Top Premium Peeler: Prepworks Silicone Garlic Peeler
1. OXO Good Grips Silicone Garlic Peeler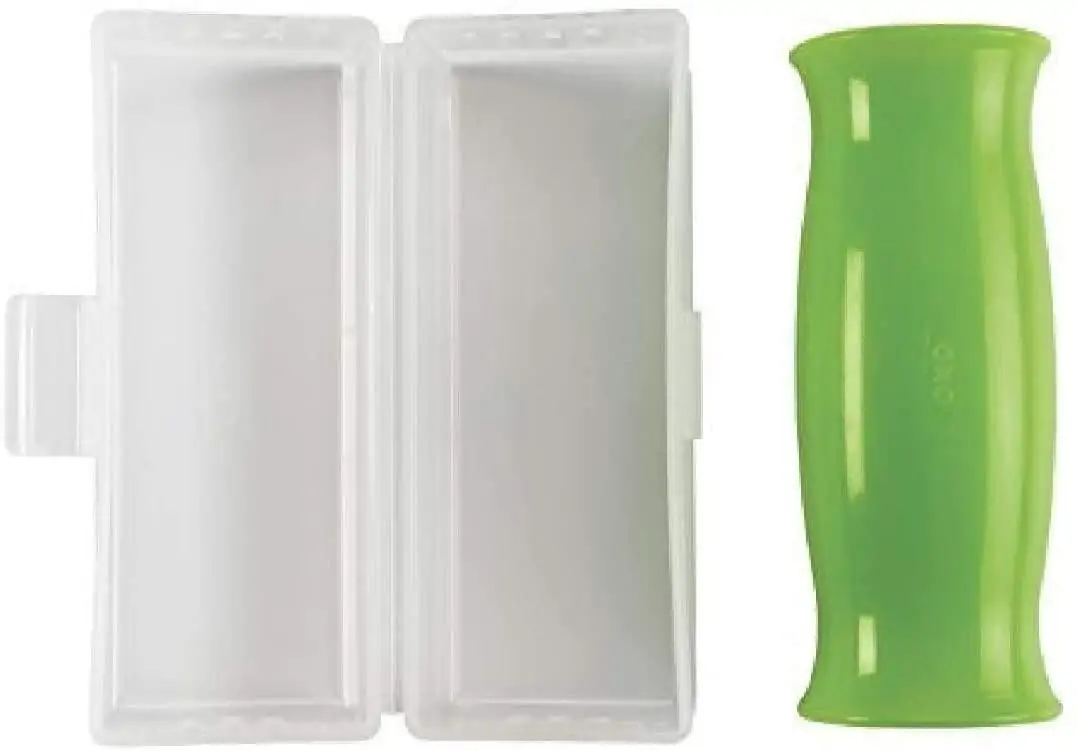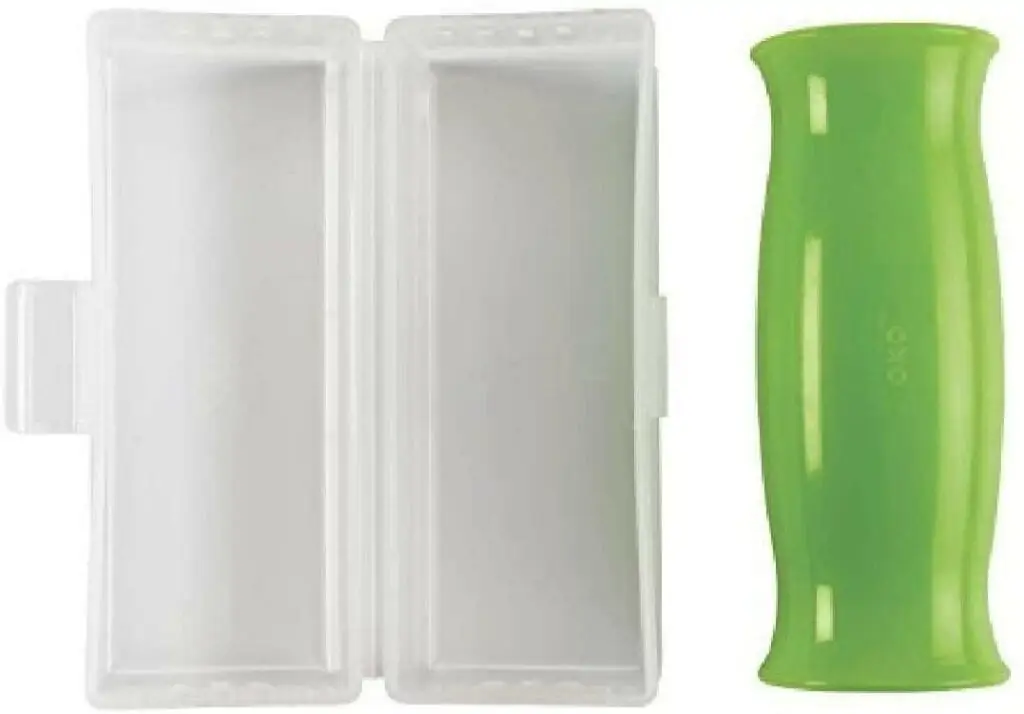 The OXO Good Grips easy garlic peeler is very sturdy and has a distinctive shape that will keep the garlic cloves inside the tube while you peel them.
To use this best garlic peeler, you will put the unpeeled garlic cloves inside the tube, put the tube on the counter, and start rolling it several times while gently pushing down. This tool is the best method to ensure that you don't get garlic juice on your fingers.
When you're done, you can ensure it stays safe and stored because it comes with a plastic storage box. This peeler is easy to clean, too. It's dishwasher safe and dries very fast.
You'll appreciate how durable this easy garlic peeler is, how easy it is to maintain, and how efficient it is at peeling garlic.
Pros:
Dishwasher safe
It comes with a plastic storage box
Easy to use
Cons:
If you don't apply enough pressure, it won't peel your garlic
2. Maxracy Garlic Peeler Roller Tubes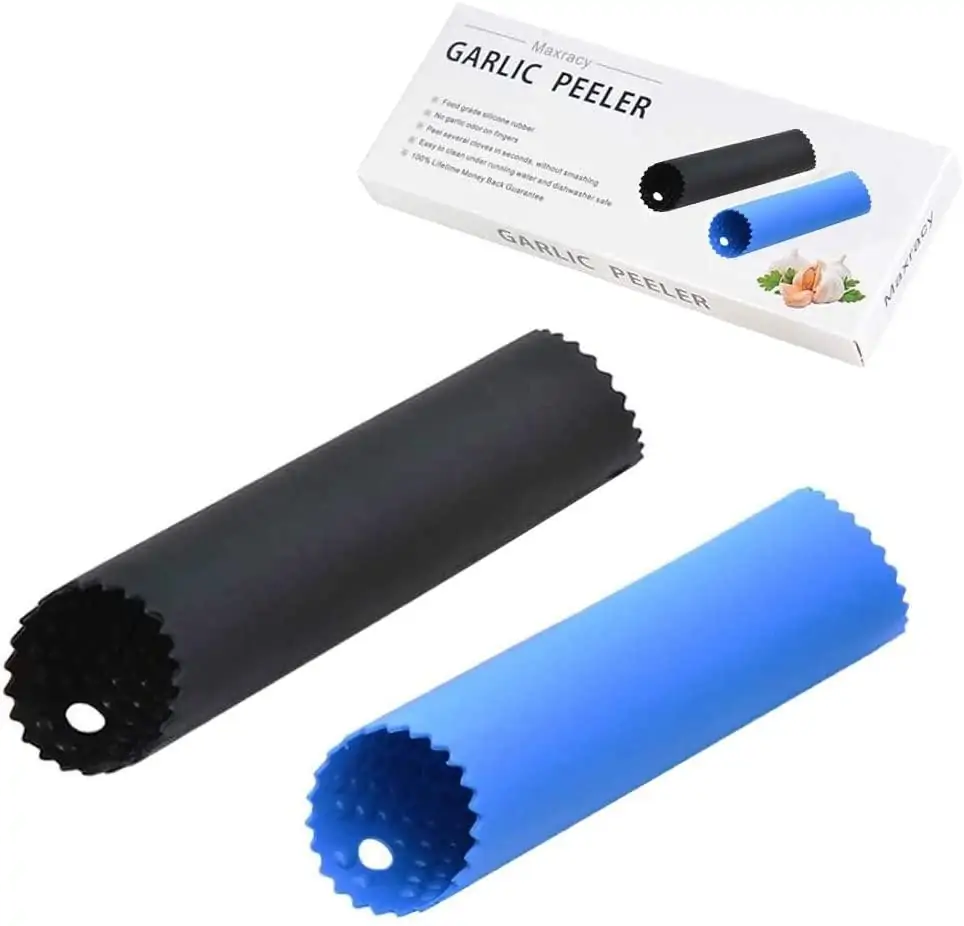 This set of two easy garlic peelers are made of food grade silicone, so they're comfortable to hold and won't fade.
This kitchen tool is easy to use because you put a few unpeeled cloves into the tube and then roll it on a flat surface with your hands, using slight pressure to peel the cloves. Then you'll shake the peeled garlic clove and peels out of the roller and rise the tube with soap and water.
Maxracy, the company that makes these best garlic peelers, gives you a lifetime warranty on their products and offers 24-hour customer service.
Pros:
Extremely affordable
It comes in a two-pack
Made from food-safe and high-quality silicone rubber
Lifetime warranty
Cons:
Your garlic cloves can slip right out of the tube
3. VBENLEM 110V Whole Garlic Peeling Machine
If you need to peel a lot of garlic and want to save some time, this machine is for you! The pictures speak for themselves, but essentially you put whole garlic cloves into the machine and peeled garlic comes out on the other end. You can effectively peel hundreds of cloves of garlic using this best garlic peeler.
To use this easy garlic peeler, put the cloves inside the machine and turn it on. In a little bit of time, your garlic cloves are peeled and ready to be used.
This best garlic peeler is made from high-quality materials, so it's very easy to keep clean.
Pros:
Easy to use
Professional design
Does all the work for you
Cons:
A bit expensive for a garlic peeler
4. MiTBA Silicone Garlic Peeler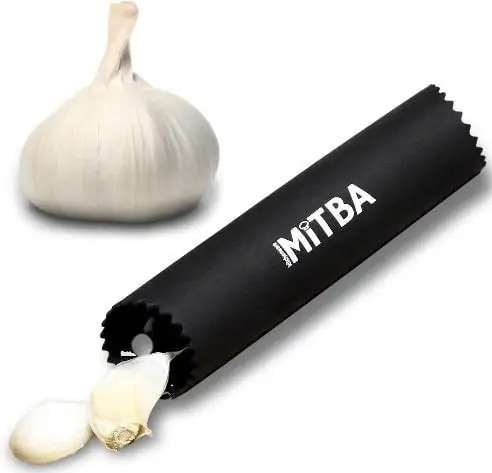 This best garlic peeler will peel your garlic cloves fast and effortlessly because you can peel three cloves at one time in this peeler. Plus, you'll feel great knowing that this best garlic peeler has been FDA-approved.
The MiTBA Silicone Garlic Peeler a textured inside, so peeling the cloves of garlic is done efficiently each time you use this best garlic peeler – and you won't have the garlic juices on your fingers!
To clean this easy garlic peeler, wash it with hot water and soap, and it's good to go. MiTBA gives you a 60-day money-back guarantee if you find that you don't like this best garlic peeler.
Pros:
FDA-approved
Easy to maintain
Features silicone ridges on the inside of the tube
No unpleasant garlic odor on your fingers
Cons:
It takes some effort and time to get used to using this roller
Best Garlic Peeler Buyer's Guide
Now that you know what some of the best garlic peelers are, what things should you consider when you buy the best garlic peeler? Let's talk about those factors now.
Material
Most of the best garlic peelers are made from silicone rubber, which is an excellent option for the best garlic peeler because silicone rubber is a resistant and strong elastomer.
Silicone rubber typically provides additional benefits such as heat resistance, resistance to abrasion, and chemical balance.
Peeler Size
The best garlic peeler can come in a variety of lengths. The most common size is 5.1-inches (12 cm), with the largest being 5.5-inches (14 cm) long.
So, which size garlic peeler should you get? There isn't a massive difference in the length of the best garlic peeler, and you'll do fine with any size.
However, if you want to do more than one or two cloves of garlic at one time, you want to go with a larger tube. The best garlic peeler that's longer can typically do more than three cloves of garlic in one round.
Color
People like their kitchenware to look nice, including the color of the best garlic peeler. The good news is that the best garlic peeler typically comes in various colors for you to choose from.
However, if you want more neutral colors, you can find those too.
Price
When it comes to the price of the best garlic peeler, there's not much to discuss. Go with the garlic peeler that you think is worth the money. The best garlic peeler is typically inexpensive, so go for the one with every other feature that you're looking for in the best garlic peeler.
Final Thoughts
People who spend a lot of time in their kitchen know the power of fresh garlic, but peeling fresh garlic is an annoying task. This is because fresh garlic cloves are waxy and slippery.
If you don't have fingernails, peeling garlic cloves can be a nearly impossible task. But peeling garlic doesn't need to be time-consuming, especially if you get the best garlic peeler.
The best garlic peeler is an inexpensive, durable, and easy-to-use kitchen gadget that you'll wish you had sooner.
FAQ
How Does the Best Garlic Peeler Work?
The best garlic peeler works in a straightforward and easy-to-use way. The first thing you do is put the garlic clove inside the tube, place the tube on a flat surface and place your hands on top of the tube. Apply slight pressure to the tube and begin rolling it around a few times.
Check the tube after a few rolls to see if your garlic cloves are peeled.
How Do I Get the Smell of Garlic from My Garlic Peeler?
If your garlic peeler starts to smell like garlic, let it soak in hot water for a bit longer than you typically would allow it. Once you take the garlic peeler out of the water, coat it with dish soap, then use a dish scrubber to clean it. Rinse it off, and it should be good to go.
How Do You Get the Garlic Smell Off Hands?
How do you get the smell of garlic off your hands? Here's how you do it:
Pour about one teaspoon salt and two teaspoons baking soda on your hands. Add a few drops of water to make a paste, then rub your hands together for about 30 seconds. Then wash your hands with hot water and soap.
Can I Use a Potato Peeler to Peel Garlic?
No, you can't use a potato peeler to peel garlic. Potato peelers are designed to peel large vegetables and fruits, whereas the best garlic peeler is designed for small cloves of garlic.