Peelers are some of the most common kitchen gadgets, alongside wooden spoons. But unlike spoons, there can be significant differences between models for peelers. From the shape of the peeler to the material of the blade to handle to the color, there are quite a few options available to you.
There are two shapes available to you, a y shaped peeler or a straight blade peeler. The shape you go with is up to personal preference.
Potato peelers can be some of the least expensive kitchen gadgets you purchase, with a few exceptions, so it isn't unusual to see a few different kinds of peelers in a kitchen drawer – each with its own purpose – because peeling vegetables is different than peeling apples.
Because peelers are inexpensive, it's also nice to have a spare just in case something happens to your primary peeler.
To help you determine which potato peeler is best for you, we put together a list of the best potato peelers on the market today based on design, ease of cleaning, performance, ease of use, and versatility. So, here are the best potato peelers today!
Quick View
Top Recommended Peeler: OXO Good Grips Pro Swivel Peeler
Top Budget Peeler: Spring Chef Premium Swivel Vegetable Peeler
Top Premium Peeler: KitchenAid Spiralizer Plus
Best Electric Peeler: Starfrit Rotato Express 2.0
1. OXO Good Grips Pro Swivel Peeler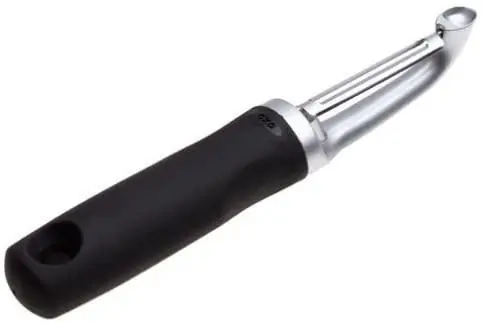 This is an upgraded version of the original OXO potato peeler: it has a better grip, sturdier build, and sharper blade than the original OXO peeler. The swiveling blade on this peeler will move at the right angle to peel your potato with ease, and after peeling an entire five-pound bag of potatoes, it can be used to peel your other vegetables too.
It can be used to easily peel tomatoes, apples, carrots, sweet potatoes, and potatoes. The OXO Good Grip Pro Peeler will peel it with ease and precision no matter what type of food you want to peel.
The grip on this best potato peeler is very comfortable, even in long peeling sessions, and the blade will cut in both directions, which is ideal for both right- and left-handed individuals.
This peeler also has a metal eye at the top that lets you remove bad spots from potatoes without having to use a knife, and there's a hole in the handle that you can use to hang the peeler when you're done using it.
You can wash this peeler in the dishwasher or by hand, whichever is easiest for you.
Pros:
Very sharp blade
Comfortable grip
It easily peels in both directions
Peels easily and smoothly
Cons:
A bit pricey for a traditional peeler
2. Spring Chef Premium Swivel Vegetable Peeler

This peeler comes in a variety of colors, all in the budget price range. It can cut in both directions and any vegetable, from super hard sweet potatoes to delicate tomatoes. Because it can peel in both directions, this peeler is excellent for both left- and right-handed users.
However, sometimes the peels can get caught in the blade instead of falling away from the blade, which can slow you down when you're peeling a bunch of potatoes.
The grip features finger ridges, which aren't perfect for every user, but many love them. The blade does swivel, so it's always at the right angle for peeling your vegetables. Once you're done peeling everything, cleaning this peeler is easy because it's dishwasher safe.
Pros:
Peels soft fruit quickly and smoothly
Comfortable, solid ribbed handled
Blade swivels to peel vegetables smoothly
Extremely affordable
Cons:
The grip isn't comfortable for all users
3. KitchenAid Spiralizer Plus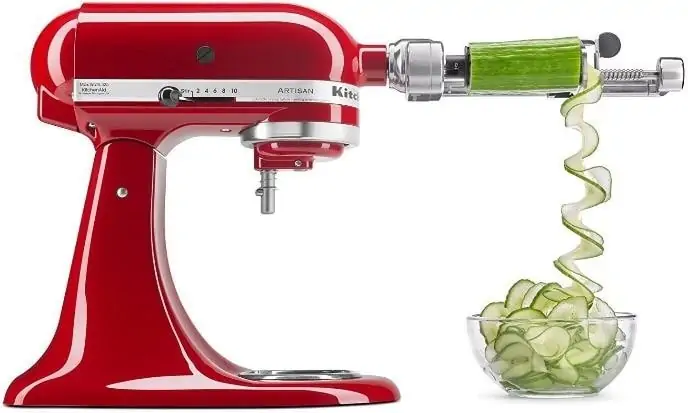 For those that already own a KitchenAid stand mixer, you'll love this multifunction peeler, slicer, and spiralizer that turns your mixer into a potato peeler machine. This is very similar to hand-cranked peelers, but the stand mixer's power hub motorized it to make quick work of a five-pound bag of potatoes or a bag of apples.
This upgraded KitchenAid Spiralizer Plus comes with two extra quick-change blades (a thin-slice blade and an extra-fine spiralizing blade) than the original KitchenAid Spiralizer. Everything about this model is exceptional and is perfect to peel fruits and vegetables, core apples, and spiralize cucumbers in a matter of minutes. However, you will need to trim longer vegetables to fit onto the attachment.
You might not want to bother with this attachment if you only have a few vegetables to peel, but it will come in handy if you have a lot to peel. The blades are top-rack dishwasher safe, but they're tiny. So, handwashing them might be the better option.
Pros:
Dishwasher safe blades
Great for peeling big bags of potatoes and other fruits and vegetables
Multiple blades for multiple uses
Cons:
Expensive attachment
Vegetable length is limited
4. Starfrit Rotato Express 2.0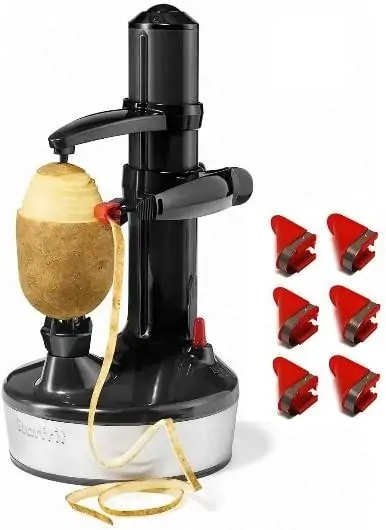 This electric potato peeler is great for small and large batches of potatoes. All you have to do is put the potato on the bottom prongs and then align the upper holder so that the top prong is holding the potato in place. Then the arm will spin around and peel the potato, stopping when it reaches the bottom.
It also comes with a thumb knife for removing bad spots from potatoes. This electric peeler is excellent for any fruit or vegetable that measures 5.5" – you can cut down anything bigger – so it can be used to peel apples, cucumbers, tomatoes, and zucchini.
The Starfrit Rotato Express 2.0 can be powered using a cord or with batteries, and the non-skid base keeps the peeler in place while it peels your potato. This package also comes with six replacement blades.
Pros:
Hands-free peeling
Works great for quickly peeling vegetables
It can be used with a cord or with batteries
Cons:
5. Spiralizer Apple/Potato Peeler Corer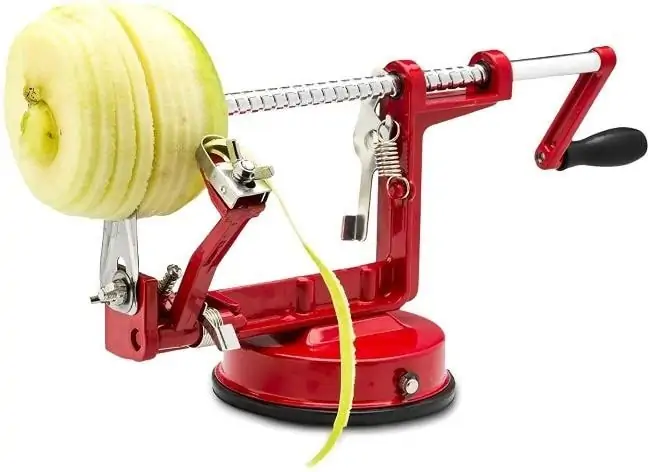 This peeler is designed to core, peel, and slice apples, but you can convert it to a peel-only mode for potatoes and other fruits and vegetables. You can also adjust to different settings for smaller food or deeper peeling, larger food, or less aggressive peeling.
This peeler works best with food that's round rather than oval and uneven shaped. You might find that, with some potatoes, you have to do some trimming to remove sections of peel that the peeler couldn't get. You will also have to trim larger potatoes (i.e., sweet potatoes) to fit onto the peeler.
Peeling is fast and easy once you get used to inserting the vegetables onto the spikes of the peeler. However, jamming hard vegetables, such as sweet potatoes, onto the spikes can be hard to do.
The rubber features a lever that will suction the peeler onto the counter, so the peeler won't move at all while you peel your vegetables.
Pros:
Cores and peels quickly
Fun and easy to use
Rubber suction works exceptionally well
Cons:
Not as sturdy as other models
6. Kyocera Advanced Ceramic Horizontal Y Peeler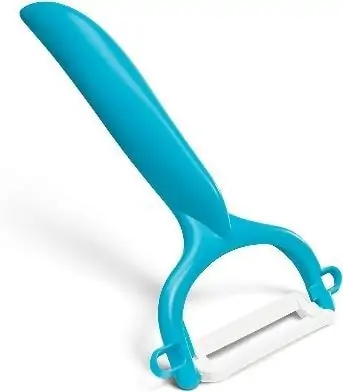 Kyocera is a brand that's well-known for its sharp ceramic knives, so it's not surprising that their potato peelers are made with ceramic blades. This Y-shaped peeler won't corrode, or rust and the ceramic blades help minimize the browning of food, which is ideal for when you're peeling large quantities of apples or potatoes.
The blades on this peeler will stay sharper longer than its competitors because they're made with the company's proprietary zirconia material. When you peel potatoes, you'll notice that the peeling is incredibly smooth and requires very little force, which is perfect for delicate foods such as tomatoes.
This peeler also has bad spot removers on the sides, so you will always be able to peel a perfect potato. Another great thing about this peeler is that it's dishwasher safe.
Pros:
Very sharp blade
Rust and corrosion-resistant blade
Lightweight
Easy to use and hold
Cons:
What to Look for When Purchasing a New Peeler
Not all peelers are made the same, so how do you know you're buying the best potato peeler? Let's talk about some of the essential features to look out for in the best peeler.
Type of Peeler
For manual peelers, there are two types: y shaped and straight. A Y shaped peeler has fixed, horizontal blades and they peel a potato from one end to the other. This type of kitchen peeler gives you more control and will put less strain on your wrist than a straight peeler.
A straight peeler has vertical blades that can swivel, and they can peel in a back-and-forth motion. This peeler type is ideal for peeling around the ends of potatoes and smaller fruits and vegetables.
There are also electric peelers, which are the easiest peelers to use and have the biggest footprint.
Handle Grip and Blade
Peeler blades are typically made from carbon steel or stainless steel, and each has its disadvantages and advantages. A sharp stainless steel blade is less prone to break and is rust-resistant, but they dull much faster than carbon steel blades.
Carbon steel blades are incredibly sharp, but they also break easily when dropped and rust if they're not appropriately dried.
Peeler handles are either rounded or flat and are usually made from metal or plastic – though most come with a rubber cushion to give the user a comfortable grip.
Uses
The way to know if a peeler is the best one for you is to know how you will be using it. If you're primarily peeling potatoes with your peeler, you might want to go with a swivel peeler with a rubber grip (such as the OXO Good Grips Peeler).
If you're planning on using your peeler for other things, such as julienning, then you want to go with something that has a sharp blade and is dual-purposed. If you would rather have something do the work for you and have room in your kitchen, think about an electric peeler.
Conclusion
Picking out a potato peeler can seem like a daunting task because there are so many different types on the market, but it doesn't have to be. There are two types of manual peelers: straight and Y-shaped. The one you go with will depend on what you're peeling and the amount of control you want to have.
Hopefully, this guide has shown you the best potato peelers on the market today and has given you a better idea of how to look for the best potato peeler for you.
FAQ
Can I Peel My Potatoes Ahead of Time?
When you're trying to prepare for a large dinner, such as Thanksgiving dinner, it's always nice to be able to do some of the work ahead of time. Especially when it comes to peeling your potatoes, yes, you can peel your potatoes ahead of time, but after they're peeled, you need to submerge them in cold water to prevent them from turning brown.
You can peel potatoes up to 24 hours ahead of time if they're submerged in cold water and kept in the refrigerator until it's time to cook them.
How Do I Keep My Potatoes from Turning Brown?
If you have a large pile of potatoes to peel and it's taking you a while to do it, or you're trying to peel them in advance, you can submerge the potatoes in cold water to keep them from browning.
Can Sweet Potatoes Be Peeled?
It depends on what you're using the sweet potatoes for. Many people like to slice their sweet potatoes horizontally and cook them with the skin on. If the peels aren't desirable for serving, then go ahead and peel the sweet potatoes before serving.
Can I Freeze My Peeled Potatoes?
You can freeze peeled potatoes for longer storage. However, they need to be fully cooked or blanched before you freeze them, whether they're chunks of peeled potatoes, whole potatoes, wedges, or shreds.
How Do I Peel Potatoes Without a Peeler?
To peel a potato without a peeler use a sharp knife to slice a horizontal line around the middle of the potato without cutting into it. Then, boil your potatoes with the skin on. Once you can poke a fork into the potatoes, drain, and transfer the potatoes into a bowl of ice water.
Gently rub the surface of the potato after it cools down, and the skins will peel off.
Can I Use My Potato Peeler to Peel Garlic?
No, you can't use a potato peeler to peel garlic. To peel garlic, you need a special garlic peeler. See our article about the best garlic peeler.